Chronomètre Artisans is both a classic, traditionally crafted watch with finely crafted features, and a high-tech contemporary timepiece.
Geneva on April 12, 2023. just ten days after the Watches & Wonders Fair, 35-year-old watchmaker and movement designer Simon Brette (who has previously worked with Jean-François Mojon and MB&F) introduced the COSC-certified Chronomètre Artisans, the first watch of the eponymous brand. The sales method is subscription. Although subscription sales are a guaranteed method, the product must be very, very good. The Chronomètre Artisans has been highly acclaimed for its micromechanics, craftsmanship and aesthetics, and is already a candidate for the Grand Prix d'Horlogerie de Genève (GPHG) awards. All 12 watches to be produced until 2028 (50 thousand CHF excluding tax) have been sold.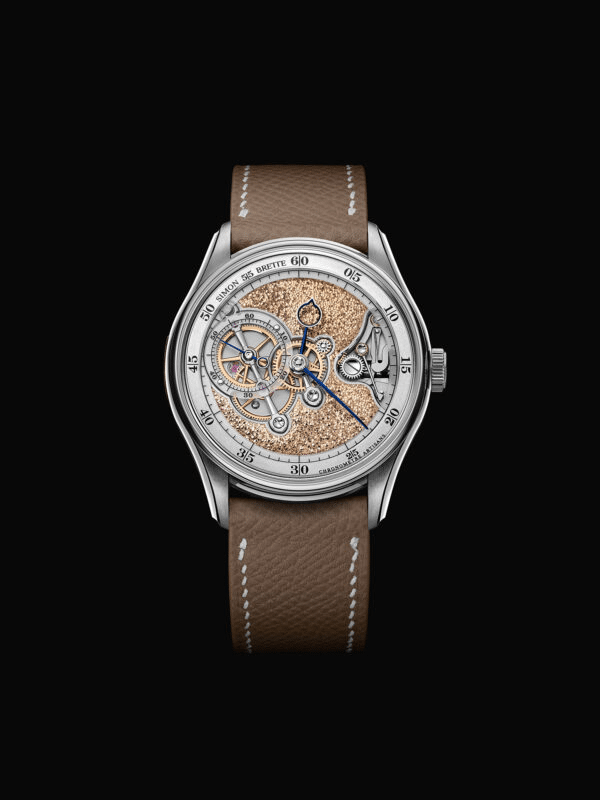 Inspired by the unique pocket watch aesthetics that Urban Jurgensen and Girard-Perregaux perfected in many respects 150 years ago, Simon Brette designed the Chronomètre Artisans model from the inside out. Starting with a classic chronometer architecture inspired by the mechanism of pocket watches, Simon Brette decided on a symmetrical layout with double mainsprings that is visually clean and provides a 3-day power reserve. The large balance wheel, fixed by a single long bridge made of anti-magnetic and high-quality titanium, moves at the traditional speed of 18,000 a/s (2.5 Hz), similar to historical marine chronometers, unlike modern watches. All steel parts adjacent to the balance wheel are made of Phynox, a non-magnetic steel alloy used in high-precision watches. The case, which houses a unique hand-wound movement (SBCA), is 39 mm in diameter and made of zirconium, which is difficult to machine. The opening on the dial through which the winding system is seen is an example of innovative engineering by Simon Brette. Brette says the clicking sound heard during winding is also distinctive. (One of the watch's personal features is the so-called swallowtail symbol at nine o'clock, a nod to Brette's carpenter father.)
Chronomètre Artisans, as the name suggests, is a masterpiece created by 13 leading artisans of the haute horlogerie industry. The word "masterpiece" may sound like an exaggeration, but I think it's a modest word for a watch that has been given so much care, right down to its unique dial and magical concave screws.
In the 21st century, the world of haute horlogerie has entered a kind of Renaissance era, filled with fresher ideas and unprecedented designs than ever before. However, this situation also brought about the craftsmanship crisis that occurred right behind the golden sparkles. Schools, courses, workshops, trainings gave birth to a new generation of young masters who sprouted up everywhere from Geneva to New York, but what happened to the old masters? Why are there so few? Why are independent master craftsmen slowly disappearing from the market?
If it weren't for some micro brands, the old masters, whose number was already very small, would have come to the point of locking their workshops, as the number of new orders for them would decrease. There may be people who wonder how this situation came to be and are surprised. Actually, the reason is not hidden; it is right out in the open; the responsible for this situation are the giant watch manufacturers, which are the apple of every watch enthusiast's eye and dream and generate billions of dollars of revenue annually. Most of the existing masters in the market evaluated the offers they received from large companies and closed their workshops.
Due to the high standards of the watchmaking industry, where even the Geneva Seal was not considered sufficient, there was a great demand for trained manpower, and the bright students at the watch schools (except for a few crazy people who wanted to open their own workshops) naturally joined the ranks of the top companies. However, since the human resources obtained were not sufficient, the master-apprentice relationship came into play. Unbelievable but true; this approach was not enough for the major manufacturers of the Swiss watch industry! The new method is to open new training centers for in-house solutions. (The new Patek Philippe Training Center, which spent more than half a billion dollars to build, is a good example of the crisis we are talking about.)
A few stubborn artisans who want to remain independent despite everything continue to resist. This is where Simon Brette emerges as a spoilsport or micromechanical saint. Its aim is to ensure the future of artisans and small workshops. Although he gave his own name to the brand he founded as a traditional attitude, he names and praises all the masters who worked on the watches produced. (The drawings, photographs and the name of the person who made each piece are shared on the brand's Instagram account named @simon_brette_watches.)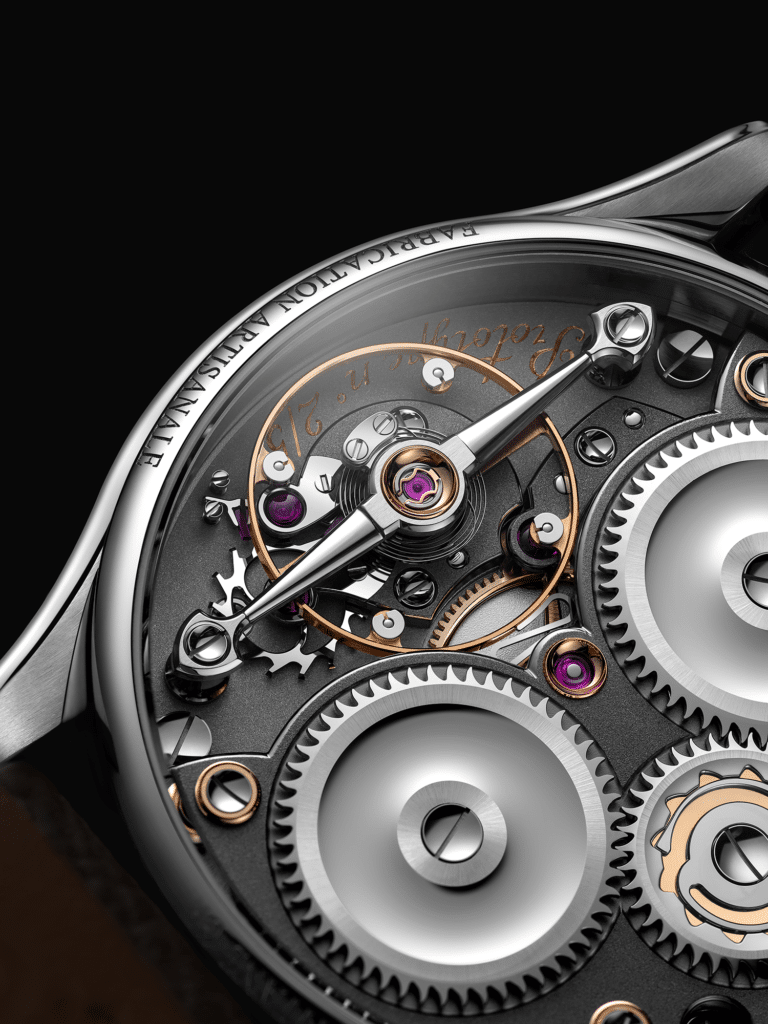 The people or workshops that contributed to Chronomètre Artisans are: Designer Matthieu Allègre and Barbara Coyon, master hand engraver Yasmina Anti who created the dragon scale patterned mosaic pink gold dial, general decoration and micromechanical engravings Marc Bolis, Alyna Rouelle, Damien Genillard, Pierre-Alain. Dornier & Cie and Julien Ducommun & Cie, Nathalie Jean-Louis and Alexis Greco & Cie, escapement specialist Nadine Görgl and watchmaker Luc Monnet and Anton Pettersson, manufacturer of magnificent mirror-polished concave screws.