The new limited edition 1858 Geosphere Chronograph 0 Oxygen LE290 with a chronograph movement, which is produced for the new explorers of our age, comes with a case is void of oxygen.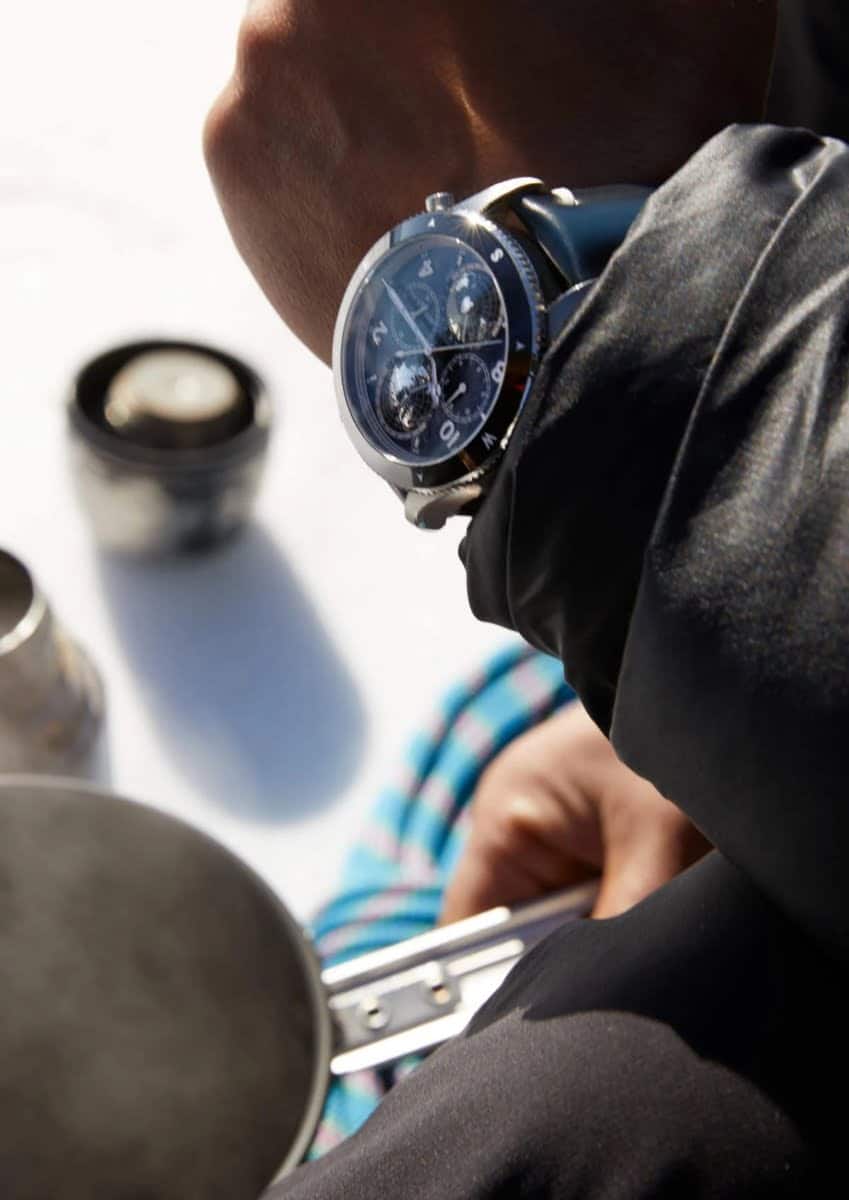 Studies have shown that it is difficult for a people to stay above 8,000 meters peak for a long time, on the other hand, it is not possible to survive. So much so that there is no permanent living space above 5,000 meters. In such cases, the major problem is the lack of oxygen, which is the basic requirement for blood circulation. In these cases, many climbers lost their hands and feet because poor blood circulation due to low oxygen in high altitudes. Of course, climbing with an oxygen cylinder is a kind of solution, but even with an oxygen cylinder it is very difficult.
For the first in history, Reinhold Messner made his solo ascent of Mount Everest in 1978 and reached the summit of Everest without the use of supplemental oxygen. (We know 31 people who have died while trying reached the summit of Everest without supplemental oxygen.) However, this really difficult climbing requires physical and mental preparing process. Nepali record-breaking mountaineer Nimsdai Purja is also one of the brave people who followed in Messner's footsteps, and is the name Messner suggested to test Montblanc's watch that features a case is void of oxygen.
When Montblanc announced three new watches from 1858 Geosphere collection, which includes watches resistant to extreme conditions, at Watches and Wonders, the eyes have set on new Montblanc brand ambassador, Nimsdai Purja.
Nimsdai Purja is a former special soldier, but he left the army because of his truly passion for mountaineering. In 2019, he achieved to climb 14 challenging peaks of the world in just 7 months. Furthermore, he is an award-winning mountaineer who holds several more records, including the fastest ascent to many summits around the world.
Each of the Montblanc 1858 Geosphere Chronograph 0 Oxygens, which comes with Zero Oxygen certification, has tested rigorous 500-hours laboratory test for durability. The most striking feature of the watch is that the case is void of oxygen to prevent fogging during temperature changes at high altitudes. Zero-oxygen case also prevents oxidation. With zero oxygen level, all parts are more durable, so the sensitivity does not decrease in over time.
The titanium case in 44 mm diameter and 17.1 mm in height. Despite its bold structure, it is a light watch. The timepiece housed a bi-directional ceramic bezel and striking blue dial design in view of a glacier. It also features brand's latest calibre MB29.27 automatic chronograph movement with second time zone function. It has a central chronograph second hand, a 30-minute chronograph sub-dial at 3 o'clock and a 60-minute chronograph sub-dial at 9 o'clock, turning globes for the Northern and Southern hemispheres with a 24-hour scale and day/night indicator. The caseback features a gorgeous laser-engraved three-dimensional engraving of Mount Everest. This engraving is also significant as it depicts the route Reinhold Messner took while climbing Everest without oxygen in 1978. The 1858 Geosphere Chronograph 0 Oxygen LE290 is limited to 290 pieces, which is also a reference to Everest climb to 29,031 feet.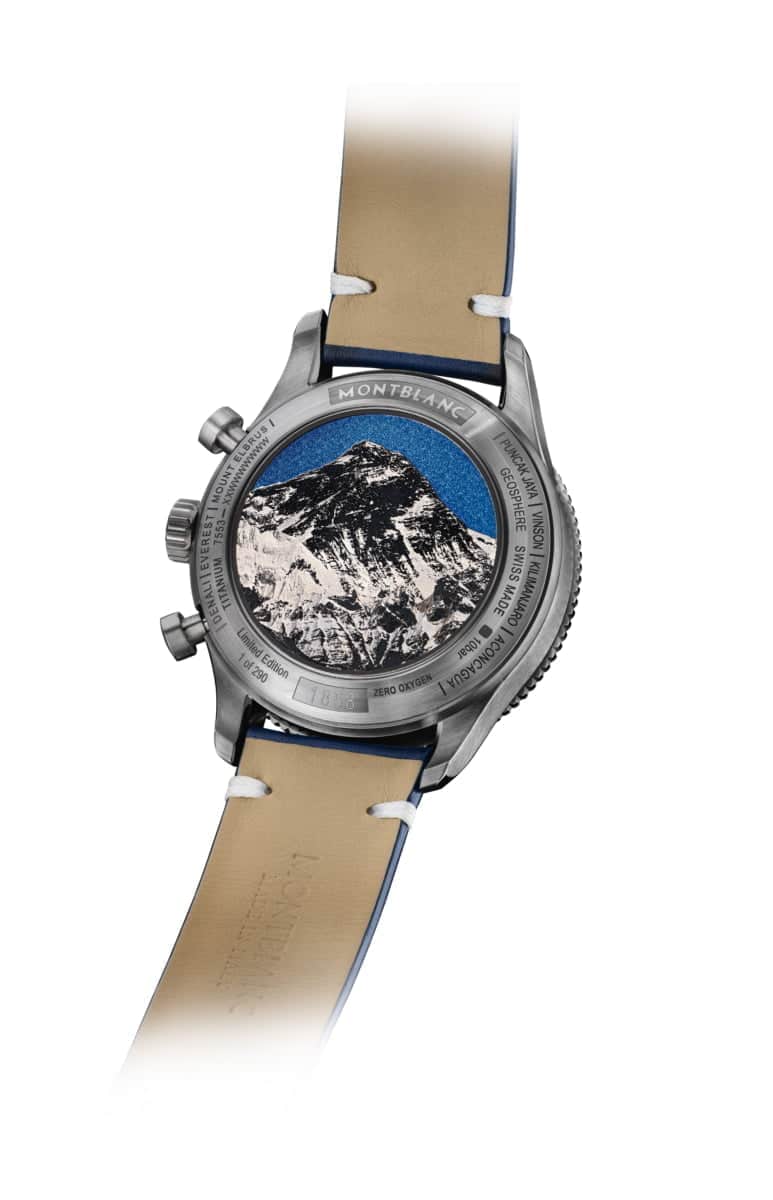 The Montblanc 1858 Geosphere Chronograph 0 Oxygen is a high-tech watch designed for passionate, courageous and determined adventurers just like Nimsdai Purja. Famous mountaineer Purja will test his Zero Oxygen watch on Mount Everest in May 2022, without supplemental oxygen.