One of the joyful watches that introduced in Watches and Wonders 2022 was the Louis Moinet Time to Race.
As Henry Ford said, auto racing probably did not begin after the second car was built, but the excitement of auto racing has been surrounding many of us for decades. And time is one of the partners of this racing passion with chronographs and watches that measure time. Decades, giant watch brands have been collaborating with auto racing organizations and designing and developing models to accompany the passion. Here is another watch series that carries racing passion to wrists: Louis Moinet Time to Race.
Until the end of 1960s, national colors were assigned to classify auto racing. For instance, a red car brings to mind Italy, a green one England and a blue one France. Louis Moinet's Time to Race series also carries these colors. The timepieces come with three strap alternatives: red, green and blue.
The dial side reveals the sumptuous chronograph mechanism, fully visible and highlighted in a whole new way, with the strongly domed crystal reveals it even more fully. A side view also reveals a previously unknown sight…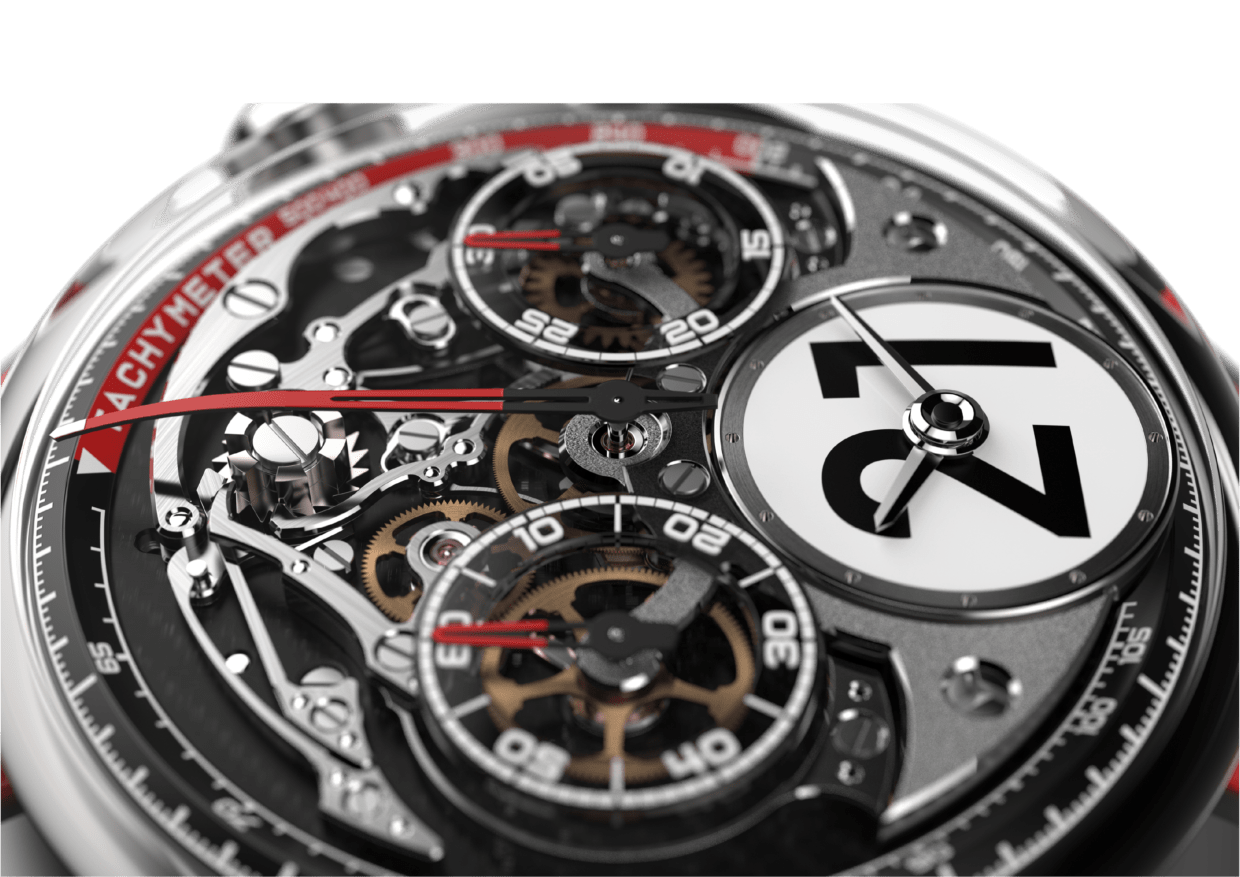 The hours and minutes are read off a subdial at 6 o'clock. This central design element bears the wearer's "Lucky Number", painted in black on a white background with a glossy polished finish, and surrounded by a metal ring reminiscent of the bores used in racing cars. Thus, you may have a "bespoke" watch. Another that makes the watch unique to you is that there will be no other watch with the same lucky number and same strap color, which means if you buy a Time to Race with red strap and the number 9 engraved on the sub-dial, those who will order a watch with the number 9 can choose only green or blue strap.
Its case weighs only 18 grams, cut from grade 5 titanium, then polished and satin-brushed. It evokes the quest for minimum weight that means more comfort and a more seamless fit on the wrist, further enhanced by a strap specially designed to be a perfect extension of the case.
Its open-worked mechanism increases the pleasure of looking at dial. 147 components are used for the upper part dedicated to the chronograph and 155 components for the lower part corresponding to the self-winding movement. It offers power reserve of 48 hours. Let's not forget: this chronograph inspired by the world's first chronograph produced by Louis Moinet in 1816.