The concept of sustainability and ethical material has recently been a movement; Panerai, which announced new 10 watches at the fair, is also in the front line of this movement.
I would say that Panerai made one of the most profound presentations of the Watches and Wonders Fair. In the beginning, there were no watches. While images flowed, we first saw that famous pale blue dot in the space which is a part of solar system. We relearned that 70 percent of the Earth surface is ocean-covered when look at our planet from the space.
While camera was cruising the deep blue and fishes swim, sentences that we did not think much about appeared on the screen: Oceans are one of the basis balances of climate, absorbs 90 percent of our earth's temperature by transporting heat from the equator to the poles, and absorbs 50 times more carbon dioxide from atmosphere. 94 percent of the species in the world are found in the oceans, oceans have more historical artifacts than all museums, and 70 percent of the oxygen production comes from the ocean. The oceans are biggest storage of solar energy and many medicinal products derived from oceans. However, 7 million tons of plastic are dumped into the oceans every year, 269,000 tons of plastic floating on the surface, ocean pollution affects more than 800 animal species, and more than a billion seabirds die every year. There are about 500 dead zones as the size of Britain in the ocean, and by 2050 there will be more plastic than fish.
As the images pass by, a sentence appeared on the screen: "We cannot say that we didn't know, so would you like to be a part of this solution?". Then, Panerai CEO Jean-Marc Pontroué appeared and explained that these images were guiding for the Panerai brand and channel their environment friendly approach. For that purpose, he talked about watches such as Panerai Submersible eLAB-ID that they proud of.
This attitude of Panerai is not new, it has announced on several occasions that it focuses on the understanding of environmentally friendly and sustainable watch production that started years ago. The latest example is a collaboration with Guillaume Néry, one of the freediving champions, and increasing the use of recycled materials.  Let us look at the watches without further ado.
[1] Panerai Submersible eLAB-ID (PAM01225)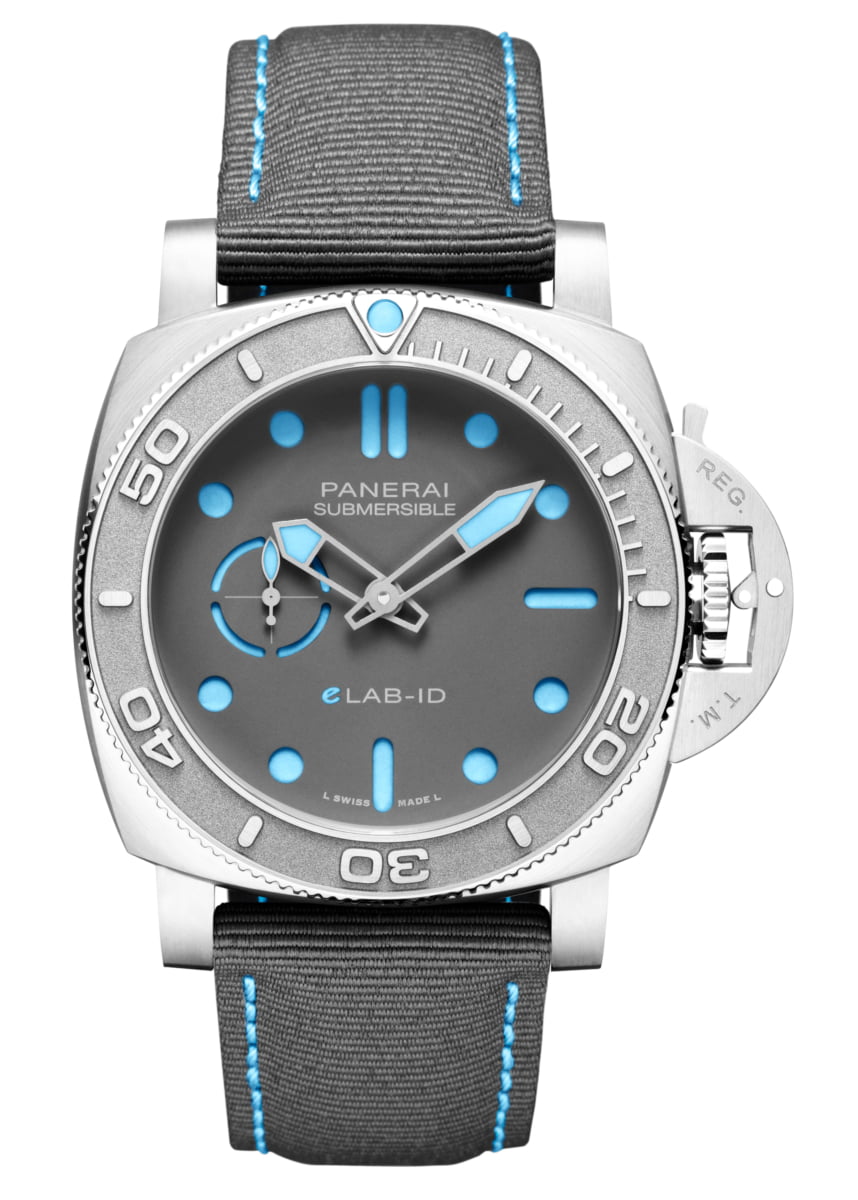 Panerai Submersible eLAB-ID is a time machine with the highest amount of recycled material ever seen in a mechanical watch. That is mean, 98.6 percent of the total weight of the watch is made of recycled material in the PAM01225 model.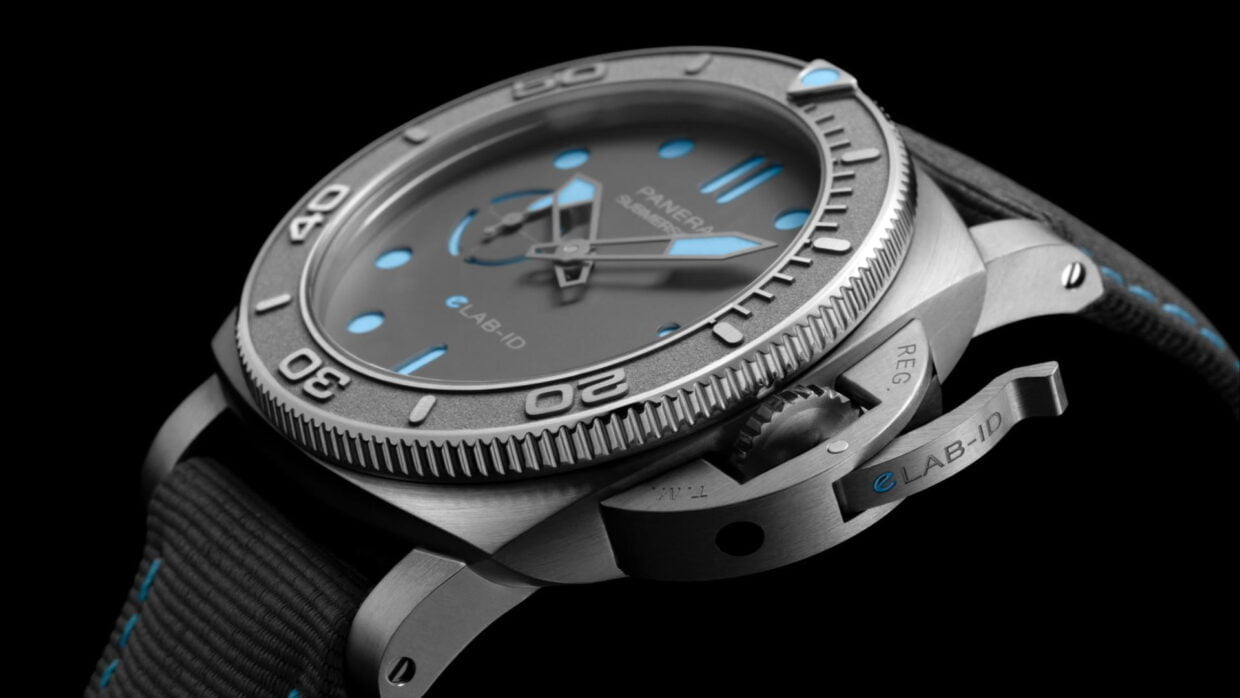 The case, classic sandwich dial and bridges are made of EcoTitanium. EcoTitanium, a type of titanium alloy mostly used in the aviation industry, is made from more than 80 percent recycled material.
The Submersible eLAB-ID made history as the first watch to use 100 percent recycled Super-LumiNova on its dial and hands, and 100 percent recycled silicone in its escapement mechanism. Both materials are collected through small-scale recycling processes that reuse raw material waste.
The iconic features (locked crown, small second at 9 o'clock) have not changed, other technical features are that a movement (P.900e) is consisting of 161 pieces, 3-day power reserve and water resistance up to 300 meters.
Other features of PAM012225: 44 mm brushed EcoTitanium case, gray sandwich EcoTitanium dial, recycled Grigio Roccia fabric strap and light blue stitching and EcoTitanium buckle.
[2] Panerai Luminor Marina eSteel PAM1157 (blue), PAM1356 (green) and PAM1358 (gray)
In line with environmentally friendly materials, Luminor Marina eSteel watches are also made with recycled metal alloys. The watch weighs 152.4 grams in total, 89 grams of eSteel component is made of recycled material, that is 58 percent of total weight.
Both the case and the dial of the Luminor Marina eSteel are made of recycled steel alloy with the same chemical, physical and abrasion resistant structure as the new materials. Besides, straps and box are also made of recycled material.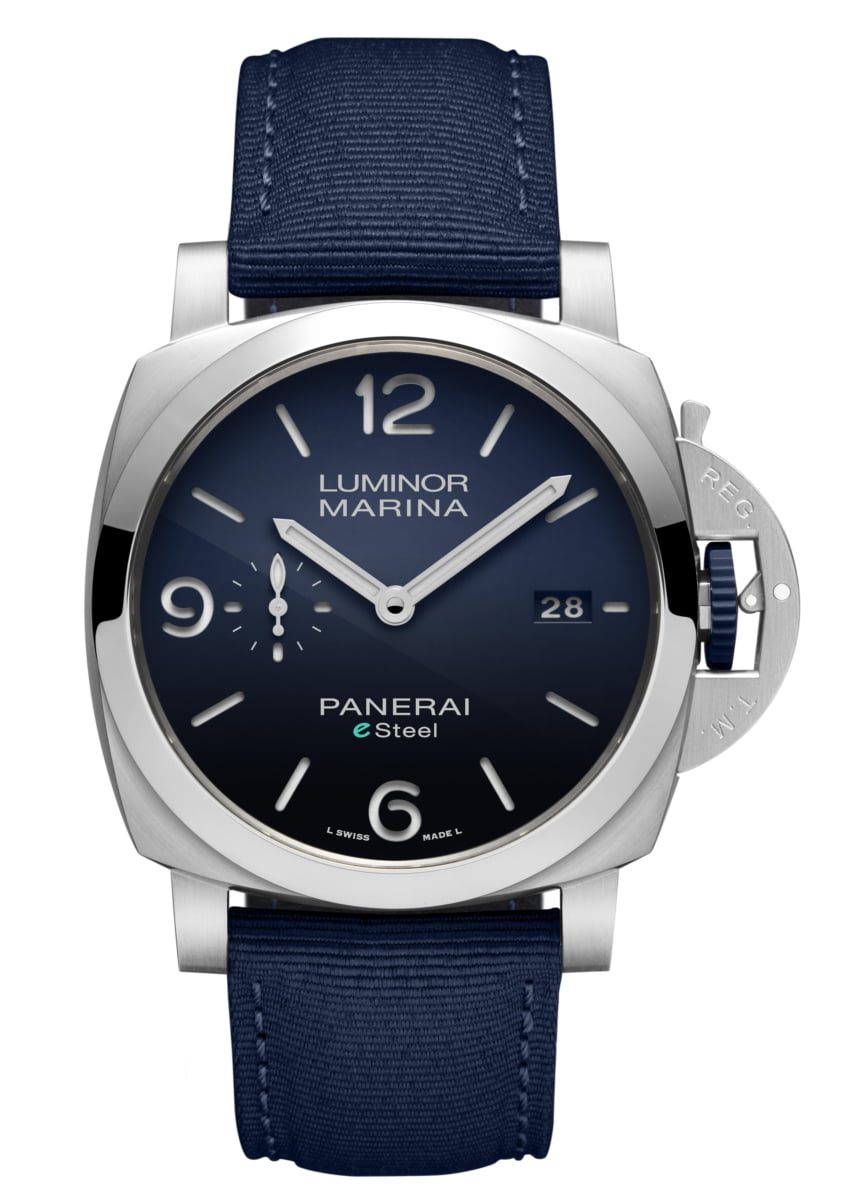 PAM1157: eSteel, brushed case in 44 mm, polished Blu Profondo color transition eSteel dial (blue), recycled PET blue strap.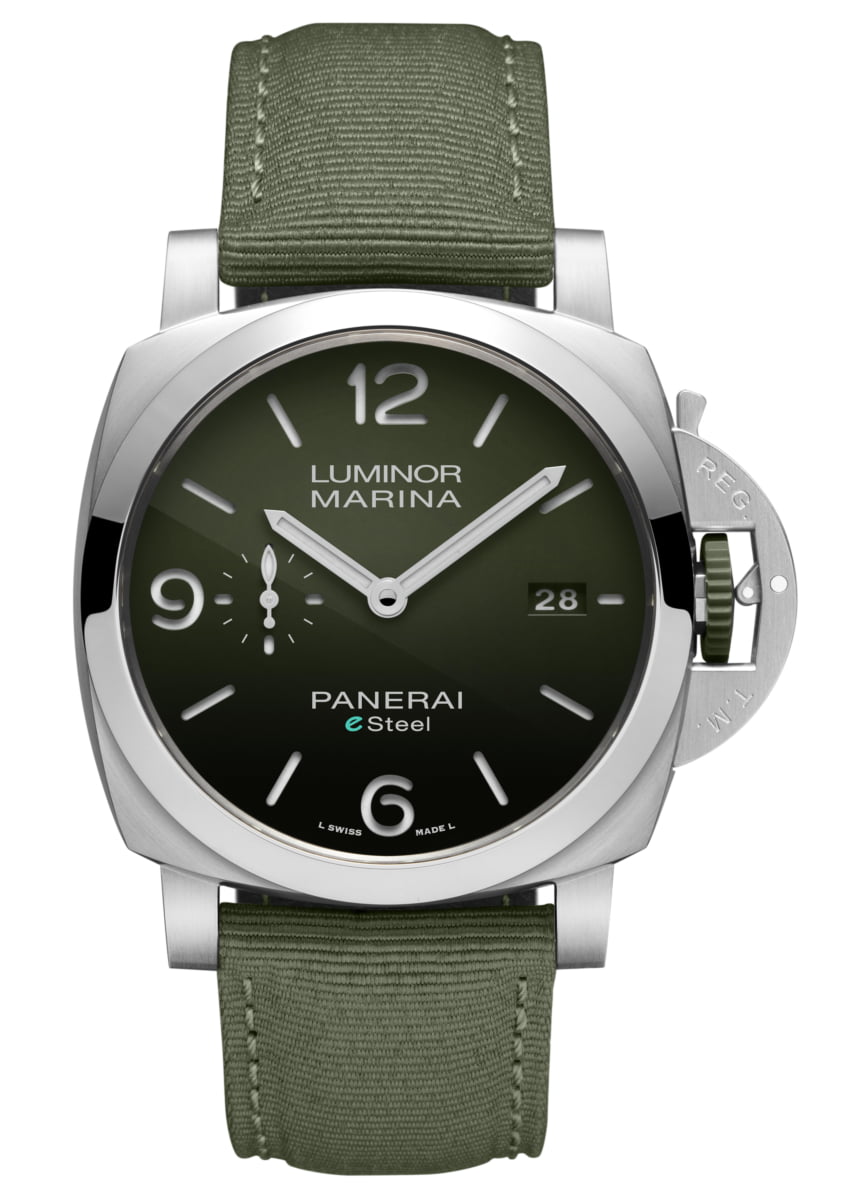 PAM1356: eSteel brushed case in 44 mm, polished Verde Smeraldo color transition eSteel (green) dial, recycled PET green strap.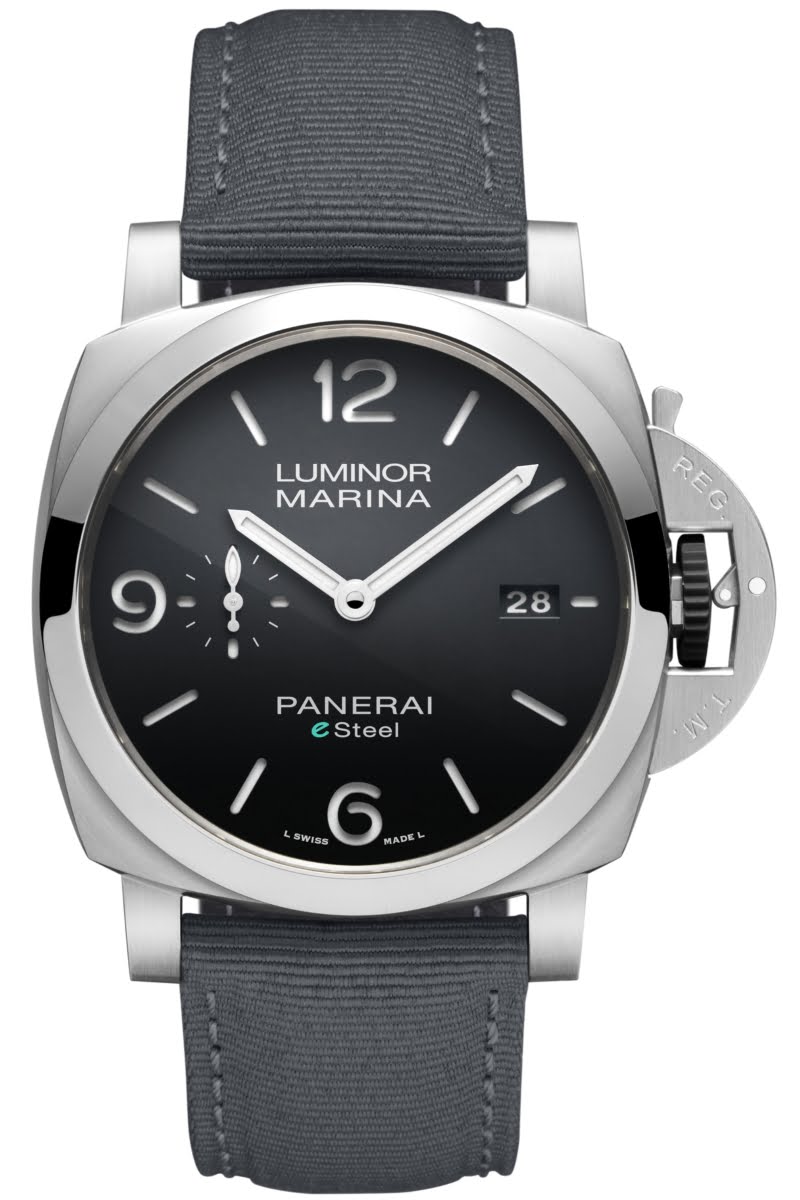 PAM1358: eSteel brushed case in 44 mm, polished Grigio Roccia color transition eSteel (gray) dial, recycled PET gray strap.
[3] Panerai Luminor Chrono PAM1109, PAM1110 and PAM1218
Three new Luminor chronographs from Panerai were also among the watches introduced. The first striking difference is that the chronograph buttons are moved to the left of the watch. This depicts that Panerai remembers the first chronograph watches.
For greater legibility, the chronograph counter hands are colored blue (central seconds hand and minute counter on the right), while the hands showing the time are steel.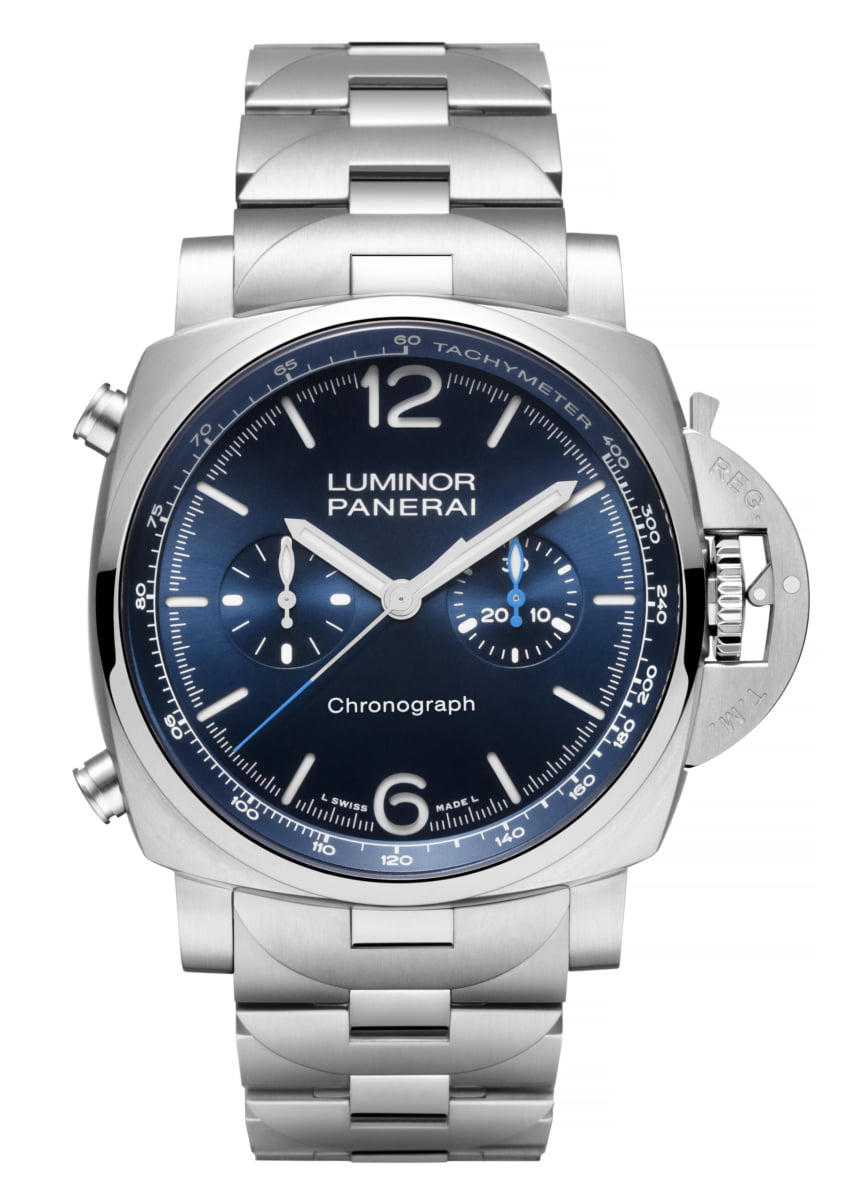 PAM1110: Stainless steel case in 44 mm, blue dial with sunrays pattern, brushed and polished steel bracelet.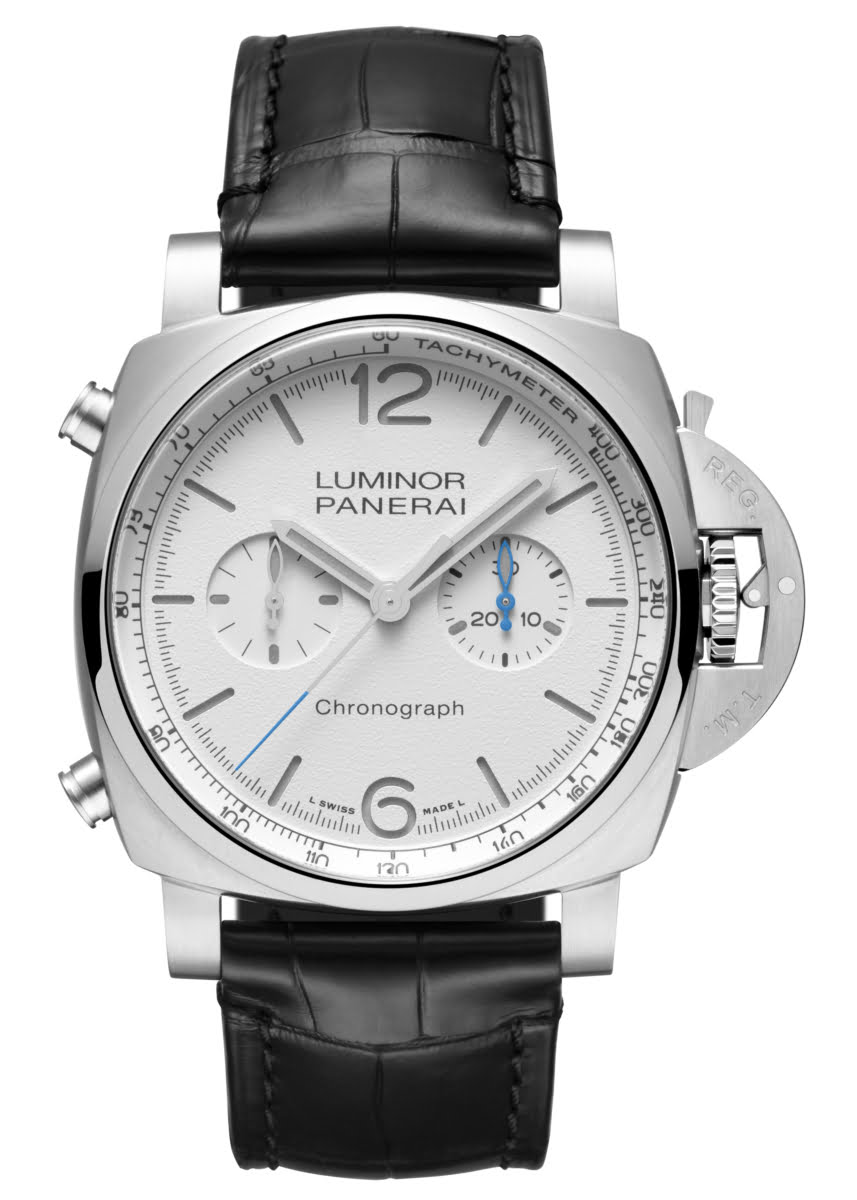 PAM01218: Stainless steel case in 44 mm, white matte finish dial, black alligator leather strap and additional blue rubber strap.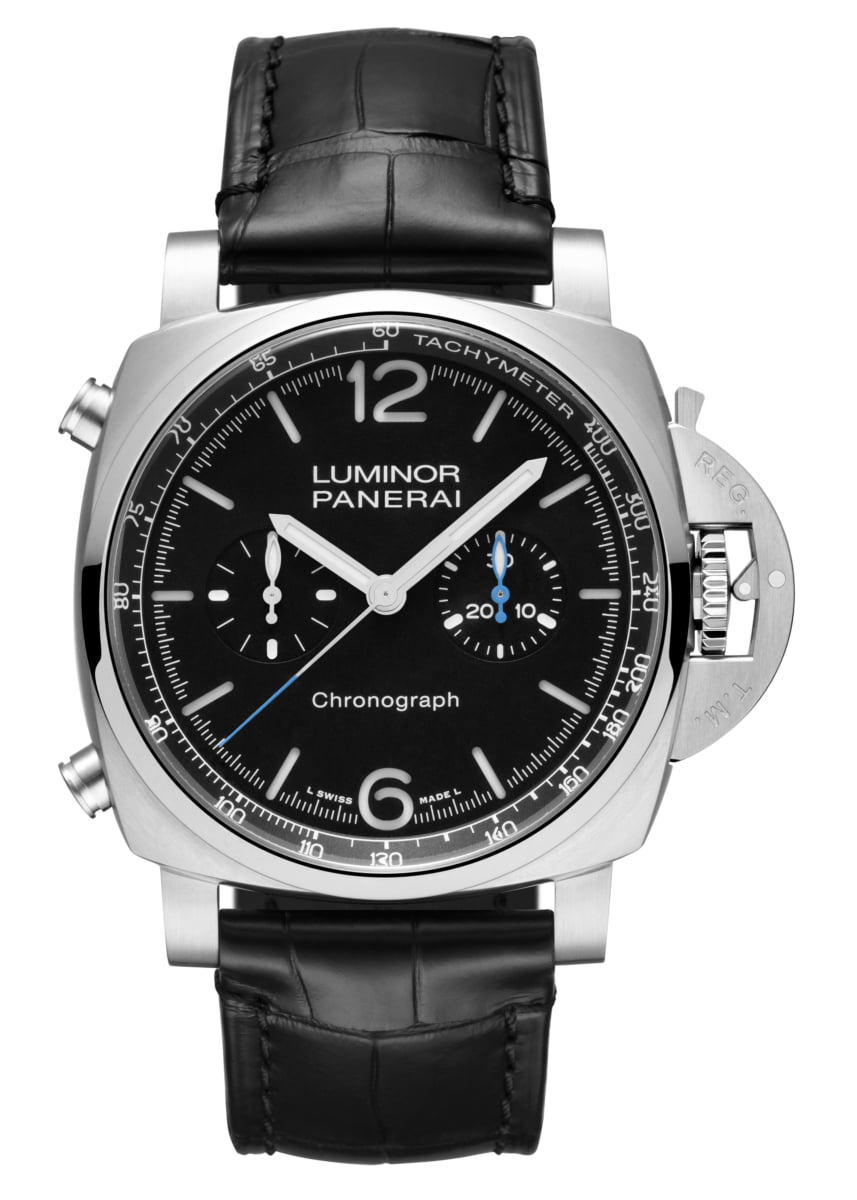 PAM01109: 44mm stainless steel case, black matte finish dial, black alligator leather strap and additional black rubber strap.
[4] Panerai Luminor Chrono Monopulsante GMT Blue Notte PAM01135
The PAM01135 is a single-push chronograph featuring GMT, an outstanding 8-day power reserve and water resistance is rated at 100m.
The 44mm diameter sandblasted black ceramic case features a hand-wound P.2004 calibre. The case has a matte and clear finish. The bezel and crown are also made of the same black ceramic.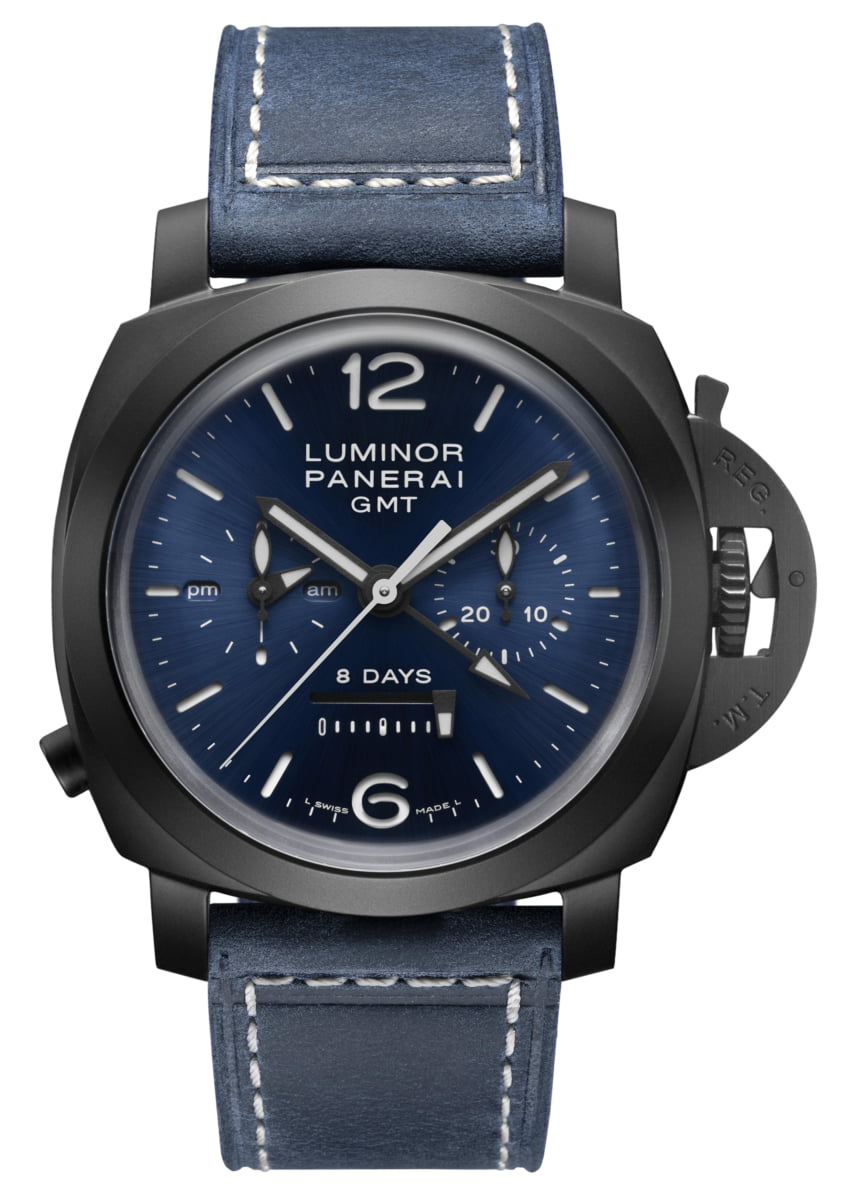 PAM01135: Matte black ceramic case, brushed Blu Notte dial, calf leather strap with additional blue rubber strap, limited edition of 200 pieces.
[5] Panerai Luminor Luna Rossa Chrono PAM01303
Panerai's PAM1303 advanced chronograph is a model produced in honor of the achievements of the Prada Pirelli and Luna Rossa sailing racing team.
PAM01303, which is considered for those who struggle in harsh conditions such as sailboat racers, and water resistance is rated at 100m. The timepiece has similar features with PAM1110, PAM1218 and PAM1109, differs from other models only with minor aesthetic differences in the dial. Also, straps are different.
PAM01303: Dark blue dial with sunlight pattern, steel brushed case in 44 mm, classic sandwich structure, numerals and green sparkling white Super-LumiNova indexes. Timepiece is offered with two straps in blue and white, and it is a limited edition with 1,000 pieces.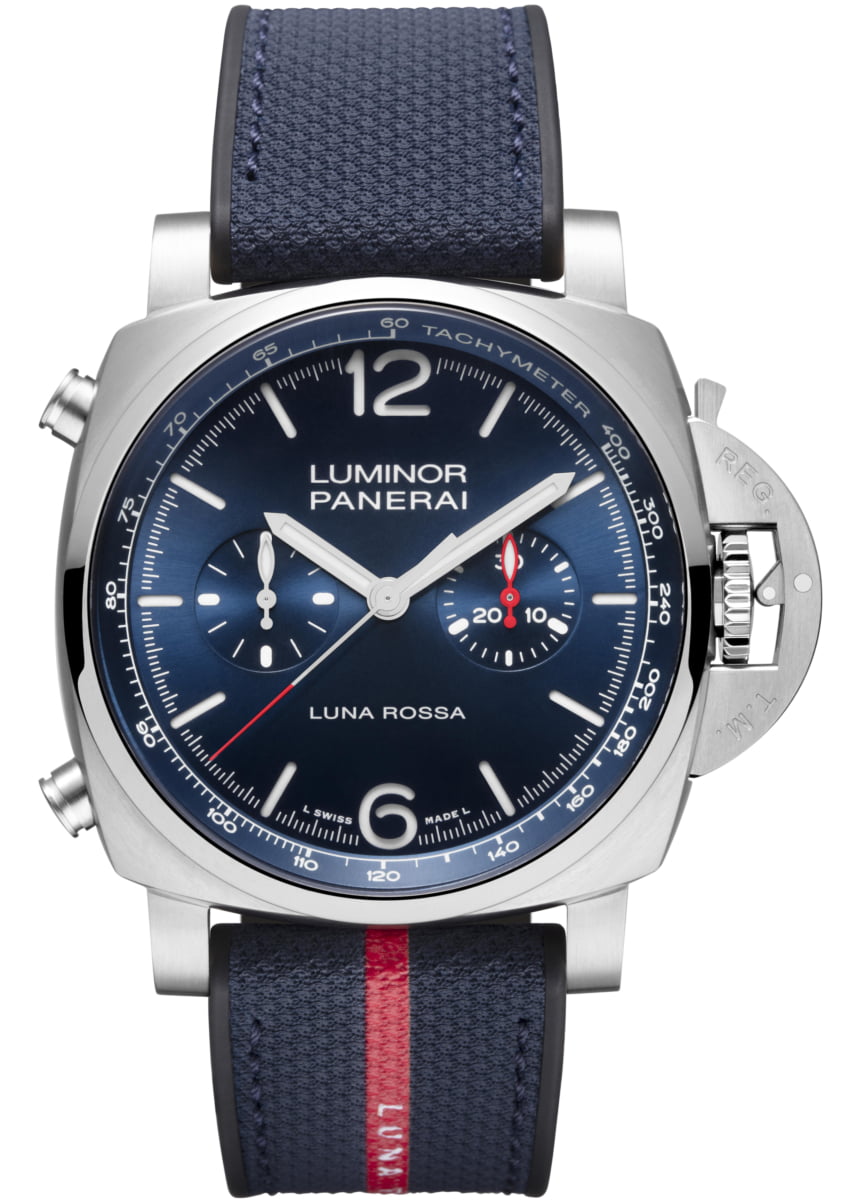 [6] Panerai Submersible Bronzo Blu Abisso PAM01074
Bronze Panerai have become extremely popular in recent years and has many enthusiasts. Designed exclusively for sale in Panerai boutiques, the model will be produced in a limited number of only 1,000 pieces per year.
PAM01074 has a charm with harmony of blue and gold tones, is expertly paired with the warm tone of the bronze case and the dark blue tone on the dial. Submersible Bronzo Blu Abisso, which is water resistant up to 30 bars (300 meters depth), has a blue rubber strap and bronze trapezoidal pin buckle suitable for underwater activities. A second vintage suede leather strap is offered with watch.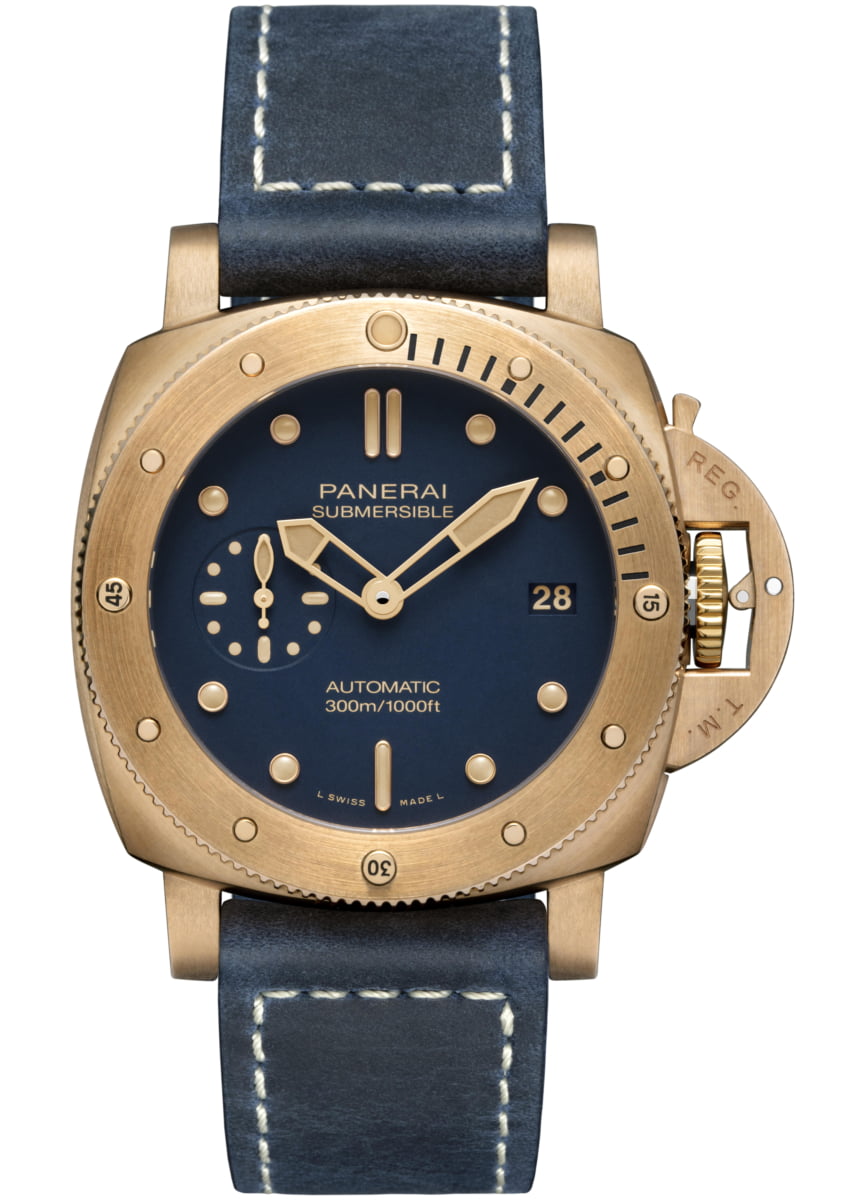 PAM01074: Bronze case in 42 mm with matte blue dial on a vintage blue suede strap, limited edition to 1,000 pieces.