Hublot presented models reflecting the splendor of fusion art during LVMH Watch Week, which Hublot continued digitally between 25-29 January.
Hublot is already a master in sapphire cases; it has been doing top – notch work in the use of sapphires in transparent and shaded shades of yellow, blue, red and black until now. However, now it has completely reached a different level.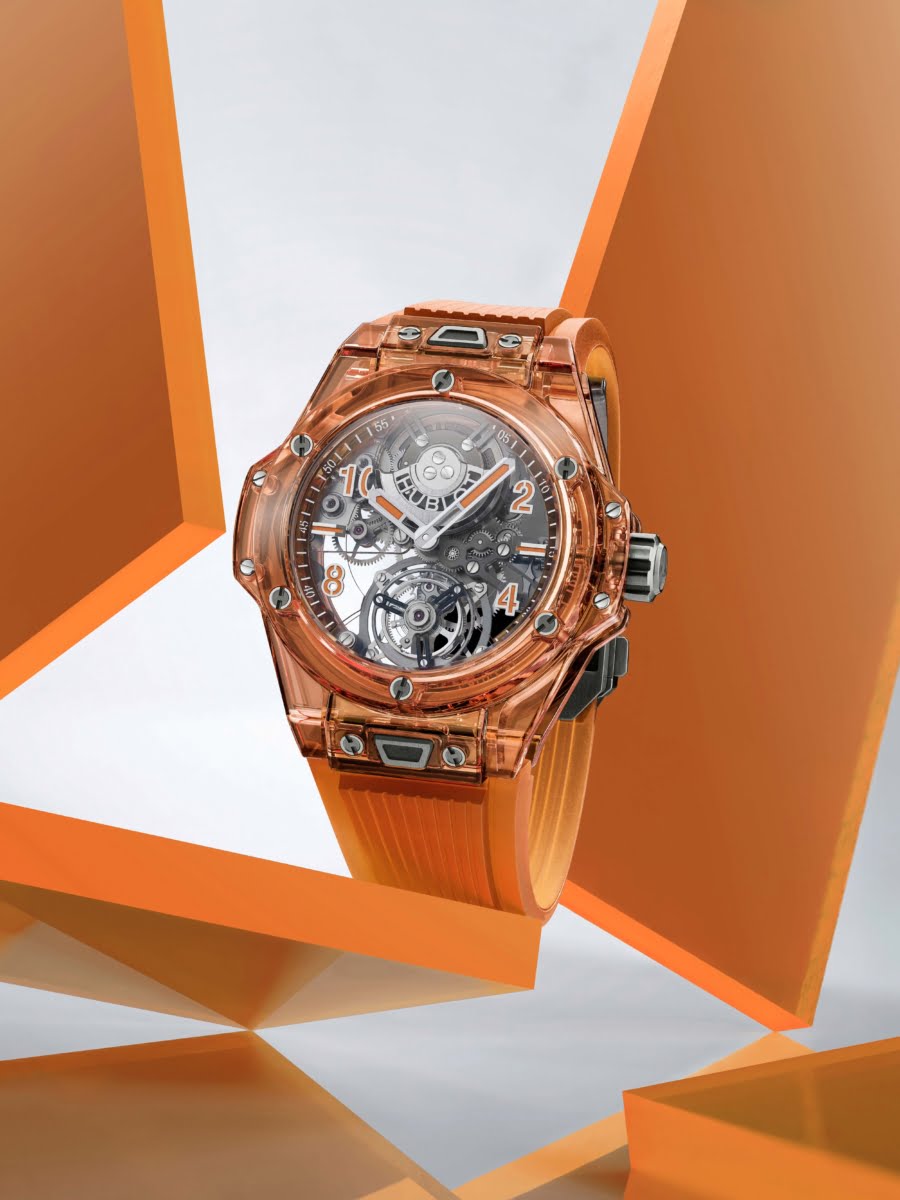 Hublot once again broke a new ground by adding a brand new color to sapphire library with the new Big Bang Tourbillon Automatic Orange Sapphire, which is limited by 50 watches. This unprecedented technical and aesthetic feat is not just about a completely new tourbillon movement or just an automatic winding ( a rare app for tourbillon), also it rehash and rewrite the Big Bang architecture which has a micro rotor and three sapphire bridges visible on the face of the dial.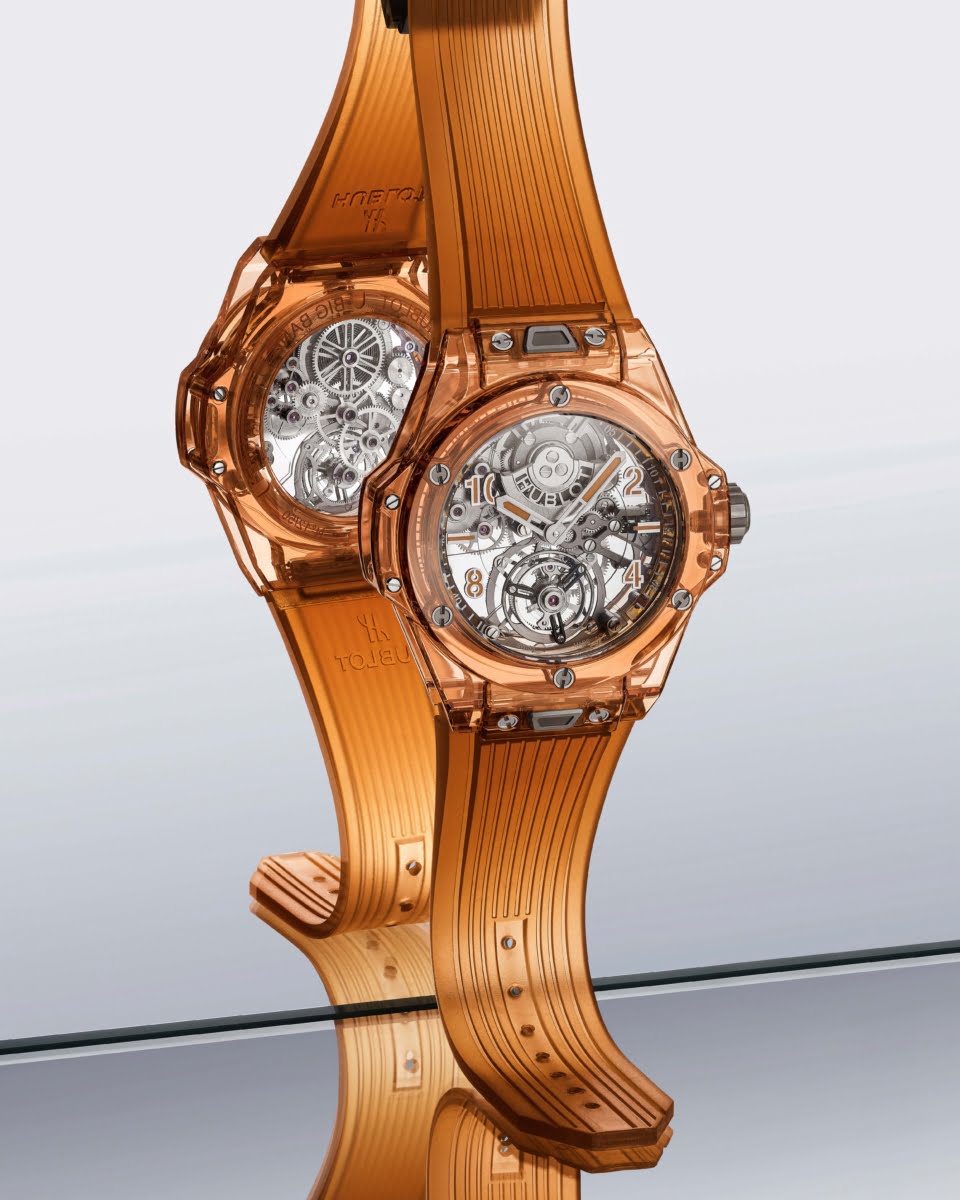 Ricardo Guadalupe, CEO of Hublot, has said for new watch: " Hublot has created a new extraordinary innovation by world's first orange sapphire case. Our work reaffirms its expertise in watchmaking with a new automatic tourbillon caliber, which is designed and produced in entirely our in-house and underlines its innovative design in its dial-oriented architecture with its magnificent visibility. According to Hublot, this is the Art of the Fusion in all its glory."
Highlights of Big Bang Tourbillon Automatic Orange Sapphire
–A first in the world: Orange Sapphire Case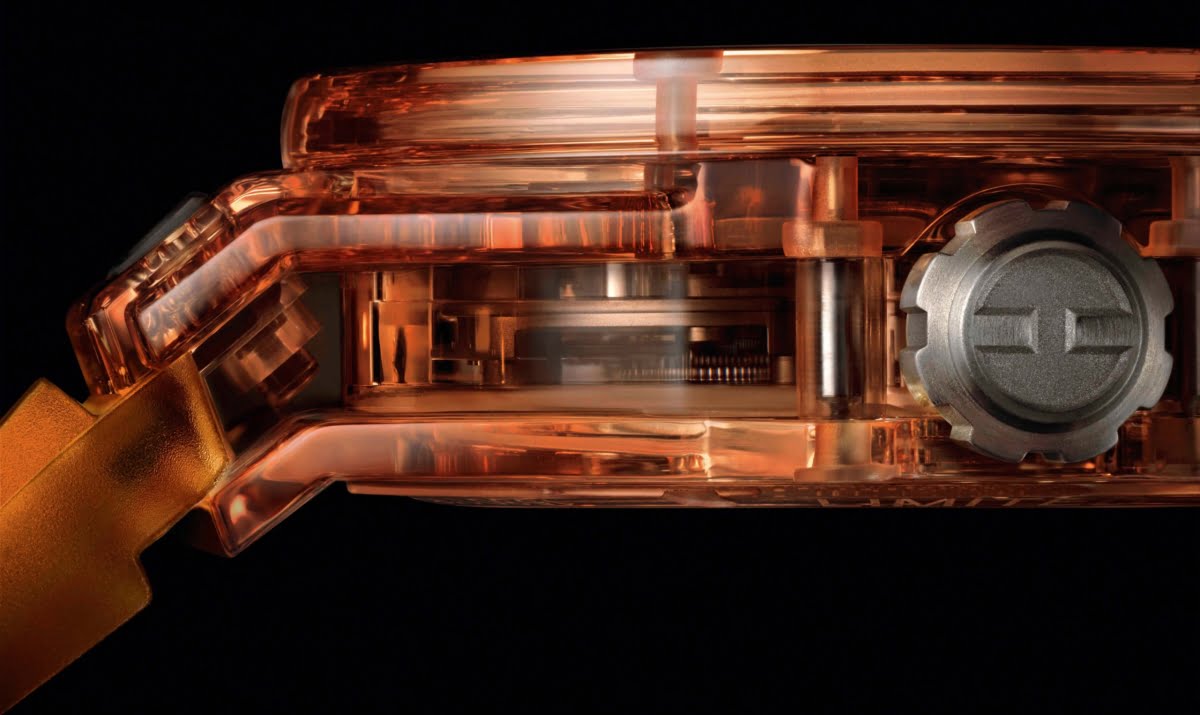 Hublot as a watchmaker, which has its own laboratory on metallurgy and other materials, has produced many qualified watches as the classic Big Bang Unico Sapphire and the innovative All Black Sapphire, Big Bang Unico Red Sapphire, Blue Red Sapphire and lastly Spirit of Yellow Big Bang Sapphire.
Hublot reinterprets the Big Bang Sapphire Tourbillon watch, which combines titanium and chrome, with translucent orange tone and frames another beauty with six H- shaped titanium screws characteristic of the iconic Big Bang design.
–Completely new self-winding tourbillon caliber
Hublot is recognized for its original designs that bring materials such as gold and rubber together thanks to imagination of its visionary manager Jean- Claude Biver. Known as, brand founded in Switzerland, in 1980. From 2012 until today, Ricardo Guadalupe has been CEO of Hublot. The company has been continuously improving its mastery since 2007. The newly announced orange sapphire case features an extraordinarily efficien caliber, unlike traditional hand-wind tourbillon movements. New tourbillon movement provides a minimum power reserve of three days (72 hours).
– Micro rotor, tourbillon and sapphire bridges
Hublot has contiuned its investigations for transparecny by using more sapphires not only in case, but also in the movement. Mechanism is equipped for the first time with three sapphire bridges (pump, automatic mechanism, tourbillon) in Big Bang Tourbillon Automatic Orange Sapphire. The volatile structure of the skeleton mechanism is emphasized with sandblasted platinium pieces. Tourbillon which rotates one full tour in one minute at 6 o'clock directions, contains a new interpretation with its geometric structure. In addition to all these, there is a garish micro rotor on the dial at 12 o'clock.
–Two more models: Texalium and Black Ceramic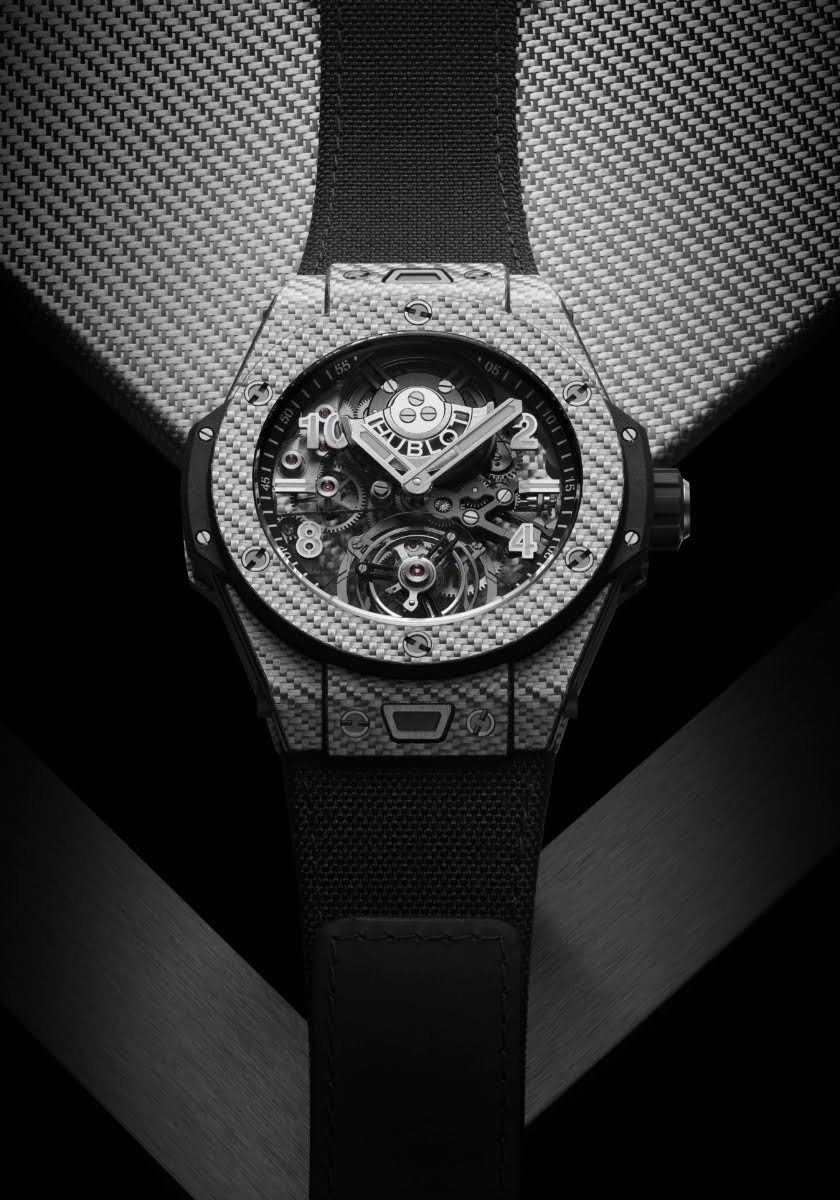 Hublot adds two new models to its Big Bang Tourbillon Automatic portfolio. The first one is a version with a manufactured case and bezel Texalium which isa lightweight and ergonomic material that combines carbon fiber and aluminium. The other watch is a Black Magic made of high-tech black ceramic, which is also limited to 100 pieces.