A gracious giraffe head concealing behind an acacia tree… The dial of Hermès Arceau The Three Graces, which is made from 195 pieces of wood, adds a new example to the artistic craftsmanship watches.
As is known, The Three Graces are known for the goddesses of beauty, grace, and friendship. They are depicted as daughters of Zeus and goddess Eurynome. These goddesses Aglaea, Eduphrosyne and Thalia represent the brightness, joyfulness and bloom respectively. They also appear in art history through their strength, feminine features, purity, and, of course, beauty. Through the centuries, their brightness is reflected in mosaics and several paintings. This is the very short story of The Three Graces that Hermès Arceau The Three Grace took its name.
The timepiece dial is inspired by the scarf designed by London-based artist Alice Shirley for Hermès. During a South Africa trip, Shirley saw three giraffes feeding behind the acacia tree. The artist brings elegant and poetic harmony of these giraffes with nature to Hermès scarf. Later on, this design is transferring to a watch dial.
Indeed, we have already familiar with the dials inspired by the iconic silk scars designs in the Métiers d'Art series of Hermès. However, the Maison takes the artistic dial design to a different dimension with Hermès Arceau The Three Graces. Although Shirley saw three giraffes head behind the acacia tree, the dial features one giraffe head. 195 tiny wood pieces, which cut out of American walnut-maple and European sycamore-tulip tree, are used in this giraffe figure. Thanks to texture of these materials, the fur of giraffe is represented beautifully. To create contrast, the acacia tree is painted in vivid colors. On the other hand, to create a sparkly effect, the acacia tree is hand painted over aventurine. Since both giraffe and acacia tree is located over aventurine, it looks like the giraffe is looking at a starry night. Consecutive layers are firstly painted with very small brushes and then dried in a kiln. Ultimately, layers are framed by a bezel with 82 diamonds and placed in a white gold case.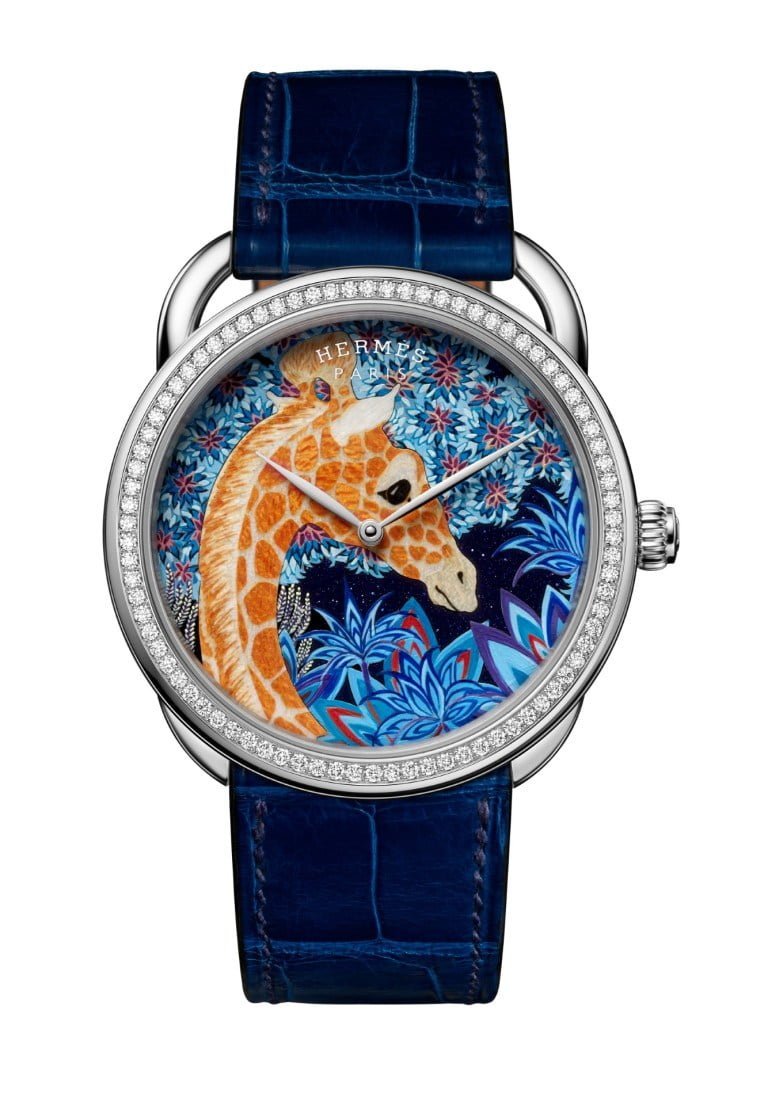 Well, what about the movement of this elegant dial? An automatic movement H1912 is placed behind the sapphire crystal case, which is elegant as well as the dial. The movement houses a base plate white all bridges and astonishing decorations embroidered with the Hermès logo. Hermès create a timepiece that appreciates this graceful and poetic giraffes.
The blue sapphire crocodile leather strap that emphasizes the blue color of dial is crafted in Hermès Horloger atelier. Hermès Arceau The Three Graces is limited to 24 pieces.