Petermann Bèdat which has just stepped into the horology world was awarded the " Horological Revelation Prize" with its jumping deatbeat seconds model with unusual technical features at GPHG.
The friendship of the young talents Gäel Peterman and Florian Bèdat began at watchmaking school in Genava. This two friends share the same row during their college years, even they were housemate; perfected their skills by competing with each other.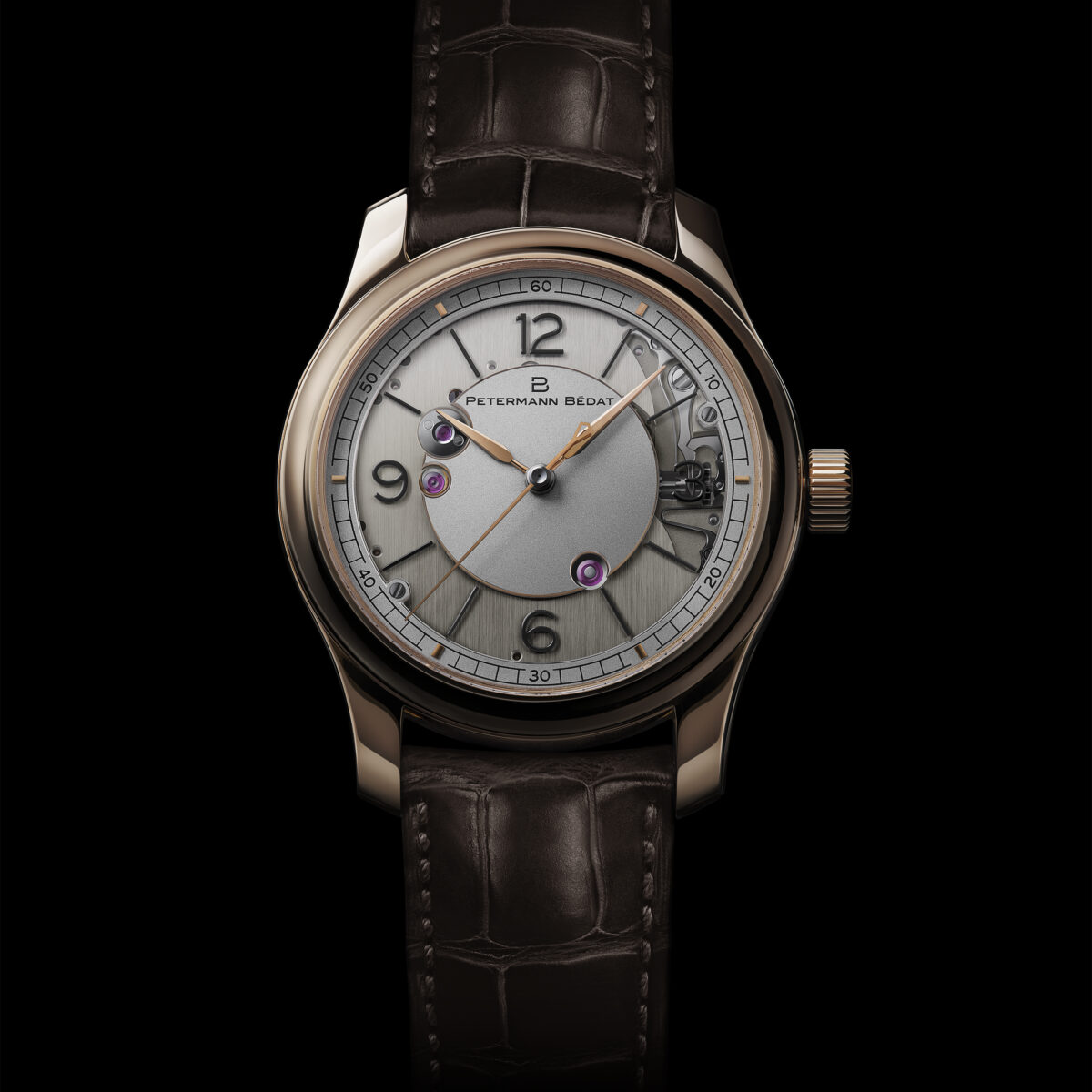 This two friends' paths have parted in 2011; Gäel Patermann worked for A. Lange & Söhne in Germany, and Florian Bèdat worked for Harry Winston in Geneva. Then, in 2014, also Florian Bèdat  worked for Harry Winston, but he returned to Switzerland to do restoration for Christie's auction house. When Gäel Patermann was looking for a place for workshop in 2017, he found a 50 square meters workshop in the town of Renens in the Canton of Vaud, and invited his friend to join him. The highlight of this small workshop that it was close to the workshop of great master Dominique Renaud (co-founder of the legendary Renaud & Papi).
This two friends repaired a watch that suspected of belonging of Abraham- Louis Breguet brought to them by a collecter, as volunteer in a project by Dominique Renaud  in the summer of 2017.
Koleksiyoncunun (Philippe Dufour'a danışmasından sonra) mali desteği ve yaptıkları iş karşılığında Dominique Renaud'nun mekanizma tasarlayan bir mühendisini yönlendirmesiyle 2018'de şirketlerini kuran ekip, üretim için çalışmaya başladı.
The duo found opportunity to mechanically apply the bouncing second mechanism, which was seen the first quartz movement in 1967, thanks to Robert Gafner's invention of the Gafner System. The Gafner System has inspired the second jump due to its constant force mechanism. While system offered a wonderful floor, its application required a first class workmanship. The double tongs assembly used in the mechanism is the most complicated component to produce, while the double tongs is a piece that needs to be pricesely adjusted to a hundreth of a millimeter by hand, and extraordinary skill of watchmaker only makes the difference between weather the mechanism works or not.
The Gafner System also provided to these two young watchmakers with the opportunity to use and revive an old technique to obtain matte surfaces. This technique, achieved with the "poudre du velant" mixed with olive oil, was traditionally used on grande sonnerie pocket watch, but has since been almost forgetten.
 The movement has large balance wheel with a diameter of 11.5 millimeters that vibrates 18.000 per hour, because of team's fascination with pocket watches. The swan neck fine mechanism mounted on the balance wheel and inspired by the golden age of pocket watches is undoubtedly most elegant tool for adjusting speed. (The using of a German silver three-quarter plate with a swan neck mechanism is undoubtedly elements of the Glashütte watchmaking tradition.) Patek Philippe Calatrava 2526, which they like design of the case, is among the reference points.
However, fairy tale has faced with some problems at this point. The prototype watch came out in 2019 but  was not liked, the deals and hands were found to simple and far from creativity. Therefore, production could not be started and watch was not sold.
While Peterman and Bedat were looking for a way out, they had an opportunity to open a new page when they met with the designer Barth Nussbaumer. They convinced the desinger by making a deal because they did not have financial means to pay.
The watch, which was released in 2020 with its own movement Ref.1967  ( Caliber 171) and an updated dial, found a buyer just a few month before the award.
The team has hired only 3 employees in October, however they instantly gained fame when they were awarded the GPHG Horological Revolution Prize.  They are now making plans for new watches, with a list of of customers waiting in line.
Highlights of Watch: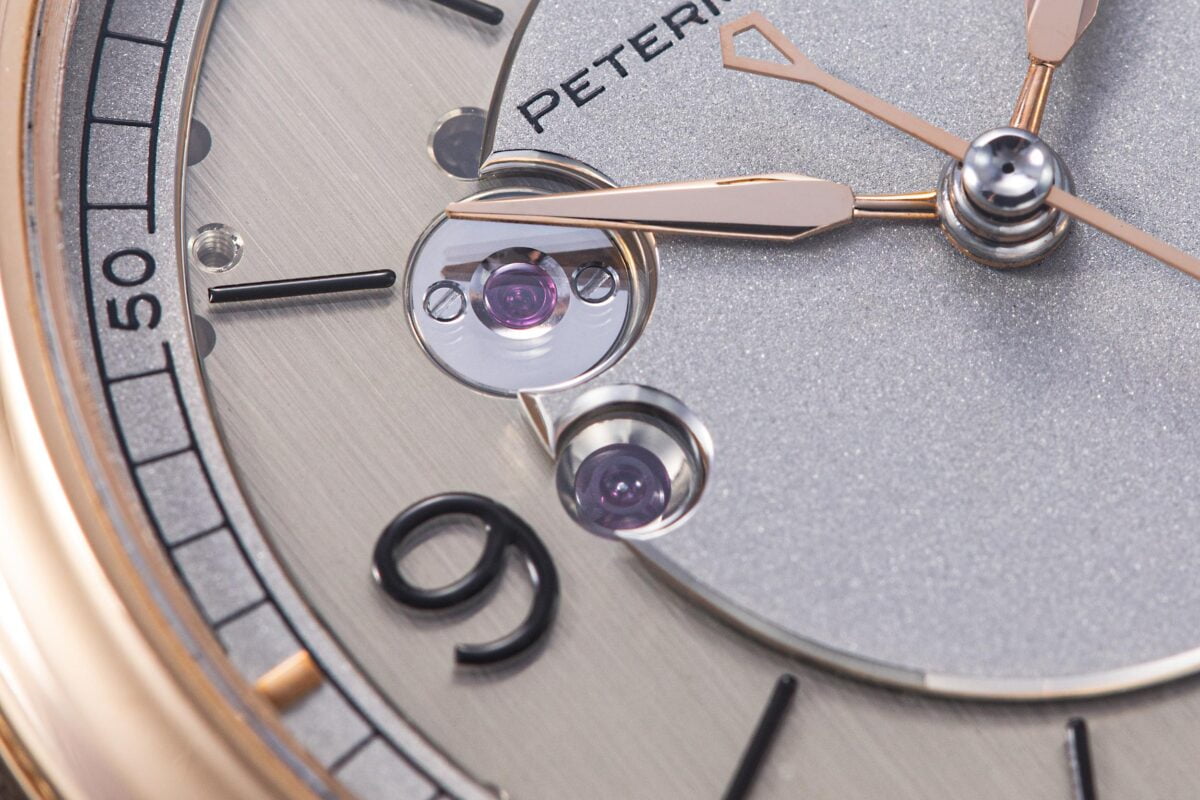 Bouncing second feature through the constant mechanism brought by Gafner System.
Unique hour, minute and second hands.
Despite it is the first watch of a new brand in the sector, includes an unique mechanical architecture and a great maturity.
Combining German and Swiss watchmaking elements with a modern design approach.
The harmony of different elements of mechanism, its structure with contrast and depth.