F.P.Journe watch designed by director Francis Ford Coppola sold record price for the brand at Only Watches 2021.
Perhaps one of the most original pieces of Only Watches 2021, which features more than 50 timepieces, was F.P.Journe's specially designed watch FFC Blue. Because this timepiece shows the time with mobile fingers. The special design sold for CHF 4,500,000 and broke record as the most expensive watch for brand at its Only Watch history.
In fact, 2021 is a celebration year for several watch brands and one of those brand is F.P.Journe that celebrates 20th anniversary of Octa collection. And the brand has created a model with a mobile hand in this iconic collection. But what is interesting in the model that the idea of an automaton hand came from famous director Francis Ford Coppola. He is inspired from an artificial hand designed by Ambroise Paré, who is considered father of modern surgery). Actually, the watch was born in 2012 during a dinner at Coppola's home in Napa Valley. Coppola asked to Journe if could be possible to display time with a hand in a dial. Although Journe found this idea very interesting, he thought about how to display 12 hours with 5 fingers for a while. This complex challenge inspired and motivated him. However, he figured out it after a while later: thanks to the levers, wheels and cam mechanism integrated to the movements, mobile fingers can be appeared or disappeared on the dial. After that, Coppola draw the hand automaton and send it him. The development of the watch took nearly 7 years. And finally, they presented FFC Blue. The mobile automaton hand positioned in the middle of the dial and the mobile fingers appear and disappear in the dial. The minutes can be seen on a rotating disk located at 12 o'clock. The blue hand on the dial is driven by only Octa movement, that is FFC 1300.3 calibre.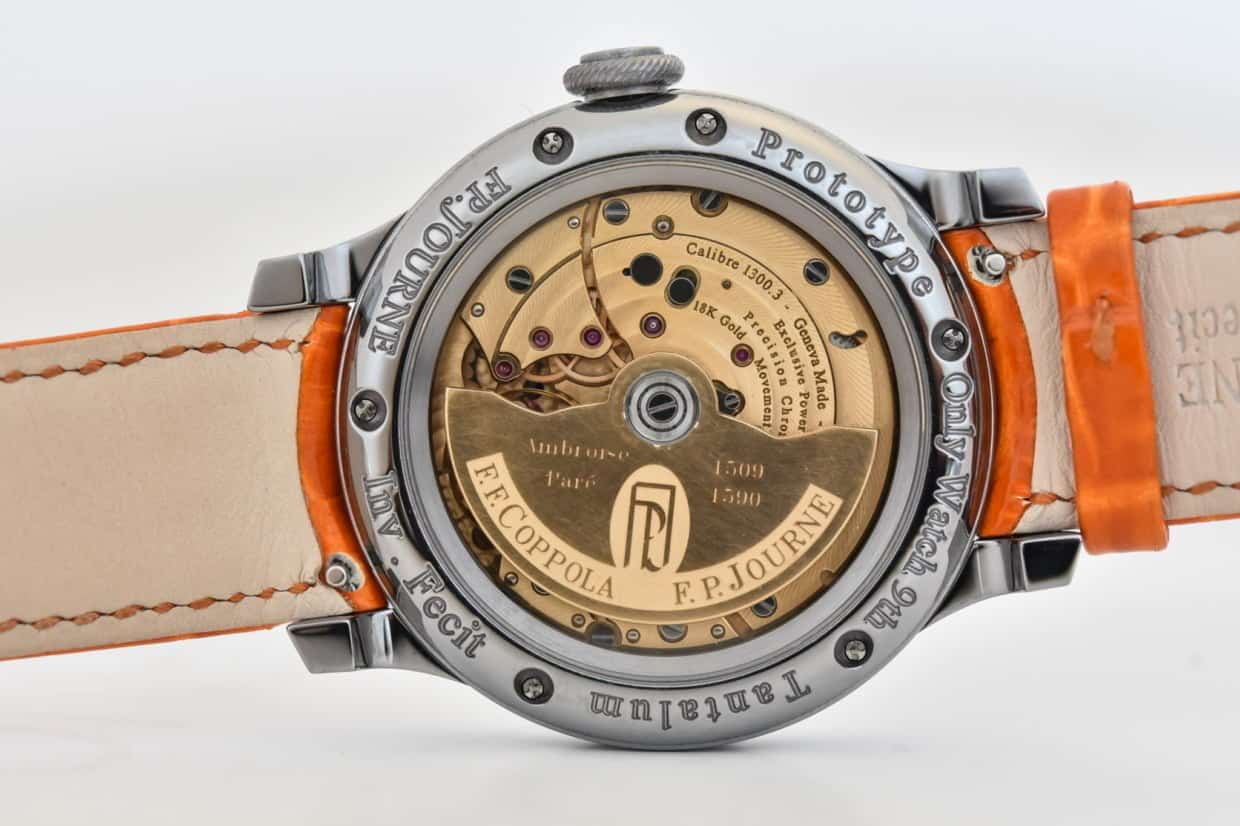 The model is in 42 mm tantalum case. Although the watch features a complicated mechanism, it is in an unexpectedly thin case. The case is made of 18-carat gold and designed with unique Journe-style decorations. The complicated movement consist of 396 part and can be displayed on caseback. The bridges in the mechanism is also made of 18-carat gold. The caseback is engraved with F.F. Coppola and F.P. Journe. The timepiece has 160 hours of power reserve.