Sculptor Hande Şekerciler's solo exhibition, ecstasy, is exhibited at JD Malat Gallery's virtual exhibition space Parallel. Because of the sudden outbreak, Şekerciler decides to present the series "ecstasy" that she has actually been working on for a long time as the solo exhibition XR. The epidemic does not only change the form of physical experience; some sculptures are also shaped by the consequences of the epidemic. We talked with Şekerciler about ecstasy, how developing technology has shaped the art of sculpture and the impact of the epidemic on the art world.
What was the starting point of the "ecstasy" exhibition? Could you tell us a little bit about both the origin of the idea and the creation process?
ecstasy is the dream of a world where no one interferes with anyone, accepts both their own and others' existence as it is, and even embraces their own existence with pleasure. The series was shaped around Albert Camus's saying "Man is the only living being that does not want to be whatever he is", based on these thoughts.
Adding new sculptures to the series I've been working on for a long time, we decided to present the exhibition as an XR experience, with the epidemic that broke out while I was preparing for a solo exhibition. Based on this idea, together with Burçin Gündüz, the founder of Garage Atlas, we established the best possible technological infrastructure within the possibilities of WebGL. You can watch the works online in the virtual exhibition hall PARALLEL of JD Malat Gallery. On the other hand, what excites me the most is that the viewers can experience the work they have chosen from the AR catalog page, by placing it in the place where they are. Only because Apple ARkit gives the best results, thanks to this Apple-exclusive catalog, art lovers will be able to view and watch the sculptures as if they were in the same place. We are at the very beginning of the emerging augmented reality applications, and as these applications evolve, they will change the art world incredibly. Therefore, as an artist who produces in one of the most difficult areas to represent on the screen, which is a two-dimensional space like sculpture, it makes me very joyful to be one of the first attempts to do this.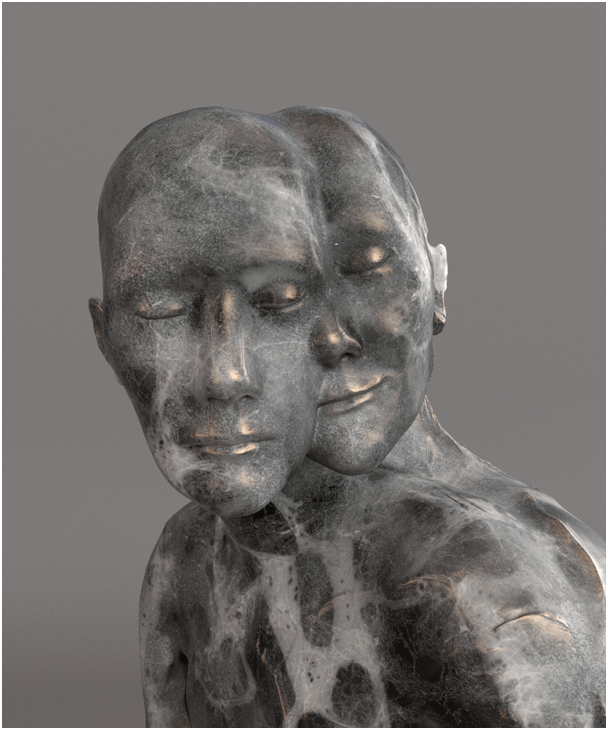 You are saying that in your sculptures, you are not describing what they were doing at that moment, but what was in their mind. What happened in the minds of the lover bodies in the figures (ecstasy no: 5, 8 and 15) where you embroider the lover bodies in "ecstasy"? How does love take shape in your sculptures?
The dual characters in my sculptures represent the person herself/himself and her/his mood. I am talking about accepting oneself as (s)he is and loving what (s)he is with deep pleasure, which I don't think is possible for a person. This series is a dream I have in the face of the beauty of a possibility. If there is a lover or love in my audience works, it is a situation that tells about person's relationship with herself/himself.
"ecstasy" does not only consist of human figures, there are animals as well as humans. I think it is possible to say that the wild animal and human representations in "ecstasy: isolated no: 5" are given in love. What do you pay attention to when you are embroidering people's relations with other living things in your sculptures?
The animals under the "isolated" subtitle symbolize our transformation into primitive nature, animals and plants when we were helpless in the first quarantine during the pandemic. The nature we created that is the universe made up of these concrete and iron and circuits started to suffocate us when we were completely enclosed for some reasons. Because it cannot evolve as fast as the civilization we have established in our motives and bodies. And inside we are all those primitive people who still run, hunt and gather through the forests and fields.
In general, when you look at my sculptures, you will only see the human figure. Because what I am looking for in my work is to express the emotional presence in our physical space with forms. Therefore, my sculptures exist only as themselves, free from anything else. It is up to the audience to build relationships and write their stories.
Technology also diversifies your sculpture production. How do technological developments affect the techniques and designs you use, can you talk about that?
One of the things that is reflected in art and excites me the most in developing technology is augmented reality. As I mentioned above, this technology, which I use in my exhibition, is a situation that will change the way we live life and therefore our view of art. Something that will change our view of the physical, the "real". In this context, with the acceleration of the epidemic, I think about how we can better understand the representation of the sculpture in virtual spaces. On the other hand, thanks to technology, it is possible to find ways to exhibit works that we cannot perform in the physical world, or works that cannot be displayed in public, as in the "Impossible Sculptures" series of XR. This is something that removes all boundaries in the thinking and creation process.
Could you tell us about your general working order? Maybe a little from JD Malat …
I start the day around 7.30 in the morning. I like to do things like designing new sculptures, writing texts, answering incoming interviews and e-mails in the mornings. In the afternoon, I do things like Pixel meetings or going to the foundry where I mostly communicate with other people.
JD Malat Gallery is a London based gallery. They have been carrying out my representation abroad for about three years.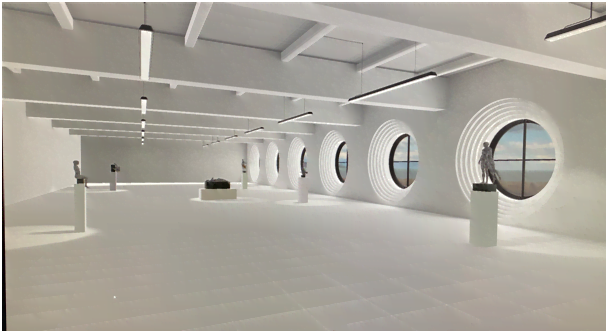 I don't want to end the interview without mentioning the pandemic. How did pandemic conditions affect your production? Also, what do you think about its influence in the art world?
Strangely enough, it has been a very fruitful time for me. In addition to preparing the solo exhibition that you can watch both in my personal works and in the virtual exhibition space of JD Malat Gallery, PARALLEL, we have developed many projects as a dual artist together with Arda Yalkın and realized some of them.
During the closure to the house that came with the pandemic, we started receiving a lot of questions on social media with Arda. Especially our young friends who continue to produce art with conventional methods and want to continue their career as artists, started to ask questions about how they should use new technologies in their art productions, how we do our productions as XR and so on. After a while, it became difficult to answer the same questions one by one. When we thought that "How do we get these people together?", thanks to Çelenk Bafra, our paths crossed with Cem Leon Menase who is the project leader of the volunteer organization Başlangıç Noktası working under the roof of the Turkish Informatics Foundation. We created the Pixel New Media Artist Guest Program. With our team of volunteers, we have created a program where artists and artist collectives such as Candaş Şişman, Memo Akten, Burçin Gürbüz, DecolTv who are well-known in their field mentor our young artist candidate friends. With the contribution of our collectors such as Füsun-Faruk Eczacıbaşı, Rabia-Ali Güreli, Feride İkiz, Kına Demirel, Agah Uğur and Selman Bilal, we were able to create a budget that we call the first work in the program which we plan to organize three terms a year. And in this way, we can support our participant friends if they want to produce a work at the end of the program. In addition to this, a community where we talk about conceptual issues as well as how to use new mediums of art technically is formed on our Discord channel which is attended by all our participants and our mentors who desire. This is also one of the aspects of Pixel that excites me the most.
In addition to all these, as XR, we did the creative director of an exhibition which is called Augmented Istanbul within The Lights Istanbul event organized by Contemporary Istanbul under the main sponsorship of IBB and we support our artist friends who produce with conventional methods to try new technologies and you can watch it by using augmented reality technology spread all over the city. In the exhibition which I think, will be followed by art lovers with curiosity, in addition to names we know from the contemporary art scene such as Erinç Seymen, Tunca Subaşı, Büşra Çeğil, Murat Palta, Melis Buyruk, DecolTV and Memo Akten; we will be able to watch the works of our precious illustrator friends such as Ethem Onur, Selin Çınar, Burak Şentürk, Furkan Nuka Birgün and Meltem Şahin. In addition to all these projects, we are working with Arda on the concept and design of digital people.