American watch brand Welsbro brings an extraordinary color to the haute horology with new models that produced with vintage movements and cases after 50 years.
If something excites a watch enthusiast more than a vintage watch, it should be a yummy vintage watch. Yes, I wrote "a yummy vintage watch" because in the following line I will talk about a heritage watch brand that again started to produce timepieces inspired by culinary almost half a century later.
The watch brand that I have mentioned is Welsbro; the chances are you haven't heard of it until now, because it has not been produced since 1970's. The story of this US-based watch brand goes back almost a century: the brand was founded in 1926 with the Weissman Watch Company, a family company in New York, combines watch parts imported from Switzerland at that time and assembled the watches in the USA. (Weissman is still quite known for its vintage watches produced with modern techniques.) In the 1930s, they began to watch under the name of "Welsbro". It is said that the original name of the brand was "Weisbro" for "Weissman" plus "Brothers". However, the name "Weisbro" was often misread on the watch dial as "Welsbro".
In the lead up to Second World War, pocket watches were starting to give way to wrist watches; of course, the popular watches of this period were the military-style wristwatches. Despite being a small brand, Welsbro was also starting to produce wristwatches by keeping up with this trend. Ultimately, it managed to survive among the major watch manufacturers of the time, like Hamilton, Elgin, Bulova and Ilınois.
During these 20 years, Welsbro became popular throughout the country by producing various timepieces, creating fashionable watches as well as military style watches in the 1950s when both gentle's and lady's watches were part of fashion. The brand achieves success by offering these watches with an advertising moot "For those who want to a lot of quality and style without spending a lot". By the 70s, it succeeded with the diving watches when sport watches became more fashionable.
The interesting point in this story is that the 1970s, which is the last years of Welsbro, were a turning point for the watchmaking world, just like the years when the brand was born. This period, the "Quartz Criss", resulted in the collapse of many small mechanical watch brands with the introduction of battery-powered watches entered the industry. Just like many other small mechanical watch companies, the Welsbro also disappeared on the market. Until Rich and Katie re-established the brand 50 years later.
50 Years Later…
The rebirth of the brand comes when Rich and Katie moved from New York City to Oregon and stumbled upon a vintage Welsbro chronograph. They were amazed by the watch's design and its historical relationship with New York and decided to revive this heritage brand. The Welsbro team includes Rich and Katie as well as Kenkichi, a Japanese watchmaker. A cute detail about the team is that Rich and Kenkicki are sons of watchmakers.
Rich and Katie realize that Welsbro is not only an American watch brand, but also a New York watch and this New York spirit of timepieces actually excites them. Indeed, Rich has been collecting vintage watch movements, cases, and various watch components for several years; when the idea of reviving Welsbro, he rolled up his sleeves to turn these old pieces into new Welsbro watches with vivacious dials.
They firstly bought the brand and then worked for almost 6 years to bring Welsbro back to life in a meaningful way. These re-designed watches, combining vintage cases and movements with colorful and vibrant dials. The timepieces attract attention with their vivid and colorful images at the first glance. It may be said that Rich and Katie give a colorful and new life to vintage watches.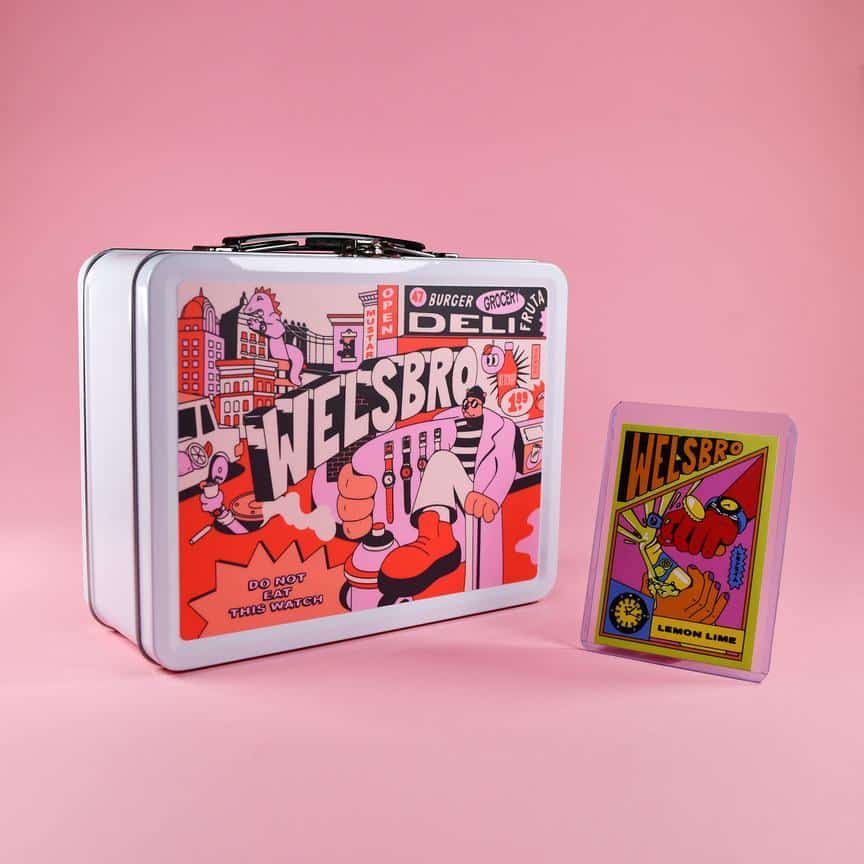 The brand produced four new models, two dive watches: Orange Soda and Lemond Soda, and two chronographs: Ketchup and Mustard. Each model stands out with food-themed designs. The timepieces are designed in different colors, and the colors and textures of the straps are also available in different options. The 36 mm cases are designed in the iconic Monnin-shaped.
The brand totally launched 25 watches of four models on September 18. If images of the watches excite you as much as we do, we regret to say that all models have already been sold. However, don't feel hopeless because there are many vintage movements and cases waiting to be brought back to life.