Patek Philippe introduced 12 new models from the blue-dial Moon Phase to reinterpreted Calatrava at the Watches and Wonders 2022.
Perhaps you remember our article "Patek Philippe Nautilus or Last Moments of Love" which has been written during the Watches and Wonders 2021 and mostly talked about the Nautilus series. The article's main topic was Nautilus model because Patek Philippe had introduced only Nautilus model at the previous fair. After then, the brand announced Patek Philippe Nautilus Tiffany Blue® in December, it achieved to surprised us and became one of the most talked-about watches of 2021. And now, as you might expect, there is no Nautilus watches among novelties of Patek Philippe in the Watches and Wonders 2022. However, Patek Philippe managed to become one of the popular brands of the exhibition with its novelties this year again.
A Vintage Touch
The Ref. 5320G-011 Perpatual Calendar is a model inspired by the first mass-produced perpetual calendar wristwatch from 1942, which is also known as Ref. 1525 with its some sides. The timepiece distinguishes with its pink dial from cream-lacquered dial Ref. 5320G-01. The new case is made of white golf and in 40 mm and 11.13 mm height. The case is first crafted from a solid block of white gold, then hand-polished to show classic Patek Philippe quality. The most characteristic features of the watch are that its layered case structure and claw shaped lugs. The most vintage side of the watch appears on its pink dial. The extremely accurate moon phases require a one-day correction only once every 122 years.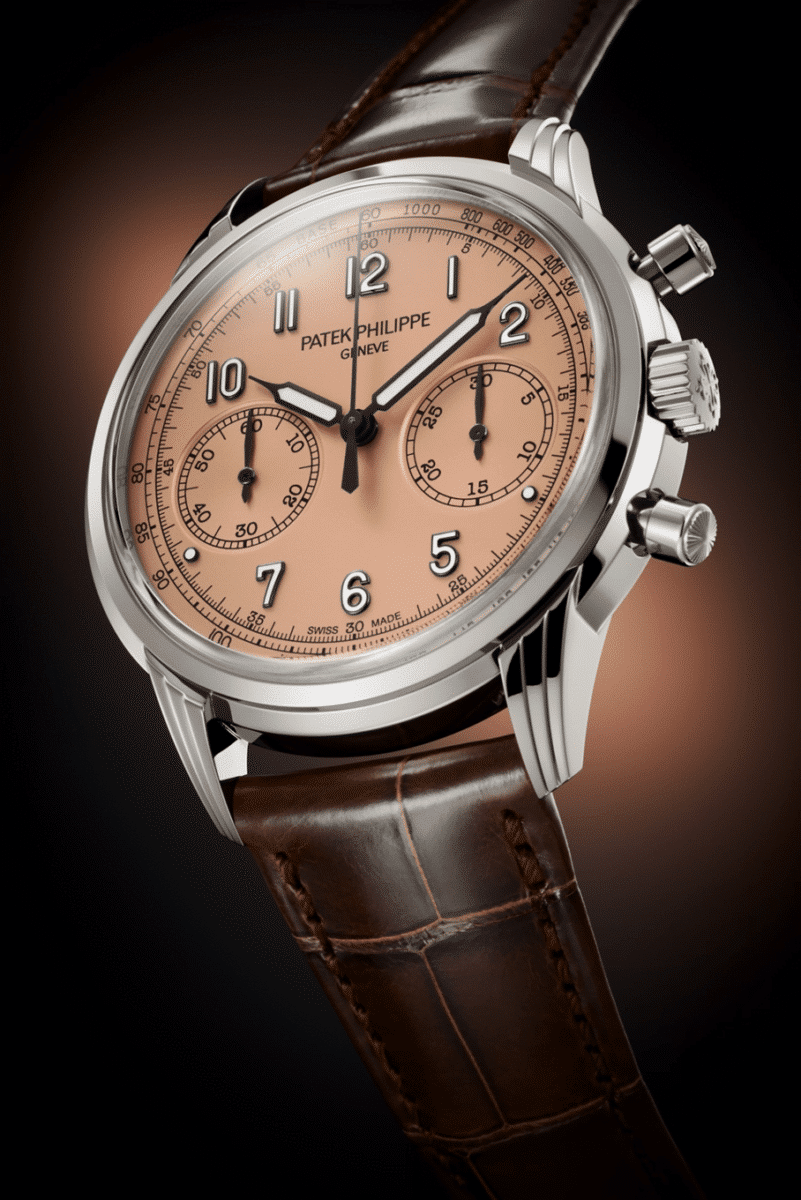 Another model inspired by a watch that produced in 1940's and 50's is the Ref. 5172G-010 Men's Chronograph with pink dial, whose case in 41 mm diameter and houses a classic Patek Philippe movement. The caliber 29-535 PS offers power reserve of 65 hours. The cases of both watches are made of 18-karat white gold.
Three New Version of World Time
The Ref. 5230P-001 World Time is in platinum case matches with blue dial, and it is the first blue-dial watch produced in Ref. 5230 series. The feature skeletonized hour hand inspired by the "Southern Cross" constellation.
Annual Calendar Travel Time
The first world time complication of Patek Philippe and the history of watchmaking was invented in 1931 by Louis Cottier who is a legendary watch maker. And Patek Philippe announced the first examples of this world time complication in 1937 with a pocket watch and two wristwatches. Furthermore, annual calendar and travel time was brought together in Annual Calendar Travel Time -5326G by Patek Philippe for the first time. The new Ref. 5326G-001 Annual Calendar Travel Time is designed with a textured grey dial, its 18 carat-gold case is in 41 mm diameter. The watch houses an innovative automatic movement caliber 31-260 PS QA LU FUS 24H. Actually, Patek Philippe has a similar watch in the Calatrava collection with a slightly smaller diameter (40 mm), but without additional functions, which is Ref. 5226G-001.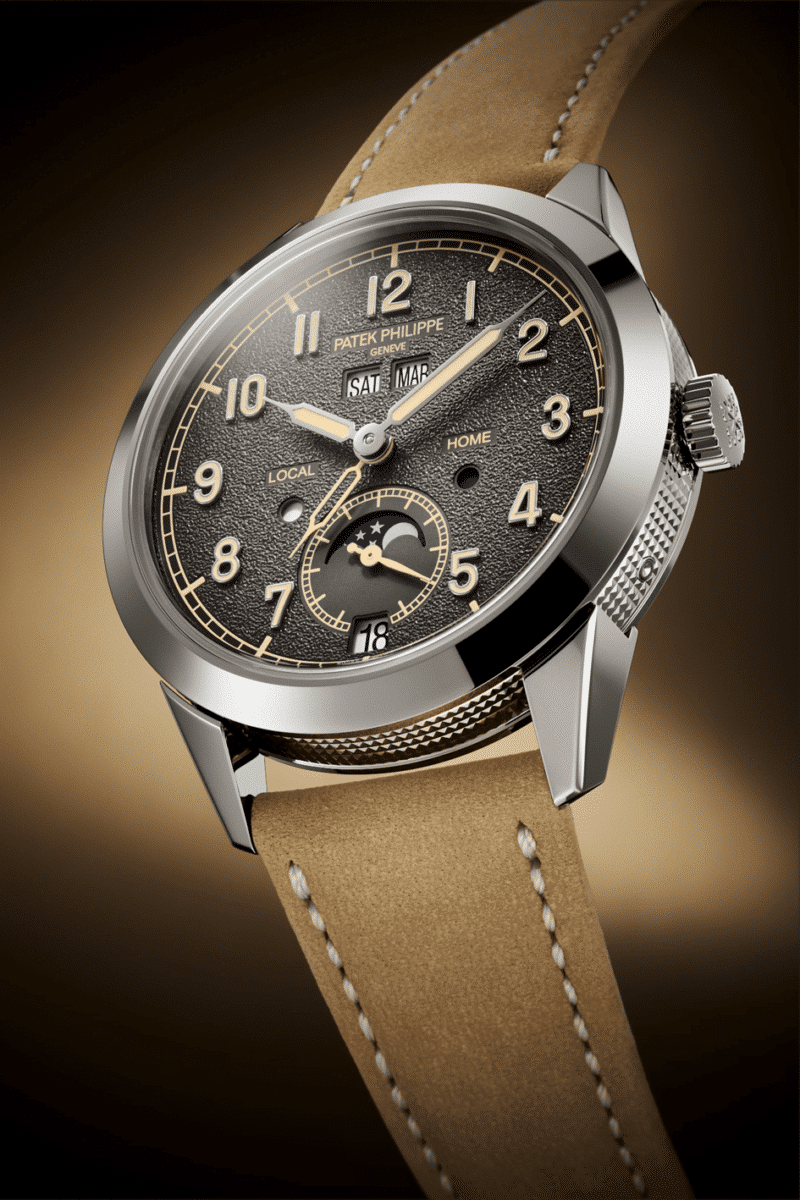 And Calatrava
Patek Philippe brings a new appearance to its Calatrava collection, which is introduced in 1938, with a new model presented in Watches and Wonders 2022. The classic round case of the iconic collection is preserved in the reinterpreted structure, yet Arabic numbers and charcoal gray lacquered dials with a textured surface is new side of the classic watch. The 18-carat white gold case is in 41 mm diameter. At the heart of this classic piece, we see the caliber 26-330 SC.
Two New Moon Phase Models
Ref. The 7121/200G Moon Phases is a stunning model with its dark blue dial and bezel decorated with diamonds. It is literally a classic Patek Philippe watch features Breguet numbers, pear-shaped hour and minute hands, sapphire crystal and a blue strap that matches the dial. No doubt that the most stunning side of watch is its bezel decorated with 132 diamonds using the "dentelle" technique. Its case in 33 mm diameter, and houses 215 PS LU caliber.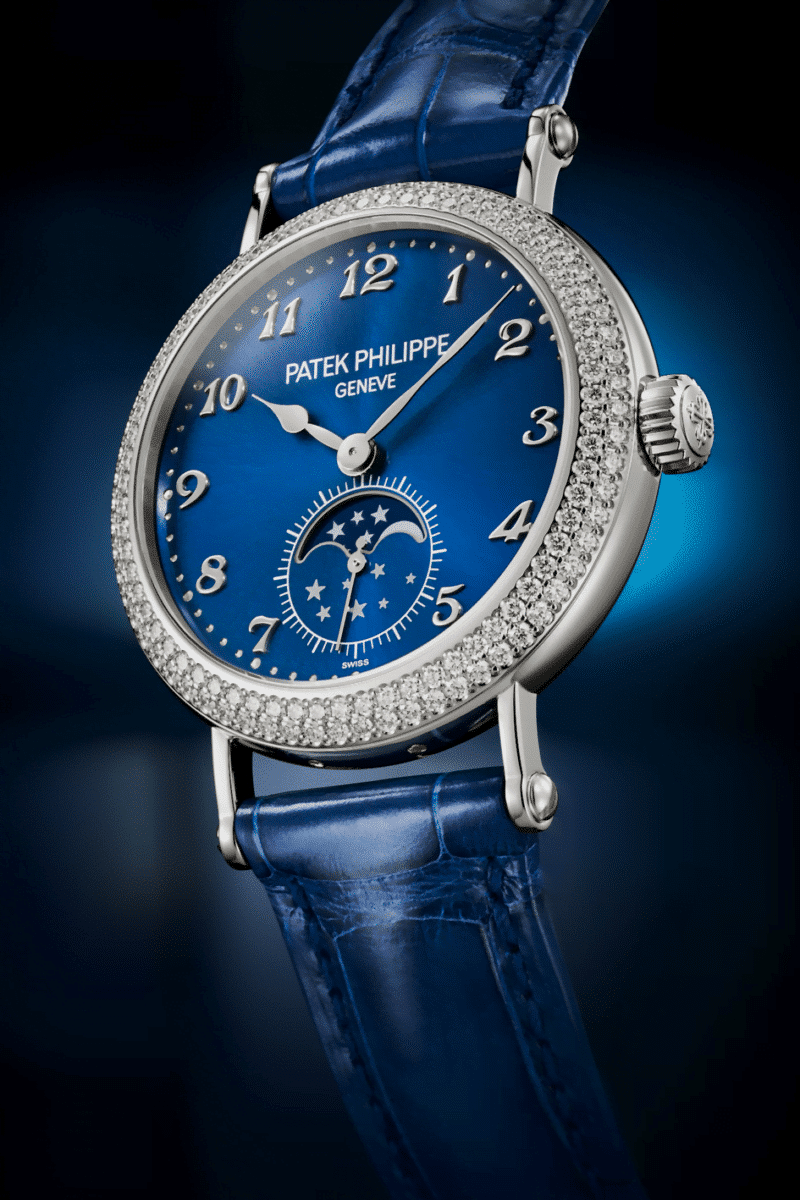 The Ref. 5205R Annual Calendar Moon Phases was announced with a plain design and a dark green dial. This olive-dial new model, which is a sister of the Blue Sunburst 5205G, is designed in rose gold case and dauphine-style hands, all of which contrast with the color of dial. Finally, the watch houses caliber 324 S QA LU 24H/206 with a power reserve of 45 hours.