Greubel Forsey's GMT Sport model brings a new design and complication concept to sports watches.
Greubel Forsey's presentation in Zoom was entertaining. Marketing director of the brand said "I'm traveling for the first time in months, thanks to this presentation" after talking about Greubel Forsey's growth decisions for the future and the resulting co-founder Robert Greubel starting to work with CEO Antonio Calce in December, and he jumped from the helicopter after the trip. All of us thought that it was a part of introducing GMT watch's feature and uttered our disappointment when understand that it was not. On the other hand, the brand could not help giving a promise: "Next year, try the watch while jumping from the helicopter and continue the presentation; we took note of this."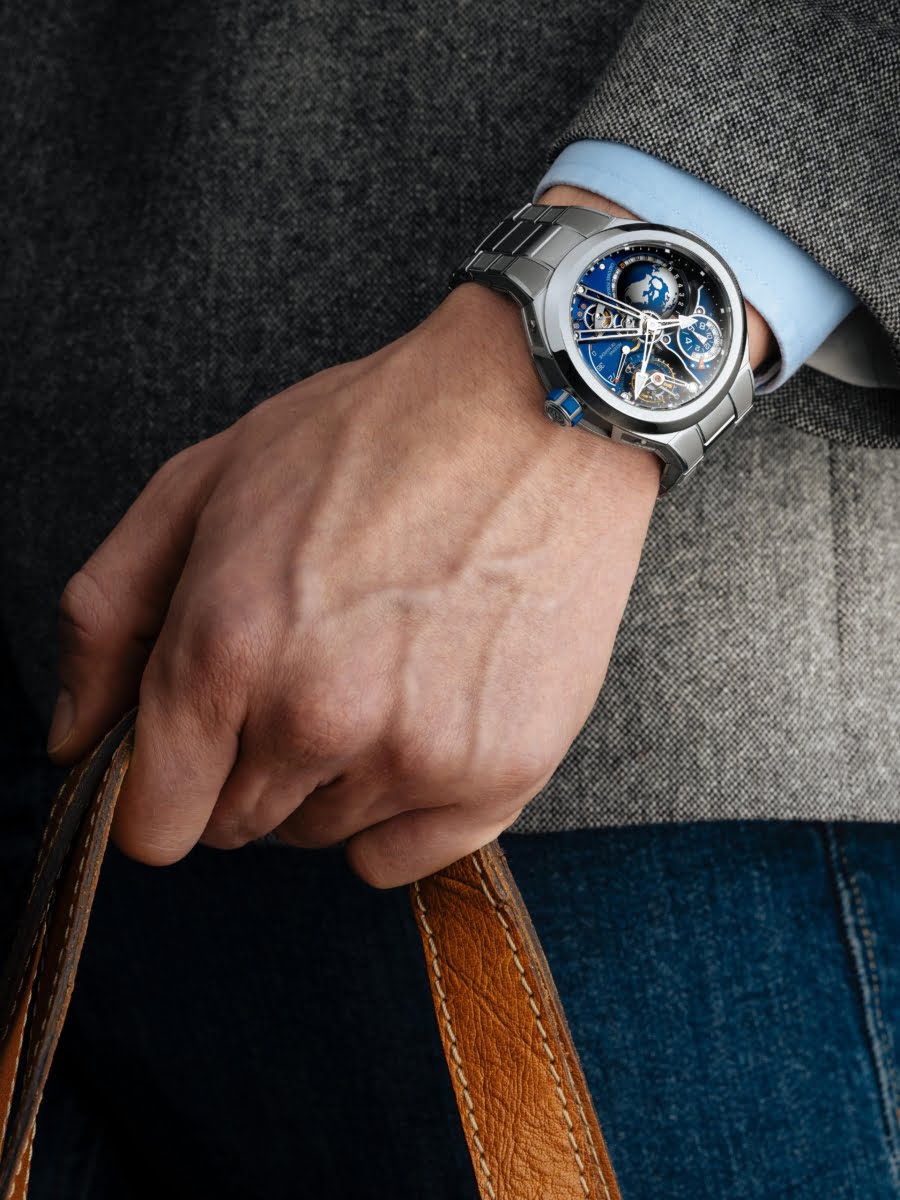 Indeed, this episode depicts the overall stance of the brand. Greubel Forsey uses the concept of "Art of Invention" as a motto, displays its energy and passion for crossing borders, while trying to object to the admission that there is nothing left to be invented in watchmaking, unlike many other brands. Greubel Forsey's new version of the GMT Sport model introduced in 2019 (more beautiful than the old one) is also answer of that question: " If Greubel Forsey produced a sport watch like any brand, what difference would it have made for it?"
Firstly, GMT Sport in 42 mm is the brand's first model with a bracelet. This three-row bracelet is made of floor 5 titan; it is quite voluminous and has a structure integrated into the case. The hand-polished bracelet has a design that unique to brand, so is the curved case. The watch comes with a rubber strap.
The GMT Sport model of the brand, whose focus is on tourbillons, of course includes tourbillons, but it also has many other functions: The 25-degree tourbillion, which makes a revolution every 24 seconds, while adjusts movement, the power reserve indicator on its three directions displays how many hours reserve is left in the watch with 72-hour power reserve. There are hour and minute hands on the skeleton bridges at 4 and 5 o'clock, which is also a design difference. The Earth globe rotates with the Northern Hemisphere view at 7 and 9 o'clock, and there is an indicator that displays the time zone of all meridians as well as the night and day. At 10 o'clock, the second time zone and seconds are seen. 24 cities name is written in the case back, summer hours also can be seen. The GMT function and the Earth globe can be adjusted with buttons on the side of the case.
All parts of watch are matte blue. All these parts are in perfect harmony with the gray titanium bracelet.
The Greubel Forsey GMT Sport is a high Greubel Forsey watch with a sports watch look. Therefore, it produced limited to 33 pieces.