History of An Iconic Toy
I don't know how your memories with these are small and colorful Lego bricks, but mine are mostly based on looking for these cute pieces that I have mostly lose.  That's why; I can say that now I'm writing an article in which all Lego pieces come together. We have to go back almost a hundred years ago in order to put the first Lego piece in its place. Lego Group was founded in Denmark (1932) by Ole Kirk Christiansen as a carpentry workshop. That is, first Lego pieces were made of wooden.  In two years, company came to be called "Lego", derived from the Danish phrase "led godt", which means "play well". The company has started to expand its production and produce plastic toys in ten years. In 1949, it launches the classical Lego bricks that we are familiar today with a name called "Automatic Binding Bricks" name.
By 1951 plastic toys accounted for the half of the Lego Company's output. In the following years, it has been discovered that Legos are such creative toys and the reputation of Lego begins to cross the boundaries of country. After that, it could be say that there are many stories of Lego pieces from all over the world. 
The brand produced its first mini figure set in 1978. Consisting of a police team, mini set had celebrated its 40th anniversary in 2018.
In the following years, Lego has produced hundreds of sets inspired by movies, cartoons, sport cars, space adventures and even paintings. In May 2011, Space Shuttle Endeavour mission brought 13 Lego kits to the International Space Station in order to see how Lego models would react in microgravity.
In 2013, the largest model ever created was displayed in New York City. Lego X-Wing Starfighter was a scale model of X-wing fighter and made of over 5 million bricks.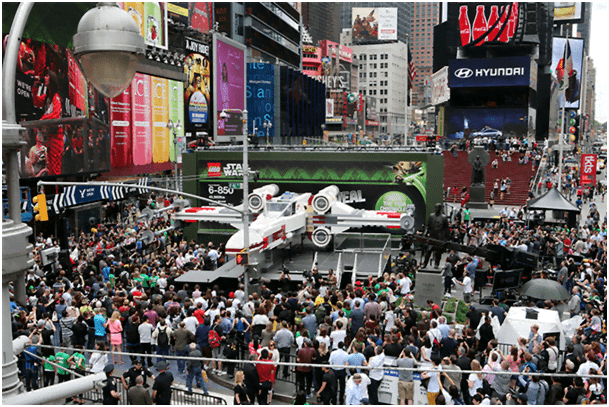 All-Time Best Lego Sets
LEGO Collosseum
Our first Lego set take us through Rome, the capital of Italy; actually, we think that visiting an ancient structure will be good for us, even if it is a plastic toy, because we are sighing for travels.  Bringing splendor of Ancient Rome to our houses, this Lego Collosseum is one of the largest Lego set. Produced at last year, Lego Collosseum has 9036 pieces. Each part of collosseum is reflected in a great detail. The northern part of the outer wall' façade and its iconic arches are designed in realistically. The model can be seen from every aspect when rests on an oval display base; it measures over 27 cm high, 52 cm wide and 59 cm deep. Even though it is one of the largest Lego sets, it is easy to lift and turn.
LEGO Taj Mahal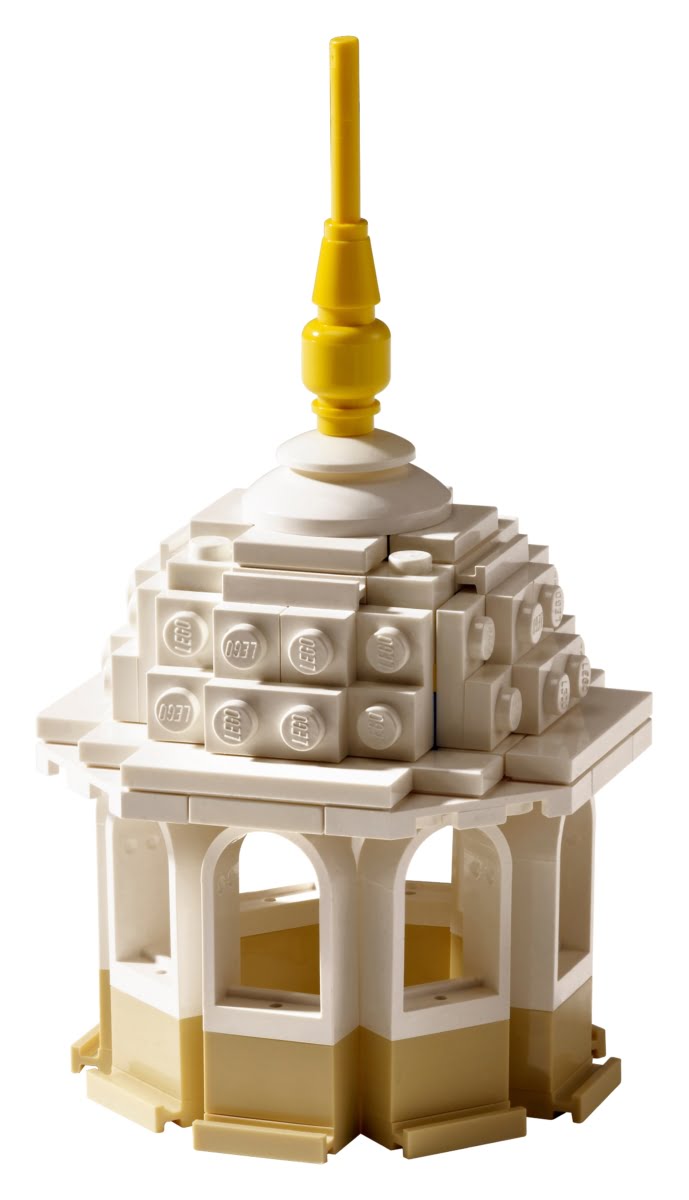 The huge ivory-white marble mausoleum was commissioned in 1631 by the Emperor Shah Jahan in the memory of his wife, the Empress Mumtaz Mahal. The Lego model of this architectural wonder, produced in 2008: Featuring 4 facades with arches and arced windows; central dome, 4 subsidiary domed chambers and 4 minarets; raised platform lined with recessed arches and white tiles with ornamented details from top to bottom are last touches that complete the model. Lego Tac Mahal has more than 5900 pieces. Measures over 43 cm high, 51 cm wide and 51 cm deep.
LEGO Tower Bridge
Another Lego set is designed with inspiration from London's iconic bridge which is a Neo-Gothic architecture. Lego design of the bridge, which was built on the River Thames in 1894, has approximately 4500 pieces. Designed with a drawbridge that really opens, Lego Tower Bridge is another Lego set that worth a collection item with its iconic paired towers and rare colors.
LEGO Harry Potter Hogwarts Şatosu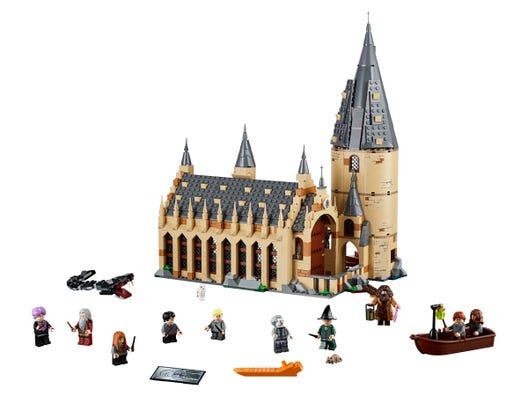 We continue a Lego set that inspired by the seventh art.  By producing Harry Potter's Hogwarts Castle, one the most magical worlds ever, Lego offers an enjoyable design experience for both movie and book series fans. This detailed micro-Lego set, created with more than 6000 pieces, comes packed with classrooms, rooms and many hidden features of the castle. Besides, editing the scenes you want from movie with 27 mini-figures, including Harry, Hermione and Ron, as easy as pie.
LEGO Star Wars Millennium Falcon
Let us travel from a magical world through a magical galaxy; here is Lego Star Wars Millennium Falcon. The Lego set, one of the largest Legos that produced with 7541 pieces, is a detailed design of Han Solo's legendary cargo ship. Featuring array of details, rotating tops, a lowering lamp, an opening cockpit and with 4 mini figures this Lego set will satisfy a Star Wars fan. These 4 mini figures are Han Solo, Chewbacca, Princess Leia and C-3PO.
LEGO Technic Lamborghini Sián FKP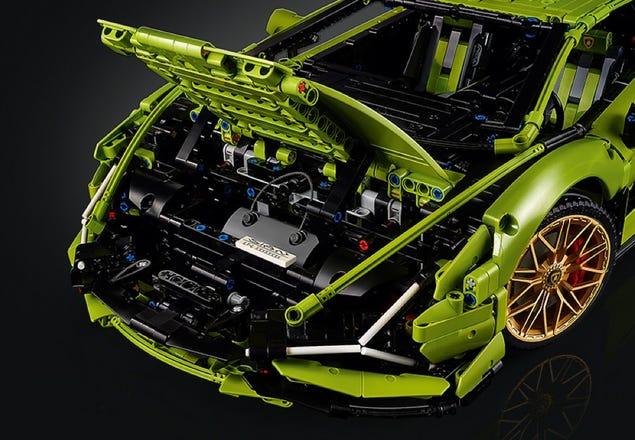 Race cars designed by Lego Technic Team are one of the assertive sets of the brand. One of them is Lamborghini Sián FKP, has almost 3700 pieces. This mini figure of the famous sports car is designed in a very realistic way like other Lego designs. So much so that this Lego set even can speed winds can blow inside your home. With the 8-speed transmission, movable rear spoiler, opening front and rear hood, detailed disc brakes and golden rims you can get closer than ever to a Lamborghini. Do not forget the toy's amazing speed with V8 engine, has movable pistons, when getting close to this micro -Lamborghini Sián FKP…
LEGO Andy Warhol's Marilyn Monroe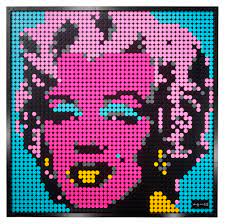 No doubt that all Lego sets we have been looking at so far have been amazing, but we must admit that the best of all will be this Lego design with   Monroe painting. One of the most important representatives of the pop-art movement, Andy Warhol's painting dated 1962 (currently on display at the Tate Art Gallery) is one of the most famous pieces of the Lego art collection. This Lego set, which will be touched your artistic soul while you build the set, consisting of 3341 pieces. With the soundtrack included in the set, you can listen unexpected details and information about both Marilyn Monroe and Andy Warhol. It can be displayed on a wall or shelf.
We have been used building our own worlds for over one year. We have regarded the long-season TV series and novel pages which we have never read before as a kind of journey that will enable us to travel through different worlds. It seems that this colorful and exacting design world that offered by Lego will also accompany us in creating new worlds.