Rustic hotels opened one after another in the Catskills Mountains, two hours away from the city, are witnessing the birth of a new destination.
Those who are planning a New York vacation, of course, aim for a program where they can spend time in the city's stunning streets, shopping and art centers, restaurants and nightclubs. Set out for the Catskills Mountains. This rural area, which has been frequently preferred by New Yorkers for weekend getaways, especially since the 1960s, has gone up a notch with the pandemic. New chalets and mountain hotels rising out of forests as far as the eye can see have become popular destinations on the West Coast, not just for the weekend, but also for those who want a longer vacation. The region, which is an incomparable paradise for hiking, offers cool weather in summer and outdoor activities both in the mountains and in the rivers; In winter, it has become a brand-new destination, a breath away from New York with its snow-covered nature and areas that allow skiing. Three new hotels we've selected for you from Catskills can inspire your next trip to New York
Urban Cowboy Lodge
The "hipster-chic" decoration of the lodge, which was designed as a hunting lodge in the 1930s, sets this 28-room lodge completely apart from its counterparts. The rivers surrounding Urban Cowboy, which is located on a 33 thousand-acre land and was completely renovated two years ago, is known as the place where fly fishing started in America. The hotel's luxurious cabins and chalets decorated with free-standing copper bathtubs, the Public House restaurant, which won many awards in a short time, and the Estonian-style sauna; Among its inviting features…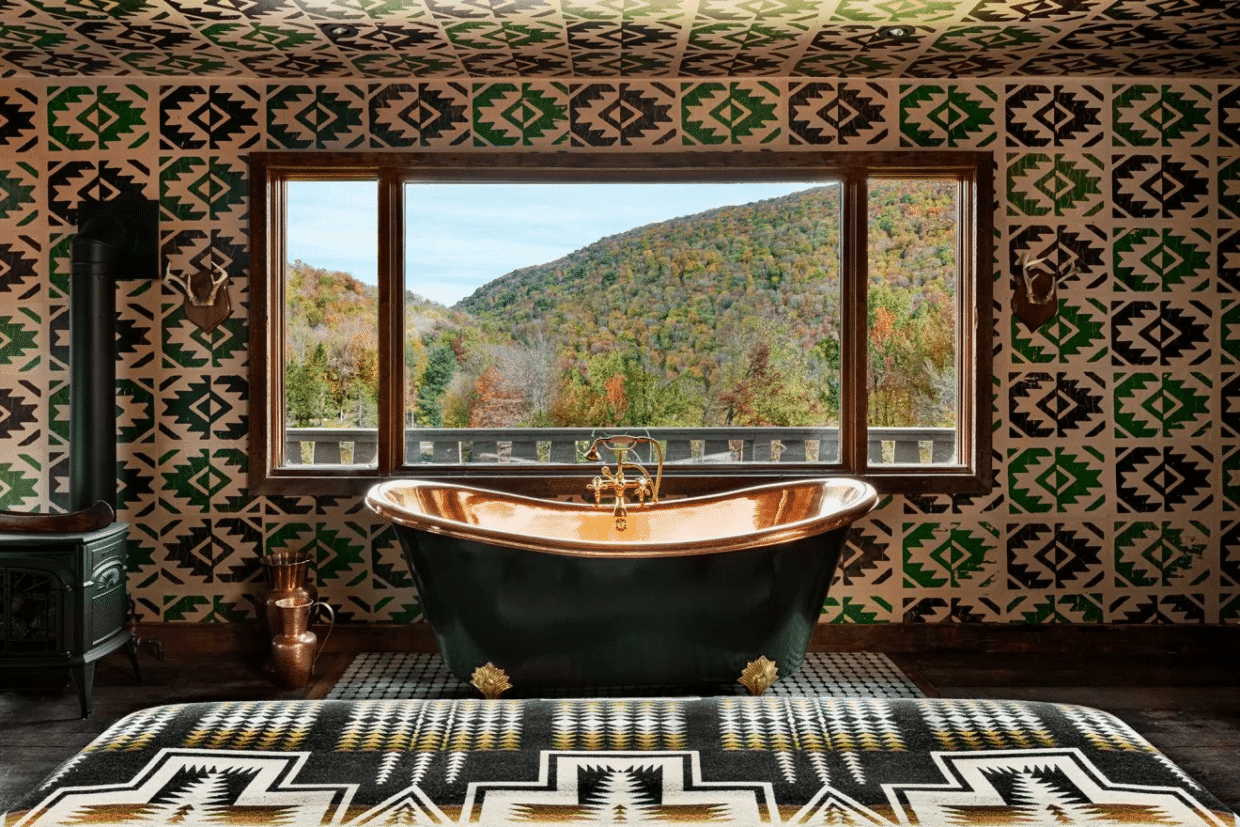 Kenosa Hall
This old and familiar address, which has recently undergone a multi-million dollar renovation, has taken its place among the elite accommodation options of the region with its new face. During the architectural design process of the 22-room Kenoza Hall, historical touches such as original parquet floors and bunk beds for children were preserved, while 10 separate bungalows took their place among the accommodation options. All rooms and bungalows invite their guests to have a holiday in a serene environment with views of the magnificent lake from which the hotel takes its name.
Shandaken Inn
Used as the socializing area of a thriving golf club in the 1920s and hosting countless New Yorkers for over a century, this rustic retreat is now in play as one of the Catskills' newest hotels after extensive renovations. Drawing attention with works of art and graphic textured wallpapers, 15 guest rooms combine the elegance of the past with the modern technology of today. With a heated swimming pool, professional tennis court and fitness center, all the facilities that those who want to recharge and return to the city seek are here…