H. Moser & Cie achieves another success in the field of functional artworks with the Streamliner Flyback Chronograph Automatic model, which won the "Chronograph Watch of the Year Award" at the 2020 Grand Prix d'Horlogerie de Genève (GPHG).
The Streamliner Flyback Chronograph Automatic's case, designed like a truly sculptural functional piece of art, has harmonious proportions and beautiful aerodynamics. It is topped by a subtly domed type sapphire crystal, echoed by the see-through case back. These lines extend to the integrated steel bracelet, which is elegantly curved to follow the shape of the wrist; the unique design of the links ensures that it sits perfectly on even the most slender of wrists. All the links are articulated and feature a gentle wave combining a vertical brushed finish with polished surfaces.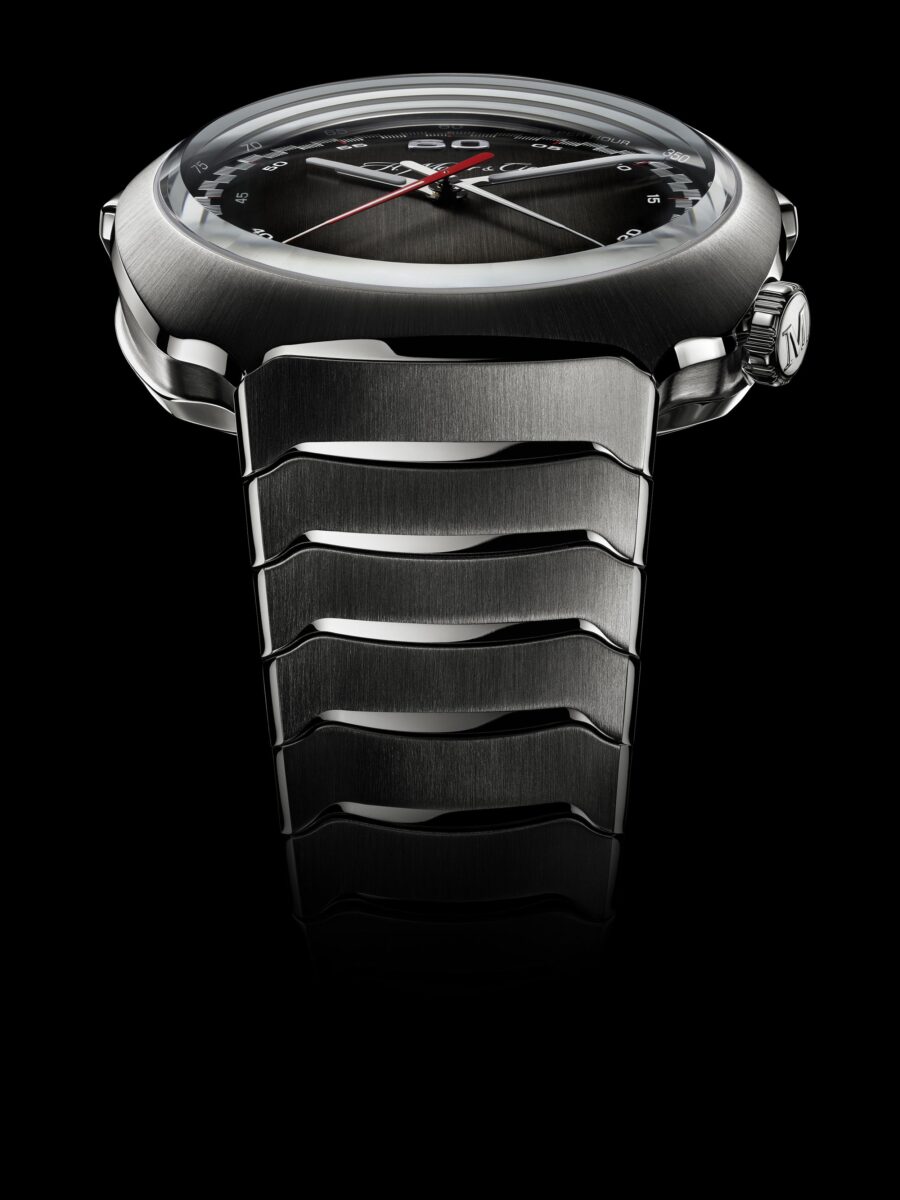 Watch has a steel cushion case 42.3 mm in diameter, with dynamic water resistance to 12 ATM, the chronograph function of the Streamliner Flyback Chronograph Automatic can be used underwater. Its off-centre crown, adorned with an "M", balances the two chronograph push-buttons set at 10 and 2 o'clock.
For the dial of the Streamliner Flyback Chronograph Automatic, H. Moser & Cie. reused the smoked dial, which is the signature element of the brand. Featuring a new anthracite shade of grey, the dial is not only fumé, it is also griffé. Around the circumference are two white and red minute tracks, the outer one measuring the seconds and the inner one counting the minutes.
Instead of the usual 12 at 12 hours, the watch has a large 60 number in line with the chronograph function. This watch also refers to monolithic sculptural cases of the 1960s and 1970s such as Heuer, Zenith, and Seiko as inspiration, and legendary chronograph movements such as Minerva, where functionality is key with aesthetics.
Highlights
The Streamliner is the first automatic chronograph with a central display to feature a flyback function for the minutes and seconds.
It has a high-quality movement, which refers to the chronographs of the past, but rewritten all of the the rules heart of chronograph technology which have followed for over 200 years.
Structure processed with a dual design approach: An intricate chronograph mechanism that looks simple on the face; a bracelet with an ergonomic but complex internal structure.