Zeus in Greek mythology, Jupiter in Roman mythology, Indra in Indian mythology, and Thor in Norse mythology are lightning gods. There was also the Milgauss in Rolex mythology, which is no more.
On March 27, 2023, on the day of the Watches & Wonders Fair in Geneva, Switzerland, during the promotion of the new timepieces of the Rolex, it was announced that the production of Milgauss was terminated, unequivocally and clearly from the mouth of the most authorized person, upon a question. It was stating the known facts, because the information that Milgauss would not be produced had leaked beforehand and had already been spoken since the last months of 2022.
The questions of whether it was good or bad can bring about a deep discussion. Putting this issue aside and asking, "What happened next?", it makes more sense to ask. After March 27, 2023, interest in Milgauss reached insane levels. Bob's Watches CEO Paul Altieri told Insider (businessinsider.com) that he is delaying sales until prices find new stability. In Chrono 24, prices started to skyrocket.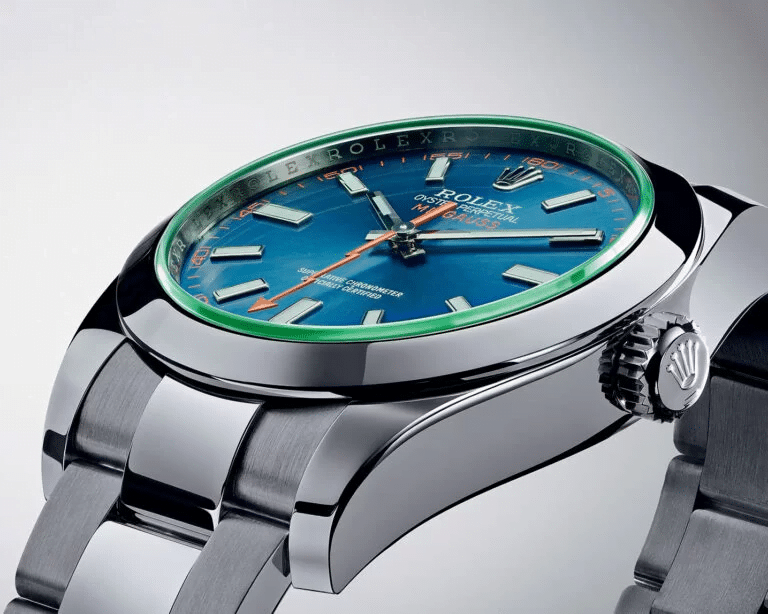 "lightnings and glances"
The removal of Milgauss from Rolex mythology brought to my mind the poem "The Last Wish" by the "strange philosopher" Friedrich Nietzsche from the Dionysos Dithyrambos*. Nietzsche, in Ahmet Cemal's translation, says:
"To die like that / as I once saw him die –, / that friend, whose lightning and gaze / rained down on my dark youth like a holy light. / Brave and deep, / as if he danced in battles –, // he was the most cheerful of warriors, / the most formidable among the victors, / it was as if a fate had placed him on it, / strict, thoughtful, prudent (…)"
Milgauss is a watch that deserves special mention. The fact that Rolex removes Milgauss from its website or removes it from the catalogs does not diminish its value at all. Milgauss has features and charm that no other watch has. Indeed, "feature" and "attraction" mean Rolex at the same time.
Andrew Harrison inWhat Makes Rolex So Special?, published in Esquire The Big Watch Book 6th issue (2021), says: "Rolex is like a religion. But as it is known, there are more expensive watches than Rolex on the market. There are also rarer watches. There are even watches with more subtle complications, more complex mechanisms, and more esoteric brand positioning. However, none of them succeeded in combining human privilege with global recognition, like the company founded in London in 1905 as 'Wilsdorf and Davis' by Hans Wilsdorf and Alfred Davis and renamed Rolex in 1908.
"like a holy light"
According to Harrison, the event that changed everything for Rolex happened in 1926. That year the first waterproof watch, the Oyster (oyster), was born. A waterproof watch was the pinnacle of the watchmaking industry of the 1920s. In 1953, the Submariner with its original design was launched. Waterproof to 100 meters, the Submariner was the first diver's watch to feature a rotating bezel, a rather imitated invention for calculating dive time. For the first time in the history of watchmaking, Rolex made the bracelet (Jubilee) named after him. In 1956, the Oyster Perpetual Day-Date with an automatically changing day and date display arrived, and the President bracelet was specially designed for this watch. With the Rolex Oyster Perpetual Day-Date, the charm of precious metals was combined with the concept of prestige. Every Day-Date, whether gold or platinum, began to turn into an object of desire: Day-Date was no longer a watch, it was a sign of material strength and self-sufficiency. Day-Dates were the first portable self-confidence machines used to celebrate one's own success and show it to others.
Rolex owners were people who set their own standards, felt competent, had an impact on their own lives, believed that they were competent and competent. The first Rolex collectors with passion and attention to detail date back to the 1950s. In other words, the foundations of all those dial color, index, hour-minute hands, second hand, logo, font, bezel, crown, movement and case details that current "real collectors" are obsessed with were laid 70 years ago and the first Rolex fanatics appeared at that time. output.
I also knew a Milgauss fan. In 2009, we established Turkey's first watch forum with a few friends under the leadership of Mete Oralarkaya Ağabey from Belgium. Because of the forum, I had the opportunity to chat with many watch enthusiasts. We became close friends with some of them and we made unforgettable memories. Of course, we discussed Rolex for hours. I remember a friend of mine, a lawyer who owns Milgauss. He thought Milgauss was a model far from the Rolex line, and that's exactly why he liked this watch. We agreed that even those who do not like Rolex cannot remain indifferent to Milgauss. I still think so.
"The most joyous of warriors, the most formidable of victors"
The 20th century was an era in which wristwatches were of critical importance. It is difficult for us to fully grasp this situation today, because we no longer use watches as a tool but as a jewellery. However, in the last century, mechanical watches were extremely important tools, especially for pilots and divers, who stood between life and death. It still is, but today's conditions and the presence of auxiliary vehicles are much more comfortable than in the past. Countries that did not participate in World War II also experienced many difficulties due to the war. The 1950s were the era of healing, the years when scientific developments increased and living standards rose.
It was at such a time that Rolex evaluated a request for "a watch with high magnetic resistance for researchers" from the famous European Center for Nuclear Research (CERN), its neighbor in Geneva (a few kilometers apart), founded in 1954. CERN, where the world's largest particle physics laboratory is located today, was also a center that developed new technologies in areas such as industrial automation, efficiency, and restoration of cultural heritage works of art. Good to know: Basic web infrastructure components such as HTML (HyperText Markup Language), URL (Uniform Resource Locator) and HTTP (HyperText Transfer Protocol) were created at CERN in 1989, and the first web browser was born at CERN in 1990.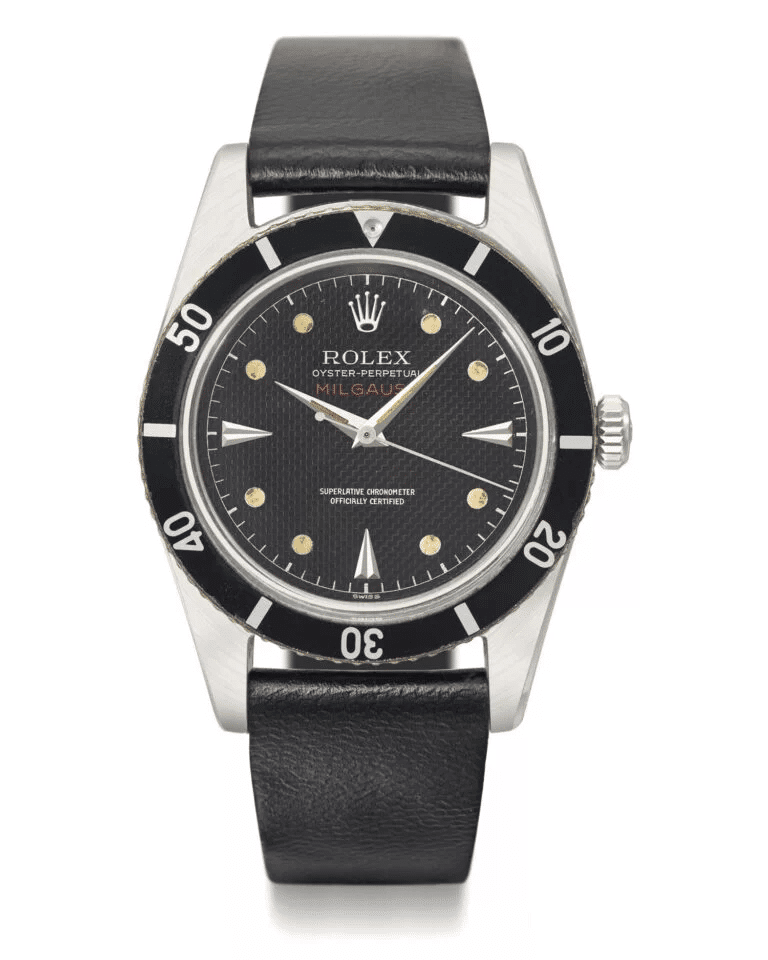 Taking the subject seriously, Rolex first began testing a 38mm diameter model in 1954, of which fewer than 100 specimens were produced for experimental purposes (Ref. 6543). In 1956, he prepared the first of its kind Milgauss (Ref. 6541), and in 1957 it was officially announced and released to the market [By the way, the first Milgausses are quite valuable, a Ref. . The 6541 was resold at another auction house a year and a half later for 108,625 euros. A similar watch with the same reference number was sold at the Phillips auction house in 2015 (manufactured 1958) for CHF 245,000].
As it is known, Gauss is the unit used to measure the magnetic field strength. The reliability and precision characteristics of a standard mechanical watch can be affected by a magnetic field of 50-100 gauss. However, it is a fact that many scientists are exposed to much higher magnetic fields during their laboratory studies. In the solution offered by Rolex, the magnetic field resistance of the watch included a Faraday cage providing protection up to 1000 gauss. At this point, the unit of magnetic field gauss and the French words thousand (mille) were combined and the watch was named "Milgauss". As might be expected, CERN was the first science center to confirm that Milgauss worked as a result of the tests.
Although the early Milgauss model (Ref. 6541) did not yet have its original character, its immediate distinguishing feature was the lightning shape of the second hand. The lightning-shaped seconds hand was designed to highlight the watch's magnetic feature. Lightning is a symbol of power, authority and victory. On the flag of the Roman Imperial Army is the figure of an eagle holding a lightning bolt in its talons. Mythological gods also used lightning for similar reasons.
Unfortunately, although the lightning second hand was on the first models, the Ref. It disappeared with 1019, replaced by another straight needle with a red arrow at the tip. Milgauss Ref. Although the 1019 was in the catalogs for a long time, it was produced only on order in the last period and its production was stopped in 1988.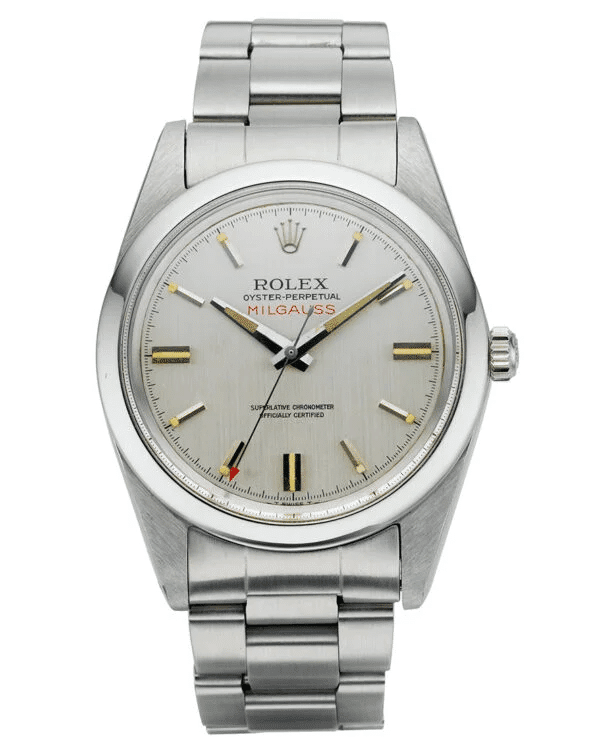 "strict, thoughtful, prudent"
Milgauss appeared in 2007 with a new design with a normal sapphire glass with a black and white dial, and the second hand, whose structure changed from start to finish, was much more handsome and orange. In 2007 there was a second Milgauss with a black dial, produced as part of its 50th anniversary celebrations, and most strikingly its green sapphire crystal glass, a first in the watch industry (unseen in any other watch and on any Rolex model other than a special Submariner). Rolex aficionados who aren't too concerned with magnetic field resistance but are overly detail-oriented are hooked on this unique feature. Many articles have been written in watch magazines and blogs for green sapphire glass, the production of which required weeks of work.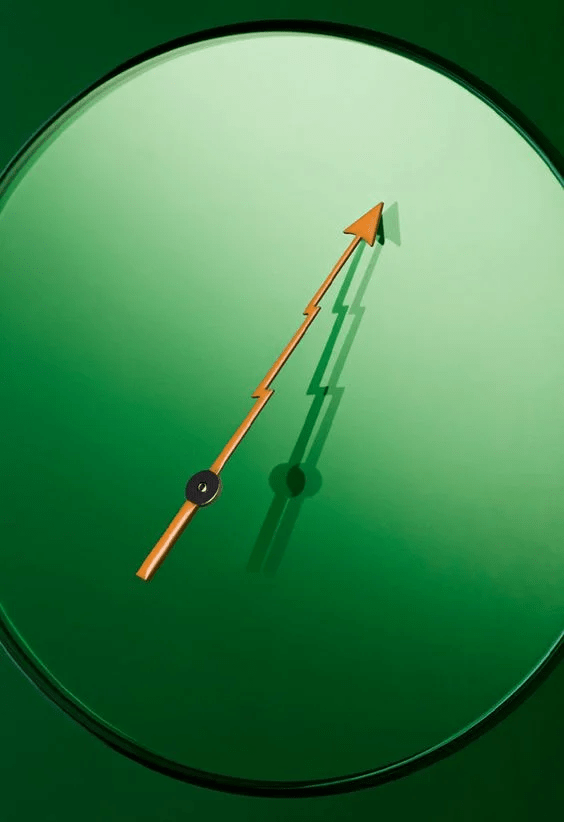 According to the official statement (every sentence counts for watch enthusiasts) "Green sapphire crystal is a unique watch glass developed by Rolex. It is scratch and fade resistant and is exclusive to the Milgauss model. The light green hue, which subtly tints the entire watch glass, becomes almost glossy on the beveled edges. The result of a secret process, mastering this watch glass took years of development and weeks to produce."
Everyone involved was questioning why synthetic green sapphire a patented product wasn't. Rolex patented every innovation made, but not specifically the green sapphire crystal. According to information from the discreet Rolex community, the production process of synthetic sapphire crystal with high scratch resistance was so long, costly and laborious that no other manufacturer would dare venture to do the job. Indeed, as far as is known, no other manufacturer has produced a similar glass. It was estimated that Rolex produced green sapphire glass using hydrothermal methods, which had a slow and expensive chain of processes. It is also claimed that synthetic green sapphire contains aluminum and copper in its chemical composition.
When I dive into the details, I get interesting information: Sapphire crystal manufacturers cut synthetic sapphire cylinder blocks by slicing them into vertical sections due to the high production costs. Rolex, on the other hand, cuts the cylinder blocks diagonally, so that the crystal is clearer and more durable, but it is a very costly job because the amount of waste is high. However, functionally, there is not such a big difference between synthetic sapphire crystal glasses. It's just that Rolex thinks these processes are stylish.
One of my favorite things to do is to read reader comments under articles. As far as I can see, the 2014 design with a blue dial (Z-Blue) is considered the Milgauss closest to perfection. Milgauss enthusiasts with this idea say that they like the combination of green sapphire glass and blue dial because it creates play of light. I think they are right.
"It was as if a destiny had overlayed on it"
Unfortunately, despite its unique features (such as the green sapphire crystal glass, the orange lightning-shaped seconds hand), the Milgauss never received as much attention and space as a Submariner or a Daytona. In my opinion, this is not due to its inadequacy, but rather the Milgauss is one of the rare watches that has its own charm. I'm not the only one who thinks so. The "mega collector" John Goldberger (real name Auro Montanari), who writes books on special watches for Rolex and other brands (Patek Philippe, Longine, Omega) based on the unique watches in his collection, wrote about Milgauss (in Vanity Fair magazine). published) the title of an article already sums it all up: "Wildly Attractive".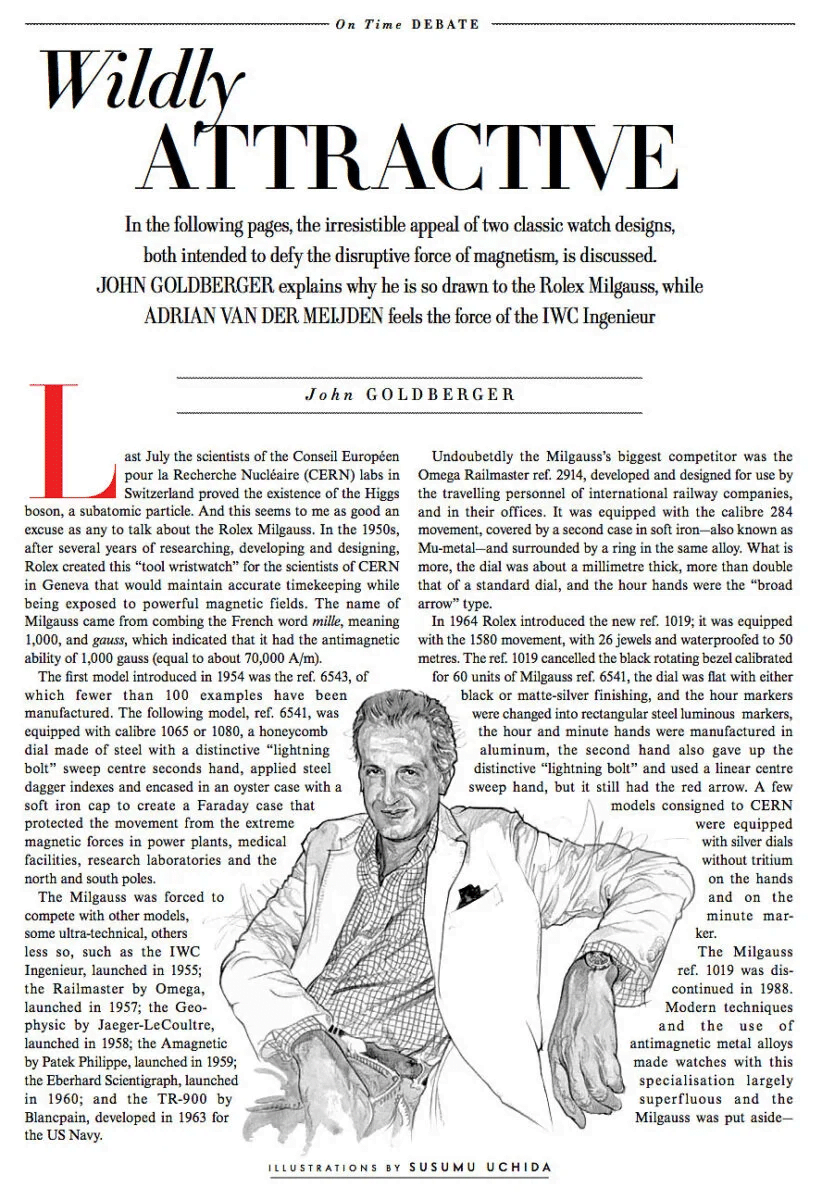 Perhaps the only point to criticize is that Milgauss' superiority in the magnetic field is now left behind. However, was this a factor that required the removal of a quality watch that shows the rapid passage of time with an orange lightning hand? Not of course, the main issue is with the people to whom the clock is calling. The main reason, according to GQ writer Isaac Wingold, was that his target audience was scientists working in a lab rather than professionals in "cool" professions such as race car drivers, athletes, divers or pilots. Of course, engineers and doctors working in harsh conditions also embraced Milgauss. After 2007, athletes such as "his majesty" Roger Federer also appeared in Rolex Milgauss magazine advertisements, and although the watch reached a wider audience, it was still not desired. The 2014 initiative was very cool, but not "flashy" enough by the majority.
We are at a time when the vintage watch market is constantly growing, did you know  that Beyer Chronométrie Zürich's vintage watches division was opened in 1965? Milgauss is a very valuable watch, it will definitely return in the future.