As one of the oldest watch brands that produced one of the first modern diving watches, Blancpain celebrates the 70th anniversary of its diving watch collection Fifty Fathoms with the Fifty Fathoms 70th Anniversary Act 1 series.
Born in 1735, Blancpain celebrates its Fifty Fathoms collection's 70th anniversary in 2023, the collection is considered as one of the first modern examples of diving watches. In 1953, the brand announced its first diving watch and launched the first diving watch with a rotating bezel in the history of watchmaking.
The story of the now iconic Fifty Fathoms began with the initiative of Jean-Jacques Feichter, then CEO of the brand and a diver himself. Feichter, who once faced the danger of asphyxiation mid-dive, wanted his brand to produce a dive watch to find a solution to the diving dangers. Thus, the first Fifty Fathoms were born. The first diving watch in the history of high watchmaking to feature a rotating bezel, the Fifty Fathoms also featured a diving scale to keep track of time underwater. Feichter tested the prototype for the first time in 1952 and the diving watch was launched a year later. The automatic mechanism inside the watch minimized the number of windings to set the time, and thanks to the double ring used in the watch, water did not fill the watch even when the crown was pulled.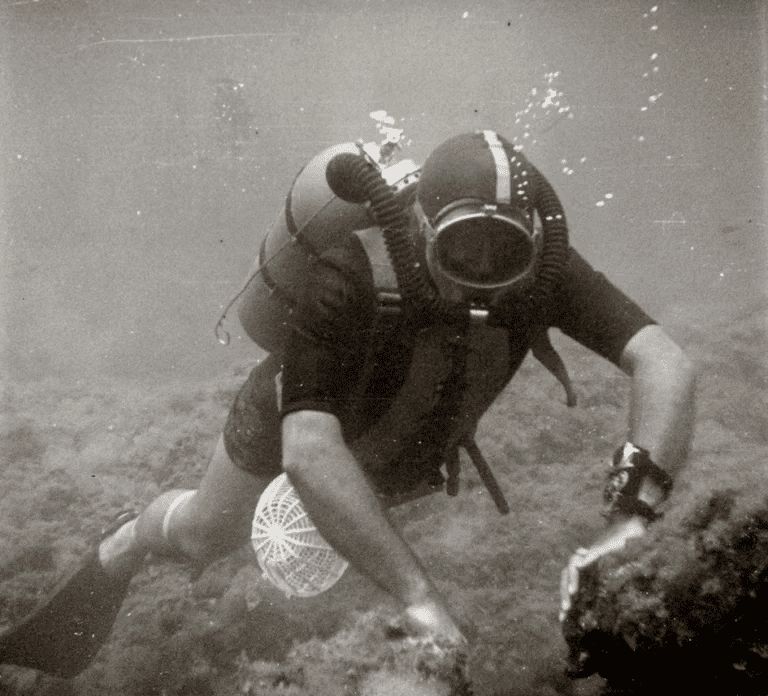 Celebrating its 70th anniversary this year, Fifty Fathoms not only became one of the favorite diving watches of its time, but also one of the official diving equipment of the French Navy. Today, Blancpain dives back to the 1950s and pays tribute to the ancestors of this legendary diving watch with the Fifty Fathoms 70th Anniversary Act.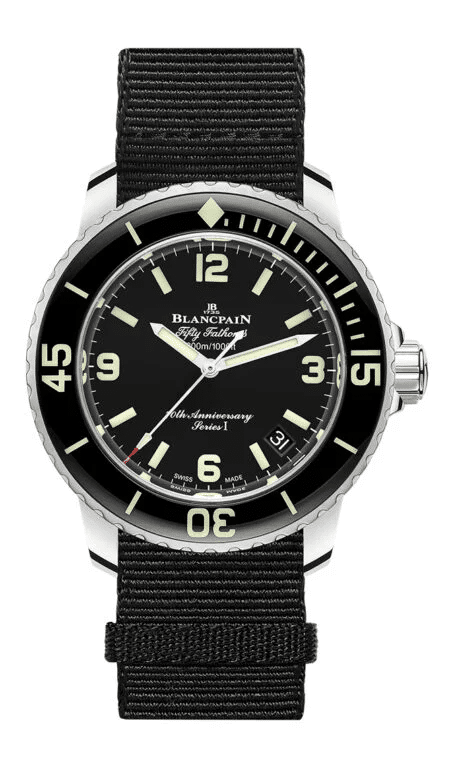 The Fifty Fathoms 70th Anniversary Act is produced in three series that each consists of 70 watches and dedicated to a region of the world: Europe, Middle East, Asia-Pacific and the USA. The anniversary watches in this limited edition are designed in a 42 mm diameter steel case, thinner than ever before. Reminiscent of the first example of the collection, the Fifty Fathoms 70th Anniversary Act has a black dial with luminescent hands. However, unlike the one produced in the 1950s, the sapphire crystal glass is designed in a domed form. The watch is water resistant up to 300 meters.
The watch comes with in-house caliber 1315 with power reserve of about four days. Also known for its ocean exploration efforts, the Fifty Fathoms 70th Anniversary Act is complemented by a NATO YTT+ strap made of 100 percent recycled yarn from fishing nets found in the sea.