A new exhibition titled "Another Man's Treasure" at Tokyo's Perrotin Gallery, analyzes the language of different objects that come together in various ways.
While all eyes are on Tokyo for 2020 Tokyo Olympic Games, a new exhibition from Tokyo's Perrotin Gallery is on our radar. Brooklyn-based artist Genesis Balanger brings art lover with "Another Man's Treasure", her first solo exhibition in Asia.
The exhibition takes its name from the famous idiom, "one man's trash, is another man's treasure." Reflecting the stereotypes on her sculptures, the artist creates forms and lines of her works like cartoon. In the exhibition, she brings together individual objects with a sense of psychic commune, she also revives them in her own artistic style with focusing on issues such as gender stereotypes and consumption equality.
The lost color palette of the objects adds a melancholy atmosphere to exhibition. Furthermore, abandoned objects in the exhibition, increase this melancholy. All the whole, these abandoned objects refer to main issue of the exhibition: one man's trash, is another man's treasure.
In addition to reviving, individual objects come together with different forms of association. For instance, a hair curler passing through a donut, a wrench with a tooth, and a shirt with a sandwich in its front pocket. Thus, intertwined feelings are awakened in the audience.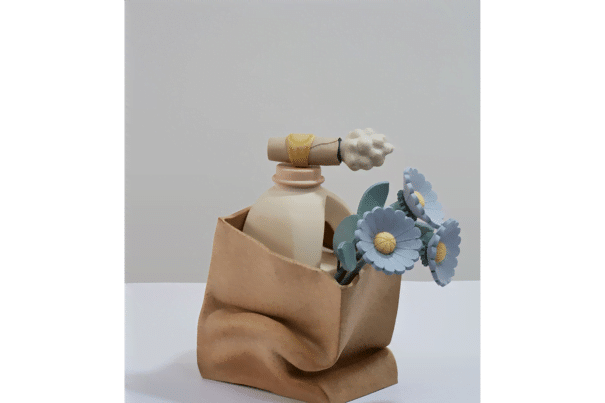 The same perspective can be observed in a grocery bag with jug of milk, the cigar, and flowers in "In When Dad Does Shopping" section. "Are those lilting flowers an apology? Is the cigar a macho symbol of celebration? And is that jug of milk a lame attempt at providing sustenance?"  Or is the mess of this grocery bag a reference to the cliché of a dad figure who does not know how to shop?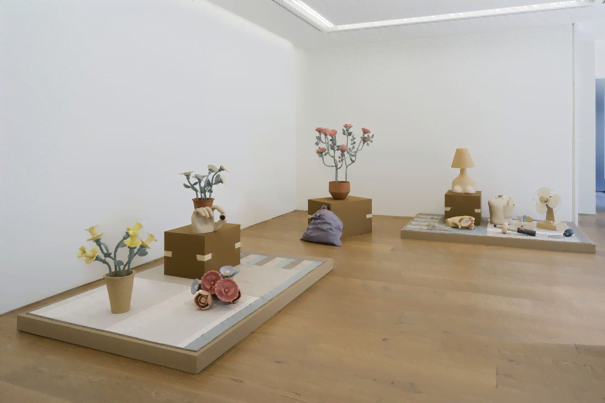 Balanger creates her sculptures from porcelain and stoneware. The exhibition carries deeper questions and also empathizes with abandoned objects. With this aspect, it reflects the emotions of humans, through objects. "Another Man's Treasure" can be seen until September 15 at Perrotin Gallery in Tokyo.