A red rose just like the one that sported on Marlon Brando's lapel, frames engraved on the case like a filmstrip and a dial with the music box in which we hear The Godfather's famous soundtrack… Jacob & Co. celebrates the 50th anniversary of The Godfather with a new limited-edition watch, Jacob & Co. Opera Godfather 50th Anniversary.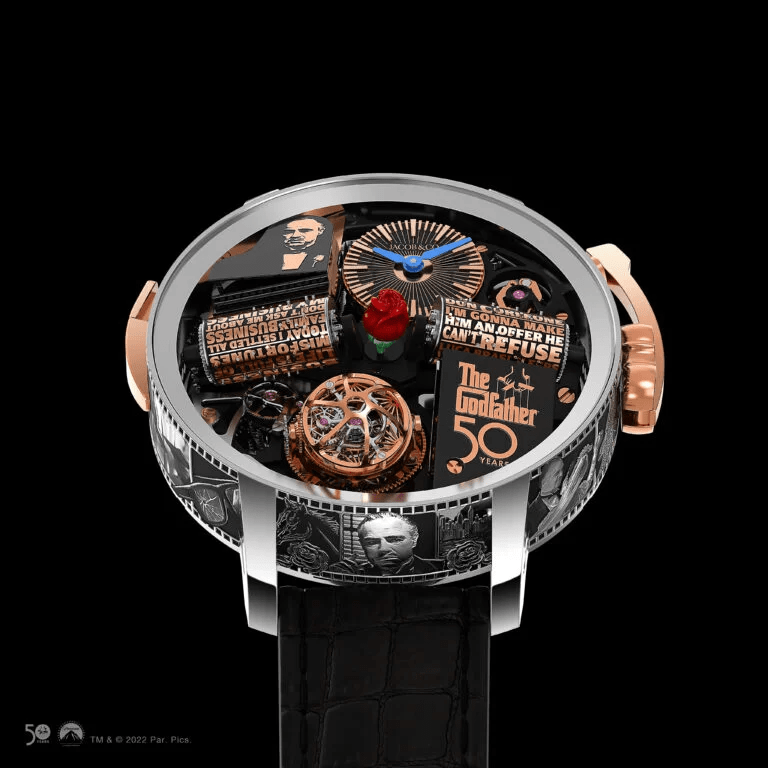 Released on March 24, 1972, for the first time, The Godfather celebrates its 50th anniversary this year. To mark the half-century anniversary, American theaters re-released restored versions of all three films in the series last March. And also, haute horology world became a part of the celebrations and Jacob & Co. created a new model that combines almost all the symbols of the movie, which is Jacob & Co. Opera Godfather 50th Anniversary.
Limited to 50 pieces, the timepieces in this new series feature a mechanical music box that plays the legendary soundtrack of the movie. Furthermore, the 49 mm white gold case is decorated with thirteen scenes of the movie, just like a filmstrip. For instance, one of them shows Michael and his first wife Apollonia walking together after their wedding. A closer look at the case reveals the cinematic delicacy of the engraving.
Actually, the viewing pleasure increases through the dial: to the left and right of a miniature red rose that placed in the center of the dial are music boxes designed to play the iconic theme music of The Godfather. The boxes are activated by a pusher placed on the case at 10 o'clock, which is pressed to play the 120 notes of the score, and there are a total of 658 components inside the mechanism for this functioning. The music boxes are made of rose gold and both are engraved with lines from the movie. In the left corner of the dial, there is a miniature piano integrated into the music boxes. The piano keys move as the composition plays.
There is a violin-shaped crown made of 18K gold, replacing the traditional crown. This little violin shaped crown charges the power reserve for the movement and for the music box function.
As moving towards the end of the article, I have focused on how the timepiece tells time: the time is displayed on a sub-dial with linear design executed in highly polished 18k rose gold. It's pattern furthers that of the piano and rests on a circular slate of sapphire. One of the most refined timepieces ever created for a movie, Jacob & Co. Opera Godfather 50th Anniversary is delivered with a fountain pen and decanter that exclusively produced for the movie.