Vespa celebrates its birthday with 75th years series which is offered for sale from March and only in 2021.  The special series "Giallo 75th" is prepared for legendary models Vespa Primavera and Vespa GTS, it comes with its metallic yellow color that refers to the 1940s. This special series will be available in April in Turkey and prices are not certain yet. Price range is between  $4.500-7.950 for USA, it would give an idea about estimated price for Turkey. Let's take a look at 75th years series;  Vespa's war memories, extraordinary models and electric mobility revolution of brand…
" Vespa got its name from Enrico Piaggio himself, son of founder Rinaldo Piaggio, he exclaimed, 'It looks like a wasp!' when he saw the prototype."
Vespa celebrates its first patent application date April 23, 1946 with special Vespa 75th years edition that consist of Primavera's 50, 125 and 150 cc and Vespa GTS's 125 and 330 cc models. While wishing the best to this 75-years old beauty, we examine the brand. The metallic yellow color of the special series "Giallo 75th" was designed as a contemporary interpretation of the tones that were fashionable in the 1940s and reflecting the innovative spirit and elegant fashion-loving of Vespa.
Despite being a perfect Italian, Vespa, which can be defined as a timeless icon with its world citizen identity, has produced in a special series with very special materials and fine craftsmanship.  The special series with its steel trunk, eye-catching color, darker shade "75" along the side panels and fender, chrome details, smoked rims, velvet-soft nubuck seat and the same nubuck bag that can be attached to the luggage rack. The special edition with its all-steel body, eye-catching color, darker shade "75" along the side panels and fender, chrome details, smoked rims, velvet-soft nubuck seat and the same nubuck bag that can be attached to the luggage rack. A waterproof case also designed for this bag which can also be used as back-pack. Equipped with a 4.3 inch TFT color screen, the 75th Anniversary Vespa edition provides the best possible performance with its digital display panel.
Thanks to Vespa MIA smart phone connection system, the location of scooter can be viewed even if it is drive by somebody else. To highlight the exclusivity of this special celebratory edition, each Vespa 75th is delivered with an elegant handcrafted Italian jacquard silk scarf, an old steel Vespa plate, a personal owner guide and eight collection postcards featuring a 75-years story of brand.
From Aircraft Production to Vespa…
"In the post-war conditions, Rinaldo's son Enrico, was convinced that an affordable, agile and stylish motorcycle was needed to replace an automobile for Italy whose roads were damaged and its economy collapsed, designed the Vespa together with the most talented aeronautical engineer Corradino D'Asciano."  
---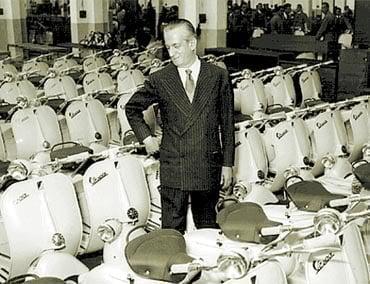 Family first produced ship equipment, then aircraft and seaplanes in the workshop which founded by Rinaldo Piaggio in 1884. Piaggio's fighter aircraft factory, had became one of the largest aircraft manufacturers in the country, in Pontedera was bombed in World War II due to its strategic importance. Vespa was produced based on Cushman, which was produced in the USA before World War II and used by the Italians in parachute troops during the war and in land transportation by sailors.  The success of the Cushman scooters is that they could be used in rough terrain by the American army against Nazi troops.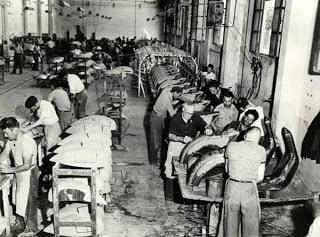 Since designer has known about aircraft, scooters whose wheels were inspired by aircraft landing gears had started to produce as a prototype in 1943. The sales had started with MP6 model scooter which was completed in 1946.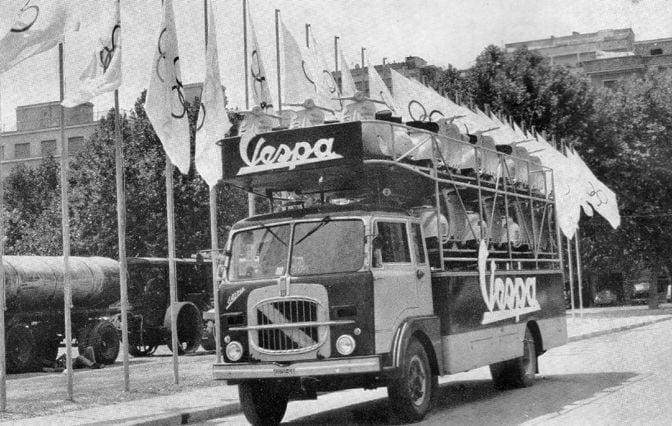 The MP6 was a revolutionary model, with the wheel running directly from the gearbox, eliminating chain drive, placing the gear lever on the handlebar, designing it as a monocoque body, and adding a fairing to protect the rider. Besides its technical features, Vespa attracted great attention with its design that amazes everyone even today and has never fallen into disrepute even though its imitations are produced.
When Enrico Piaggio said "It looks like a wasp", the name of the motorcycle became the wasp, or Vespa! Those who could not compare "wasps" to anything soon realized that they were wrong. Because the sales of 2,484 scooters were in the first year had reached to 20 thousand with the Vespa 125 in 1948. The sales, which jumped to 60 thousand with the license in Germany in 1950, peaked in 1953 when Vespa 125 played with Audrey Hepburn and Gregory Peck in Roman Holiday movie. Celebrating the production of its 500.000th model in this film, Piaggio has produced over 19 million Vespa with different 150 models until today.
Iconic Vespa Models
1946-Owner of First Logo
Vespa 98
The most remarkable feature of the Vespa 98, which was launched at a golf club in Rome in April 1946, was the embossed Vespa logo replaced with the Piaggio aircraft emblem on the MP6.
---
1951-Fastest
Vespa Siluro (Torpedo)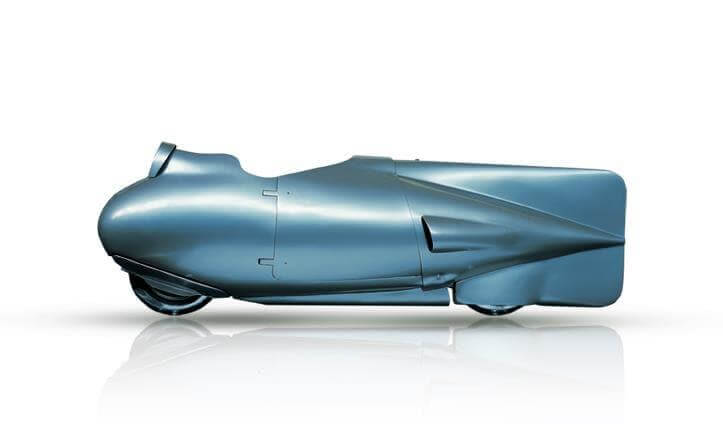 This engine broke the fastest mile record with a time of 21.4 seconds at an average speed of 171.1 km / h.
---
1951-The Most Famous
Vespa 125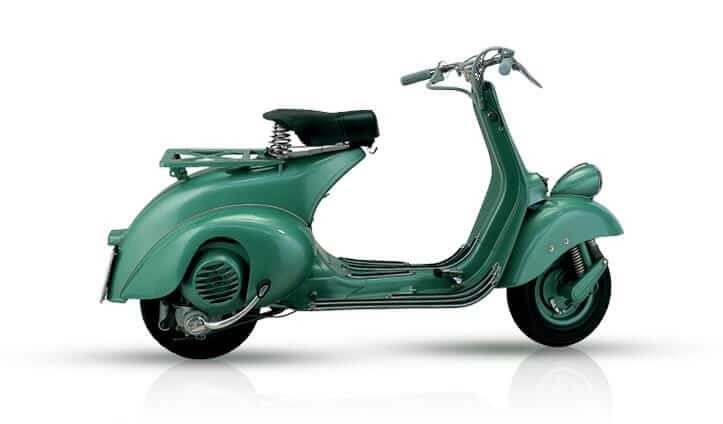 Vespa 125, playing with Audrey Hepburn and Gregory Peck in Roman Holiday, is the most famous Vespa in history.
---
1955-Most Comfortable
Vespa 150 Side-Car
Vespa with a side basket was an innovative model of its era that enable to balanced and comfortable travel over long distances.

---

1955-The Quietest
Vespa 150 GS
Such a quite engine was offering with a motorcycle for the first time in mass production market. Vespa 150 GS also had sporty qualities as a result of the experience of the Piaggio racing team.

---
1957-First and Last Automobile
Vespa 400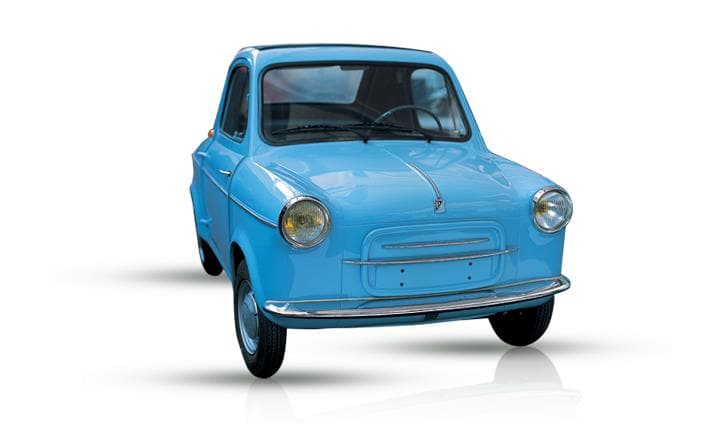 A rear-engined microcar was produced 30.000 pieces with three different versions. Even though the sales and automobile production did not continue, this model still has a special collector fan base.  
---
1959-The Most Produced
Vespa 150 GS VS5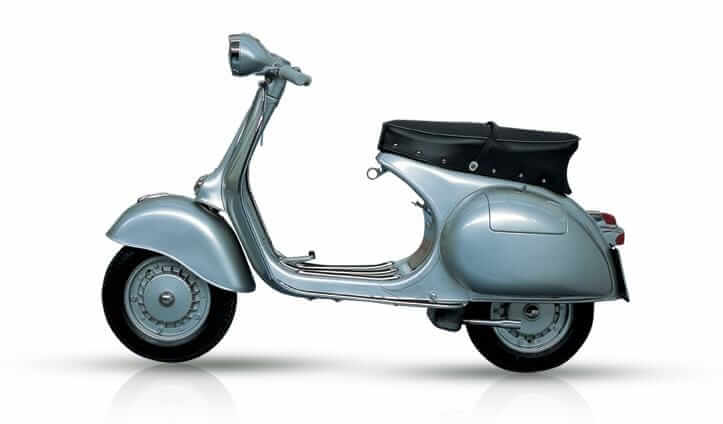 Vespa 150 GS, an innovative and sporty model, achieved the motorcycle production record (80,000) with the number of motorcycles produced in between 1958-1961.
---
1962-The Craziest, Most Expensive
Vespa Dali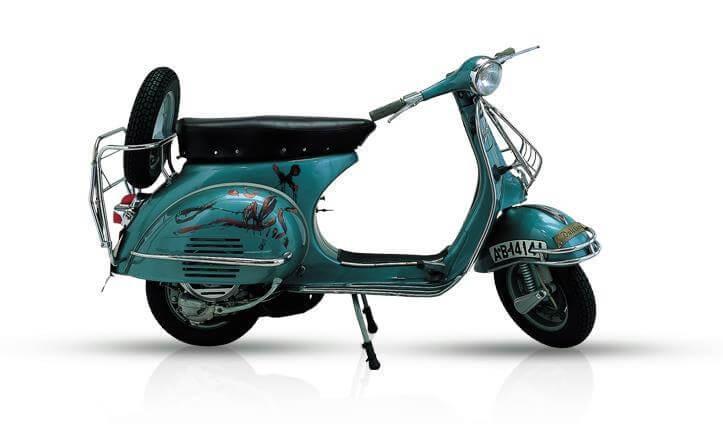 In the summer of 1962, Salvador Dali, who met two university students, had painted the body of the young people's Vespa; he added his signature and the name of his wife Gala. Then, this Vespa donated to Piaggio Museum and it is probably the most expensive Vespa in history.
---
1966-Most Style
Vespa 90 Super Sprint
In this model, the size of the front fender has been reduced; the storage compartment is located between the seat and handlebar. 90 SS is one of the collectors' favorite models.
---
1967-Futuristic
Vespa Alpha
This vehicle was used in the movie Dick Smart, Agent 2007, starring Richard Wyler, Margaret Lee and Rosanna Tapados. Transforming from Vespa 180 SS, the Vespa Alpha could fly like a helicopter and used like a submarine. Of course, only in the movie!
---
1976-The Youngest
Vespa Primavera Et3
Vespa Primavera Et3, which was produced 144,000 units, had high maneuverability and excellent handling with the small size of the body. Designed for the youth of 70's, the motorcycle had details such as a denim saddle.
---
1985-The Most Aggressive
Vespa 125 T5 Pole Position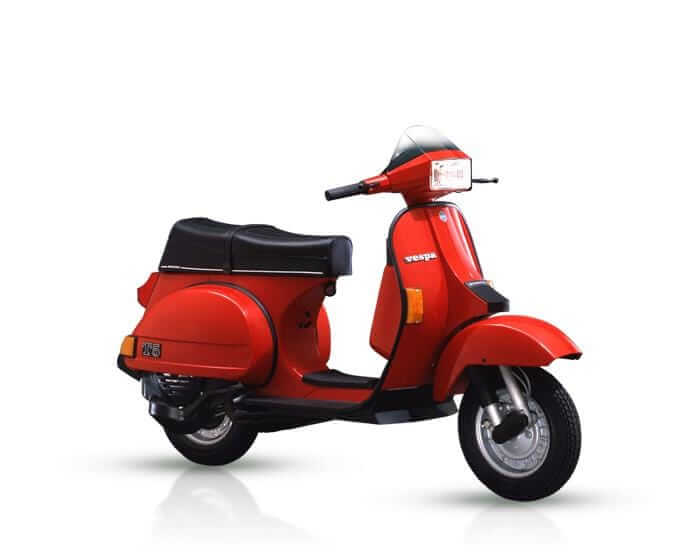 The 125 T5 Pole Position had a powerful engine. Its aggressive lines, wind shield and digital rev indicator also reinforced its sporty character.

---
1991-Vespa as a Modern Artwork
Vespa 50 Special Revival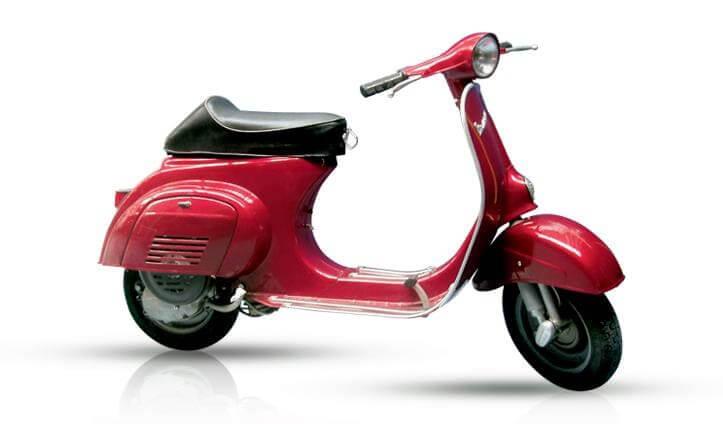 The Vespa 50 Special, limited to 3,000 bodies specially produced for Vespa enthusiasts, was a legendary product. Even it was exhibited at the most prestigious location at the Museum of Modern Art in New York.
---
2001-Special to Formula
Vespa Ferrari ET4 150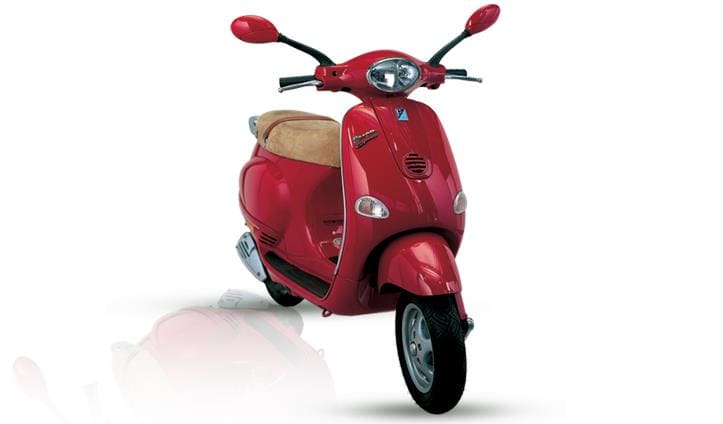 To honor the Ferrari team for their Formula 1 World Championship victory in 2000, it featured a black leather saddle made in Ferrari red and used for Ferrari interior trim. The bike was customized with the names of Montezemolo, Todt, Schumacher and Barrichello.

---
2006-60th Anniversary Special Edition
Vespa GT 60th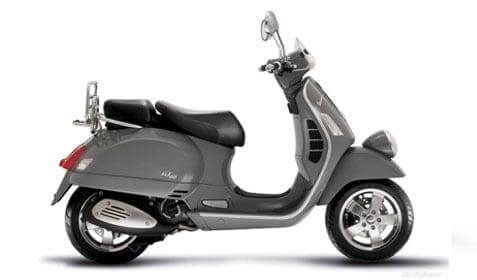 On the 60th anniversary of Vespa, this model, which was produced only 999 as a gift to the fans of the brand, was inspired by the first Vespa in 1946.
---
2015-A Touch of Armani
Vespa 946 Armani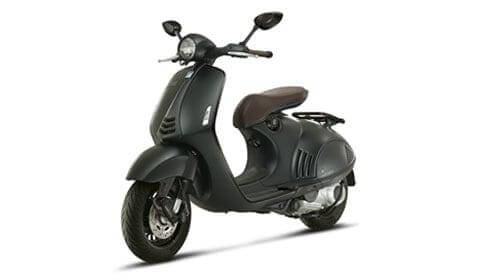 To celebrate the 40th anniversary of Giorgio Armani's establishment and the 130th birthday of the Piaggio Group, Emporio Armani designed a special version of the Vespa 946. In line with Armani's signature serene color palette, the 946 Armani also attracted attention with a special blend of green tones and gray that can only be seen under certain light conditions.
---
2016-70th Year Turquoise
Vespa Settantesimo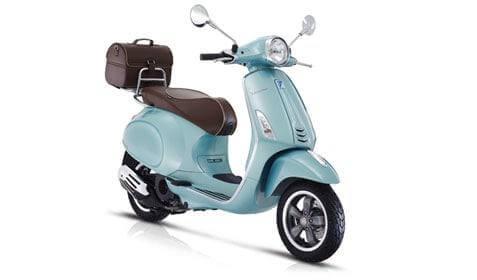 The Piaggio Group salutes to the most popular models of all time and has produced a special version of the Vespa Primavera, Vespa GTS and Vespa PX. Supported with unique accessories, the series was very popular with its special turquoise tone.
---
2017-Vespa's Electric Revolution
Vespa Elettrica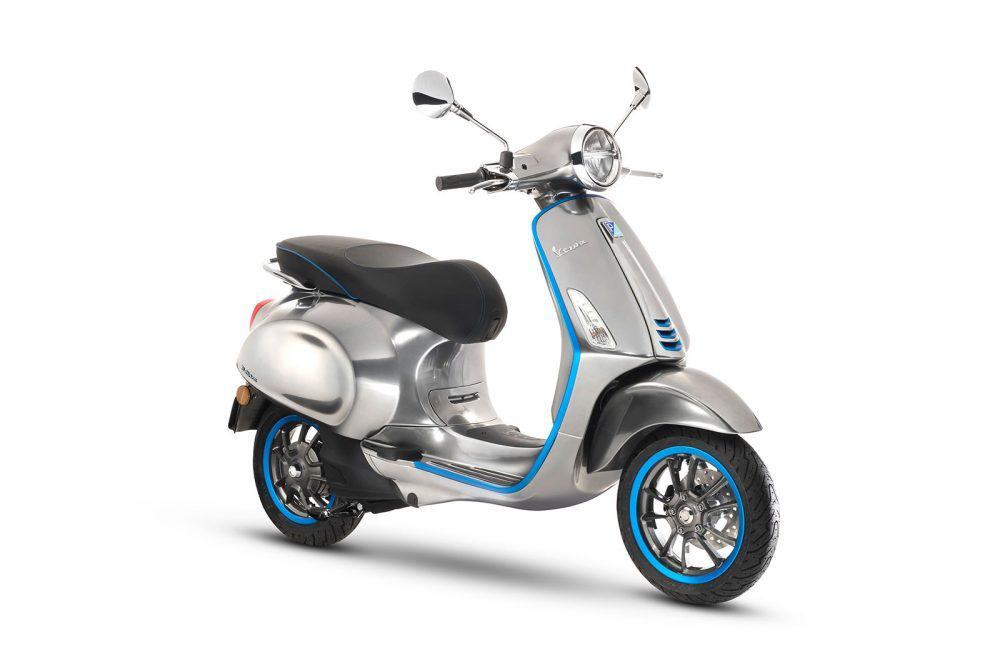 Vespa's first electric scooter, Elettrica, can be charged from a household socket in just four hours. It is emphasized that the Elettrica, produced in two versions with a maximum speed of 45 and a maximum speed of 70 km, has a better performance than a 50cc gasoline engine, especially during acceleration. With a battery life of ten years (or between 50 and 70,000 km), Elettrica's range is around 100 kilometres. Thanks to its special helmet with Bluetooth connection, speaker and microphone it is possible to receive messages and phone calls.
---
2021- A Common Birthday
Vespa 946 Christian Dior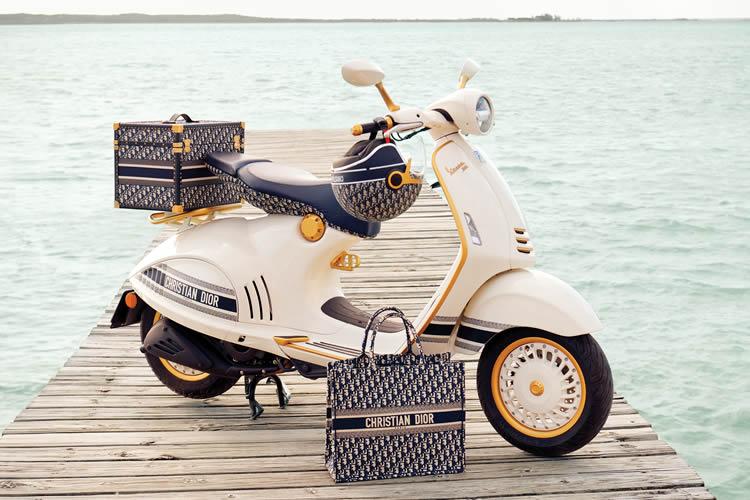 The common point of Vespa and Dior is that both of them were founded in 1946. As brands that both represent the spirit of freedom in their own way, they decided to celebrate their 75th anniversary with a special model. The model, a contemporary version of the Vespa 946, which was admired for its elegant, modern curves and technological innovation, presented in Milan in 2012, was designed by Maria Grazia Chiuri, creative director of Dior women's collections and launched in the summer of 2020.