Montblanc announced its new capsule collection, dedicated to the world's 14 highest mountain peaks and its brand ambassador, famous mountaineers.
At Watches & Wonders Fair, Montblanc, which draws attention with its extraordinarily beautiful, frosted dials and technical superiority, is also celebrating the 165th anniversary of the legendary movement manufacturer Minerva, which it owns with two new watch designs, and the 100th anniversary of the first chronograph movement used in wrist watches in 1923.
Montblanc 1858 Geosphere 0 Oxygen
Montblanc announced its new capsule collection, dedicated to the world's 14 highest mountain peaks, all above 8,000 meters, and its brand ambassador, famous mountaineers. Climbing these peaks is extremely challenging and dangerous as the oxygen level is gradually decreasing.
Legendary mountaineer Reinhold Messner was the first person to climb Everest without using an oxygen cylinder and was the first to climb all 14 mountains higher than 8,000 meters between 1970 and 1986. Nimsdai Purja, a former soldier who prefers mountaineering, became the first person to climb these 14 peaks the fastest (7 months) in 2019.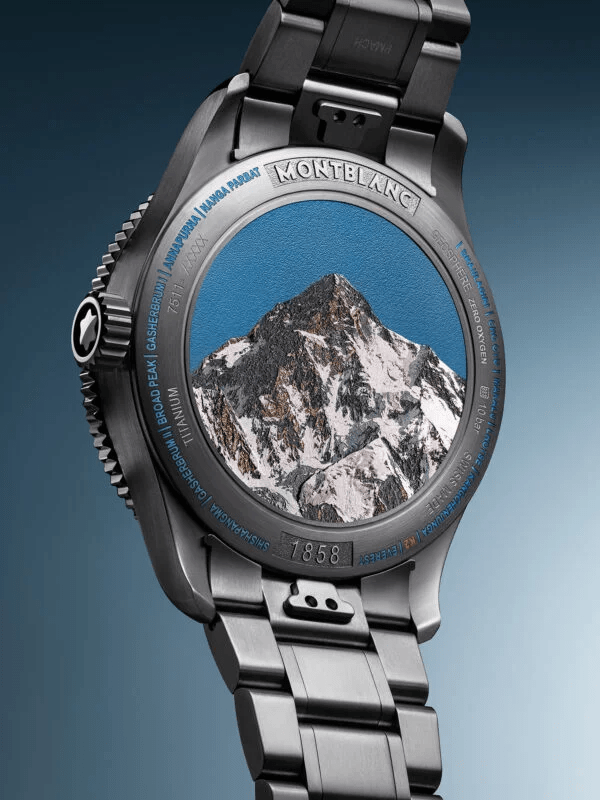 There are four new models included in Montblanc's "Zero Oxygen" collection and each has passed 500 hours of rigorous testing. The most striking feature of the watches is that the inside of the cases is oxygen-free, thus the condensation problem is solved. The mechanism's operation in an oxygen-free environment also prevents oxidation. Since all parts are more durable in the absence of oxygen, its sensitivity does not decrease over time.
Each watch for the Montblanc 1858 Zero Oxygen 8000 Capsule Collection is equipped with a dark gray dial that is darkened from the inside out to reflect the color of rock and ice using the Sfumato technique. This technique takes three times longer than a standard dial and requires more than 20 operations.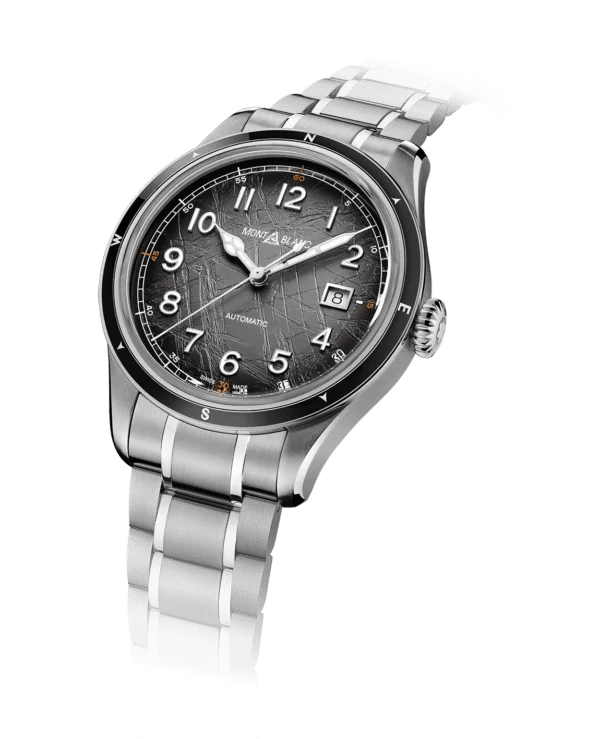 1858 Iced Sea Gray Dial (+ Green Boutique Edition)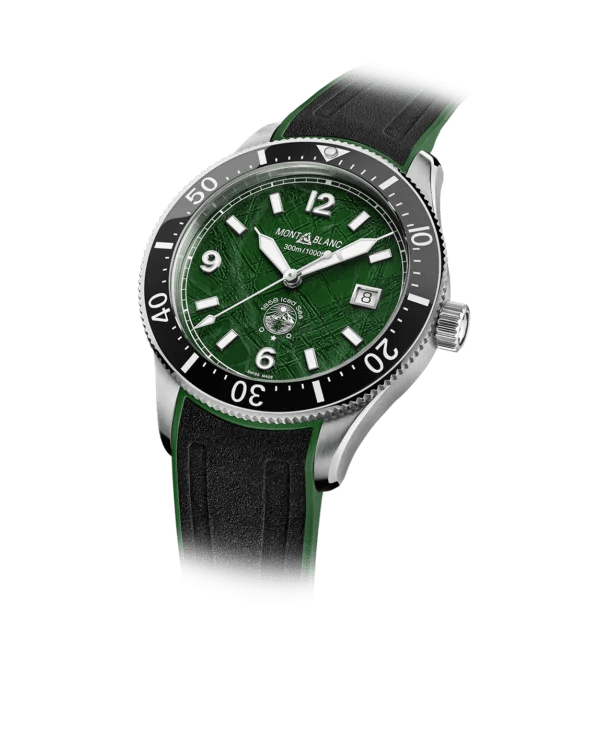 The first 1858 Iced Sea Automatic Date sports diving watches with glacial dials in blue, black and green were introduced at Watches & Wonders in 2022 and attracted great attention. An ancient technique called "gratté-boisé" is used in these watches to convey the natural beauty of the glacier to the 0.5 mm thin dial. The dial, which is produced by mechanical methods, is so effective that we think we are looking into the depths of an icy surface.
Another gray watch inspired by the image of Mer de Glace, one of the largest glaciers in the Alps, has joined the "Glacial Sea" collection this year.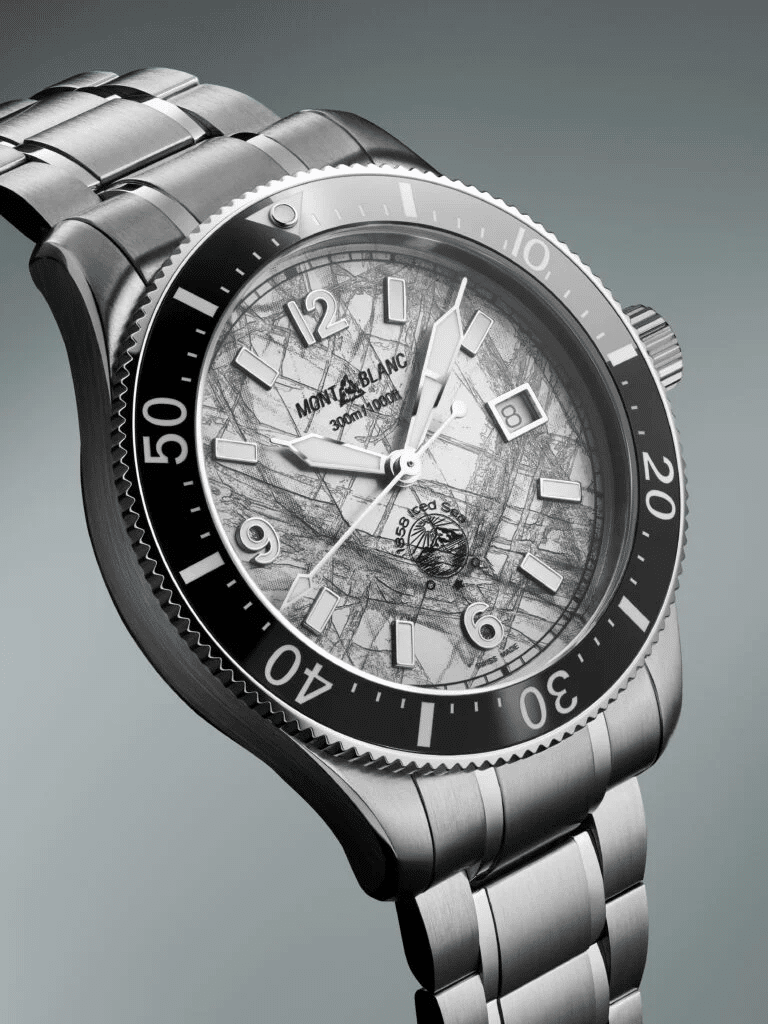 In addition, a new Boutique Edition model with a green glacier dial has been added to the collection. With a new emerald green icy dial, the 1858 Iced Sea model features a 41mm stainless steel case and an iceberg engraving that shows a diver exploring glacial waters engraved on the case back.
Each of the watches that are saltwater resistant are put on sale after passing Montblanc laboratory tests such as 500 hours of shock, magnetic field, temperature, water resistance (30 bar).
1858 Iced Sea Automatic Cofret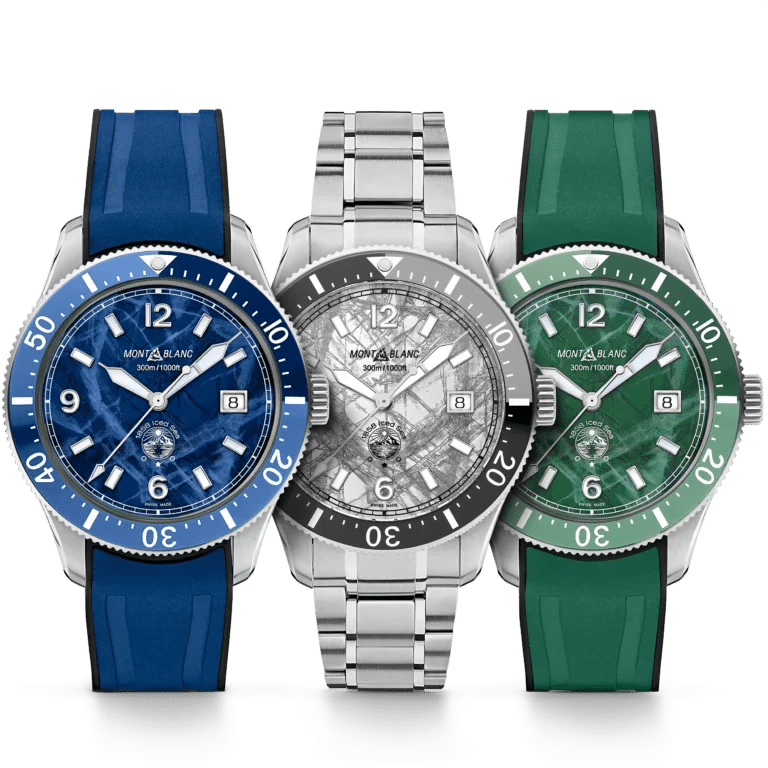 Montblanc has also prepared, for the first time, a limited edition box of three watches for collectors, which includes last year's green and blue models, along with a new glacier gray watch.
Let's not go without mentioning: Since last year's green and blue dial watches and 2023 watches are very similar, it can be difficult to distinguish. The difference is in the bezel: while the ceramic bezel and dial color are similar in 2022 models, black ceramic bezels are used in 2023 models.
Montblanc Unveiled Secret Minerva Monopusher Chronograph LE 88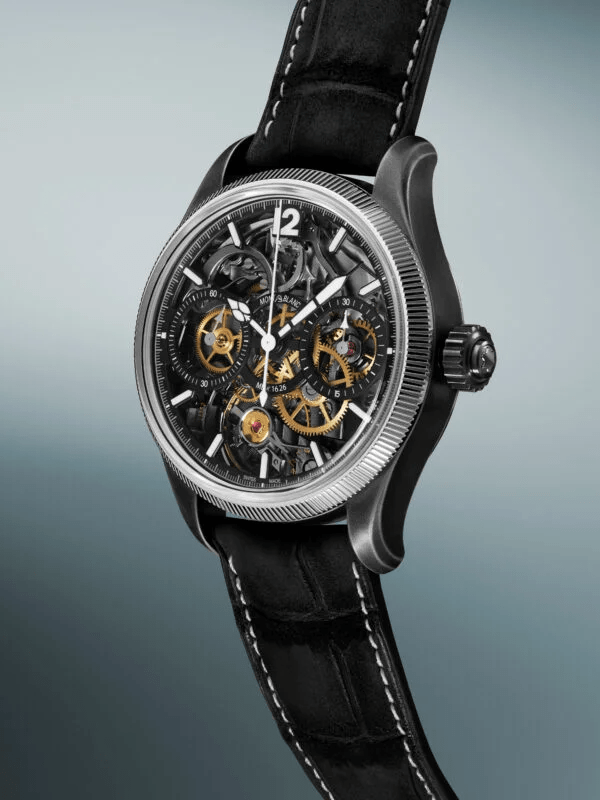 Admittedly, this year's Watches & Wonders Fair is a little dull compared to previous years, but there are some watches that erase these and similar thoughts, deserve to stand up with enthusiasm and respect and be applauded!
Let's get straight to the point: A first in the 165-year history of Minerva, which has a well-deserved reputation in the industry with its aesthetically and technically stunning mechanisms, the famous hand-wound MB 16.29 chronograph movement has been reversed!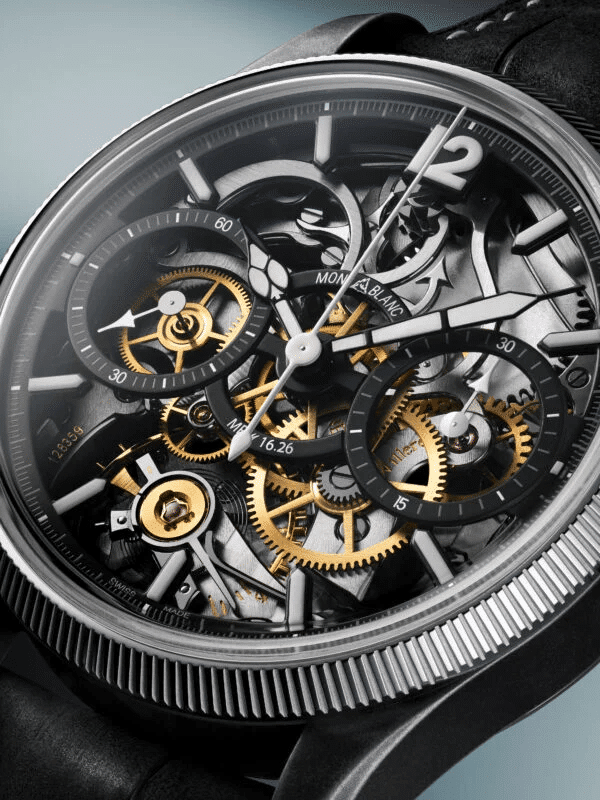 Of course, this process is not as easy as said and requires great effort. It is also a dream come true for Minerva fans who want to constantly look at the back of the watch to see the amazing working of the chronographs.
Single-button chronograph with a 43 mm diameter stainless steel case, limited edition to 88 pieces. Ribbed bezel inspired by the 1927 Minerva design of the bezel.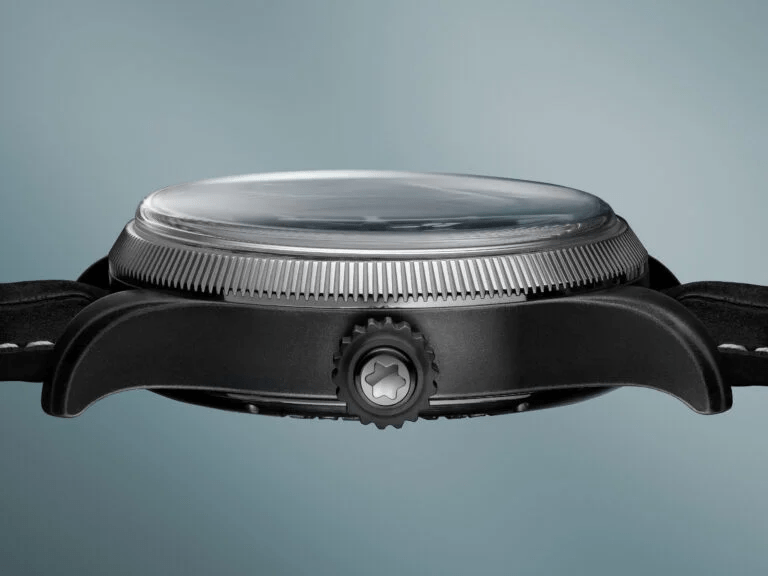 How does The Unveiled Timekeeper Minerva (LE 100 & LE 28) or this chronograph work?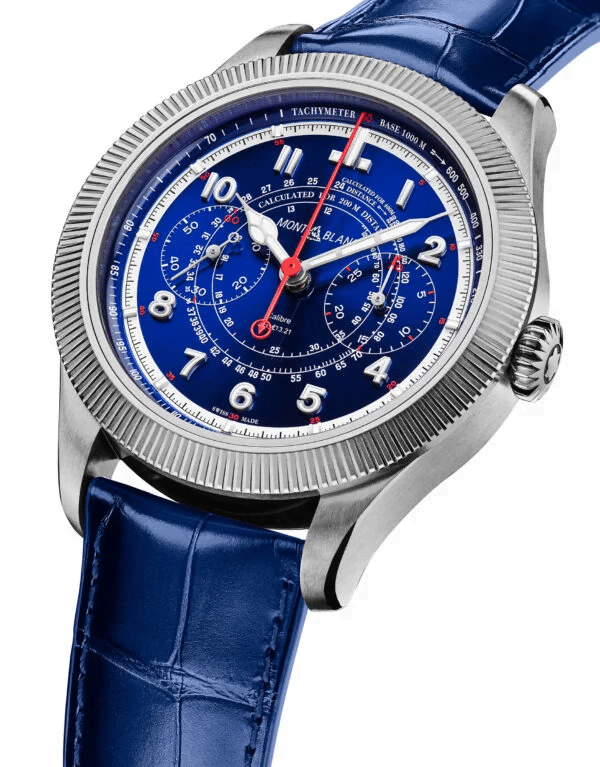 As it is known, Minerva was founded in 1887 and was a respected mechanism manufacturer known only to very enthusiasts, who did not care to stand out even though they created astonishing mechanical masterpieces. Let's not go without saying that it is a fact that Minerva's star shines like never before after Montblanc.
Created by the proud Minerva masters, Unveiled Timekeeper has emerged as a masterpiece that has excited watch enthusiasts (and especially chronograph lovers) time and time again. The Unveiled Timekeeper features a brand-new chronograph function that celebrates the 165th anniversary of Minerva watchmaking and the 100th anniversary of the first chronograph movement used in wristwatches in 1923.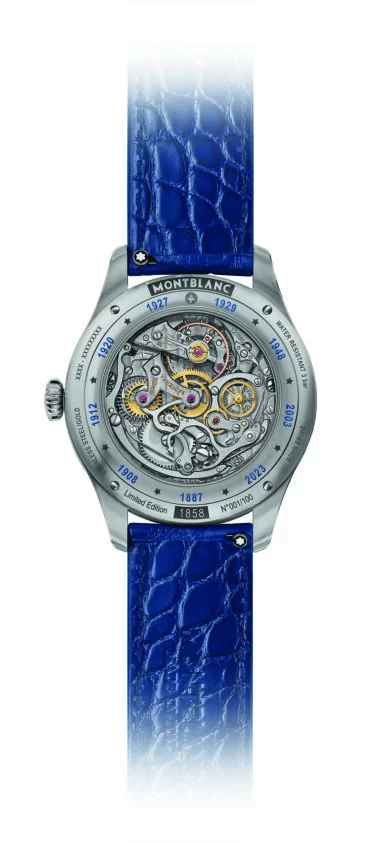 Gimlet eyes immediately saw something that was in the classic chronographs but not in the Unveiled Timekeeper. There are no buttons to start, stop and reset the chronograph functions. So how does it work? It is very simple, only a fluted bezel is used.
Thanks to its new mechanical function, the Unveiled Timekeeper Minerva chronograph starts the chronograph with just one click of the fluted bezel, stops with a second click, and resets it with a third click. Plain, simple and functional. Perfect.
Montblanc Unveiled Timekeeper offers two limited edition models. The first model comes in a stainless steel case with accents such as a white gold bezel, blue dial and red seconds hand. This model is limited to 100 pieces to commemorate the 100th anniversary of the caliber 13.20.
The second watch, on the other hand, has a yellow gold case and bezel and a dark green dial, and is also a limited edition with 28 pieces. The dials of both watches are 42mm in diameter, with the design of Minerva chronographs produced between the 1940s and 1960s.