Travel writers and tourism professionals talked about the most anticipated hotel openings of 2022.
Şebnem Denktaş, VOGUE Turkey and Saatolog Travel Writer
"There are many projects that I am looking forward to. Some will start to host their guests in the spring, some after the second half of the year. One of the hotels I can't wait to visit is Passalacqua, a historical villa. Because Italy has become one of the destinations I miss the most during the pandemic, and Passalacqua, which will reopen on the shores of Lake Como, is one of the first addresses I will stay at this summer. The magnificent 18th century palazzo is currently undergoing a big renovation… It is a big plus that it is operated by the Grand Hotel Tremezzo, one of the most well-known hotels on the lake. It is also very impressive that it has served composers, writers and poets throughout history. Who has not passed through their rooms… Napoleon Bonaparte, Bellini and Winston Churchill often vacationed in this hotel. It is said that the largest suites of Lake Como will be located in this hotel. What excites me the most is the carefully designed rose garden and the vintage boats that will provide transfers at the quay.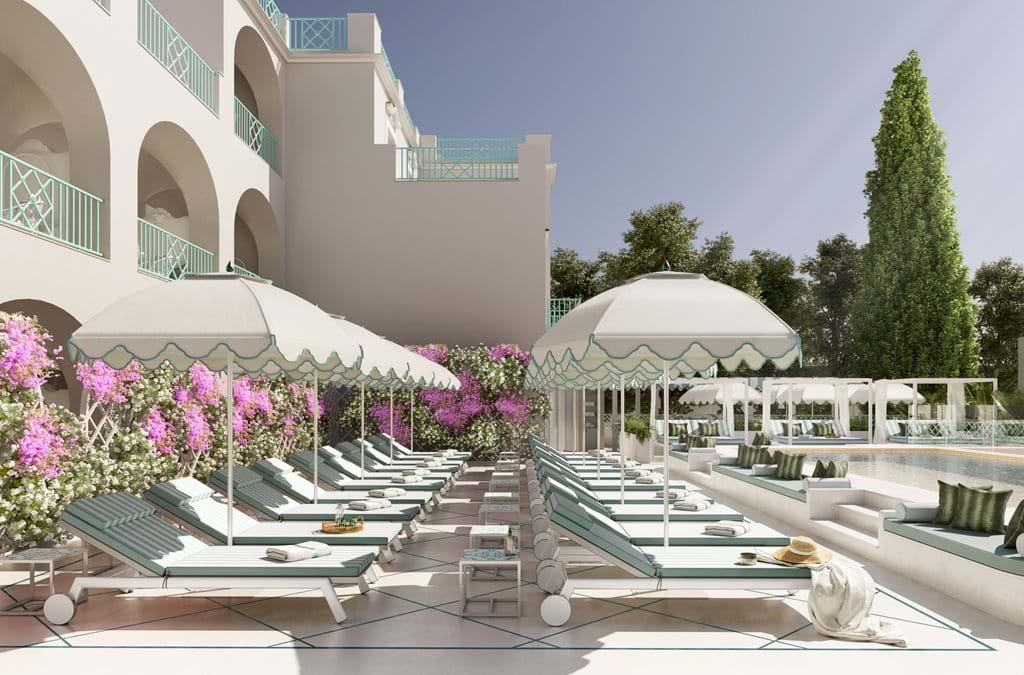 Another gorgeous hotel opening from Italy is also the Island of Capri … Hotel La Palma is the first hotel to be served on the island in the island in 1800s. For this reason it has a historical importance. Last year, I will be in Capri to see the evolution of the Hotel La Palma, which joined the Oetker Collection.
Onur Baştürk, Hürriyet Columnist and Founder of YUZU Magazine
"The new hotel of Grupo Habita, Hotel Terrestre, will be one of the most important addresses of the year in my opinion. It is both exquisite in design and located in Mexico's new rising star, Oaxaca. It won the design award of Wallpaper magazine with its sustainable architecture. El Vicenç De La Mar is another favorite of mine in 2022. The hotel, which will be opened in Mallorca, Spain, is very Mediterranean, modern and simple. I find Alexandre Martin's hotel Hotel Hotel, which is expected to open in Lisbon, very impressive with its sexy courtyard and pool."
Meltem İskit, Far'n Away Travel Co-Founder
"The safari camp & BEYOND Grumeti Serengeti River Lodge, which I am eagerly waiting to open in 2022. It offers a very special safari experience in a location to the west of the Serengeti, the most important national park of Tanzania, away from the crowds and other camps. AndBeyond is building a completely renovated, very luxurious lodge instead of the tent camp here, where I stayed twice before, and it is planned to open on June 6th. In a region where you can see crowded lion families, abundant cheetah populations, migrating antelope and zebra herds crossing the Grumeti River, amazing action scenes, crocodiles, black and white colobus monkeys found only in this part of the Serengeti, hippos and many more predators  is located. . Grumeti Serengeti River Lodge, which consists of 10 luxurious suites decorated in natural tones, with a private plunge pool and large areas with high ceilings, will be one of the most attractive safari camps of 2022 with andBeyond's attentive service and sustainability initiatives."
Ercan Kurna, Asian Escapes Director
"I was very excited when I learned that Anantara, one of the luxury chains of the Far East, opened its third hotel in Bali in Ubud, one of the most beautiful places on the island. This special project, which includes 100 rooms and residences in Ubud, which is famous for its rice fields and magnificent nature, will bring the quality of the brand to the region. Anantara Ubud Bali Resort will also appeal to those who seek more privacy and distance after the pandemic, especially with its pool villas. Another new hotel news from Indonesia came from the capital, Jakarta. Park Hyatt Jakarta will bring fresh air to this bustling city with its 220 luxury rooms and suites, a magnificent spa and diverse restaurant options. W Hotels, affiliated with the Marriot group, is coming to Darling Harbor, one of Sydney's favorite districts.
It is exciting to see the young and dynamic W brand in Darling Harbor, which is famous for its restaurants, cafes and marina. The opening of W Sydney will take place in the fall."