"Time and sea are concepts that have continuity. This two phenomena intertwined each other, sea and time interlocked. It is eternity." / Angelo Bonati, Former CEO of Panerai
Do you think of a "crème de la crème" event more than a private tour with Eilean, one of the best examples of the golden age of maritime, or competing against other legendary boats in a classic yacht race? Honestly, I don't thinks so. Fortunately, I am one of the lucky people that I had honor of stepping onto Eilean's deck during the Panerai's Classic Yacht Challange in 2013. Is it just Eilean?In that event, the most magnificent yachts of yesterday, today and tomorrow competed in the shadow of Mount Vesuvius. These vintage yachts are confident of their beauty gave the guests the glory of 100 years ago. Beautiful Eilean finally agreed to host us, even for a short time. On the deck, I examined every square centimeter of this magnificent work of art, with my senses enlivened by the iodine mixture of wood. While I was fascinated by its original helm, bronze and top quality woodwork and dreamed of being on this boat 60 years ago, Panerai's navigation devices caught my attention. These special tools that Panerai designed and produced only for Eilean, reflecting the boat's identity and soul in the best way, dragged me into a love story. To common story of Panerai and Eilean…
Today, there are many brands that give their name to sailing, but few brands like Panerai dare to engage in such a tough job or a major restoration project. The way of Panerai approaches to Eilean, everything it does for its is far beyond creating a promotional material, it makes you feel that they see the brand as an asset which is both classic and worthy of a seafarer identity. Panerai and Eilean are actually romantics with the same spirit. Both are representatives of high-level craftsmanship and a magnificent aesthetic concept…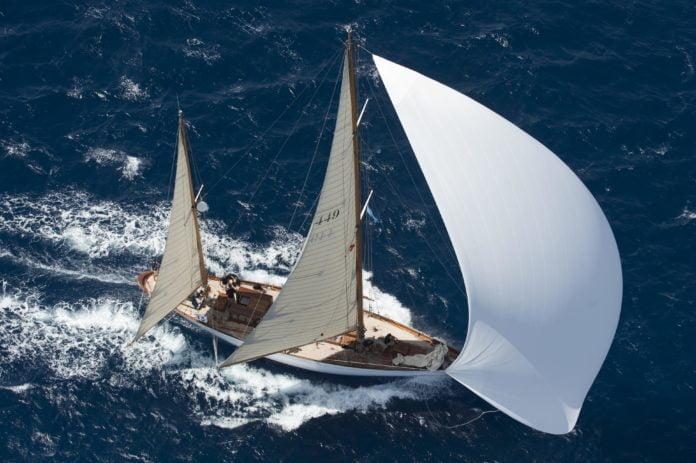 Eilean, whose zinc-plated metal framework is covered with Burmese teak, has a double-pole and Bermuda coat of arms. The triangular main sail, the lower side of which is fixed to stout pole and the front to the mast, as in modern boats, is also called marconi rigging.
Eilean's Reborn from Ashes
Angelo Bonati tells how did he finnd Eilean: "Hours passed, I couldn't take my eyes off its where I sat. Lowly, sad, leaning on the friendly boat next to her, as if asking for help, it was taking strength from its. That night my friends talked a lot, laughed and had fun… As if I was not there. Even though darkness of night, I just watched it. The next morning, I went to its." We will come back  to what happened after Bonati's visit to Eilean the next morning, but first let's take a look at Eilean's life story as wavy as ocean waves. William Fife designed and built Eilean at the Fife Shipyard in Fairlie, Scotland, in 1936, and he is the person that gave Eilean a fascinating beauty. Fife consolidated its reputation with two sailboats designed for America's Cup, which is one of the most important races in sailing history. The fact that these boats were produced for the sailor, Sir Thomas Lipton who we know with his tea and participated in America's Cup races five times, has further increased the recognition. Until his death in 1944, Fife built many sailboats from 12 meters to 36 meters. Fife, who has designed more than 100 fast and elegant boats, is estimated to have around 50 sailboats that have been restorated and still honor the seas. Eilean is one of the last and most special examples that Fife has built.
Designed by William Fife for the Scottish steel merchant Fulton Brothers, inspired by the J-Class yachts competing in the America's Cup in the 1930s, the fate of Eilean was reversed after the Second World War, like many classic boats of that period. Eilean, which changed hands a lot and is estimated to have made 36 crossings of the Atlantic, became one of the most popular charter boats of Caribbean in the 1970s and 80s. So that British pop-group Duran Duran hired boat for video shoot of their popular song Rio in 1982. However, Eilean was abandoned at the British Harbor in Antigua, where it barely arrived after colliding with a ship and receiving heavy damage on one of the Atlantic crossings.
When it was find by Angelo Bonati in 2006, was about to decay; it was actually because of indifference of people rather than time. Eilean, which Bonati had brought to Italy, was restored to its former beauty by master craftsmen at the Francesco Del Carlo Shipyard in Viareggio, with a effort of 40,000 man / hour. Team could save most of the original equipment of yacht, started to work with techniques of the 1930s in order to Eilean would not lose its identity. During the restoration, the teak cockpit was rebuilt in accordance with the original layout and equipment such as wooden rudder, brass compass, bronze porthole was preserved. During the restoration, the teak cockpit was rebuilt in accordance with the original layout and equipment such as wooden helm, brass compass, bronze porthole were preserved. Parts that cannot be reused are rebuilt with original techniques; two new pole made from a single Alaskan spruce tree, the mighty lifeboat winch at the bow, for example. Finally, the dragon motif of Fife Shipyard was re-engraved on Eilean's hull, reference to the origin of the boat. Re-launched by Panerai in 2009, Eilean was visited by some members of the Duran Duran group when it participated in a classic yacht race in Antigua.
Eilean Today
After Eilean reborn, while it showed itself in classic yacht races, sometimes he wented to London at the invitation of Elizabeth Queen II, who celebrated her 60th anniversary on the throne. Today, Eilean navigates the Mediterranean as Panerai's brand ambassador and welcomes classic yacht enthusiasts. Until you get that chance, you can remember this special boat of 22 meters with the photographs and our lines…
In addition, Eilean is as magnificent inside as its stance on the sea. When you can take your eyes off the original helm, bronze accessories and the sailing system produced in a beautiful way, you will be greeted by exquisite African mahogany furniture and coatings. Each cabin with private bathroom, two at the stern and one in the bow (forward of the boat). Eilean has a large lounge and two more cabins for the captain and crew. Reflecting the original character of sailboat such as furniture, banquet seats, embroidered special linens and accessories are also remarkable.
If you want to see Eilean, which was given to us from 85 years ago to the present, to tell us the spirit of the time, you can contact her captain at [email protected] and arrange a special appointment according to Eilean's route.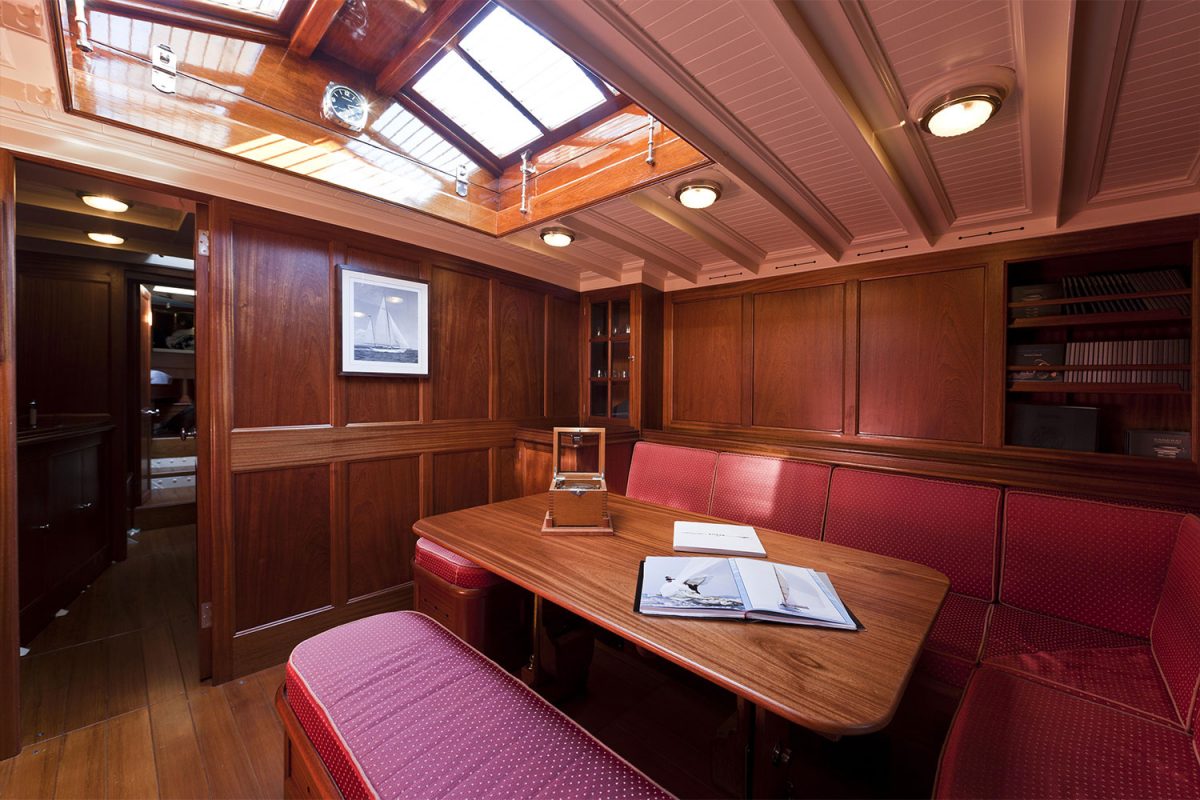 A Book of Mastery: Eilean: A Classic Yacht
Eilean: A Classic Yacht, written by Francois Chevalie and printed by Flammarion, tells the reborn of Panerai thanks to its commitment to traditional sailing culture, the entire story of the boat dating back to 1936, its first voyage, and the challenging restoration struggle; it is interesting with its unique photographs and drawings for readers.