Sir Arthur Conan Doyle, the author of the world's most famous detective Sherlock Holmes, is new guest of Montblanc Writer Edition.
Since 1992, Montblanc has been creating the Writer Edition collections that honoring famous writers. This year, the brand has introduced fountain pens paying tribute to the Sir Arthur Conan Doyle, who is mostly known for his Sherlock Holmes stories.
Sir Arthur Conan Doyle edition is inspired by the writer's extraordinary life as well as Sherlock Holmes stories. The collection includes four fountain pens that each features a magnifying glass-shaped clip and an illustration of Doyle engraved on the nib. Also, each model has identifying motifs representing the theme of pen.
The collection is also decorated with street maps of London, a signature of Doyle. Well, what do you think about the inspiration source of red ink in the velvet notebook and glass inkwell bearing the writer's signature? Probably, that is not a difficult mystery to solve for Sherlock Holmes fans. Yes, all those pieces are inspired by Doyle's The Red Headed League.
Sir Arthur Conan Doyle Limited Edition 1902
Referring the writer's pipe, pen is produced as 1902 fountain pen and 1902 Rollerball pen. Also, it is dedicated to the first release date of The Hound of the Baskervilles, one of the most popular novels in the Sherlock Holmes series.
Sir Arthur Conan Doyle Limited Edition 97
Sir Arthur Conan Doyle Limited Edition 97 also refers to 1879, when the writer's house was built in Surrey. As Doyle had written his many stories in that house, it has an important place in his life story.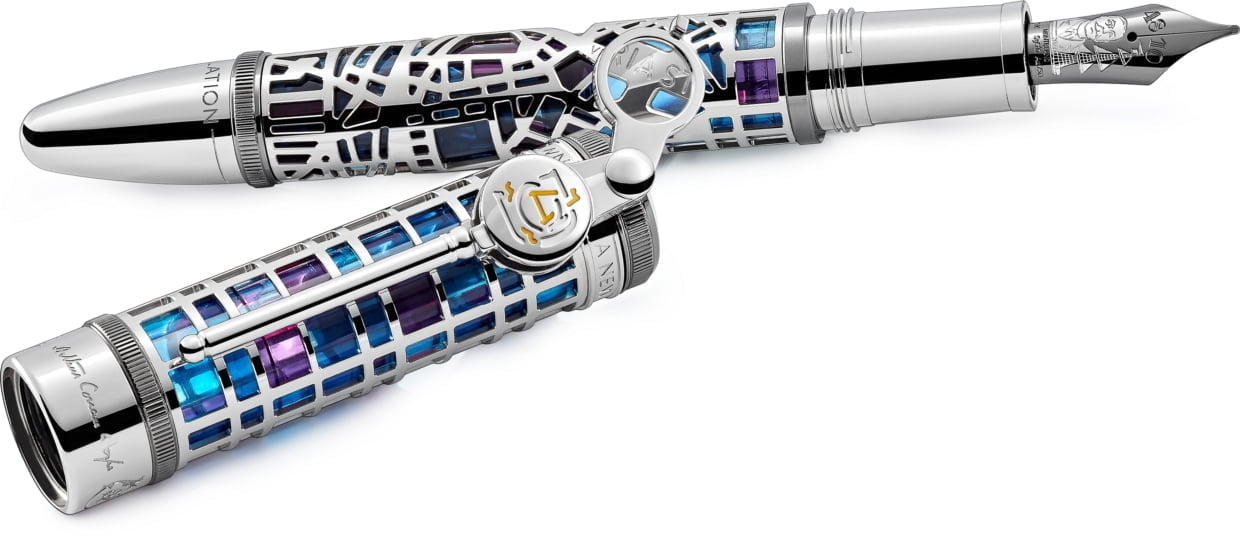 Writers Edition Sir Arthur Conan Doyle Limited Edition 8
Sir Arthur Conan Doyle had met with exploration spirit when she was just 20 years old. He was a ship surgeon whilst whaling in the Arctic Circle. That's why the lid and body of the Sir Arthur Conan Doyle Limited Edition 8 are covered in Au750, white solid gold, with a blue paint reminiscent of 3D icebergs and the icy-cold Arctic waters surrounding them.
If you are kind of person who love to write as much as reading, you can purchase at Montblanc boutiques. As I write the last sentences of the article, I think of a Montblanc series that features Orhan Pamuk. Who knows, one day we can have a fountain pen that bears the silhouettes of Pamuk's melancholic city Istanbul on the nip.