Kim Jones is in collaboration with Christian Dior's memories for Dior Men's Winter 2022-23 men's collection.
The Pont Alexandre III, which is built on the Seine River, was probably preparing for a winter morning on February 12, 1947, when Christian Dior introduced his first collection. The sunlight through the clouds were refracted and changed as it was reflected from the bridge towards the waters of the lake, the silhouettes fluttered in the waters of the Seine; just like silhouettes of "New Look" collection, just like the motions of fabrics in "New Look" collection. Celebrating its 75th anniversary today, Dior pays homage to Christian Dior by reinterpreting his silhouettes which were design in a timeless perspective, with the Dior Winter 2022-23 men's collection.
For this very reason, the collection was presented in a partial replica of the Pont Alexandre III. As you know, Kim Jones is a creative director who make collaborations with artists and writers, but this time Jones make collaborations with Monsieur Dior's memories. In order to create the collection, Jones wanted to look at the archive and capture the brand's purest and original impulse in the Maison's early days. That's why, they looked at the first collections, but as you know, these first collections consisted of women's clothing. The inspiration and aesthetic taken from the lady clothing of the Maison's first collections instinctively evolved into a men's collection.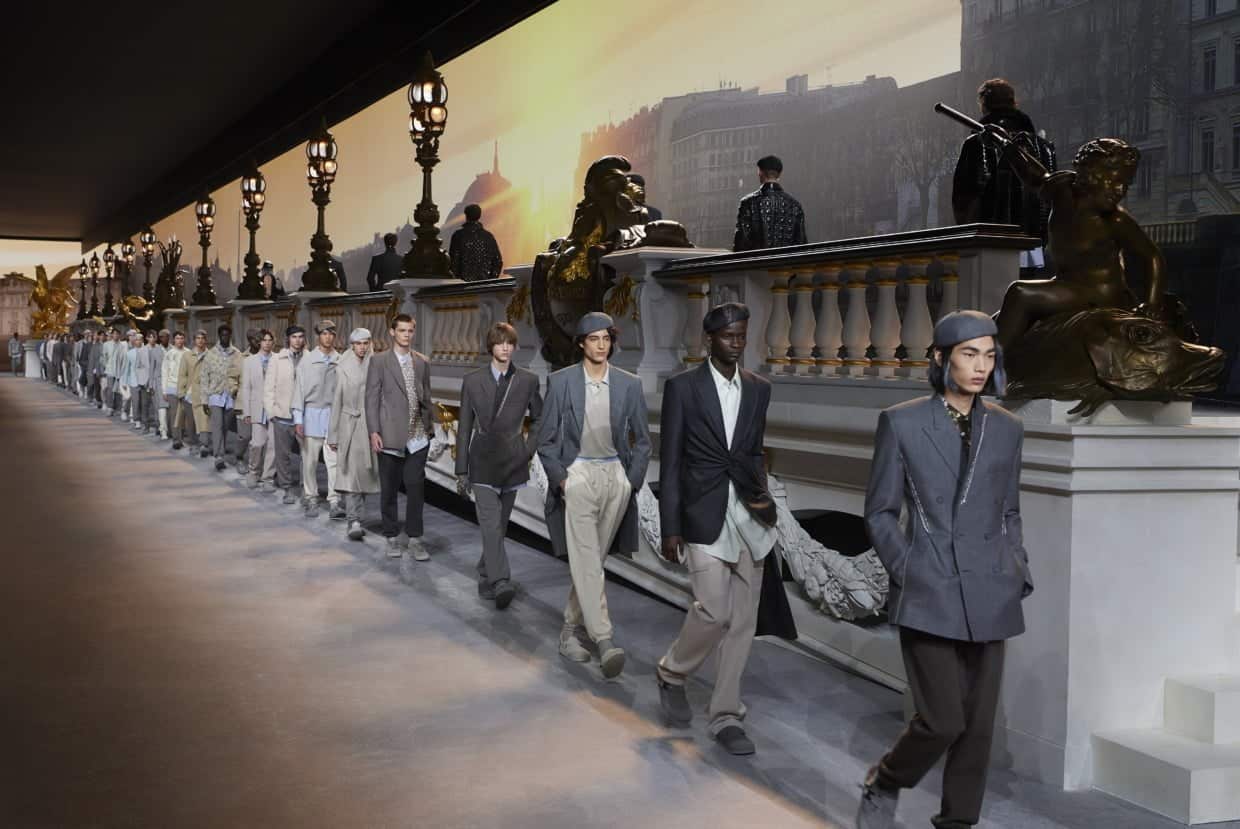 Furthermore, the collection features the play of light on the Pont Alexandre III. As time passes and changes, the plays of the light reflecting on the bridge also change, the shadows and colors are diversified. Just as colors and shades change from sunrise to sunset, Jones designs his collection inspired by the changing colors and forms of 75 years of brand history. The reason why all these light plays are experienced on the Pont Alexandre III is the love of Christian Dior for this timeless bridge.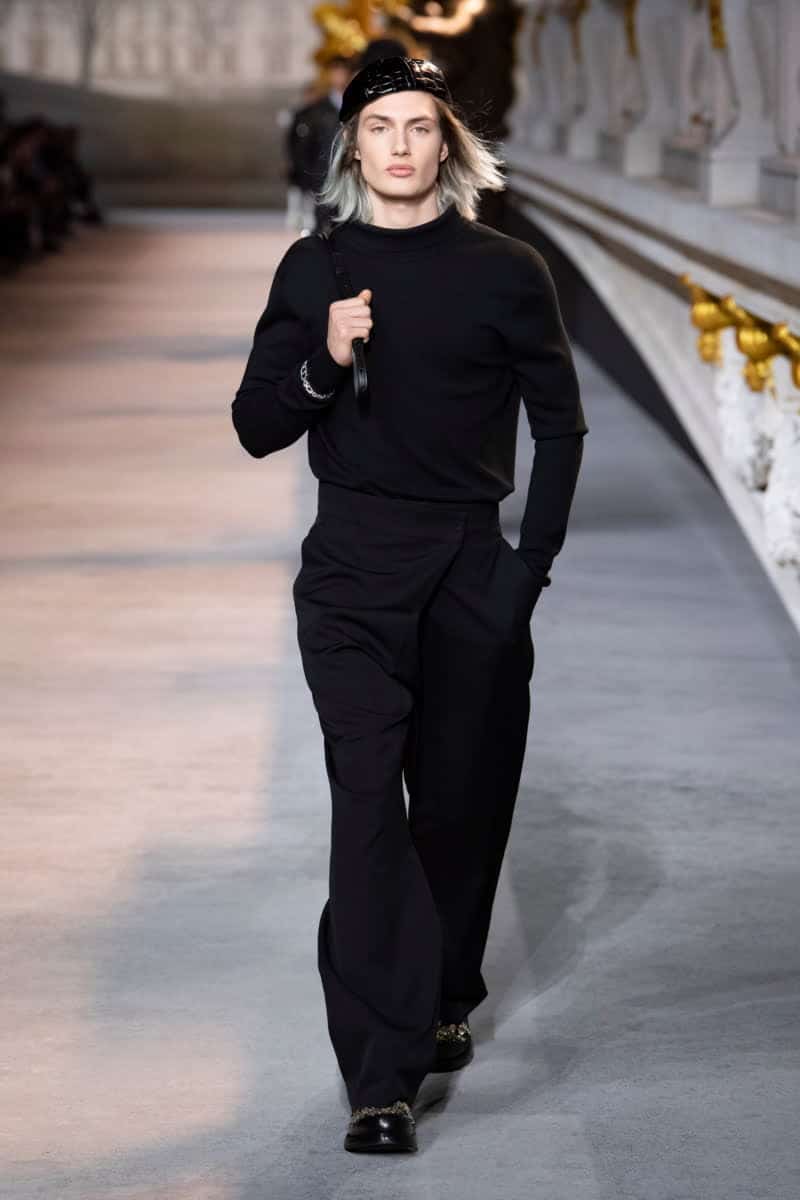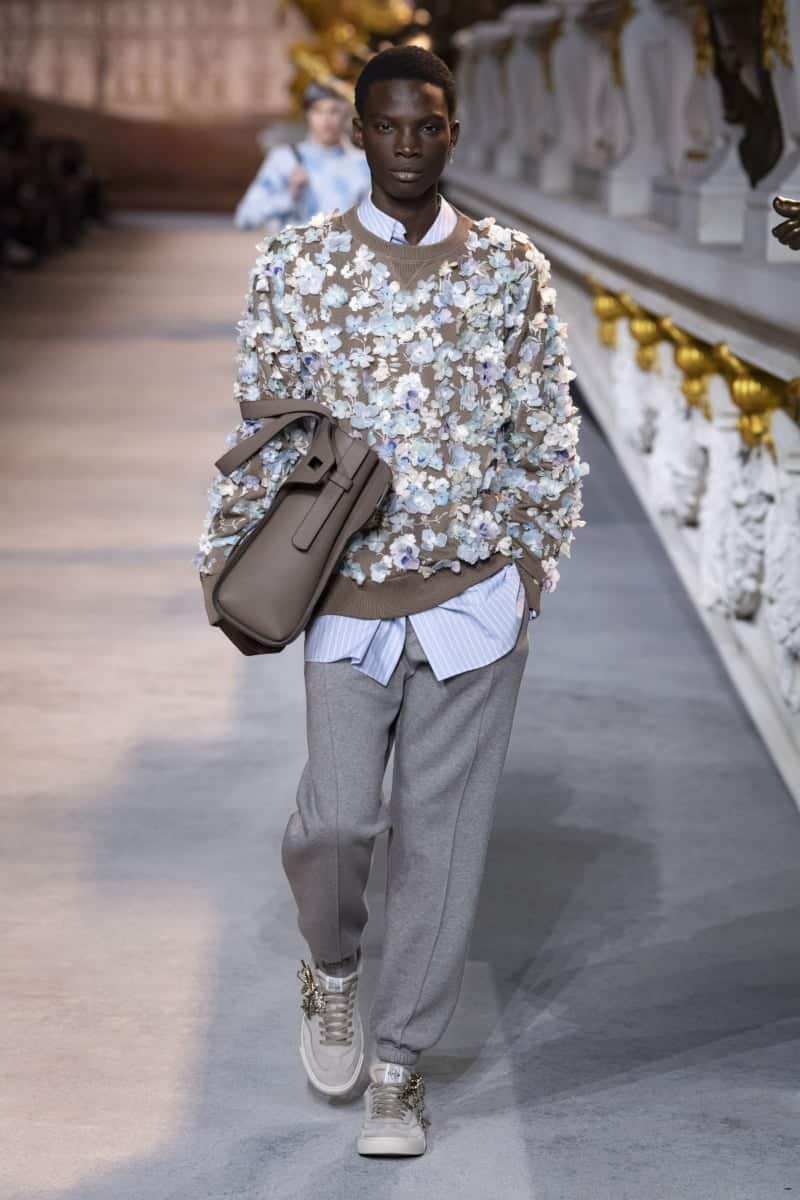 The gray-pastel tones and French tailoring used by Dior in his first collections are reflected in today's British men's collection. A door opens towards the brand's past with past with contemporary designs using the star, rose, leopard and lily motifs so beloved of Dior.
Dior jewelry designer Victoire de Castellane designed a chain decorated with diamonds and emeralds, while DIOR by BIRKENSTOCK sandals created a contrast in the collection. Furthermore, bags are among the new players of the collection: Saddle Bags and Dior Corolle Tote Bags are both chic accessories and practical clutches.
Kim Jones says that Dior pieces are still modern and trendy even if these are chosen from the archives, which makes the Maison great and timeless for Jones.