Thibaud Crivelli has grown up in a small town of France in a garden is filled with roses, honeycuckle, geranium and peony; so, fragrances have always been at the center of his life. And now it is time to let Thibaud speak about his fragrances journey.
Maison Crivelli is a brand that propose a new way to explain perfume. How was Maison Crivelli born?
I have created Maison Crivelli with a simple yet ambitious objective: propose a collection of perfumes which you have never smelt before, and which would be really different from classic scents and from what other niche brands usually propose. Given the importance of this idea of surprise, I have decided that the brand would be born from the unexpected, and I take inspiration from moments I have lived when I discovered myself the perfume ingredients in a very surprising way.
Are there any innovations or surprises in your fragrances?  
Exactly! This is the key signature that defines our creations. Each perfume is based on a very unique contrast of ingredients and sensations, which you cannot find in other perfumes of the market. Today, many clients praise our fragrances for their originality and tell us that they have never smelt perfumes like this before.
How long have you been interested in fragrances?
Perfume has always been a central part of my life. I have grown up in a small town of France and my first contact with perfume came from raw nature. Our garden in Spring is filled with flowers: roses, honeysuckle, geranium, artemisia, peonies and a huge wisteria. We usually spent Summer on the French Riviera and during that time of the year I could smell laurel, rosemary, pine trees, citruses… In autumn and winter, we usually spent our week ends walking or horse-riding in the forest. I remember afternoon strolls in colorful, misty and moist forests with the scent of saddle leather, undergrowth or freshly cut trees (pine, oak..).
When you create a new fragrance, what is your inspiration source?
Each of our scents is inspired by a moment that I have lived, when I have discovered a perfume ingredient in a very surprising way. As I do a lot of synesthesia, each of those moments is actually a combination of different sensorial elements: scents, sounds, textures, colors… They all interconnect and influence each other to create a moment which is unique.
Also, you give brief your perfumers. How is the process of working with perfumers for you?
I brief the perfumers by narrating them my experiences. I send them pictures, videos, sounds… I explain them what I have lived and we work together to translate this memory into a fragrance which would be sensorial, surprising, contrasting and very modern. The creative process works two ways. I don't really "nourish" my inspiration: surprises often come to me! I am an active and very curious person, and I always try to explore, feel what is around me and experience many sensations at the same time. So this mindset helps me to live more surprises, which then become beautiful inspirations. Occasionally I also decide to start working on a new perfume which is based on a specific perfume ingredient. In this case, I dig into my past to remember a surprising experience around it, and then I follow the same creative process.
I would like to ask you Hibiscus MahaJád, which is a vegan perfume. How was this perfume born?
With Hibiscus Mahajad, I wanted to create a flamboyant scent which would be really long-lasting and with an elegant yet powerful sillage. I took inspiration from a moment when I tasted hibiscus tea in a jewel market. We had this idea to illuminate the Turkish rose absolute with mint and cassis, and at the same to sweeten it with an accprd of leather, musks and vanilla.
Why did you work with Quentin Bisch for Hibiscus MahaJád?  
Quentin Bisch is among (if not) the best perfumers of the new generation. He has the capacity to create very artistic, mind-blowing and powerful perfumes. We also get along really well and he is a friend now, so our partnership was very spontaneous.
Do you think that the perfume industry is moving towards sustainable fragrances?   
Definitely, more and more brands are doing their best to have a sustainable approach. At Maison Crivelli, we have chosen to remove all artificial colors and phthalates from our formulas, and we also use plastic free hand-made paper boxes. The cellowrap used to protect the boxes is made of wood and is biodegradable. Last, we also sponsor a charity which does a sustainable production of patchouli in Indonesia. All those projects are important to us.
With fragrances you create, you touch can people's life and their most special moments. Sometimes it can be so emotional, could you define your perfumes in three words?  
I would define our scents as audacious, surprising and modern.
You define your fragrances as "slow perfumes". Can you tell us a little bit about "slow perfumes"?  
I believe that slow rhythm is a good approach. Today's world moves so fast, that it is important to slow down a bit and learn to appreciate simple things around us. Otherwise there is always the risk to lose focus and miss beautiful moments. I remain a very active person, but sometimes I try to avoid rushing.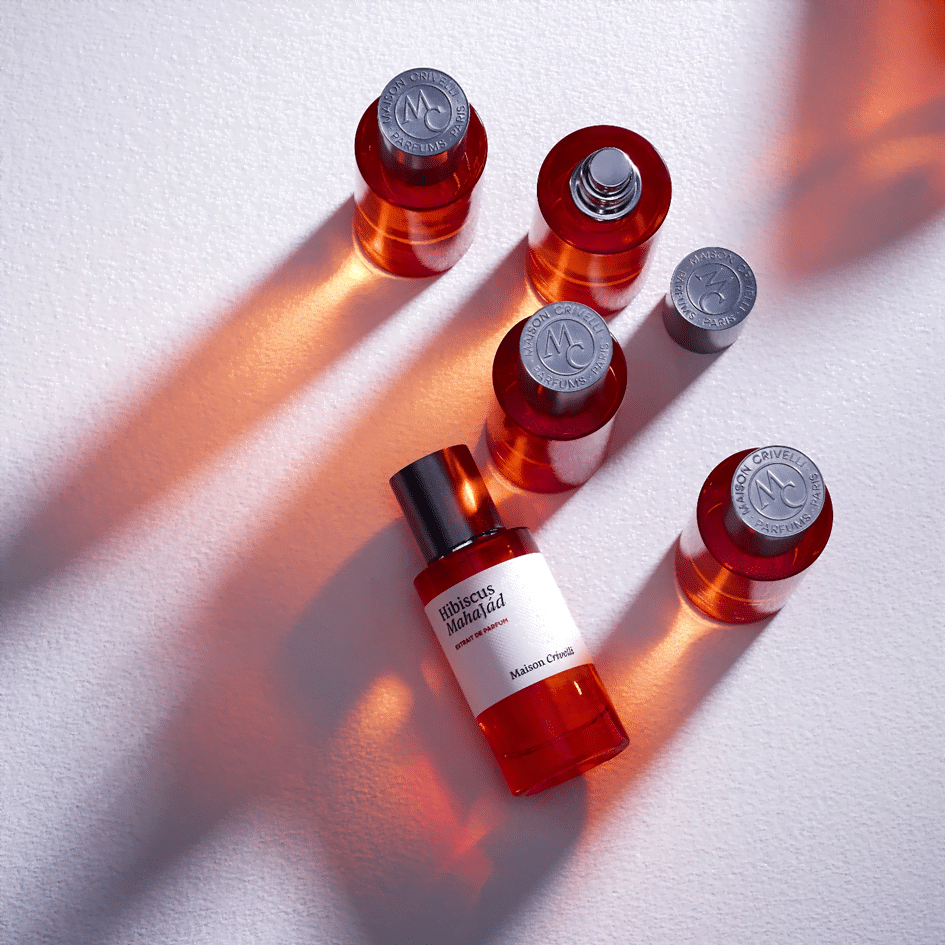 In an interview, you said that you came to Turkey. Now a question about the fragrances of Turkey, do you have a special memory to share related to the fragrances of Turkey?
I live between Paris and Istanbul so I visit Turkey very regularly! I must say that the perfumes which have surprised me when I visited the city the first times were the scent of roasted chestnuts and sahlep in winter, the beautiful wisterias at Pierre Loti in Spring, basil leaves and of course the scents of salted winds through Bosphorus.
Are there any thing you can reveal to us, a new fragrance maybe?   
We will launch two new perfume extracts later this year: one about patchouli, and an amber scent, both in partnership with Quentin Bisch.
Valentine's Day is coming up, so can you recommend a Maison Crivelli perfume for Valentine's Day?  
It would be definitely Hibiscus Mahajad, it is totally addictive and people who wear it comment that they receive so many compliments. I would say that this is a must try!