We have talked with Jean-Christophe Babin about luxury world, watches and Geneva Watch Days.
As the CEO of one of the biggest jewelry brands of the sector, what do you see on today's luxury world?
In today's luxury world, I see a dynamic landscape where timeless craftsmanship and innovation intersect. The demand for exclusivity and personalization is driving brands to create unique, meaningful experiences for clients. Sustainability and ethical practices are gaining prominence, shaping consumer preferences. Rapid digitalization has transformed how we engage with clients and tell our brand stories. Overall, the luxury sector is defined by a delicate balance between heritage and creativity relevance.
No doubt that Bulgari is one of the first brands when it comes to jewelry watches. How do you evaluate the female side of high watchmaking?
Bulgari undeniably stands out as a premier brand in the realm of jewelry watches. When assessing the feminine aspect of high watchmaking, Bulgari's expertise shines through its visionnary designs, exquisite craftsmanship, and audacious colors combinations. The brand seamlessly combines horological excellence with artistic intricacy, like our Picolissimo movement, the world's smallest mechanical movement, which can be subtly and discreetly lodged in the head of our Serpenti creations, enchanting the discerning tastes of women who appreciate both exquisite timekeeping and unique aesthetic Italian brilliance.
Furthermore, there are changes in the industry depending on demographics. It is obvious that Gen Z and Millennials have different habits like sustainability, secondhand watches etc. What is your opinion about the effect of young generation on luxury and high watchmaking industry?
The evolving preferences of Generation Z and Millennials are undeniably influencing the luxury and high watchmaking industry. Their emphasis on interest in heritage and authentic storytelling allow brands to respect and highlight their heritage while being very creative at the same time. It's always a very subtle balance that a brand needs to master. For Bulgari, with its 140 years of history and audacious creativity, this balance has always been part of our DNA. This undoubtedly explains the brand's great success with the younger generation.
What to expect Bulgari from 2024?
Based on its history of innovation and creativity, Bulgari will continue globally expending our Italian Art of Living around the world, pushing boundaries in both jewelry and watchmaking – and in particular with our iconic Serpenti collection, symbol of the forever metamorphosis analogy. Celebrating 140 years of history magnificently opens the doors to explore the next 140 years in front of us. We never cease to nurture a spirit of sharing a part of our success to do good around us, and it's in this sense that we are very committed to child protection, notably with Save The Children. Without children, there is no future. We want to play a significant role in making a difference.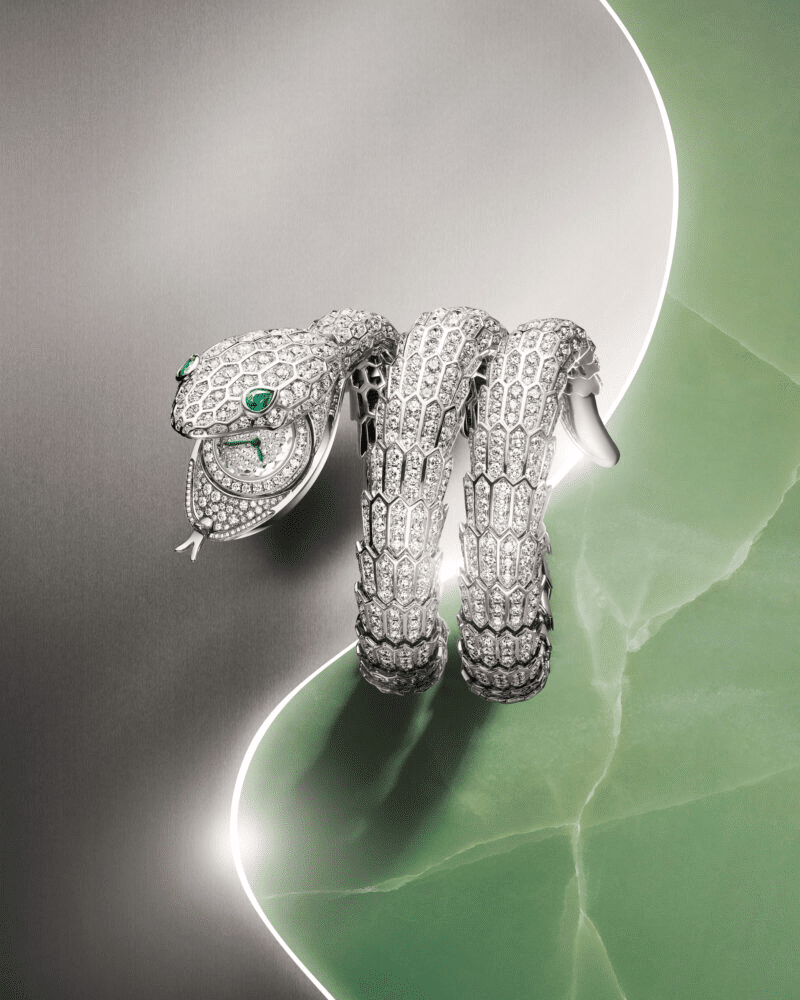 What are the Bulgari novelties in Geneva Watch Days?
Bulgari invites you to experience the extraordinary duality of nature with the promise of the brand's fabulous creative heritage. Three main acts have guided our new creations:
First with our iconic Octo Finissimo saga which continues to unfold around new materials. Following titanium, platinum, rose and yellow gold, ceramic and tantalum, the Octo Finissimo concept finds itself expressed in carbon and gold. Bulgari's relentless quest for finesse – marked by 8 world records since 2014 – continues with two Octo Finissimo Automatic models and the Octo Finissimo Perpetual Calendar (that was awarded the Aiguille d'Or at the GPHG 2021), now clad in the anthracite hues of high-tech carbon, contrasted with the luminous brilliance of gold. Dazzling.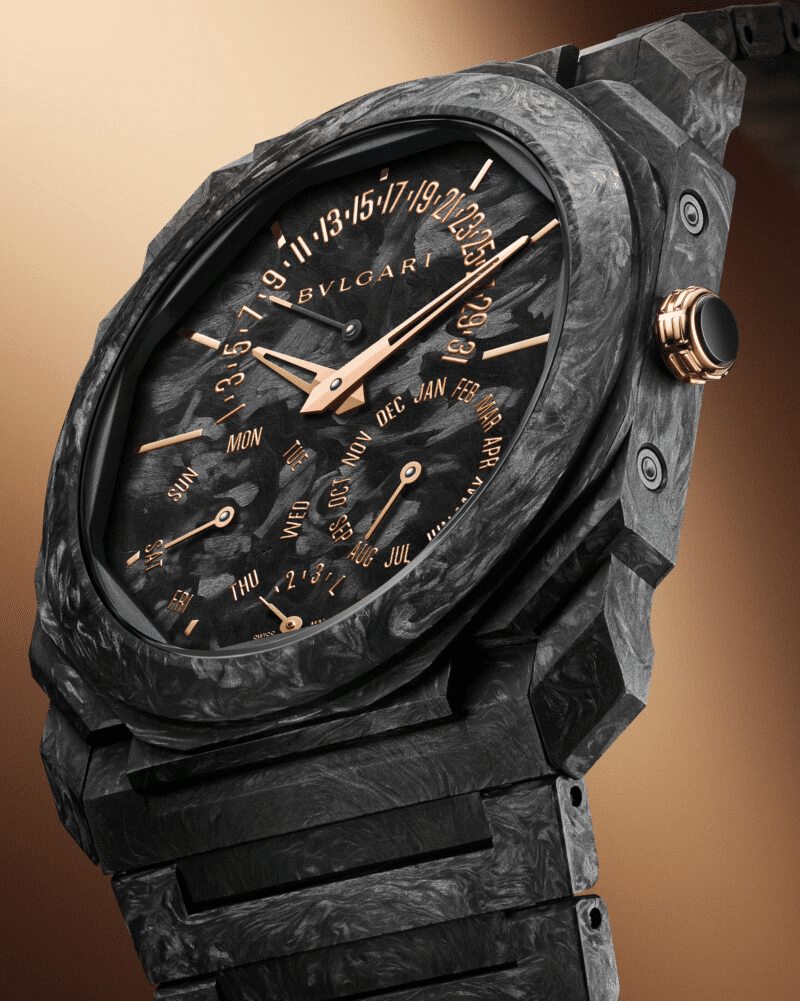 The second act shines a spotlight on Bulgari's marvellous Piccolissimo BVL 100 miniature mechanical movement, the smallest caliber on the entire watch market. It marks the mystique of mechanical time in Haute Joaillerie, true to the spirit of secret jewellery watches, such as the new Serpenti Misteriosi set with over 33 carats of diamonds, and the Serpenti Misteriosi which combines the chromatic depth of black lacquer with the spatial volume of navette-cut diamonds. Fascinating.
For the third, Bulgari has unearthed rare and precious antique coins, curated them for their historical significance, and set them on the Monete Catene secret watches. The two coins in the Monete Catene Dual Time wristwatch evoke the reign of the legendary couple formed by the Emperor Septimus Severus and his empress Julia Domna, revered as a goddess. The Monete Catene watch features a single denarius, a silver coin with the effigy of formidable Emperor Caracalla. With their ample volume, these Monete Catene, made of gold and diamonds, are a demonstration of Italian sophistication and aesthetic mastery, showcasing exceptional antique treasures of Ancient Rome and Greece, a quintessential element of the Bulgari style.
When it comes to elegance in watchmaking, Serpenti should be mentioned by its long history. As a CEO, what do you think about the secret behind this elegance collection?
Over the decades, Serpenti has created a unique and captivating Italian legacy that resonates across generations, combining Bulgari's commitment to craftsmanship and audacious designs. As we are celebrating the 75th anniversary of the collection this year, we have reshaped the watch by wrapping it in ultra-contemporary art, having initiated a collaboration with ultra -branched artist Refik Anadol with whom we have presented an immersive, multisensory sculpture inspired by the transformative power of the snake. This is a stunning work about metamorphosis et eternal beauty of the symbol, and I'm very glad to be working with contemporary artists of this calibre, who contribute to further elevating the substance and creative power of the brand.
Also, I would like to hear your thoughts about Turkish watch customers and market?
Turkey is one of those very special markets for us, because we share the same Mediterranean roots, we share this unique culture, our tastes, our way to appreciate luxury, with a truly special connection to our customers. In terms of business, the Turkish watch market has shown resilience and growth, reflecting a mix of traditional appreciation for craftsmanship and an embrace of modern trends. Turkish watch customers display a diverse range of preferences, from classic designs to smartwatches, making it a dynamic and evolving market for watchmakers to engage with.
And what is your personal thoughts about watchmaking world, watches, and time?
The watchmaking world is a captivating blend of artistry and precision, where intricate mechanisms come together to capture the essence of time. Watches transcend mere timekeeping, becoming expressions of personal style and craftsmanship. They symbolize the fascinating interplay between human ingenuity, the passage of moments, and the perpetual quest to encapsulate life's fleeting beauty.