The first trailer for Ridley Scott's "House of Gucci" has been released.
Our first glimpse at trailer is that "House of Gucci" is a true fashionable movie. Ridley Scott's film adapted is from Sara Forden's book The House of Gucci: A Sensational Story of Murder, Madness, Glamour, and Greed (2001). The stars Al Pacino, Lady Gaga, Adam Driver, Jared Leto, Jeremy Irons, Salma Hayek, Jack Huston and Camille Cottin.
The film tells Maurizio Gucci's murder, which his ex-wife Patrizia Reggiani had hired four accomplices to do it.
The trailer opens with Patrizia Reggiani's (Lady Gaga) cool met entrance and later on continues with wedding ceremony of couple, Gucci fashion shows and colorful disco nights. After the second half of trailer, the tension of a murder plan can be felt slowly. The trailer is accompanied by Blondie's song "Heart of Glass". One striking line of the trailer was Reggiani's: "I do not consider myself particularly as an ethical person, but I am fair."
On the other hand, some members of the Gucci family are against this Hollywood production, also Reggiani explained in a statement that she had expected to be consulted her during the shooting.
"House of Gucci" is planned for release on November 25th in the USA.
The Official Character Posters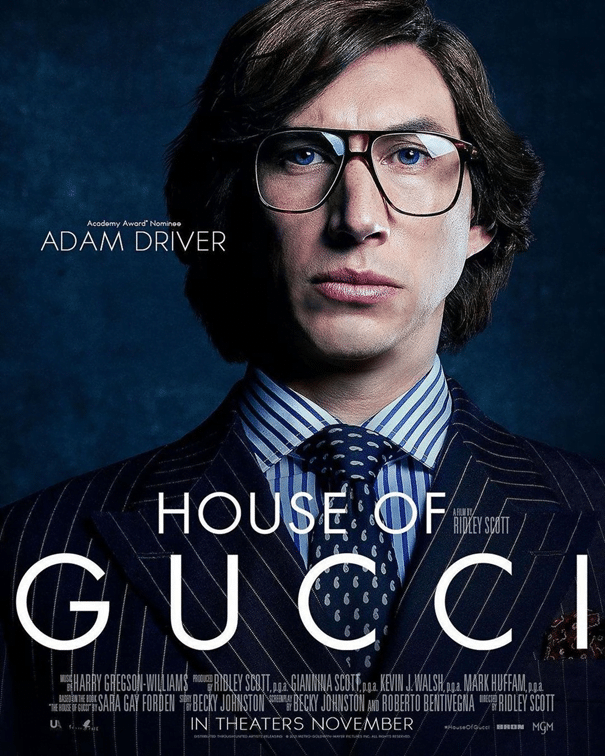 What Happened in Maurizio Gucci's Murder?
The couple had met in a party in 1970. In an interview with The Observer, Reggiani says that Gucci fell in love with her at the first sight. In 1972, two years later, Maurizio and Patrizia got married and they had a happy marriage for a long time. However, Maurizio left Patrizia for another woman in 1985, he told Patrizia that he was going away on a business trip and never returned home. After that, the story continues with the divorce case which has taken many years and Gucci's murder in 1995 on the steps of his office in Milan.
It took two years for the murder to be solved; there are four suspects, including Patrizia's psychic. Eventually, in 1998, courts found that Reggiani had hired accomplices to murder, she was sentenced to 29 years in prison.
Reggiani, nicknamed "Black Widow", was released in 2017 after dropping appeal of her conviction.
We will wait to watch "House of Gucci" to see how the rest of the story is told.