Founded by Adele and Edoardo Fendi in 1925, luxury fashion house Fendi has turned the Miami Design District pop-up cafe into a Fendi land, by means of a collaboration with New-York artist Sarah Coleman.
While the cafe is shaped around the brand's Summer Vertigo capsule collection, which is designed by Coleman in collaboration with Fendi's creative director Silvia Venturini Fendi, the yellow and blue tones that dominate the collection are inspired by the psychedelic shapes of the 70s and the street fashion of the 90s. Of course, FF Vertigo, the brand's iconic FF logo, is positioned in the most crucial part of the design.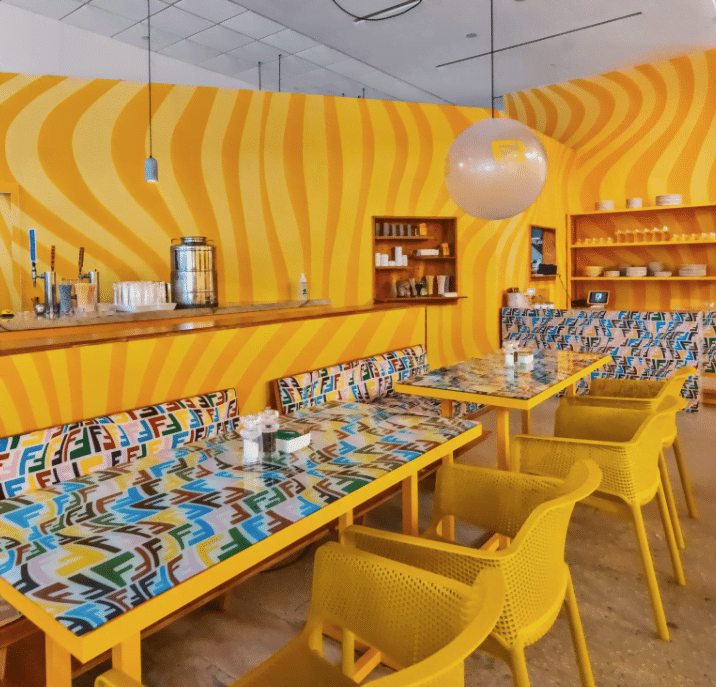 Coleman explains that when she began brainstorming, she mostly influenced by the 70s, a period of extreme self-expression.  Also, the artist thinks that the 70s are the greatest fashion era of the 20th century and emphasizes the 70s are the most accurate reference for the design of the café.
The logo comes as a bold motif adorning the venue's various tables and bar stools, whilst the yellow walls of the café fascinate visitors with abstract swirling shapes.