We talked with Güven Kıraç about dystopia and utopias, starting from his third solo exhibition "Dystopia" opened at Merqez Art in Bodrum Marina Yacht Club.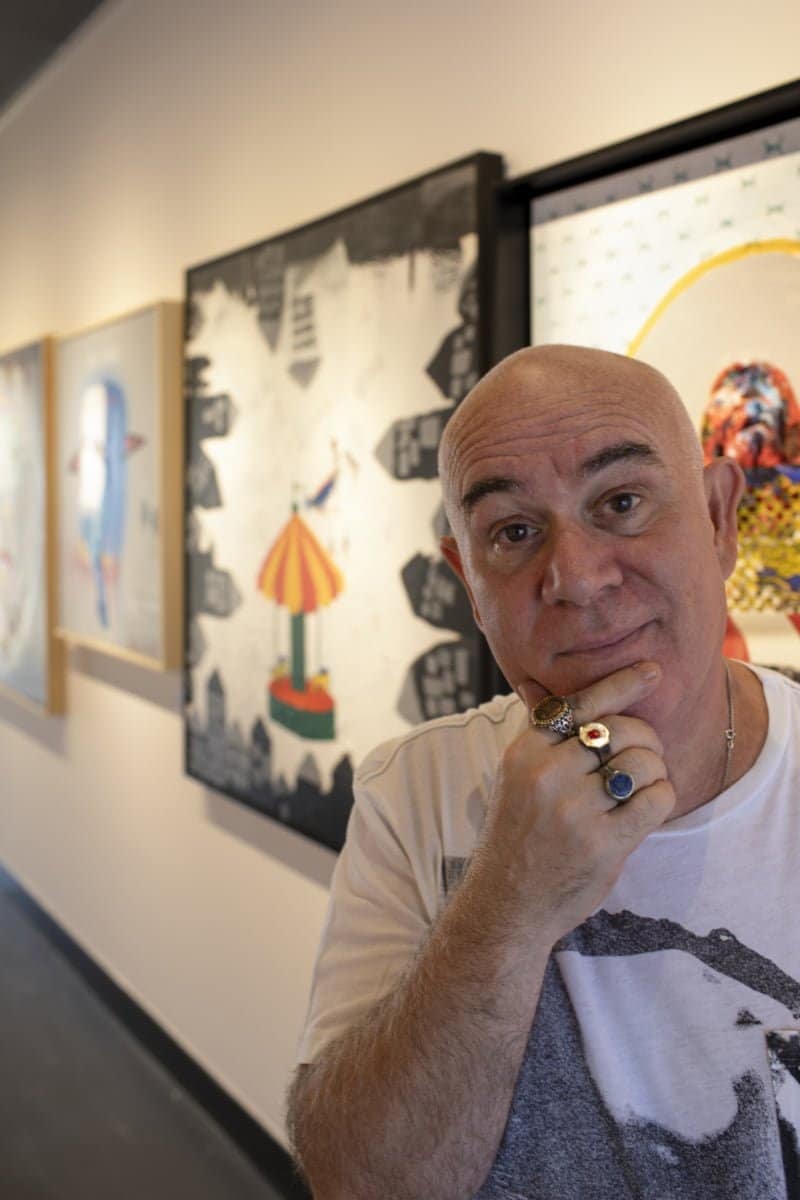 Photos by Nilay Sabuncuoğlu
Mr. Güven, could you share your utopic dream with us?
Peace is starting to seem like an utopia for me now; that is, establishing peace in the world, proclaiming peace… We are getting further and further away from peace. The fight is getting sharper and harder, and I am very worried about this situation. My belief in peace turned into an utopia. It's like we're getting farther and farther away because the fight inside human is not over.
Is your literary side and your interest in painting, which progresses in parallel with your acting career, shaped by your acting experience or are you developing a completely different perspective for these disciplines?
That is to say one's eyes are improving. I say for the painting, looking at a lot of paintings, following a lot of paintings, reading a lot of paintings… Therefore, I'm reading, and I'm trying to read and understand the art movements, I'm trying to know what stain means. Paintings in different styles, painters, different lights, I try to learn all of them. I have not studied painting academically, but I try to have some knowledge about the subject. The reason why I don't leave the painting studios and painters is not just to fiddle away there; I learn a lot there; I actually study with them. I'm exploiting them in a way, on the sly. There is such a side to the painting for me. Acting, on the other hand, is such a wide field. The "creature" we call the actor needs to know and understand a little bit of everything. (S)he has to be clear and understand a little bit from sculpture, architecture, and music… Let me tell you especially for the theatre; Theater is perhaps the only art that includes all disciplines. It involves architecture, music, dance, painting, cinema, and many disciplines. In other words, it contains all of them within itself. Thereby, we need to understand a little…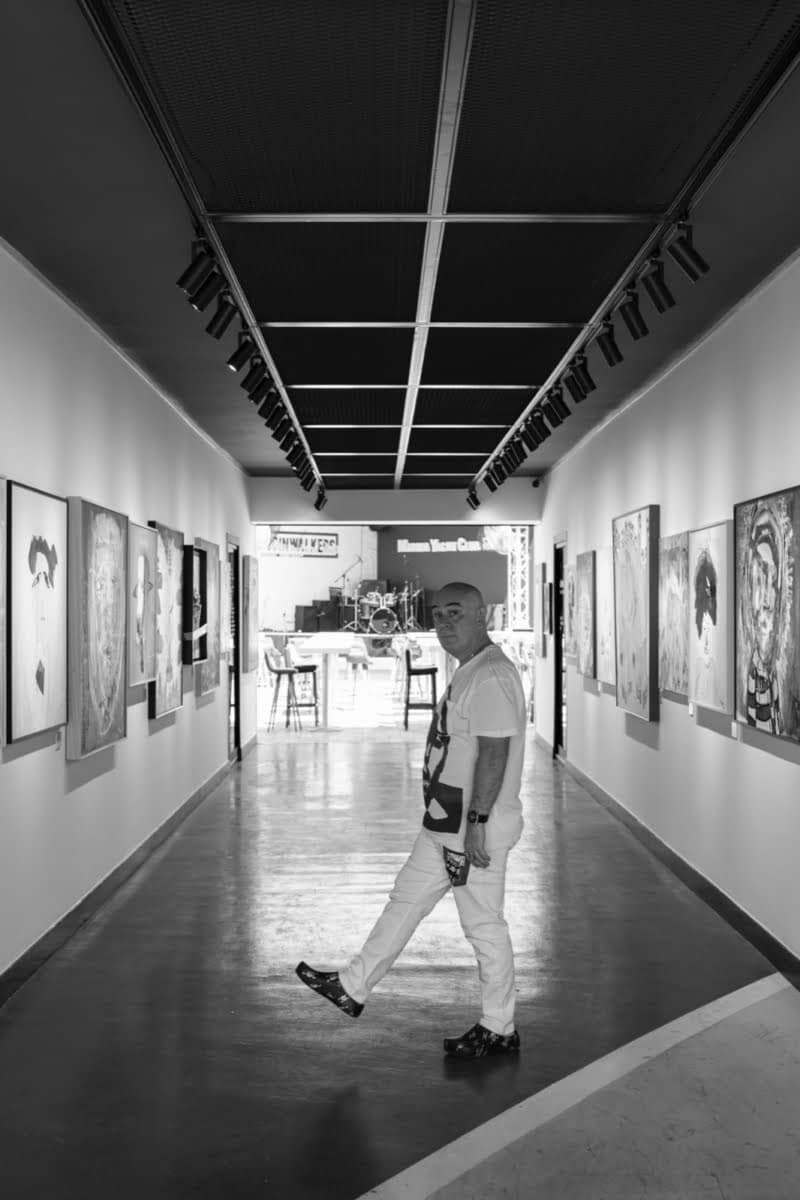 If you were to turn an acting experience in which you took part, played, or brought to life, into a painting, which character would you like to handle?
Maybe I would like to paint Yusuf in "Masumiyet". That opening scene behind bars; He doesn't want to go out, his sentence has expired, but he petitioned that I want to stay here. It is a very striking introduction; "Masumiyet" is already a very important movie both in my life and Turkish cinema. Maybe one day I might want to paint Yusuf as he was in that first scene. I don't know how it will come out, I guess I'll do something avant-garde, maybe something close to art muted.
As a result of your expertise in different branches of art, your medium in the work you perform also changes. While you are the medium yourself when you are on stage, you instrumentalize yourself when you move on to the canvas. Can you talk about the feeling created by this transition?
There are a lot of variable things here. In one, you have your own material, because acting is instrument work. My narrative tools are my hand, my eye, my expression, my neck, my head; every part of my body is my instrument. Therefore, I use it, but the painting is not like that. Painting is something completely different, that flows outside of me, that I designed or did not design, but intervened. That is, the two have distinctions and nuances arising from their own execution conditions.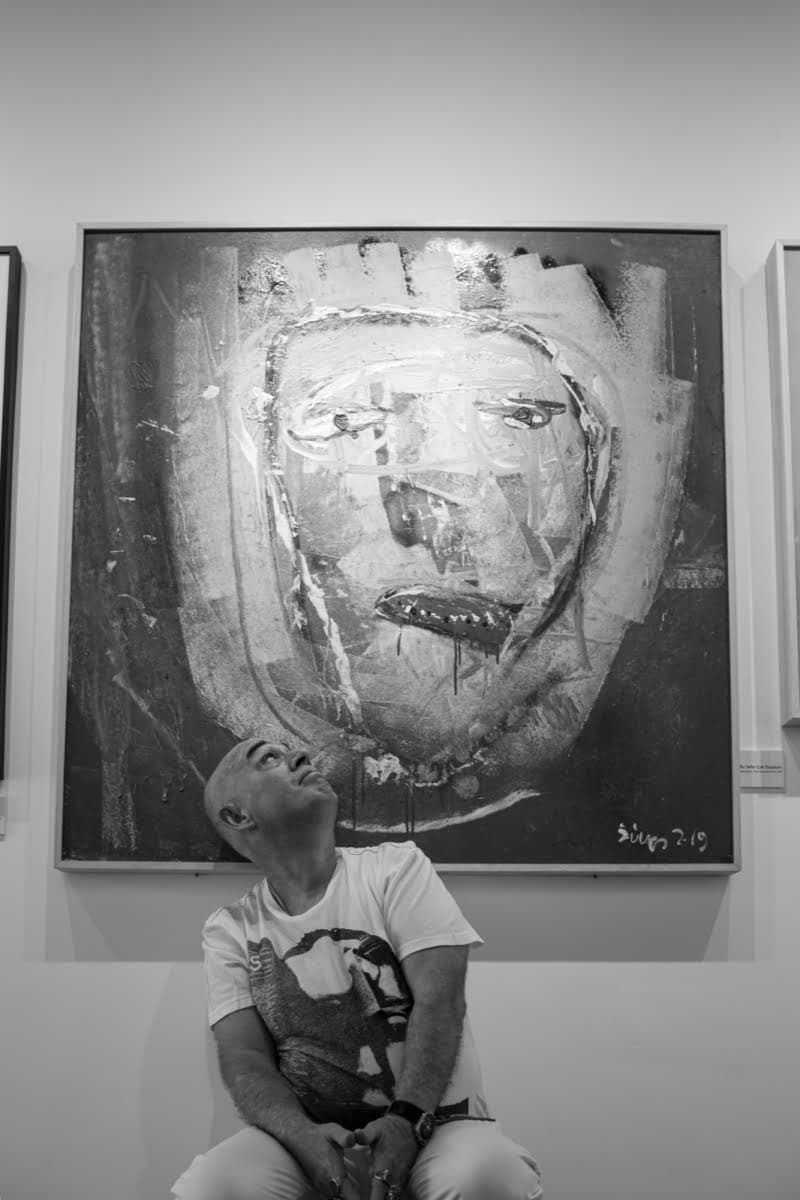 You have a solo exhibition that can be visited at Merqez Art at Bodrum Marina Yacht Club until 7 September: "Dystopia". In your manifesto, you use a language in which building swallows people, climates lose their meanings, and you question to hope? Since when has life become so dystopian?
Life has become dystopian from time to time. Everyone has their own dystopias in their life, by the way. Everyone has their own little doomsday in this life; everyone… Various examples of these have happened to all of us and we have been exposed to them. If we tell them, there will be a lot of stories. However, a feeling that has emerged in the last few years that we have collectively felt its influence is this dystopia feeling in me. It is also about administrative matters and there is also a mood brought about by the geography we live in. It is very difficult to live in the Middle East and there are places that are more difficult than us, we know. But Turkey is also in a difficult geography, it is very open to dystopia.
In this way, do you believe that art and artists have a healing effect on society? In other words, do you think that the dystopia you create as an artist will raise awareness?
I think because I believe it is valuable and important to look at these paintings right now, or to go beyond these paintings and put the name dystopia into circulation, open to conversation and release. If a work of art makes something think and feel, ignite something, fertilize something, which it should fertilize, because something will sprout from there; I find this very important and valuable. Therefore, I held this exhibition with this name, in order to be worth.
A wide color scale and material world prevail in your works. Is mixed technique your starting point because of your experience in different disciplines?
I started painting with acrylic, and I continue to do so. Sometimes papers that I can describe as mixed technique get involved, and sometimes I pursue other kinds of materials. I like to put a lot of things on the canvas. I've already been chasing materials. The same goes for acting. Let me find such material in acting that I chase material so that it will be useful to me in this character. Therefore, this habit and this perspective are impulses that guide me while performing the art of painting.
Where are you recently happiest to be in?
I am the happiest to be in my painting studio lately. I've said this before somewhere. When I paint, I go out of time, out of space, many times… This makes me so happy.
Could this place of happiness be your utopia?
It is out of utopia now since I have it. This is a reality that corresponds to my life, that I draw, live and feel my life.
Some of the artist's works from the "Dystopia" exhibition: