The Worst Person in the World, the last film of Joachim Trier's Oslo Trilogy, has been one of the most critically acclaimed films of recent times since it premiered at Cannes last year. We take a closer look at The Worst Person in the World, which is currently being screened on MUBI.
A young woman secluded from people at a crowded party and smoking alone on the balcony (I don't know why; this sentence reminds me of the lines "Rainy young woman crying on a distant phone.") this is how Joachim Trier's The World's Worst Person's first scene was opened. Could a woman smoking alone on a balcony overlooking the streets of Oslo, far away from the crowds, be the worst person in the world? Consisting of a prologue and an epilogue, the 12-part film progresses the story of a young woman trying to discover herself and life, chasing her desires, by occasionally asking this young woman whether she is "the worst person in the world". Trier describes The World's Worst Person as "a movie about love and finding meaning in love today". Another attribution is the story of adults who still feel immature.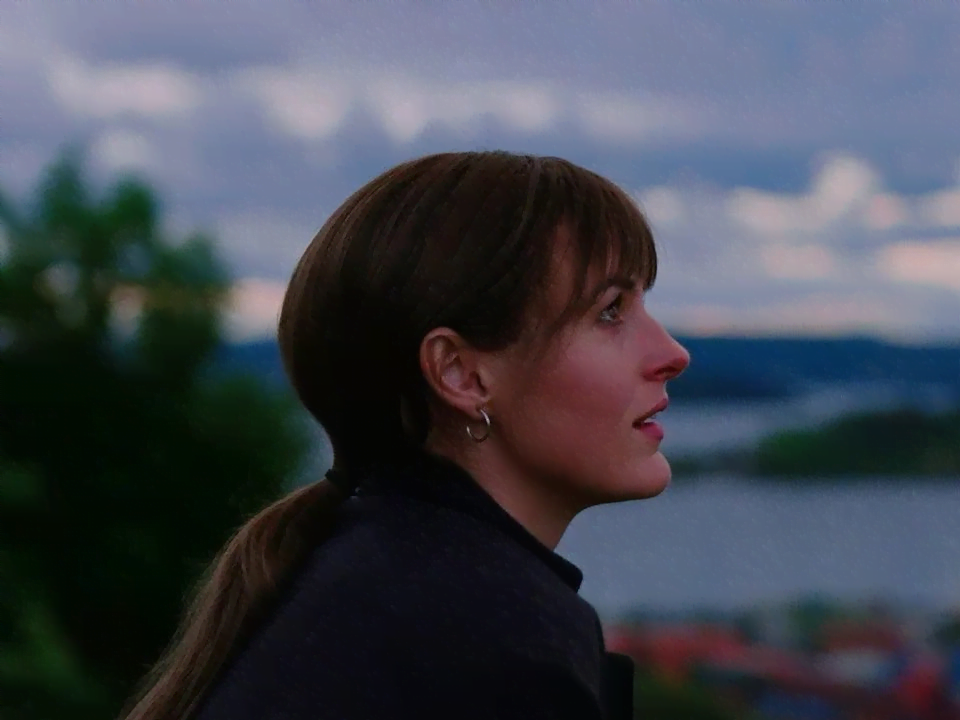 As in his previous films, the Danish director also wrote the script for The Worst Person in the World with Eskil Vogt. The film centers on Julie, a young woman in her early 20s studying at medical school. We watch Julie, who we see thoughtfully smoking a cigarette in the opening scene, away from everyone at the party she is at, with the flashback scenes that follow in the movie, with her indecision about which profession she wants to pursue. She leaves medical school and says she wants to "touch people's souls, not their bodies", Julie trains for a while to become a psychologist. Discovering that she does not want to be a psychologist, the young woman finally decides that she wants to be a photographer. Julie's story opens by focusing on what she wants to discover in life, until she meets the famous cartoonist Aksel.
In the later parts of the movie we see Julie's relationship with Aksel who is middle-aged person and drew aggressive cartoons which take reactions from feminist circles. In this relationship, which covers a large part of "The Worst Person in the World", Julie gradually turns into a woman who turns into a shadow between Aksel's popularity and professional recognition and later works in a bookstore in a position where she is not very productive. It makes one think about whether it is a movie looking for meaning in love and romance today, or a movie about how young Julie, who has desires and quests for life, becomes invisible in a male-dominated romantic relationship.
Aksel's desire to have a child, but Julie's not feeling ready for motherhood is one of the biggest dynamics underlying their romantic relationship. While Julie expresses her thoughts on motherhood, we see the domination that an adult man tries to establish over a young woman with his own experience, when Aksel says "One day you will want to be a mother, I know that". One of the most striking scenes of the movie is before Julie leaves Aksel. Just before Julie announces her decision to leave, the director pauses the moment and we see Julie running through the streets of Oslo. At that time, Julie runs into a young man whom she met at a random party and whose name she does not even know, and life flows for Julie and Eivind alone in Oslo, where all time stops. Having found Eivind, Julie returns home after being sure of her love, and time continues to flow as it once did. And she leaves Aksel.
Now, I'd like to recall the Attila İlhan poem that I mentioned at the beginning of the article once again and say "…Separations are also included in love" because the director brings the separation of Julie and Aksel to the screen as a decision made by both parties with intense emotions, rather than a separation that is cut like a knife and the love of one side ends. . Because when Julie leaves, she says, "I love you and I don't love you at the same time". In the breakup scene, we see Julie once again remaining indecisive about who she wants to be with, just as she is indecisive about what she wants to do. But the part that really caught my attention in the breakup scene is Aksel's "Where will you live now?" there is a question. Julie, who says she will live with her mother, moves into Eivind's house right after she leaves.
The film, which sincerely establishes its narrative from the very beginning, focuses on who Julie wants to be between her romantic relationships and her hesitations about life. Although the director says that the film is not about being a woman or being a woman directly, I fail to think about the effect of Julie's romantic relationship with Aksel on her life while watching it. While Julie tries to discover life, the "male" fame that reigns next to Aksel or the mansplainings she is sometimes exposed to become a part of this. However, the film is not concerned with telling the story of existence as a woman from a feminist perspective. As the director says, it tells the story of adults who still feel immature. Perhaps, in other words, it tells a story in which adults who were stunned growing up stop and feel like the worst person in the world every now and then.