Sixième Sens par Cartier high jewelry collection unveiled at with an event at Italy's Lake Como.
While the whole world is one step closer to normalization, the launch of Sixième Sens par Cartier at Lake Como light up these normalization steps. Designs come with movement illusion that symbolizes the sensuality of the jewelry world.
The Meride Necklace
Designed with diamond, onyx and rock crystal, the hypnotic checkerboard pattern on this necklace gives the impression of being in perpetual motion. When you look closely, you see that the jewels are placed in different sizes, which gives the hypnotic look of the necklace.
The Pixelage Necklace
This necklace represents the symbolic power and nobility of panther. On the other hand, it brings the calm flow of bright desert sands to the wearer's neck thanks to its color palette of stones.
The Sharkara Necklace
With variations of pink tones, this necklace brings together tourmaline and colored sapphires in an array of bright orange garnets and sparkling diamonds. I think, it is the most romantic piece of the collection. Other pink piece of the collection is the Phaan ring which conceal a tiered construction that allows a 4.01 carat rose-cut diamond and the beauty of an 8.20 carat ruby. The combination of ruby and diamond also create a movement illusion as well as other pieces.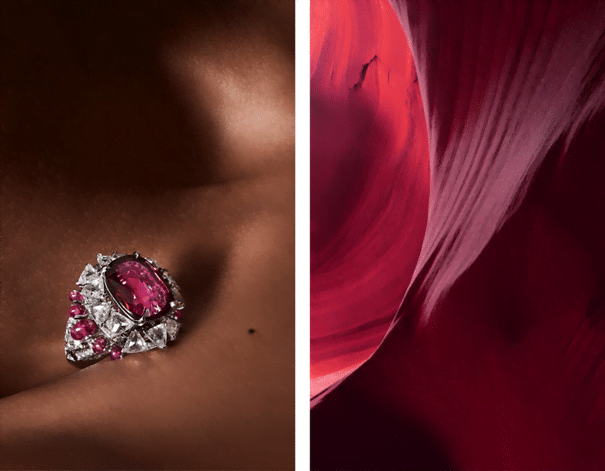 The Alaxo Necklace
The Alaxo necklace is my favorite piece in the collection, that's why, the last piece that I chose to write in the article is this necklace. The brand reveals its jewelry craftsmanship through Alaxo which has chromatic intensity. In this necklace, a series of emeralds and diamonds are connected to each other by tiny metal bridges to allow movement. A series of rubies and diamonds are connected to each other by tiny metal bridges which allow to movement. We could say that the collection which designed by a perpetual motion represents our desire to move that we have kept inside for months.