Polat Uyal, Head of Purchasing and Product Group of Beymen Group, is one of the leaders in Turkey's luxury fashion industry with a career of nearly 27 years. Despite the epidemic conditions, Beymen attracted our attention with its 20 percent increase in its store in Zorlu, its Akasya store twice, and the store it opened in Galataport. We knocked on Polat Uyal's door to talk about Beymen's journey, the dynamics of the fashion world and these new stores.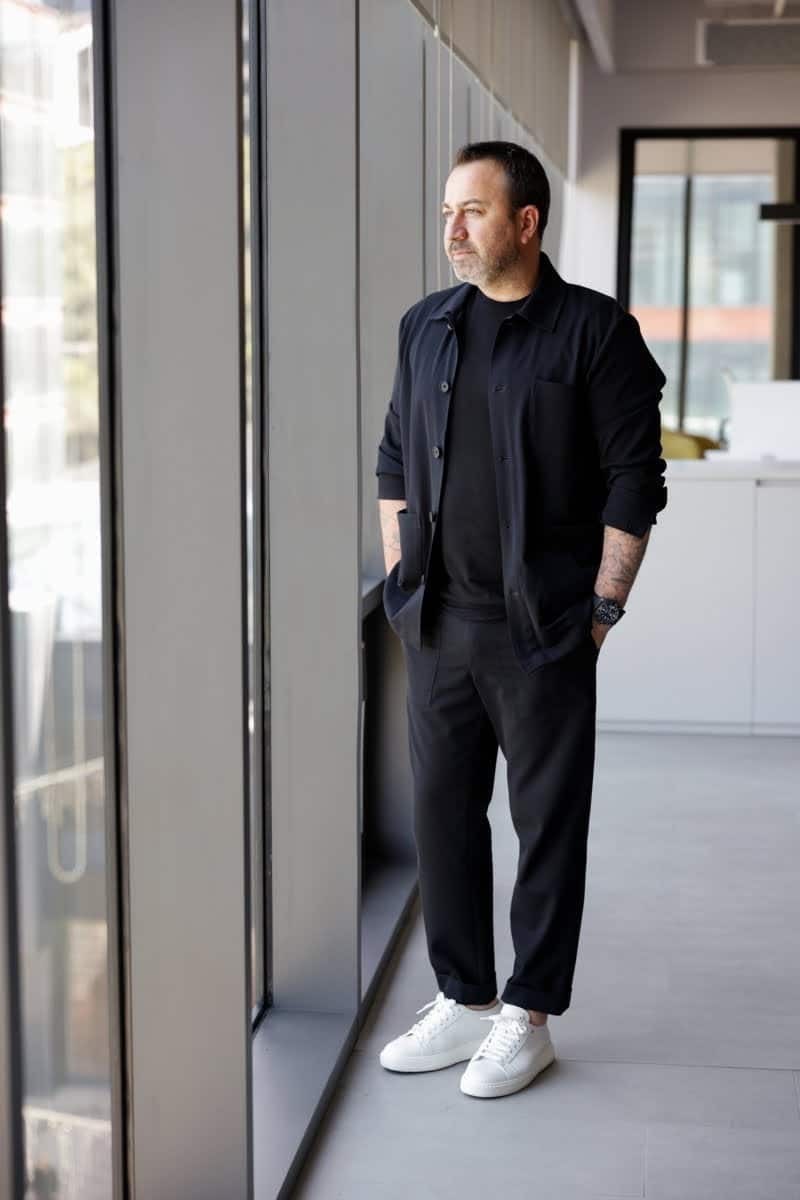 Mr. Polat, how did your path cross with the fashion world?
I am a merchant, since childhood I spent a lot of time in my parents' stores. I remember when we went to select products for our stores at a young age. After I got a little older, I started to take responsibility and sell in stores after school and during holidays. Then, during the summer months, I swallowed the dust of textiles in my uncle's factories in England. I can say that I learned the whole business from harvesting to shipping. After my university life in Ankara Bilkent, I have been in the fashion and retail world since 1995, when I came to Istanbul and applied to Beymen for a job posting.
You have been at Beymen since 1995. Well, what are your criteria when determining the brand portfolio and product range for Beymen customers for many years?
Every season, hundreds of new brands enter the fashion industry. It is our priority to choose among them and include the newest and most original one in Beymen. At Beymen, we position new brands in the same place as other design brands. For this reason, we include brands that have design value and that we believe can survive in the long run.
Beymen stores more than a thousand local and foreign brands. Our purchasing teams enrich this selection with new brands every season. Many brands joined Beymen brands in the 2022 Spring / Summer season. Among the new brands that we are most excited about this season are brands such as Alemais, Casablanca, Marine Serre, Renee Caovilla and Monot.
Beymen is the leader in the luxury fashion market. What is behind this success?
Beymen has a philosophy that sees the future and keeps the present alive in the most perfect way: Innovative, creative, value-creating, perfectionist and entrepreneurial… You can feel the team spirit at Beymen, which is sensitive, determined, able to see the future and set new goals with the strength of our past. Our understanding of quality and excellence stands out in all the values ​​created with our brands. It is very valuable for us to be creative about products and services, and to combine this with the spirit of modern times and achieve dynamism. While doing all this, we always have our customers in our hearts, minds and focus.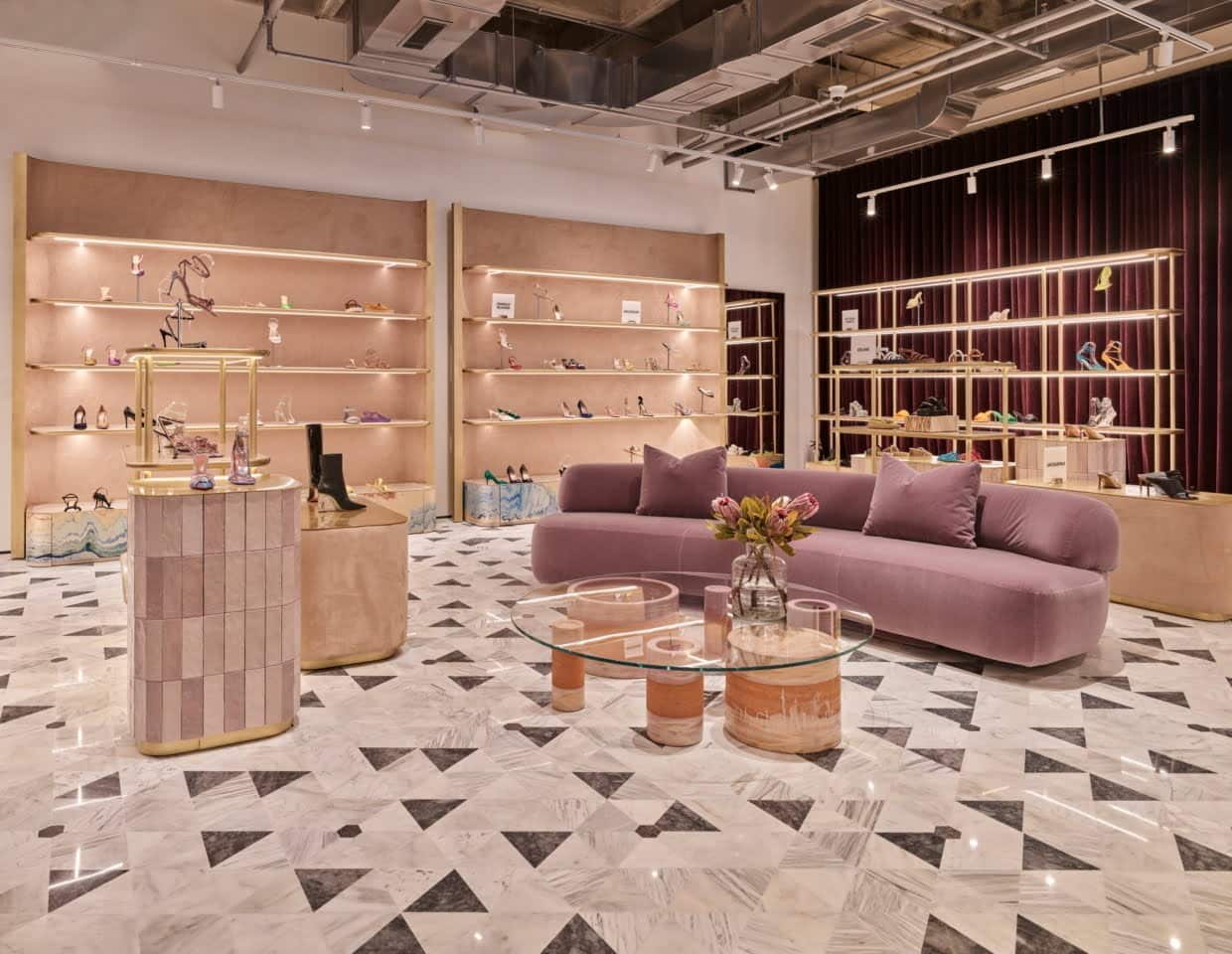 As you said, Beymen is among the leading players of the world luxury retail industry, as well as the Turkish fashion industry, with its history of more than 50 years. Today, it is shown among the best in its class in the field of merchandising, with many international awards it has received. In addition to more than 900 world brands, we bring our own brands Beymen Collection and Academia to fashion lovers. Many world-famous brands such as Alexander McQueen, Bottega Veneta, Balmain, Balenciaga, Dolce & Gabbana, Saint Lauren, Etro, Brunello Cucinelli, Celine, Valentino, and Tom Ford are offered for sale only in Beymen in Turkey. In addition, our mono brand boutiques, Beymen Club, Beymen Seasons, Beymen.com and Beymen App are all part of our success. So much so that we are a brand that introduced the concept of luxury to Turkey by leading many firsts in the retail sector in Turkey.
Behind this success is a strong, experienced team that has been working together for many years. It's my 25th year at Beymen, and the average of my team's work is almost over 10 years. Having a team working together for such a long time is a very important value for a brand. In addition to all these, as Beymen Group, we can think with the spirit of "us". Respecting each other, showing understanding, working with pleasure are our common values ​​as a group. I believe that all these features are very important in Beymen's success.
So, what's your style like? What are the pieces and colors you use most in your closet?
I can say that I have a timeless style. Black, navy and khaki have been making up almost all of my wardrobe for a very long time. I have been working with so many different collections and brands for years that I prefer to be calmer on my side when it comes to clothing.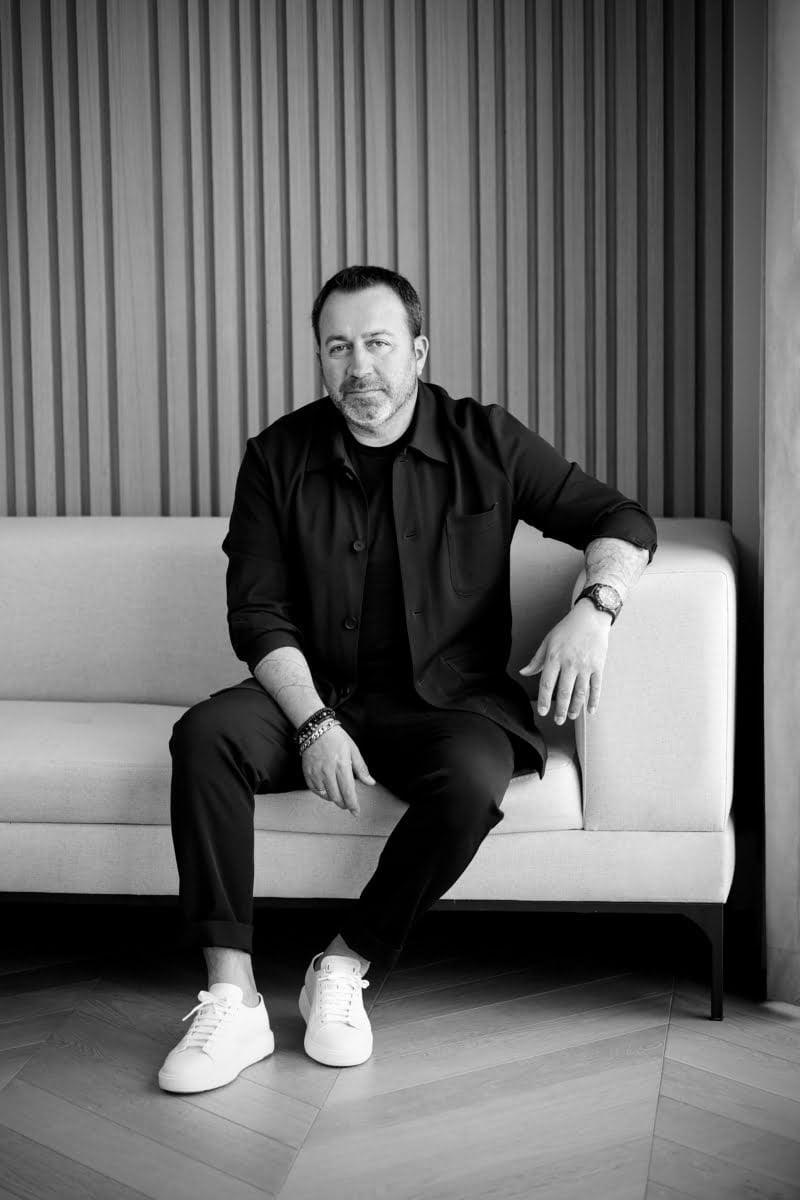 You have been in this industry for many years. How do you think men's shopping habits about clothing? What do they buy the most? Or what do you think are the shortcomings in shopping?
Comfort is essential for men. While this fine line is an advantage for the man who knows what to buy, it can turn into a disadvantage in the opposite case. Therefore, this is one of the issues that purchasing or design teams pay most attention to when choosing products or during the design process. The lifestyle changes that came with the epidemic have changed shopping habits. Hybrid products, namely knitwear coats, shirts or sweatshirts that can be worn as outerwear, knitwear jackets, waist-tie trousers paired with these jackets, and sneaker shoes were the most frequently purchased items. However, it is very important for a person to create his own style, to recognize his own body structure and to dress accordingly. It should also be noted that the use of accessories and bags is still an issue that is not given enough importance in men.
In an interview, "Men's fashion is affected by crises." you said. The world has survived or is about to survive a major epidemic, in fact, we are in a crisis under various circumstances. How has men's fashion and fashion in general been affected by these crises?
The epidemic was a process in which the fashion industry questioned itself and reset the system. We experienced a process in which production and logistics networks were restructured. While we opened the summer season in December and the winter season in June for a very long time, we have returned to the normal calendar with the epidemic. We experienced a period of "casualisation" with remote working in men's fashion. As a result of this change, concepts such as comfort, comfortable wearability and functionality came to the fore in all collections. All these changes have positively changed men's clothing habits. Men, who previously divided their wardrobes into work clothes and weekend clothes, started to completely renew their wardrobes with the removal of this limit, and we had one of our best periods in men's shopping during the epidemic period. In this period when the epidemic is about to end, we see that men are shopping in the direction of getting stylish again with the need to socialize again.
I'm also wondering: Did you observe a difference between Turkish men and world men in men's shopping habits? Or has there been a change in the clothing habits of Turkish men lately?
In general, everything changes and develops very quickly in fashion. Women generally adapt to change more easily, adopt a new trend or product and internalize it quickly. Turkish men adapt to a trend after a few seasons compared to consumers abroad, men are more cautious, question more, but they are more loyal to the product or trend they are used to. However, with the increase in the weight of social media in our lives, we see that men are adapting to trends much faster than before.
Another change took place in Beymen's store in Zorlu, and you welcomed 2022 with growth. Can you talk a little bit about this growth and Beymen Zorlu?
While continuing our new store openings to offer an original and unique shopping experience beyond shopping with our understanding of unconditional customer happiness, we also carry out renovation works in our existing stores, which we position as social living spaces that reflect the spirit of the time. Lastly, last fall, we doubled our Beymen Akasya store and brought it together with Beymen friends with its new identity. We greeted the 2022 Spring / Summer season with the growth we achieved in our Beymen Zorlu Center store. Beymen Zorlu Center, which has been serving with the experience-oriented, privileged, inspiring holistic understanding of luxury in Beymen's DNA since September 2013, and whose 10th anniversary we will celebrate next year, is both one of our most characteristic stores loved by Beymen friends and one of Turkey's most iconic stores. big luxury ready-made clothing store and of course our biggest, most assertive and highest turnover store as Beymen Group. With this growth project, we enlarged Beymen Zorlu Center by approximately 20 percent.
In addition, the space and product selection were not the only things that expanded within the growth project of Beymen Zorlu Center. Beymen Group Contemporary Art Collection, which brings together the creative universes of fashion and art, is also growing and evolving with Beymen Zorlu Center. At different points of the store, in new experience areas, and in VIP rooms that offer a personalized Beymen shopping experience such as Beymen Privé, we bring our guests together with our guests works of art from different disciplines, including many local and global artists. We will continue to include works of art by different artists in different disciplines in our store through periodic collaborations.
As Beymen, fashion and art are always intertwined in your stores in the new period. How would you describe your understanding of merchandising for this new era?
We imagine our stores as social living spaces that reflect the spirit of the time. That's why we offer unique and different experiences beyond shopping with our experience-oriented, privileged and inspiring luxury approach in Beymen's DNA. We position our stores as living and attractive destinations with creative collaborations, art projects, special events with global brands, fashion shows, workshops and exhibitions. We present the creative worlds of art and fashion under the same roof as part of the privileged Beymen experience, in line with our new generation retail approach. Throughout our stores, we bring together the works of art from different disciplines of local and global artists in different areas with our guests. Thus, as our Beymen Group Contemporary Art Collection grows, we are proud to make it accessible to all art lovers.
In addition to the growth in stores, you also have a newly opened store, Beymen Galataport. What are the characteristic features that distinguish Beymen Galataport from other stores?
Beymen Galataport was a store that both Istanbul residents and us, as the Beymen family, have been waiting with excitement for a long time. When the store was opened and the products were placed in it, we immediately went to visit it. That visit was so enjoyable… It has been a project that has excited us since the very beginning of the process, with its location at the heart of Karaköy, the center of art, and zero to the Bosphorus overlooking the historical peninsula. When you step into the store, you feel that great energy and you feel a sense of relief, just like an awakening.
We put it into service on April 9 and it was designed by the award-winning British architectural office Universal Design Studio. We realized Beymen Galataport with an investment of more than 60 million TL. It was one of the important investments we made in 2022. In fact, we go to the store whenever we get the chance.
While studying the architecture, fashion and art selection and exhibition areas of our new flagship store, Beymen Galataport, we set out with the aim of creating an inspiring, powerful and innovative concept. In this context, Beymen Galataport brings together different creative disciplines, the new works of the Beymen Group Contemporary Art Collection, which consists of modern interpretations of contemporary art and traditional Turkish arts, its privileged brand-product selection, and its identity reflecting the cultural values ​​of the district, combining Beymen's experience-oriented holistic understanding of luxury takes it to another level.
Inspired by the natural architecture and artistic spirit of Galata, the store features modern interpretations of traditional Turkish arts and contrast expressions, which are not very common in interior designs. Ecem Dilan Köse & Fırat Engin, Göksu Gül, Hasan Deniz, Ramazan Can, Sarp Kerem Yavuz, Tom Fellows' contemporary works of art such as painting, video art, installation, as well as Fırat Neziroğlu, Garip Ay, Gül Okten x Iznik Tile Foundation, Yadigar Ataklı, Murat Palta's works that combine traditional Turkish arts such as weaving, marbling, tile, stained glass and miniature with modern interpretations and contrasts are on display.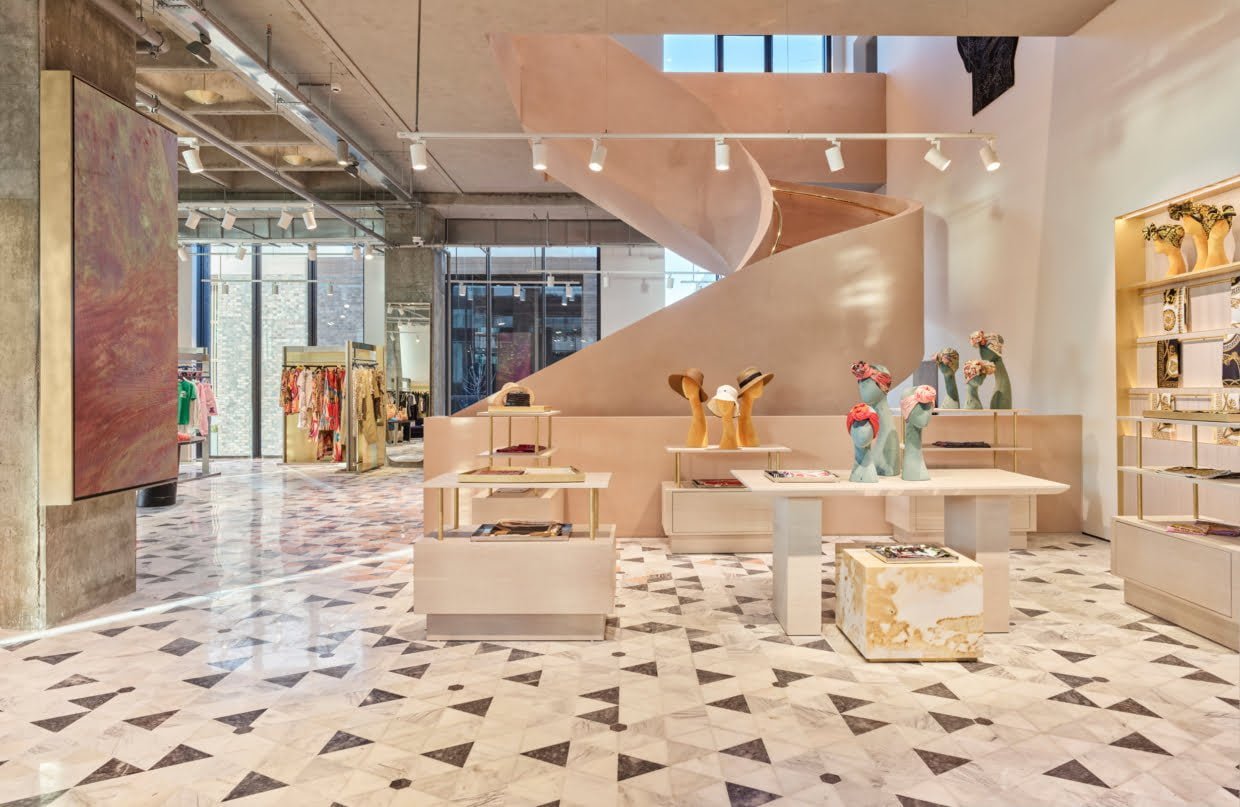 I would also like to add the following about Galataport; very soon our cafe will be opening on the ground floor, which will be a popular meeting point. Our new restaurant will be put into service on the terrace floor of the store. As one of the most popular meeting points of Istanbul, we will offer a lifestyle beyond luxury shopping, with its unique view of Istanbul and the historical peninsula, the delicacies it will offer and the concept completed by the famous Spanish architect Lázaro Rosa Violán.
One of today's trends is the concept of sustainability. What do you think about the impact of sustainability on luxury fashion?
The pandemic has affected all sectors, including luxury fashion and retail, and introduced us to a whole new world. In this process, our awareness of ourselves and the planet we live in has increased, our habits and priorities have changed. These changes in our lifestyle have undoubtedly affected the fashion industry closely. Ethical and sustainable fashion concepts, which have been on the agenda of the fashion world for a long time, have become stronger and widespread after the pandemic, with the effect of our new awareness, developing technology and consumption habits of the new generation. The sense of fashion that focuses on sustainability, is sensitive, thinks about the future and is responsible has come to the fore even more. In the post-pandemic period, we have heard the statements of brands about their water/energy saving, recycling and waste evaluation targets more frequently. Biomaterials, which offer eco-friendly alternatives to chemical ingredients, innovative materials developed with positive agriculture and innovations started to build the future of fashion. Brands set goals by considering the social impact of their production and sales policies, take great steps to obtain sustainability certificates, and become a pioneer in the change of fashion.
Many brands, especially Valentino and Versace, underline in their communications that they are environmentally friendly and that they use organic cotton or recyclable materials in their collections. Stella McCartney has been a pioneer of sustainable fashion, never using animal-derived tissues such as leather and fur in her collections since the day it was founded. Stella McCartney, who uses all vegan leather in her products, tries to reduce her carbon footprint even within the company. For Stella McCartney, who uses bioengineered innovative nature-friendly materials in her collections, sustainability is an indispensable part of her brand DNA. Gabriela Hearst, who became the creative director of Chloe in 2020, held the first carbon neutral fashion show of New York Fashion Week with her own brand in 2019. The designer, who aims to minimize her carbon footprint by working with EcoAct, now carries her sustainability approach to Chloe.
And time… How do you feel about time as someone who discovers fast-moving trends as well as timeless classics?
One of the most precious things in our life is time. As people get older, they become more aware of it. That's why I try to spend the rest of my time by sharing more with my family and loved ones while trying to make the best use of my time at work. In the time I spare for myself, I take care to have a pleasant time by focusing on my hobbies. The moment I press the shutter is the moment I stop the time.
What about the watches? Do you like to wear watches?
Awesome works of art that fit the world into hours. When used correctly, it becomes a part and complement of the outfit you wear. In my opinion, it is one of the most beautiful accessories, for both women and men, as it has great me