An up-to-date guide for those who want to go on holiday to the neighbor…
Nobu Hotel Santorini
Located on the vibrant northeast coast of the island, Nobu Hotel Santorini brought the wind of the world-famous brand to the Greek Islands. Nobu Hotel Santorini, which started to host its guests this summer with its double-deck infinity pool in a rare architecture and 25 rooms clad in white, will of course be an important stopover point with its cuisine as well as its hotel service. Because the award-winning Nobu restaurant has already created reservation lists… The hotel, which also has a state-of-the-art fitness center, should be one of the first choices for a wonderful summer holiday in Santorini, especially its pool villas.
Kalesma Mykonos
Kalesma Mykonos is one of the most talked about hotels of 2022 with its privileged location offering both sunrise and sunset views in the quiet and peaceful northwest of Mykonos, perhaps the most colorful and vibrant island of Greece. Designed with inspiration from the island's natural and cultural heritage, this flawless Mediterranean resort stands out with its white architecture washed by the turquoise waters of Ornos Bay. The hotel's 25 suites and two villas each have heated infinity pools. The open-air restaurant Pere Ubu has become one of the number one eating and drinking addresses in the Greek Islands this summer…
OKU
Accepting only adults and frequently preferred by honeymooners with this feature, OKU is the new favorite of Kos Island… In addition to the quite spacious rooms and suites, the villas located in a secluded spot stand out with their minimal lines and exotic decorative objects. With their architecture reminiscent of a traditional Greek village, the single or two-story cubist villas in lush gardens make OKU a classic hotel. Oku brings a bohemian lifestyle to the islands with its decoration inspired by nature and professional yoga and meditation sessions held every day.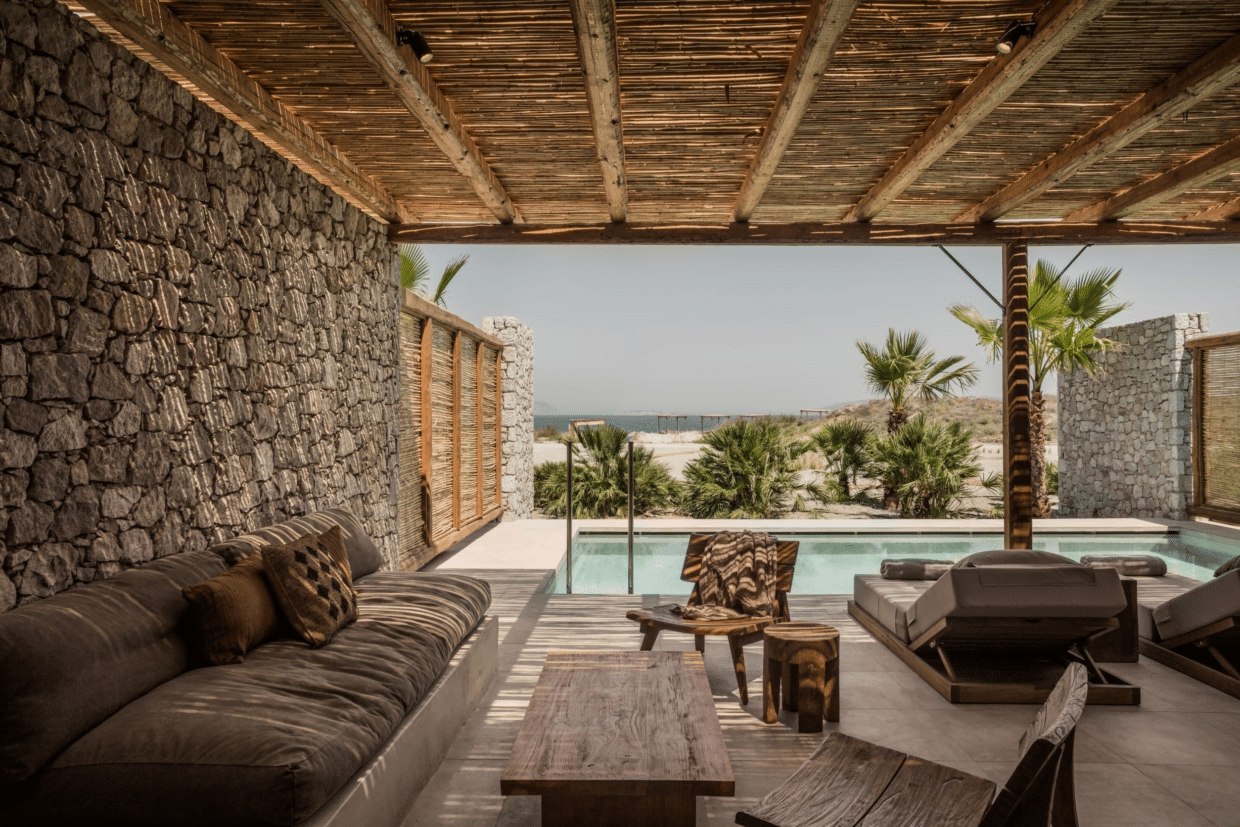 The Rooster
Would you like to combine your summer vacation in the Greek Islands with both sea and farm life? A brand-new hotel, The Rooster, which will make those who want to spend a quiet holiday on a Greek island far from the crowds, giving importance to healthy living very happy.  This new wellness resort on the island of Antiparos has only 16 villas and a farmhouse. Ayurvedic therapies and exercises that will add vitality to the soul and body at the healing center called "The House of Healing" will help you return home by truly resting and recovering, apart from the hours when you will meet with the sea and the sun.
Cali Mykonos
Another perfect accommodation option born from an architectural understanding that develops by listening to nature… Cali Mykonos, consisting of 40 luxury villas, all with pools, terraces and Aegean Sea views, on its own magnificent beach, is another Aegean resort whose opening is eagerly awaited in 2022. The 110 meter infinity pool with sea water offers a unique experience. The hotel, which has an assertive art gallery, is also appreciated for its traditional restaurant, which is completely dedicated to Greek cuisine and managed by the world-famous Greek chef Lefteris Lazarou.