We have compiled rare pieces which has stories inspired by Ancient Rome to Russina-French style  from the 2021 collections of Chanel, Boucheron, Van Cleef & Arpels and Bvlgari.
The history of jewelry is almost old as humanity. Since ancient times, people has designed and used jewelry in different forms. Although the first forms of jewelry were not designed with gemstones, gemstones has became more precious as the civilization has developed. Jewels have become the representation of power and nobility, women have wear jewelry to compliment their look. Are diamonds best friends of women? We don't know that what do you think about it, but if you like diamonds' world, you should read rest of the article. 
Le Paris de Russe de Chanel
While world is dealing with pandemic, many of our norms have changed; we have acquired new habits. For instance, in the fashion world, the concept of the elegance has combined with comfort; the new style of the clothes are designed chic and comfortable to adapting the days we spend at home. Fortunately, there still are something that don't change; the jewelry world has never lost its shine and continues to fascinate us. Actually, we have witnessed to power of jewels not only today, but also almost one hundred years ago: While world was in the Great Economic Depression in 1930s, Gabrielle Chanel designed the first jewelry collection, Bijoux de Diamants, and had a great success even this economic crises. Chanel's new collection is Le Paris de Russe de Chanel.
Collection is a combination of Russian and French vision. Collection has four chapter: The Friendships, The Maison, The Muses and The Lovers. One of the highlight pieces of collection is a necklace from The Friendships chapter: The Eagle Protecteur. Crafted in platinum and diamonds, the two-headed eagle keeps watch over the rare shield-cut diamonds and sparkling rows of briolette-cut diamonds.
Another precious piece is earring from The Lovers chapter: Folklore. These elegance earrings an interpretation of traditional and colorful Russian embroidery. It redesigned with Coco Chanel's favorite color red; punctuated with tsavorite and orange garnets, blue and pink sapphires, diamond and pearls.
A History of Style, Art Déco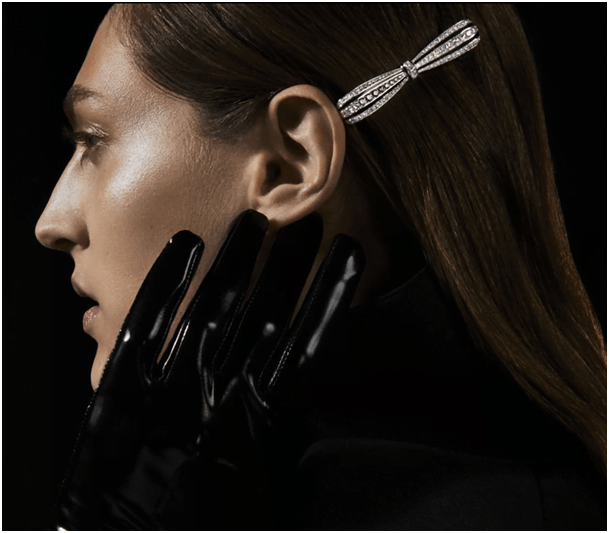 Boucheron delved to into Maison Boucheron's Art Deco archives for 2021 High Jewelry Collection. Creative director Claire Choisne discovered that style is all about attitude and she extracted the radical simplicity and spirit of time with this collection. One of the interesting design of the collection is redesign bow-ties. Although bow-ties have served as baroque ornaments in the history of High Jewelry, Claire Choisne's creative eye does not hesitate to redesign them as a broach, a bow-tie and a ring; enhanced by the black and white contrast. Thus, these new desings are faithful to Boucheron's multiwear tradition.
The Plastron Emerald necklage is glamorous with emerald green color. The necklage borrow its opulence from that time when men wore high jewelry as a sign of power and glory. Necklage designs to Boucheron's multiwear tradition, it can transform into a choker and a bracelet. Also, its design is available as a graphic ring and two different pair of earrings.
Alhambra
Alhambra collection is inspired by the four-leaf-clover created by Van Cleef & Arpels in 1968. Collection established as a timeless symbol of luck and also a celebration of Van Cleef & Arpels' creavity. Pure lines and distinctive beaded silhoutte are brought to life with a broad palette of natural materials. In each pieces of collection is faithfull to maison's tradition of excellence; different crafts have come together for each piece.
The Barocko High Jewelry Collection
Bvlgari's new collection is capturing the iconoclast spirit and rock attitude of an era. Combining the original style of Bvlgari and Ancient Rome, collection has bold and colorful style. Each piece in this collection reflects Barocko style. Lady Arebesque necklage is one of these bold designs. Bvlgari first time juxtaposes natural unique shaped pink sapphires and Paraiba tourmaliness. The amazing gold arebesques flow among the stones. Thus, Bvlgari is giving a modern interpration to ist iconic Bib style.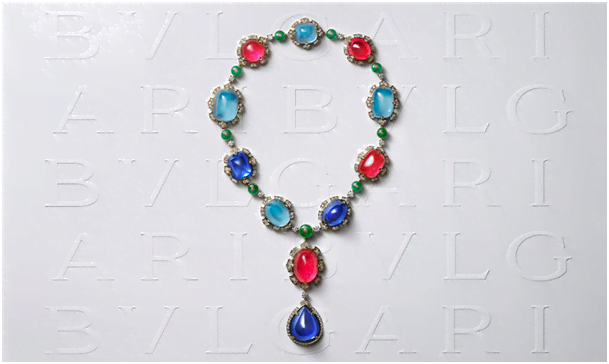 The Cabochon Exuberance necklace is inspired by a necklace that a tribute to one of the most powerful noble estates of Rome. Each gems could be individually set in stand-alone jewels, but Bvlgari combines them into a necklace. Conclusion is a daring chromatic explosion. Bvlgari's combines its daring sense of beauty with Baroque inspiration. Eleven cabochon- cut gemstones of exceptional quality, color and weiight are combined in one single necklace.