Chanel Spring-Summer 2022 Haute Couture collection takes us on a journey through the pages of art, past and fashion.
As is known, Chanel displays its collections sometimes in a stage that resembling Ancient Rome or corridors of a museum. So much so that, this is the most remarkable aspect of Chanel and Virginie Viard's collections; they take us on a journey through the pages of art, history and fashion. And here is the Chanel Spring – Summer 2022 Haute Couture Collection, which is a collection where these three elements come together with a little bit constructive art.
Well, what does a constructive Chanel collection mean? When designing this collection, Virginie Viard inspired by 1920s feathers and tassels. Since this is a summer collection, she used lively touches and abundant embroideries. These embroideries, feathers and fringes are combined with the solemn jackets or skirts, and these pieces point to the constructive side of the collection, just like a little girl hidden inside a dignified woman.
With ruffles, tassels, macrame, bright lace, colorful tweeds, and colorful jewelry buttons, this is a collection that totally what Viard want to create. In other words, it is full of life and color. Virginie Viard is collaborated with French artist Xavier Veilhan and writer Charlotte Casiraghi for the fashion show. Working with Xavier Veilhan on the décor of the fashion show had been on Viard's mind for a while, because the constructive traces in the works of the French artist reminded of the famous designer Karl Lagerfeld's works. For the opening of the fashion show, which refers to the avant-garde traces of the 1920s and 30s, writer and fashion designer Charlotte Casiraghi was also included in the play with a noble horse.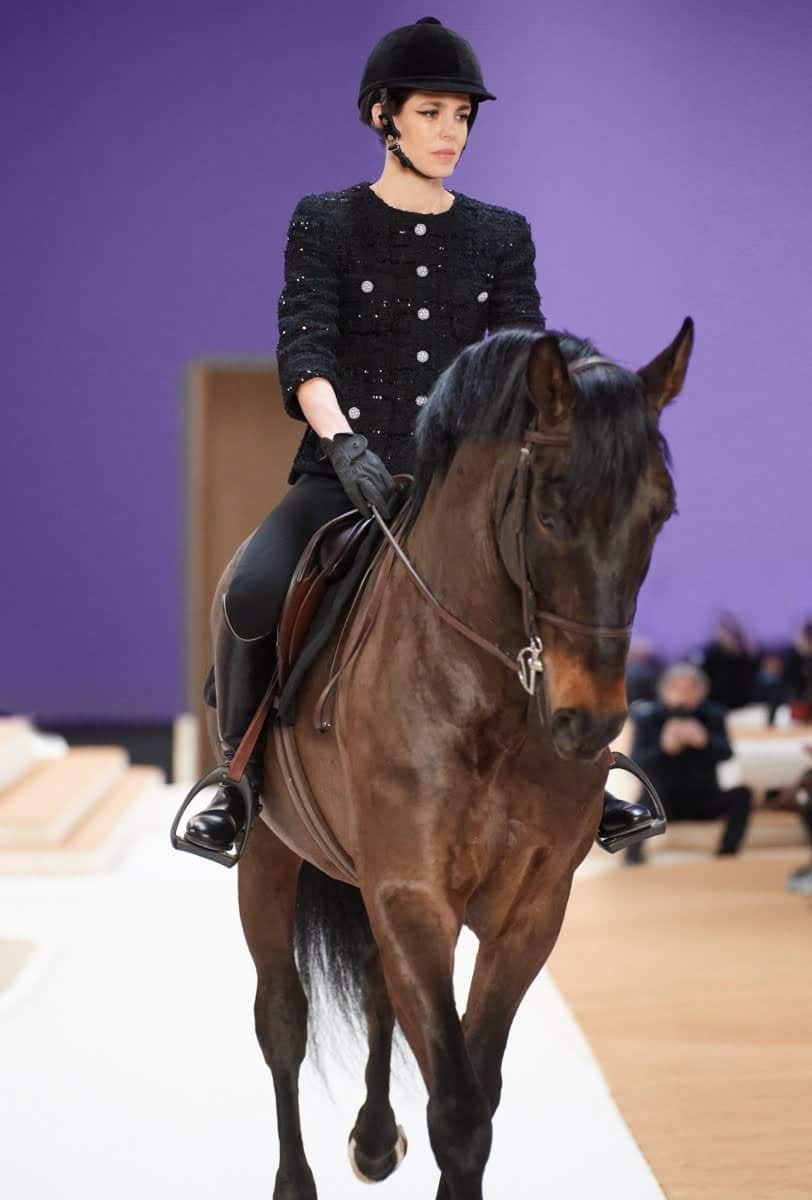 We see Casiraghi on the podium on a horse, wearing a Chanel jacket designed by black tweed and feathers, while listening to Sébastien Tellier's melodies coming out of her big instruments. And the show continues with Chanel dresses with lots of ruffles, shiny lace and jewels swaying on the runway where simple geometric shapes create both contrasts and harmony.
Like the classic Chanel pieces, a dress embroidered entirely in Lesage pattern and black, white and coral beaded camellias seems to have come out of Gabrielle Chanel's mind. Let Chanel tell the rest of the story.