In this article, we talk about the ties of Rolex with Wimbledon for 45 years, tennis players such as Federer, starting from the history and traditions of Wimbledon, and the watches that are the subject of tennis.
Here, there are 4 prestigious tennis tournaments in the world: Wimbledon, Australian Open, US Open and French Open. The tennis player who wins these four tournaments is entitled to the Grand Slam; especially if the same tennis player wins in the Olympics, he gets a Golden Glam Slam. Also, each of these tournaments takes place on different grounds: soil, hard, grass. Thus, it can be understood how great an athlete Rafael Nadal, who has 22 Grand Slam winners in men's singles, is.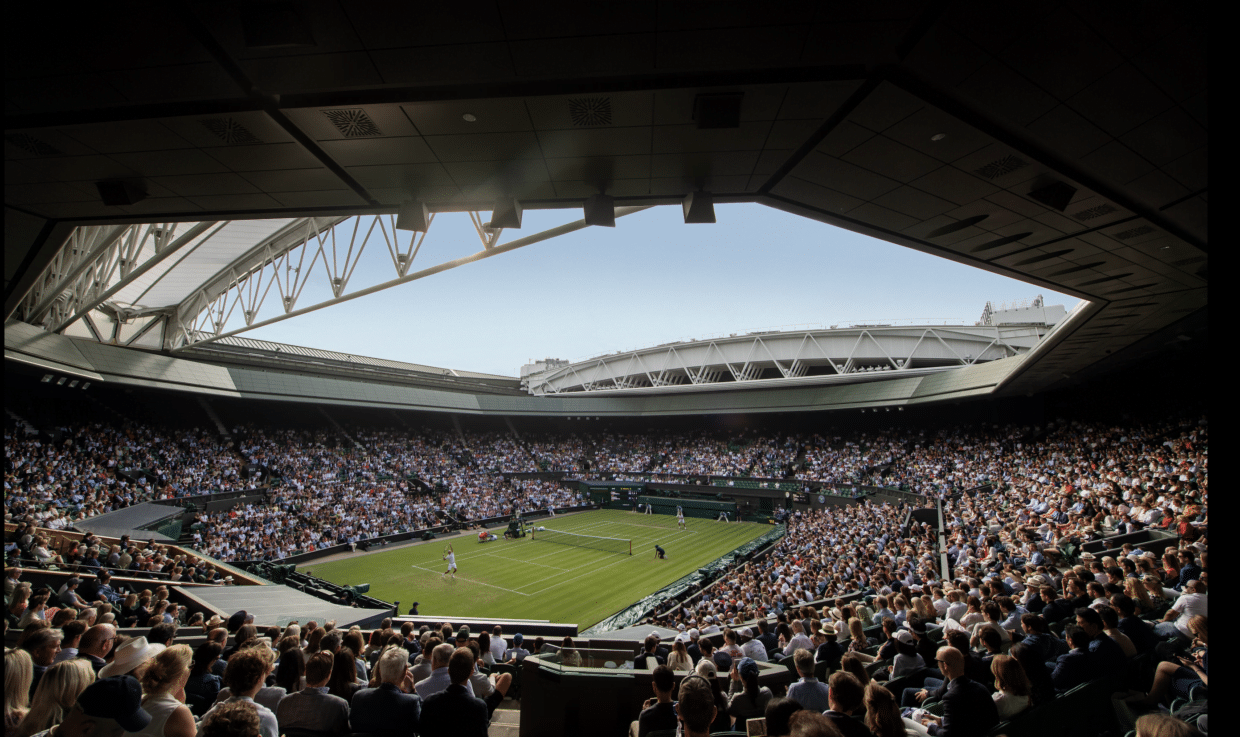 The current Wimbledon is the oldest and most prestigious tennis tournament since its establishment in 1877. It is a different pleasure to watch it; because the tournament, which takes place in the southwest of London, has its own rituals and rules. First of all, it is played only on grass (which is the only example in this respect); the washing and drying of these grasses are subject to special care and the original grass courts that have been preserved must be 8 mm. In Wimbledon, which is played for two weeks at the end of June every year, it has become a rule not to play on the first Sunday. The most interesting thing is that the white color, which is identified with tennis in our minds, is actually a Wimbledon color. Tennis players wear white at Wimbledon as an unwritten rule. There are also public days in the tournament, for which the ticket is paid £ 1,500 per day. It is said that 40.35 million pounds will be distributed this year in the tournament, which was restricted last year.
Wimbledon, which was founded by the All England Lawn Tennis and Croquet Club, changed its name in the first period because this club was originally established for croquet in 1868; However, with thousands of people coming to watch tennis, the fate of the institution and Wimbledon, today known as "The Championships", changed. The tournament, in which amateur athletes competed, became a place where professionals competed in 1968, thus the golden age of tennis began (until 1921, champions did not compete until the finals, they went to the final; then they competed from the beginning).
In 1978, Wimbledon was signed by Rolex. Wimbledon, where more than 300,000 people came in 1978, also attracted the attention of the watch brand, and the collaboration that started between them was the beginning of Rolex's connection with tennis. Today we see a Rolex watch hanging among the leaves at the Wimbledon arenas, and at the entrance of the 15,000-seat Center Court on the Church Road field, which is celebrating its centennial this year, a line from the English poet Rudyard Kipling's poem "If" is written: "If you can meet with Triumph and Disaster/And treat those two impostors just the same". That is, "When faced with Victory and Defeat, treat these two rogues alike." Expressing that the greatness of the sport is not in the victory but in the humility and determination of the champions, this phrase also reminds the watchmaking of the stable determination that lasted for centuries. Rolex clocks on the court, on the other hand, show not only the local London time, but also the time of the world's metropolises such as New York, Rio de Janeiro, San Francisco, Shanghai, Tokyo and Melbourne.
We see a Rolex watch hanging among the leaves on the Wimbledon arenas, and at the entrance of the 15,000-seat Center Court on the Church Road arena, a line from Rudyard Kipling's poem "If" is written: "If you can meet with Triumph and Disaster/And treat those two impostors just the same".
Epic matches between Rod Laver and John Newcombe, Björn Borg and John McEnroe, Chris Evert and Martina Navrátilová, Roger Federer and Rafael Nadal are turning points in Wimbledon history. Rolex, the official timekeeper of both men's and women's world tennis, is celebrating its 45th anniversary in this championship, including four Grand Slams (also the official timekeeper of other tennis tournaments). Rolex is also a sponsor of the ATP, WTA finals, Davis Cup and Laver Cup. Let us remind you that Rolex has partnerships in golf, equestrian, skiing, sailing and motor sports apart from tennis.
Roger Federer is Rolex's most famous tennis ambassador. Another Swiss Federer, who won 8 times Wimbledon and 20 times Grand Slam (and whose character we love), partnered with the watch brand in 2006 and signed a 10-year, $15 million deal, which was considered one of the biggest deals of that time. When that deal was renewed in 2016, it rose from $1.5 million to $8 million annually. We've seen the Oyster Perpetual Datejust II 73 times on Federer's arm as he lifts a trophy (a trophy costs around $753,000, according to one site's calculations).
We saw 8-time Wimbledon and 20-time Grand Slam winner Roger Federer lifting the trophy 73 times on the arm of his "His Majesty".
Besides Roger Federer, Rolex also has partnerships with names such as Jannik Sinner, Stefanos Tsitsipas, Garbine Muguruza and Bianca Andreescu. The brand even signed a deal with 18-year-old Carlos Alcaraz earlier this year.
Let's remember quickly: Rafael Nadal was in collaboration with Richard Mille, Serena Williams with Audemars Piguet, Novak Djokovic with Hublot (previously Seiko), Andy Murray Rado, now retired Mario Sharapova with TAG Heuer. By the way, let's note between the lines that Serena Williams and Andy Murray have said goodbye to the tournament so far in Wimbledon 2022, which will last from June 27 to July 10.
Rolex has witnessed many successes in their 45-year partnership: alongside Björn Borg and Chris Evert, they have hosted a number of Wimbledon champions such as Stefan Edberg, Garbiñe Muguruza, Angelique Kerber and of course Roger Federer, a record eight-time tournament winner on the turf. Rod Laver, for example, is the only player to win four Grand Slam tournaments twice in a calendar year, winning the men's singles title four times in the All-England Club. Chris Evert, an 18-time Grand Slam champion in women's singles, also won three times at Wimbledon. The most compelling story was that of Garbine Muguruza: Muguruza traveled with her family from Venezuela to Spain at the age of five to further her tennis career and eventually won two Grand Slam tournaments, including Wimbledon.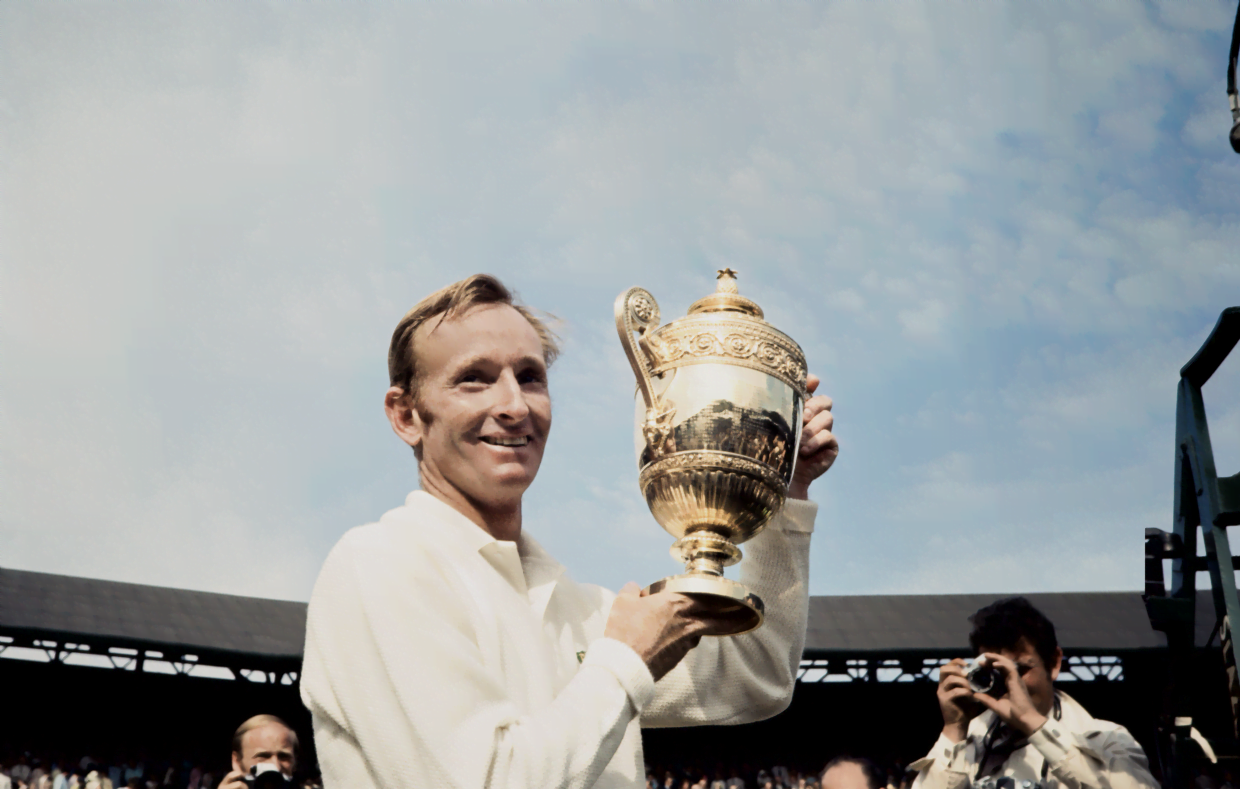 Like the legendary names of tennis, there are also legendary watches. One of them is the tennis-identified Oyster Perpetual Datejust II models (in yellow gold, rose gold, steel and two-tone versions), although the brand was never announced it as an official Wimbledon watch. The timepiece we see on Federer's wrist is called the "Wimbledon dial" with a nickname, just like the names Batman and Pepsi given by the fans of the brand. This is because the watch looks like Rolex wall clocks hanging on the Center Court, brand ambassadors like Federer use this watch in tournaments and it is featured on the Wimbledon page on their website, and its green Roman numeral dial on a gray sunlight finish background.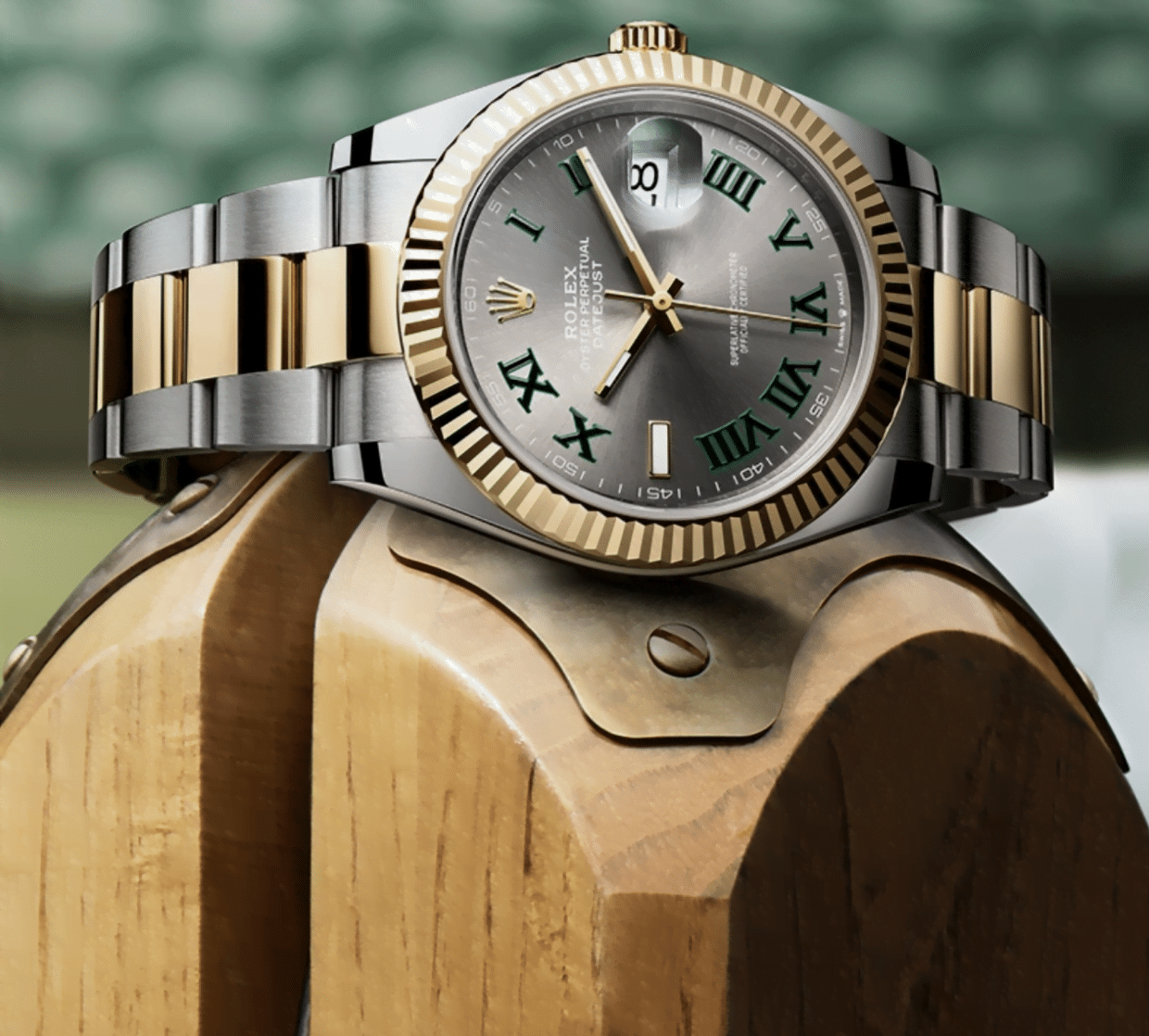 Oystersteel steel and yellow gold, 41mm case, 3235 automatic COSC certified movement and Oyster bracelet, the model with its enlarged lens date part, fluted bezel has been a Rolex classic since it was first announced in 1946.
By the way, let's talk about the other Rolex watches that Federer has worn on the field so far: Yacht-Master II at Roland-Garros 2009, rose gold Day-Date II at Wimbledon 2012, Sky-Dweller at Miami Open 2017, Australia We saw him in the Oyster Perpetual Datejust 41 "Wimbledon" at Wimbledon 2017, where he broke his own record with the GMT-Master II, 8th Grand Slam at the Open 2017.
However, Wimbledon and Rolex influence extends beyond the pitch, according to a recent Telegraph report: Tennis players Diego Schwartzman and Pedro Martinez, who will compete in the tournament, were victims of a theft at the Hydro Hotel. Rolex's were stolen from both players' rooms!