We are used to relationships of different branches of art. In fact, branches of art does not intertwine with only themselves, they can influenced by some social disciplines. For instance, Peter Doig – one of the most renowned living figurative painters- is inspired by newspaper clippings and movie scenes at his paintings. Leyla Emadi, whose exhibition we have talked a short time ago, was using wordings in her artworks. Actually, we have lots of examples from poet and painter Bedri Rahmi Eyüboğlu who wrote his poems at his paintings to sculpture and writer Abidin Dino's versatile artworks… Nowadays, art does not hesitate to be in touch with technology, thus technology also comes our life practice through art. Our renowned new media artist Refik Anadol, who blends data and three-dimensional figures with art, is now bringing his third personal exhibition with art lovers: "Machine Memories: Space"
Refik Anadol presents a conceptual framework that reveals the importance of astronomical studies in human history and also presents some data about space at his personal exhibition "Machine Memories: Space" . Artist shaped 60 years-old NASA archives through an artistic perspective. Consisting of two sections as "Memories" and "Dreams", exhibition offers relationship of humanity with space exploration through a different perspective to art lovers. At the "Memories", more than two million images have recorded by space telescope and satellites are exhibited. This section, which is constructed as "memories" of telescopes and satellite images, allows the audience to interact with data. Three dimensional data sculptures and artificial intelligence can be found at "Dreams" section. Refik Anadol's new solo exhibition "Machine Memoirs: Space" will be open for visitors free of charge on and after March 19, 2021 between 10.00-18.00 excluding Sundays at PILEVNELI Dolapdere.
Anadol creates his artworks with using human memory, museum archives, nature images and many other things through data and technological possibilities. We have compiled some exhibitions of artist.
Melting Memories
Anadol's another personal exhibition is "Melting Memories" which exhibited at PILEVNELI Dolapdere three years ago.  His second personal exhibition "Melting Memories" was also prepared with using technological possibilities. Each work grows out of the artist's impressive experiments with the advanced technology tools provided by the Neuroscape Laboratory at the University of California. As a result, memories of humans were presented with three-dimensional sculptures, canvas, giant LED screens projections.
Quantum Memories
"Quantum Memories", which was exhibited at the National Gallery of Victoria, one of the most visited art galleries in the world, was also an art work that the artist brought humanity and technology together last year. In this exhibition, Anadol has used research data and algorithms to explore the possibility of a parallel world by processing nearly 200 million images of nature and landscapes through artificial intelligence.
Archive Dreaming
Anadol collaborated in "Archive Dreaming" with Salt Galata in 2017. In this project, he employed machine learning to search and sort relations among 1,700,000 documents. Then, he translated these documents into an immersive media installation. Thus, visitors could experience, evaluated and interpreted these rich documents from different perspectives. This new spatial experience has been produced within the scope of Google Artists and the Machine Intelligence program. A massive art archive has been brought together with art lovers in a way that has never been experienced before.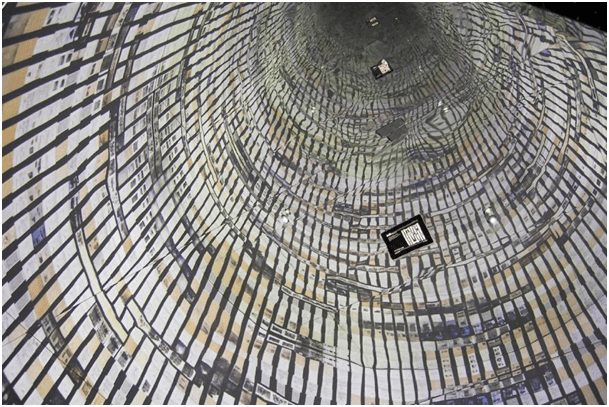 We believe that when John Constable said "Painting is but another word for feeling" more than a century ago, it was impossible to think that painting would be so close to feelings and memories. However, we are now waiting with a limitless imagination to new artworks of Refik Anadol's which will cretaed through possibilities of technology.