Plato has described snakes as " The first living creature in existence, the most perfect because of its self-sufficiency…" Bulgari's Serpenti Collection, like snakes, has been renewing itself for years and exhibiting a perfect elegance.
In both Greek and Roman mythology, snakes represented the features of rebirth, healing, strength, eternity and seduction thanks to the elegance of their soft and circuitous bodies. For example, a serpent-entwined rod of the Greek god Asclepius was a symbol of healing. Ouroboros figure is representing rebirth with swallowing its own tail… Snake has been a creature that represents wealth and life. Bulgari has been also using serpenti figure as a symbol since 1940s; however Serpenti collection became renowned after 1960s. Serpenti Collection, which has continued to grow by magnificence since then, is now revived with a special capsule collection by a poetic and enthusiastic style of famous fashion designer Mary Katrantzou.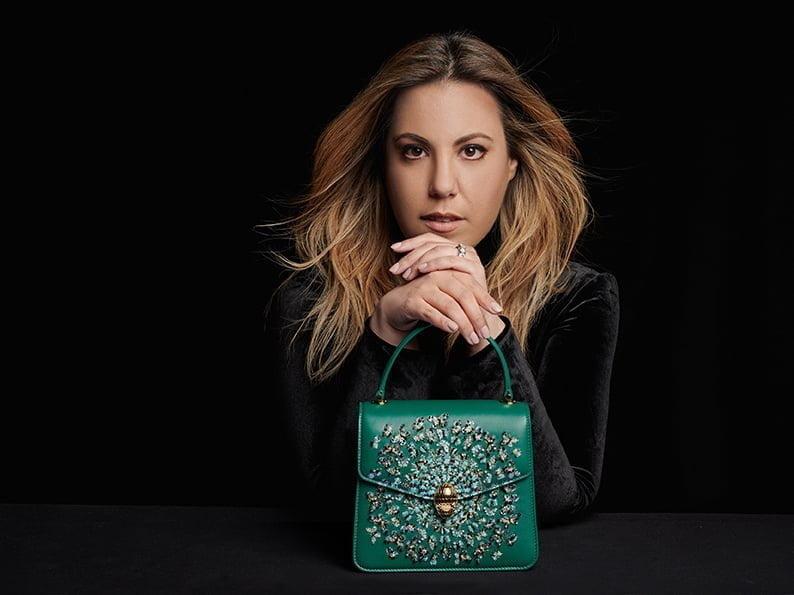 In this capsule collection, Mary Katrantzou presents three different models: Serpenti Metamorphosis bag, Serpenti Metamorphosis Handle bag and Serpenti Metamorphosis minaudière. Bags are designed with textile fabrics. Katrantzou designs bags with an optimistic attitude about rebirth and change with linking rebirth of snake to the enchanting metamorphosis of the butterfly. Taking the Serpenti Top Handle model from Napa leather as a canvas, the Greek designer reflects a true Haute Couture craftsmanship on magnificent three-dimensional embroidery, these embroideries depicts transformation of a snake into butterflies. New interpretation of Serpenti head closure represents a victory. Each Serpenti Metamorphosis bag requires more than 40 hours of work by a professional artist. All bags are produced with limited numbers and offers with white agate, crystal pink and emerald green color options.
Another bag that represents bold DNA of brand is Serpenti Metamorphosis Handle Bag which combines a very soft, extremely smooth quilted Nappa body with a unique metal top handle. Reflecting the finest detail of the metamorphosis concept, this versatile bag can be transformed into a moving cross body bag by removing the handle and attaching an elegant gold chain strap. A perfect combination of jewelry inspirations and leather craftsmanship, this piece reflects the iconic serpenti head bag closure with seductive crystal eyes with Mary Katrantzou's interpretation. Bags are offered by color options from Aegean blue topaz to red agates which are inspired by precious stones.
Serpenti Metamorphosis minaudière, which is a kind of jewelry, focuses on the hypnotizing beauty of the iconic snakehead with its drop-shaped eyes and perfection of hexagonal scales. Designer is inspired by Bulgari Serpenti watch and this inspiration used in a bag first time in Maison history. This desire object is presented in two different styles: An attractive medium size with white-black colors and proper for top handle, the other one is a small size with light gold or gold colors and detachable chain shoulder strap.
All bags of capsule collection have a label in which written "Mary Katrantzou x Bvlgari". Mary Katrantzou, who reinterprets wonders of nature metamorphosis, demonstrate the contrast between butterfly and snake motifs through her mastery of variety of textile products from cashmere and silk scarves to versatile silk scarves with fascinating patterns and color combinations.   
The collection has introduced with a campaign that Russian philanthropist and beauty icon Natalia Vodianova posed for camera with specially designed haute couture jumpsuits by Mary Katrantzou, with the shots of French fashion photographer Hugo Comte. This capsule collection, which reminiscent of rebirth, will be available in selected Bulgari boutiques and Bulgari.com from April 15th. Online pre-orders have started on March 21.