We had a pleasant conversation with Murat Tapik, the founder of Datça Murat Farm, at the Ecological Market in Fişekhane and discussed about the ways to reach healthy food.
A healthy diet is the basis of a healthy life and "well-being". Because healthy foods and their consumption in the right way are our strongest weapon in our fight against diseases. When we go to supermarkets, it is possible to encounter foods and beverages that are claimed to be healthy under many labels. But unfortunately, products with these big claims are not always so innocent. For example, when I started a gluten-free diet years ago due to gluten intolerance, I turned to products with gluten-free labels on the market shelves because I didn't know what to substitute for bread, cookies, chocolate, and crackers. Despite this, my symptoms continued unabated, and I even gained weight rapidly. I couldn't understand what I was doing wrong. Until I realized that the foods, I consume because of functional nutrition actually have more harmful ingredients such as rice flour, starch and preservatives. In fact, buckwheat and quinoa flours produced from natural, heirloom seeds, organic and natural agricultural vegetables and fruits, eggs that I bought from livestock farmers who feed their animals with hormone-free feeds and in their natural environment have been the keys to my health.
I know that the question arises in everyone's mind about how to reach these products. The pleasant conversation we had with Murat Tapik, who set out to ask the same question 10 years ago and established Datça Murat Farm to act as a bridge between producers who grow healthy products and consumers who aim to protect and improve their health, cleared all the question marks in my mind, and with peace of mind. and I'm sure it will show you that a platform where you can shop with confidence is not a dream.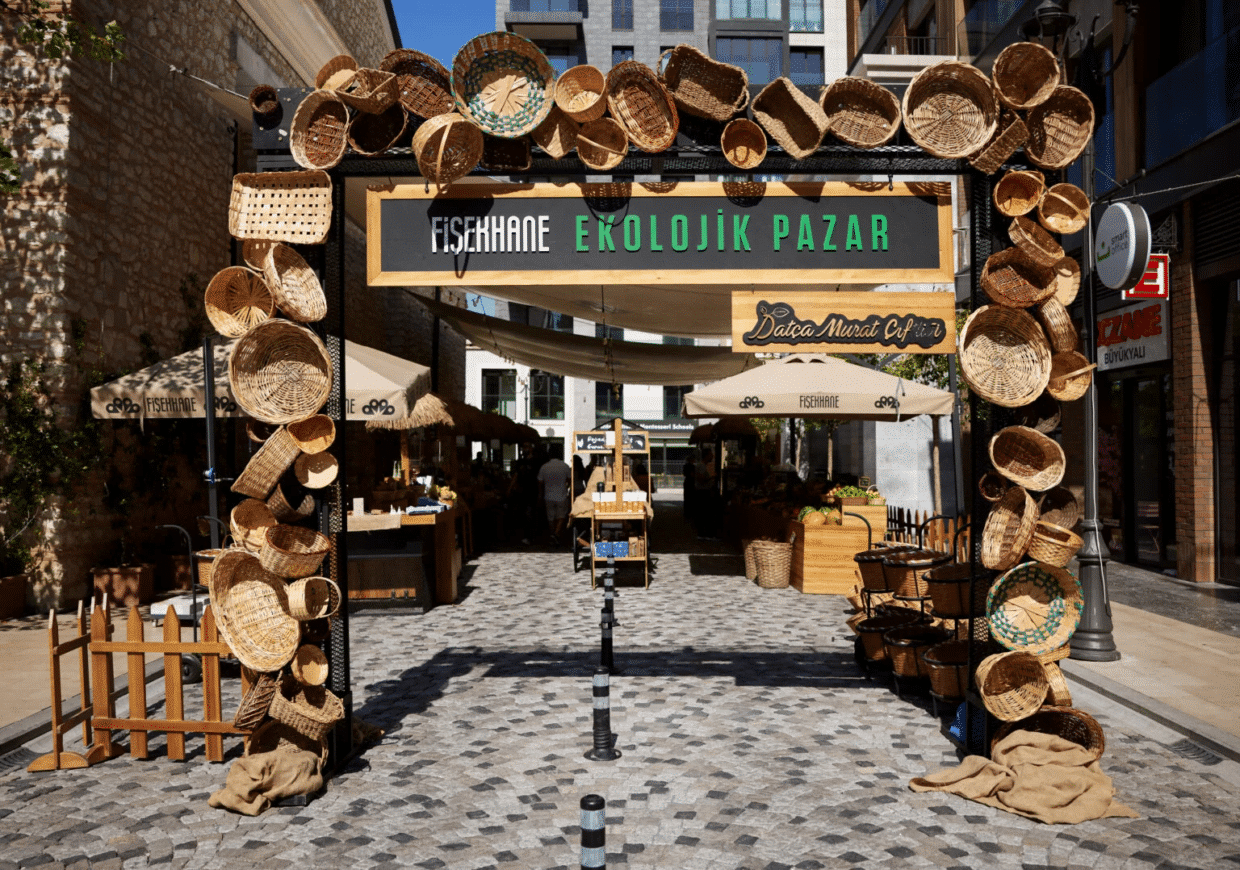 We met with Mr. Murat at the Ecological Market in Fişekhane. When I arrived there, I found myself far from the chaos of the city, among the scents of fresh vegetables, fruits and spice flavors. The place is not such big market, yet everything is as it should be. At the entrance, you are greeted by the baskets that he says, "I conveyed the design in my mind," and you even use basket trolleys as shopping trolleys that you cannot see elsewhere. Your meeting with nature and nature starts when you put the basket on your arm. You can find every brand that you can use in your kitchen in the Ecological Market without the question "I use it, but I wonder what's in it" in your mind. The design of the market is also very attractive. Nothing is on the benches lined upside by side. Special stands were arranged for all products. All producers and Datça Murat Farm staff describe each of their products in detail with big smiles on their faces. This is the most important reason why you don't have any questions in your mind. The Ecological Market in Fişekhane is held on Saturdays and Sundays, where they also have a shop open every day of the week. It is possible to access their products at their stores in Moda and Çengelköy, in Kadıköy, at the Organikanyon stand set up in Kanyon on Fridays and Saturdays, at the Organic Island stand set up in Zekeriyaköy Ormanada on Saturday, and also on their websites.
Mr. Murat explains what sparked the spark of Datça Murat Farm, which has turned into such a big platform and aims to grow even more, and how everything started. He says, "Our childhood was spent with healthy foods, as he observed that he was less sick, survived the diseases less, his immune system was better and took precautions before getting sick.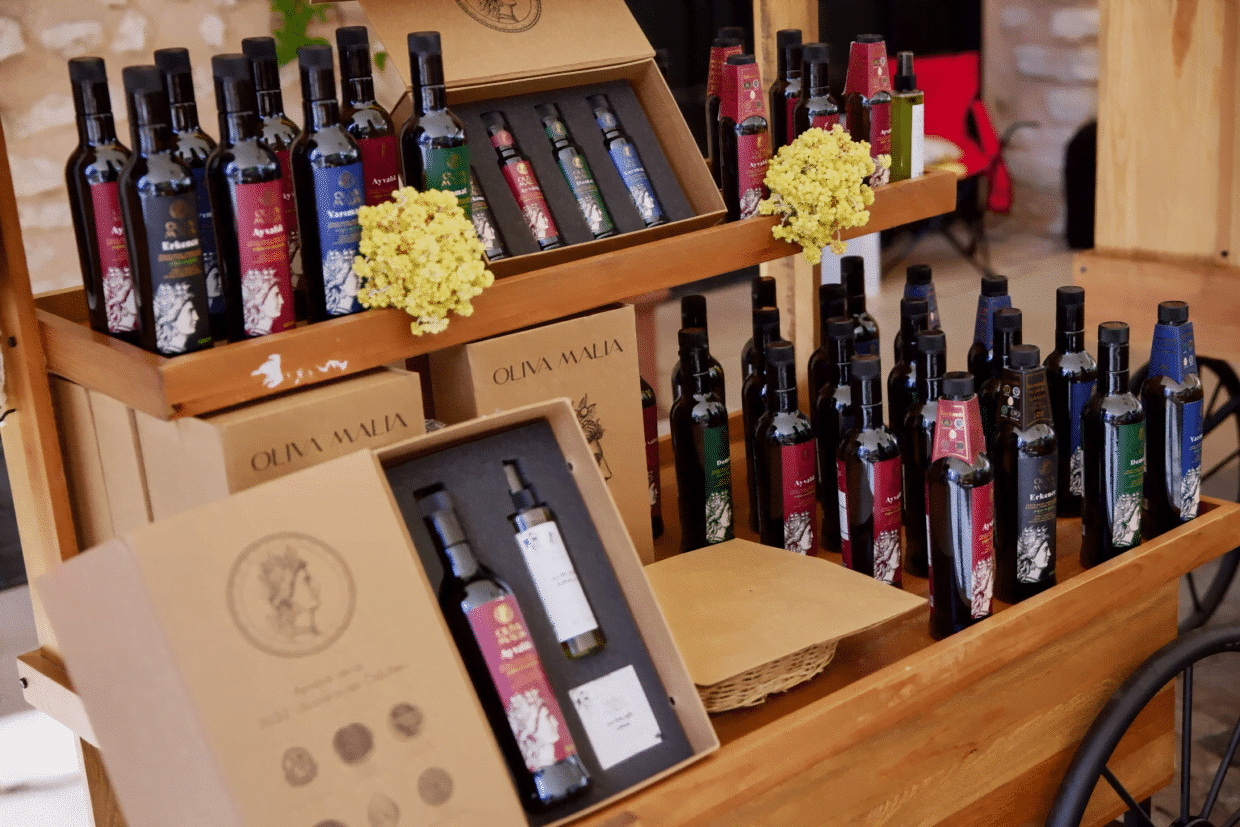 Naturally, we tended to this because of the life in nature that is a stakeholder in this, the farms my father built, and the fields that take us around the fields, mountains, and riversides. While my friends were taking piano lessons, we were picking carrots in the field. Since my personal interest was in this direction, this gave me pleasure in my secondary school years." Mr. Murat, who had an intense education life at Robert College after secondary school, continued to be close to nature. When he was in his third year at the Boğaziçi International Trade Department, when his desire to live abroad prevailed, he froze school and started working in a branch of Microsoft in Northern Ireland. In fact, Mr. Murat explains what prompted him to return to Turkey in parallel with the increase in his interest in sustainable agriculture there: "I realized that there is no direct proportion between wealth or the conditions of the country and reaching healthy food. Even the richest person cannot find the most natural product. He finds the most luxurious, most beautifully packaged product, but cannot find the natural. I felt it and saw it in the markets there. Since the most natural and healthiest product is the most inefficient, it cannot enter the capital system because it is either expensive or its logistics is not efficient. For this reason, it cannot enter the best markets or only the largest companies do. I analyzed this and decided to return to Turkey to finish my university and evaluate my entrepreneurial mind."
In the beginning of the journey, Murat Tapik first went to Datça, where there are olive groves and almond groves. The habits he gained from his childhood thanks to his father attract him to his own land. But when he doesn't want to be limited to these, he rents a field to grow vegetables. The first thing he grew was a watermelon. Murat Tapik actually summarizes his journey by saying, "I started with watermelon and came to this day". When there is a demand from their friends, teachers and acquaintances in Istanbul, who know the privilege of the products they sell, they start to send their products to big cities such as Istanbul and Ankara.
In fact, as Mr. Murat said, people in the countryside already grow their own fragrant, fresh, drug-free, natural products, but in big cities, we can only find vegetables and fruits that are offered to us in the markets and that are exposed to various drugs to get more yield or to look more beautiful. Everything we eat should strengthen our immunity and increase our capacity to fight our diseased cells. But on the contrary, these medicated, hormonal foods we take cause us to produce diseased cells. One of the biggest problems of Datça Murat Farm, which started a war against unhealthy foods by starting to sell its products in 2012, was to deliver the products to the consumers. Murat Tapik expresses this difficulty as follows: "There are a ton of logistical problems, such as the watermelon does not go away, the strawberry becomes garbage, the olive oil jar in the glass jar is broken."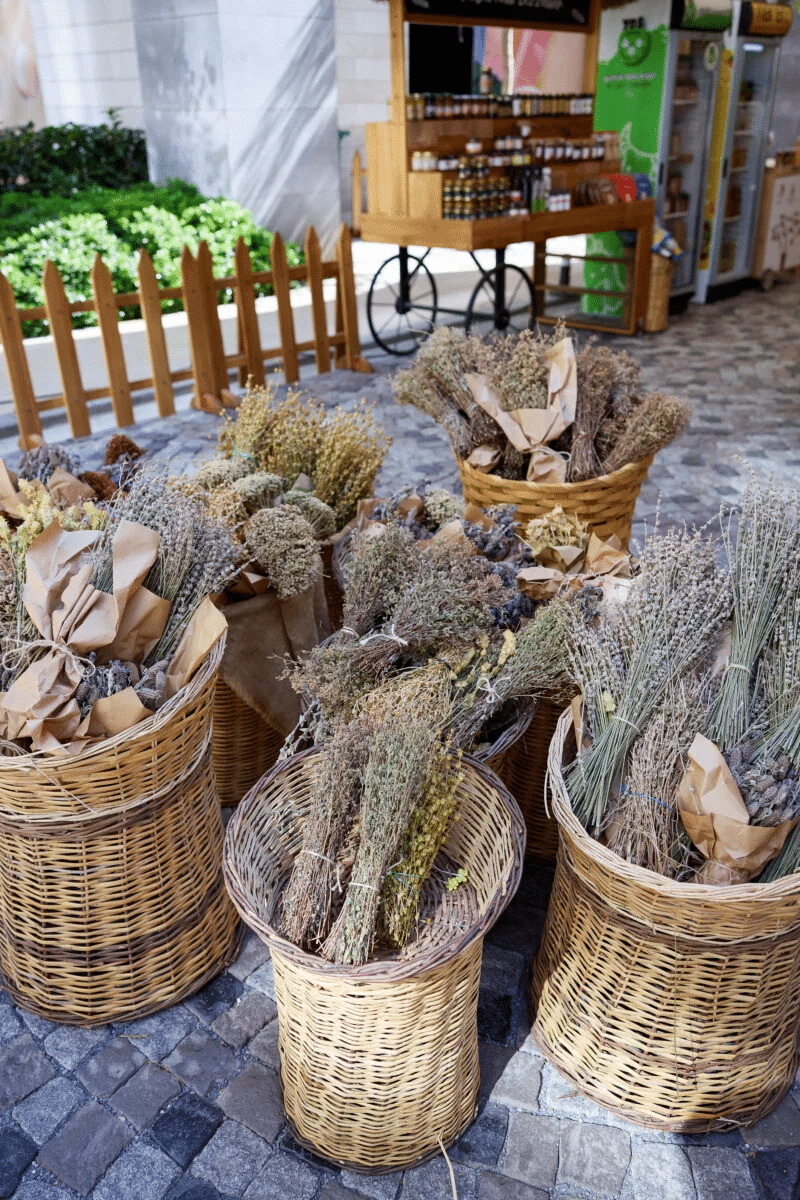 Meanwhile, they started to collect products from his uncle's farm in Çıralı. "We started collecting avocados, lemons and oranges from my uncle's organic citrus orchards and things got busy. We started to collect thyme and spice group from the mountains."
Fortunately, fruit and vegetable production, packaging and shipping is now easier with another farm he established in Kandıra. All products arrive there and are shipped from there. But of course, Murat Tapik's 3, 4 years were spent putting it in order. At the farm in Kandıra, they also organize events that make Murat Tapik smile and get excited while he talks. "We do farm trips. Teachers, students. We held seed festivals, planted pines on the environment day. We do idealistic works, so we have a different place in the eyes of people. We remained visionary people rather than "buying and selling products", which is why our work was valued as much as our products."
The most impressive thing to me at the Ecological Market in Fişekhane was the presence of women producers. They exhibit their handicraft products on design benches and sell them online. I think they deserve a special round of applause for bringing them together with the consumer, being the platform of women producers and making their voices heard.
The biggest mistake of all of us in healthy eating is to be deceived by labels. Just as rice flour, starch, and preservatives found in most packaged foods under huge GLUTEN FREE signs are unhealthy, the same goes for organic labels. But the organic certificate is not important for Datça Murat Farm. To be natural is important. Being products with known seeds, soil and growing conditions. Murat Tapik explains the reason for this as follows: "The places where some organic products I visit are produced and packaged can be in bad shape. In the packaging area of one of the biggest brands, products were packed in yogurt containers. So there was no control. Of course, I do not disparage organic. There are some very good ones in organic, but there are also some that are not. That's why we attach importance to quality food. We buy goods from the right merchant. He must have the right ethical values to make the right product. Otherwise, all kinds of cheating can be done." One of the projects they have planned for 2023 is to introduce the manufacturers who bring their products to the counter without breaking their principles. In this way, we will all learn from whom and how we can buy the best products, and we will be able to eliminate the question marks in our minds.
The relationship they have with the producers is also very special. A bond of trust was established between them. Every producer, their products, soil and seeds are valuable to them. I think these words describe this relationship. "We became friends with the producers, we valued their products, we paid for them, we improved their conditions, we became such a platform. Now their products are sold in many places, people are looking for us and asking. We are trying to provide an environment of trust for the brands that come under our name."
At each booth, someone comes to you and starts to explain the products with a smiling face. You are informed down to the smallest detail. This impressed me a lot because I'm tired of constantly reading labels to see if there is any preservative or gluten mixed in. I already knew that there were no such products here but hearing how natural they are from someone's mouth made me smile, too, and gave me peace of mind. Datça Murat Farm has a professional team to provide this to us. They employ 30 people. Because, according to Murat Tapik: "It's not about producing the product, it's about being able to explain it. If I'm going to sell you a product, I have to explain that it is the right product. But I can do this with individual dialogue. Otherwise, I have to put a brand that is sold in the national chain. It's already in the chain store. Our customers go there or buy from an application. We owe our loyal customers to our sales policy."
For a long time, I thought I didn't like mint. It tasted strange to me, sometimes like weed, what the heck I was saying. Until it tastes and smells of wild mint collected from the mountain and dried in the sun. That's when I realized what a beautiful spice it actually is. This is also true for the vegetables and fruits we consume, and for other spices. We eat so much spoiled food that we do not know the original. Murat Tapik also agrees with me on this issue. "Since the sale of products purchased from any commercial environment is based on profitability, the priority of the seller is to make a profit. Then the quality of the product deteriorates. Since the capital system is also competition-oriented, products with degraded quality are sold." This is where Datça Murat Farm stands out. They care about conscious consumption, not how much they cost or how much they will sell. If we go with the mint example: "If you know nothing but bad mint, if you demand it, the man produces it. But if you have tasted and smelled real mint now, you will demand it. When you express this in the herbalist, the market, when 100 people like you say it, the consumer also tends to the mint and sage that grows on the mountain by itself. Conscious consumers will understand the difference and gain awareness when they use our mint. One of our goals is to raise awareness."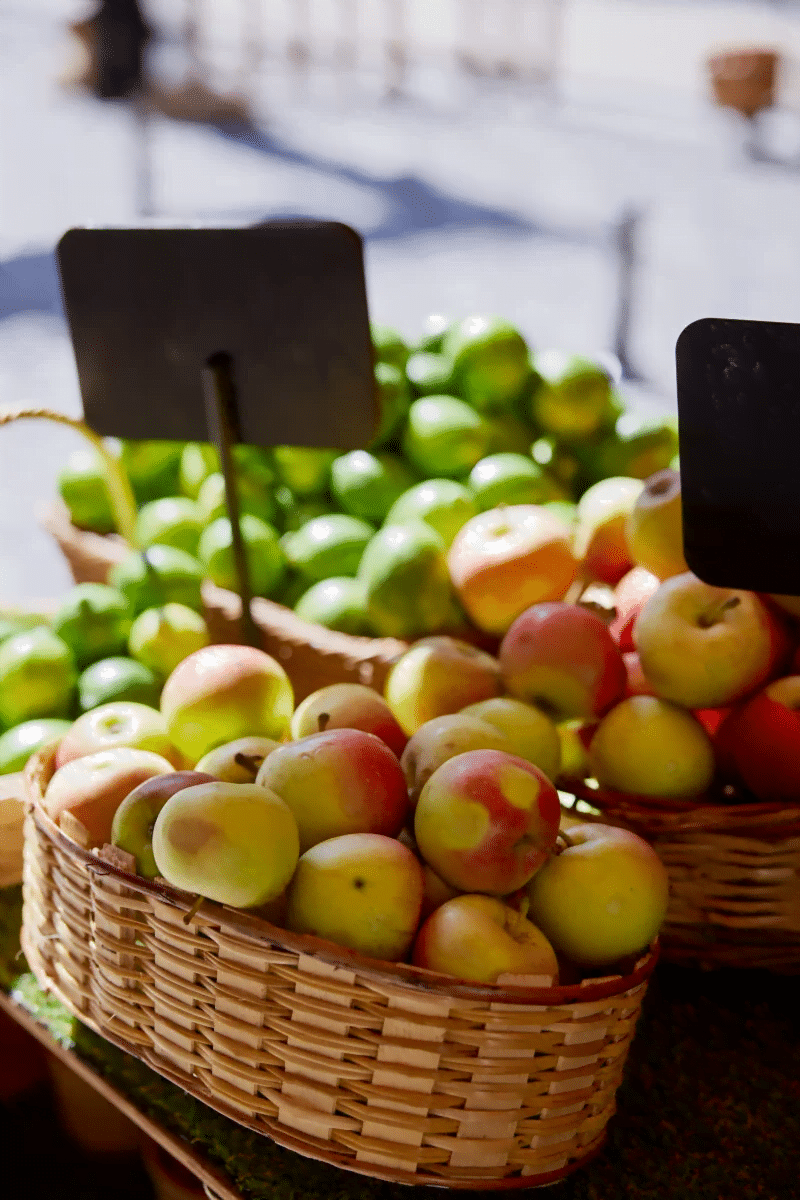 While he was detailing the awareness raising issue, the information he gave about Datça almond showed me how little we actually know about agriculture, what we eat and drink, and how it is grown, and frankly, I am saddened. But it's a shame not to know, not to learn, isn't it? "The almonds grown in Datça are endemic. Actually, there are 53 types of almonds, but they are grouped under 3 main categories: Nur, row and white almonds. Trees planted in ancient times have very different aromas and do not grow anywhere else.
Not industrial almonds. The important thing is not to lose them. When the fields become valuable or when they can't collect their product and get a reward, the producer gives up on bread. Trees are cut down and dried up. The important thing is not to destroy them. Our goal is to ensure that they do not disappear. Consciousness and awareness need to be developed. We're going to touch them all."
Another principle is sustainability. Despite all the difficulties, small producers do not give up selling their products to ensure sustainability. Regardless, they continue to buy products from any manufacturer that trusts them. Because: "We protect the endemic products, the mountain raisins, wild strawberries, blueberries, medlars, jujubes, and buckwheat. We collect as much as we can in our own way, we place them on our counters. From A to Z, the company, the products, the producers must continue without the food being destroyed. Make the feasibility of the sale of some products, we are still in the minus, we still bring it. If you ask why, I would say that he should continue, let that producer sell his harvest, and continue next year. Or they'll scythe him."
Theirs is a trust-based business. The producer should trust them and know that their efforts will be rewarded so that they can give their product blindfolded. The consumer should also trust them and think that they have values so that they can buy every product with peace of mind. That's why another motto of Datça Murat Farm is "trust". This is a platform where everyone can join without fear of being scammed or deceived.
No doubt, Murat Tapik could easily establish such a platform in Ireland. In fact, his job would probably be much easier because of the appropriateness of agricultural policies. But he chose to return to Turkey and realize his dream of bringing healthy foods to consumers here. When I ask the reason for this, he answers with all sincerity: "Because Turkey is very valuable. I set out because I saw that watermelon and fruit are sold by the slice in England. Tons of apples are grown in Turkey. Our land is fertile. You enter the apricot, apple and pear orchards here, there is enthusiasm. I love this place with everything, good and bad. If you ask me whether you would prefer to spend a day in the orchards in Iznik or a year in London, I would choosen a day among the fruits. It may be the opposite for someone else, but that's how it is for me."
In order to raise awareness for 2023, they also have plans to participate in panels and give conferences at universities. It can even make a podcast every week where a manufacturer participates and talks about their experiences and products. Mr. Murat wants to share what he has learned from his experiences, what is good and what is bad, what is right and what is wrong. Because his 10 years of experience taught him a lot, and he is aware that his experiences in the healthy life and production of healthy products, which he entered with the experiences and guidance of his father, are very valuable and should be transferred. It does not seem like it will give up on directing producers and consumers to nature and pursuing natural for a healthy life.
Datça Murat Farm brings together the products of producers who grow the most natural under the roof of health. Confidence is instilled in both the manufacturer and the consumer. The aim of the platform is to inform producers and consumers and to raise awareness. Of course, while doing all this, they keep sustainability at the forefront because they love Turkey, its fertile lands, its trees that bear fruits with no similar shape, its bright but fragrant tomatoes, and its lettuce with worm-eaten edges because it is not poisoned by pesticides. To every difficulty; they continue on their way despite different dynamics such as rain, extreme heat, earthquakes, and holidays that disrupt sales. Because they're a little crazy. I wish we could come across crazy people like them on every corner in the name of healthy eating. But you don't need to go far. Just visit their markets, stores and websites. It's that easy to get under the roof of health.