The spirit of the 1970s left its mark on the 2022/23 Métiers d'art Chanel– Dakar collection.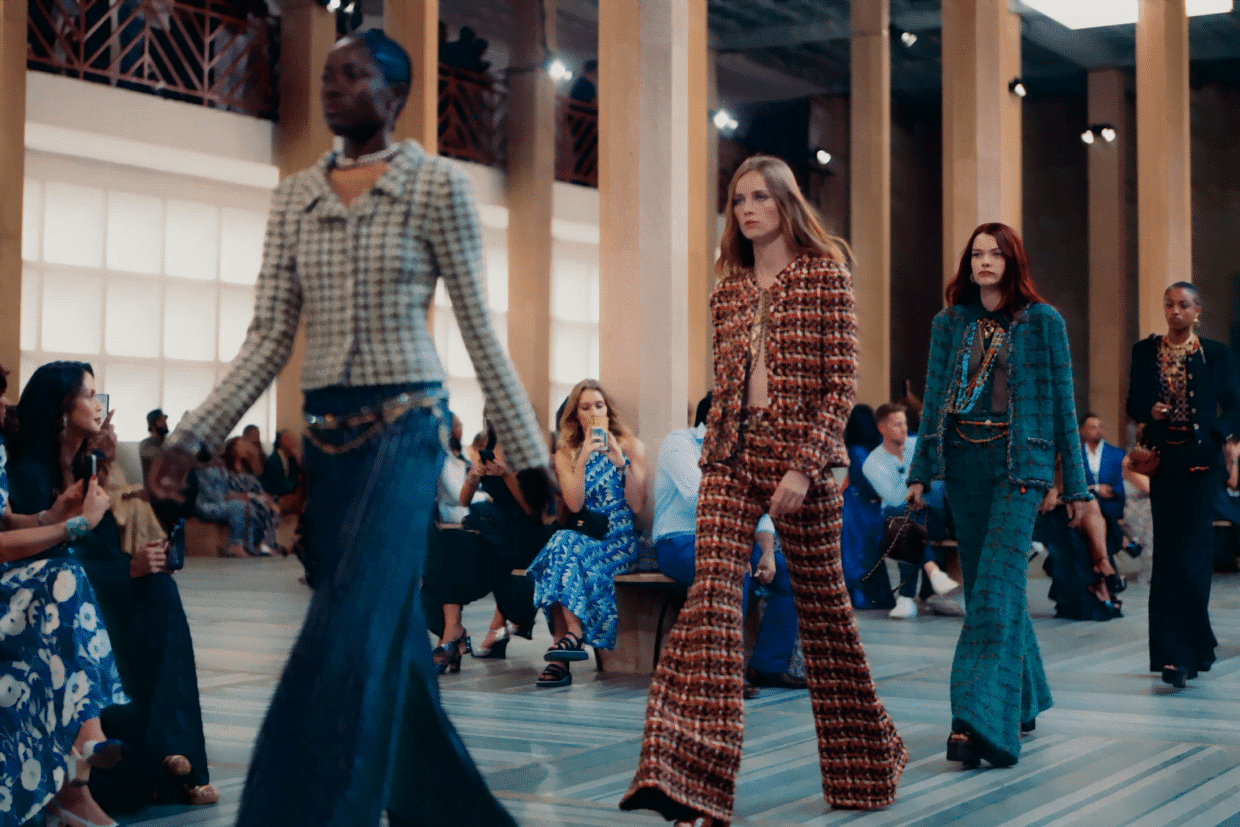 Chanel's highly anticipated 2022/23 Métiers d'Art collection was presented in Dakar, the capital of Senegal, accompanied by an extensive guest list from all over the world. Breaking new ground with this show, Chanel became the first European luxury fashion house to run fashion shows in sub-Saharan Africa. Virginie Viard decided on Dakar, which is also name of the collection, as the result of meetings over three years with choreographers, directors, musicians and writers, all together with friends of the House. Besides, Dakar is an influential artistic capital in terms of many fields such as fashion, cinema, dance, literature, contemporary art and music.
Chanel made a statement for the fashion show that took place at the Dakar's former Palais de Justice in Dakar and underlined that it is more than a show: with the support of IFAN (Institut fondamental d'Afrique noire), the artisans of Galerie du 19M will come to Dakar for a few months to celebrate the richness and diversity of embroidery and weave in January 2023. On the other hand, the Chanel show, which held just after Dakar Fashion Week, is designed as a three-day festival designed to shine a light on the country's talents in art, literature, dance and music.
Inspired by the energy of the 1970s, the 2022/23 Métiers d'art Chanel– Dakar collection was reflected on the podium with a profusion of color and vivid motifs. With knit dresses, high-waist trousers, floral embroideries, stripes, geometric patterns, embroidery, sequins, feathers, hats, platform shoes, Virginie Viard presented the 70s, which houses many rhythms from pop to soul, from disco to punk that flowing with a fascinating freedom, by blended with the culture and craftsmanship of this beautiful continent.
While the nature and vivid colors of Africa were dazzling in the textures, vests designed with beads, an indispensable part of African fashion, left their mark on the fashion show. Adapting the patterns in local textiles to vests, Viard has created wonders with a detailed beadwork. Featuring long, fitted coats, tight-fitting flared trousers, floral embroidered sweatshirts, colorful tweeds and wide collars from the 70s, 2022/23 Métiers d'art Chanel – Dakar indicates that we will see finely embroidered elegant lace pieces, Chanel logo and camellia-printed jeans, tunics that reflects a disco atmosphere, necklaces and belts designed with colorful beads frequently.