Depeche Mode has always been dark musically, but this time even more lightless… "Memento Mori" is proof of its power to transform despair into art. This is the nihilism of Depeche Mode…
Depeche Mode is perhaps the ensemble that is the most preferred by the DJ at those cool entertainment parties you go to, and the ensemble that gets the most requests written on a napkin by the crowd. Depeche Mode (like The Cure, which is often played at these parties) is one of the ensembles that writes extremely pessimistic and depressive songs. Is it an example? Their latest album…
"Memento Mori" is Depeche Mode's 15th studio album. The main theme of his songs, as the name suggests, is death and loss. What caused this was the unexpected loss of their 60-year-old founding member, Andy Fletcher, on May 26, 2022.
By entering the eighties, Punk and New-Wave had switched places, and a naive line that called themselves New Romantics emerged within the newcomer. Here he was among those who stepped into that line (along with Eurythmics, Heaven 17, Human League, Blancmange, Spandau Ballet and Duran Duran), Depeche Mode, whose names were inspired by a French fashion magazine. Four children (Martin Gore, Vince Clark, Andy Fletcher and Dave Gahan), who had just left their teenage days behind, used electronic instruments and performed vocals, came from the English town of Basildon and settled in London. As soon as they arrived, they signed a contract with Mute Records and within a few years, they became a worldwide ensemble with the records they released.
Depeche Mode has been a consistent and stable ensemble with both its sound and song content from beginning to end. Even the fact that there were only two people left at their last point did not change the situation. It remained unclear until the last moment whether the two members would make another album after Fletcher's death. They had to decide: will they end or continue Depeche Mode? After a while, the duo shed their reluctance and decided that it would be more appropriate to make an album in memory of their lost friends by rolling up their sleeves.
The ensemble last released the album "Spirit" in 2017. The content of "Memento Mori", which was prepared in the gloomy atmosphere of the epidemic days, became even darker after Fletcher died.
These are the near-screaming voices of two old friends, overwhelmed with heavy emotion. The name of the album, which means "remember that you will die" in Latin, is a quote from an idiom rooted in classical Stoic philosophy and adapted to the religious symbolism of Western Christianity. However, religious texts have no effect on the choice of this name.
"Ghosts Again" and "My Cosmos is Mine" were released as singles from the 12-track album, which was produced by James Ford (who we know from the Arctic Monkeys and Gorillaz albums) and was compacted into 50 minutes. Richard Butler, a member of the Psychedelic Furs community, also contributed to the work, where dystopian industrial voices echoed throughout.
Fletcher was always the one who served as the glue between the two remaining members, Martin Gore and Dave Gahan. Its importance was greater than it seemed. Knowing this well, the duo had a hard time writing new songs without Fletcher. Coming in the fortieth year of their careers, the album makes you feel deeply the tragedy that the duo was dragged into. While "Memento Mori" isn't as hit-and-miss album as "Music for the Masses" or "Violator", it's their most heartfelt and touching work in the last ten years.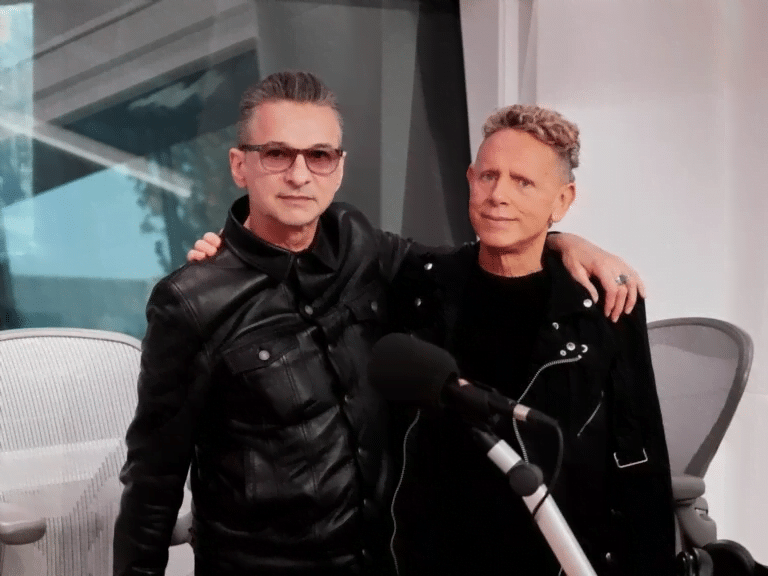 He will always ask; Depeche Mode was always dark musically, when did it become light! True, it was always dark, but this time even without light… "Memento Mori" is proof of its power to transform despair into art. This is the nihilism of Depeche Mode…