Nowadays Louis Vuitton celebrates the bicentennial of founder's birth with a series of creative initiatives. To accompany this celebration, we take a short tour through the history of the iconic brand, which started its production with travel trunks.
Louis Vuitton's roots as a trunk maker preceded even the founding of company. In 1937, 16-year-old Louis Vuitton arrived in Paris by foot after a two-year journey. When this young man took his first step into the capital of the fashion world, he had no idea that his whole life will change completely. Later on, he started work with Monsieur Maréchal, who was a valued trunk producer, and he quickly became a cherished craftsman at the atelier of Monsieur Maréchal.
He stayed here for 17 years and designed boxes and trunks according to client's special orders. These were the roots of his trade. When Vuitton opened his own atelier at near the Place Vendome, his legendary story began.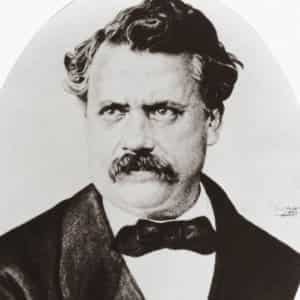 A Family Residence, A Workshop
The success of Louis Vuitton was a signal to expand his works and therefore he opened Asnières site in 1859. Since its founding, the site has been a symbol of the Vuitton's family both personal and commercial. The atelier started with 20 employees. In 1900, there were 100 people and by 1914 there were 225. The original atelier has been expanded in time, including the addition family residence. It is still the place where products are crafted today. While the family residence has been preserved as a private part of museum, 170 craftsmen work in atelier.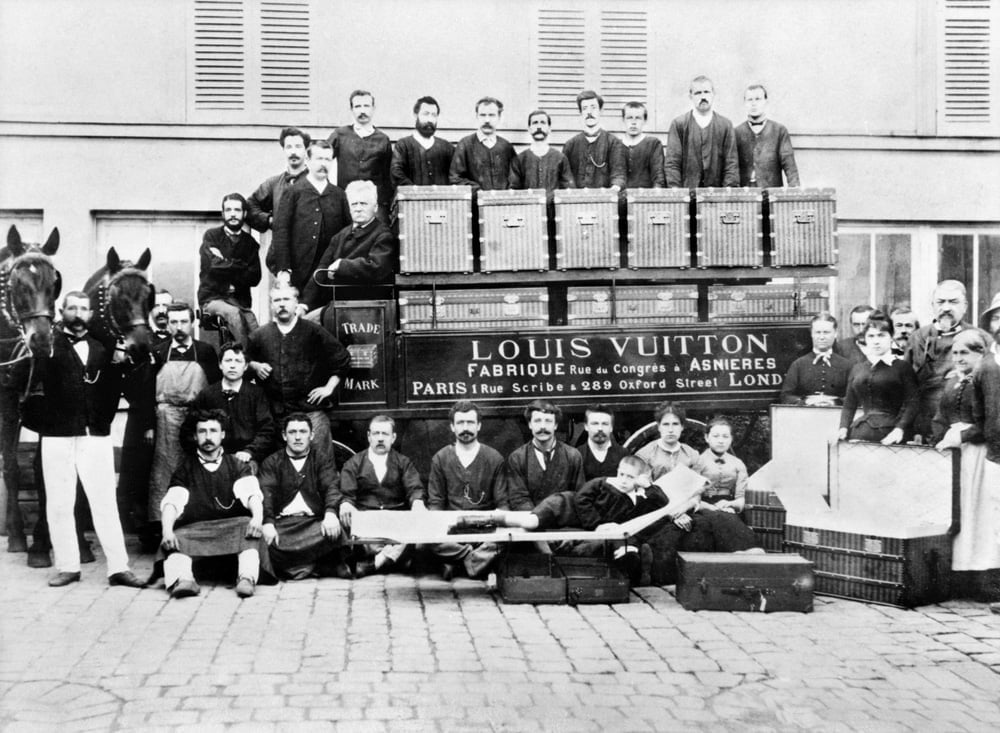 A Revolution in Luggage Locks
One of the important milestones in the brand history is revolutionized luggage locks. In the 1900s, people carried all their essentials inside trunks, naturally, often attracted burglars. As a master trunk maker, Louis Vuitton and his son George developed a lock system that helps to protect their client's trunks: a single lock system with two spring buckles. After several years of development, they patented this lock system. With the revolutionized lock system, the Louis Vuitton trunks turned into a treasure chest, so to speak.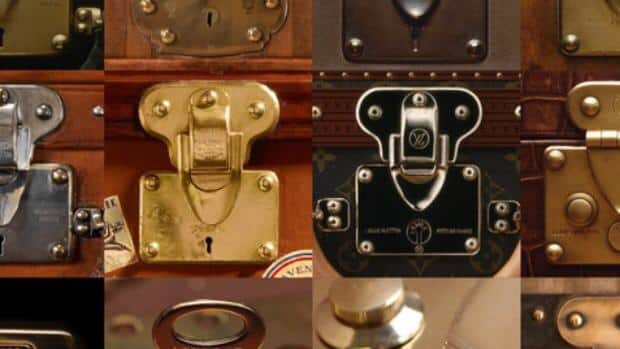 After the death of Louis Vuitton, in 1892, George Vuitton took over the management of company. He designed the iconic Monogram motif in order to differentiate trunk from imitations -not a surprise, Louis Vuitton imitations were crafted even in the 1800s- and to reinforce the luxury perception. The logo created in 1896 and began to use in the trunks by 1887.
In 1936, Gaston Vuitton took over Louis Vuitton after his father Georges Vuitton. Gaston continued to strengthen the heritage of the brand by including smaller accessories into the Louis Vuitton collection.
100th Anniversary
To celebrate the 100th anniversary of the Monogram in 1996, the brand invited six designers to create unique pieces of luggage. Later on, this collection was exhibited in the world's greatest capitals. Thus, brand's spirit of innovation and collaboration was brought together fashion lovers.
As Saatolog editors, we chose those two bags from the collection: Sybilla, a backpack with a built-in umbrella; Isaac Mizrahi is weekend bag in vinyl and leather, containing a Monogram canvas purse inside.
Iconic Louis Vuitton Handbags
Designed in the 1930s and known for Audrey Hepburn, Louis Vuitton Speedy is one of the iconic handbags of the brand.
We remember Neverfull as if it has been in the arms of women for decades, yet its release dates to 2007. It has already become cult as well as Speedy.
When a champagne producer to design a bag large enough to carry five bottles, Gaston-Louis Vuitton designed the Noe bag. Noe bag can carry five bottles of champagne even today. It is a perfect choice for a party.
Creative Directors
In 1990s, the brand began to make collaborations with creative directors. Marc Jacobs took over as the brand's first creative director in 1997 and created both women's and men's clothing collection, meant Louis Vuitton's popularity carries on the streets with clothes. The pair worked together for 16 years. During this period, Jacobs designed several creative collections for brand.
French fashion designer Nicolas Ghesquiére has been the creative director of Louis Vuitton women's collections since 2013. For men's collections, Virgil Abloh has been designing creative collections since 2018. Combining streetwear and luxury in the same pot, Virgil Abloh's collections have been popular in recent years.
Louis Vuitton 200th Birthday
Another centennial celebration of the brand is organizing with a series of creative events so-called Louis 200 for the 200th birthday Louis Vuitton, its founder. Born on August 4, 1821, Louis Vuitton's life and heritage will be celebrated through different collaborations and media. Louis 200 features a video game with embedded NFTs, store windows that showcase the iconic trunk as a vessel reimagined by 200 exceptional contributors, a large-scale triptych of Louis painted by Alex Katz, a fictionalized novel by French writer Caroline Bongrand about the life and intentions of Louis, published by Gallimard and available in French and English from October, as well as "Looking for Louis", an unprecedented documentary that retraces the story of the young pioneer. All these will be followed by several events until the end of 2021.
Louis Vuitton designed specialized trunks designs and achieved to found one of the best luggage brands of the world throughout his life. Thanks to brand, his name has been carried throughout journeys all over the world. Today, Louis Vuitton luggage are also the symbol of dream trips.