A. Lange & Söhne, the official watch partner of Concorso d'Eleganza Villa d'Este since 2012, will award a Lange chronograph as unique as the classic cars will be exhibited on May 20-22, to the winner of "Best of Show" category.
Our enthusiasm for classic cars is as high as for watches. Even, we have compiled the classic cars that houses handcrafted watches in the article "Cars with Watches" in the past months. So much so that, the passion for classic cars and watches sometimes appears at the same time. And Wilhelm Schmid, CEO of A. Lange Söhne says, "The more you familiarise yourself with the intricacies of the drive, bodywork and history, the stronger your personal relationship to the car becomes. This is also true of a Lange watch, which is not worn just to tell the time." As a partner of Concorso d'Eleganza, A. Lange Söhne presents a white gold chronograph to the audience together with classic automobiles.
Held on the shores of Lake Como, the Concorso d'Eleganza is an exclusive automobile event in which exclusive classic cars and motorcycles are exhibited. Some of automobile's dates back to even the beginning of the 20th century. Therefore, the event invites us a time travel with classic automobiles. When it comes to time travel, of course, watches are a companion.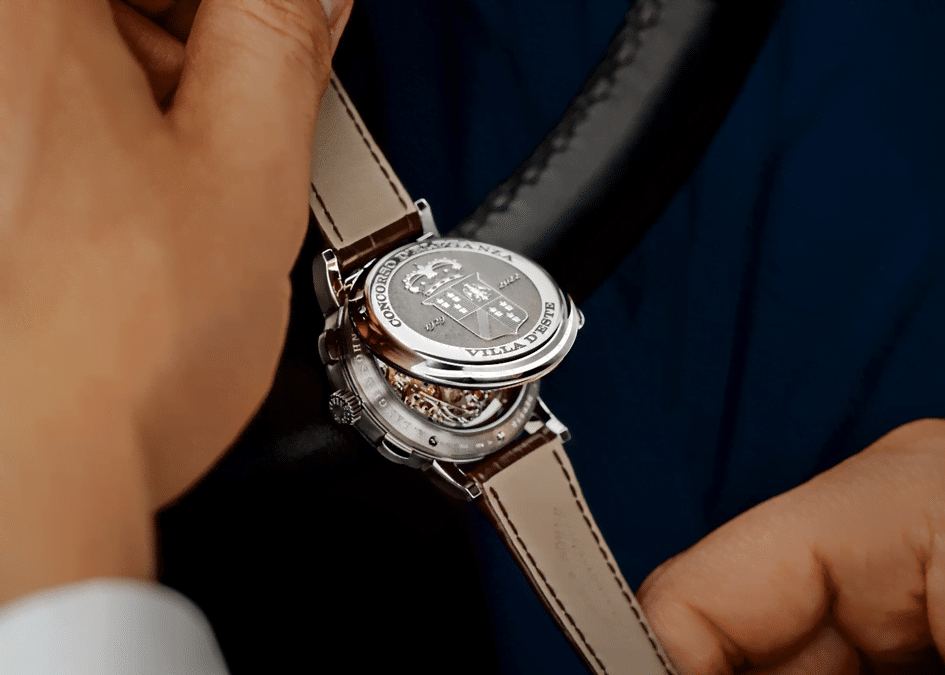 This year, Lange & Söhne is the partner of the event for the 10th time. Lange CEO Wilhelm Schmid will again award this year's winner of the Best of Show category with a unique timepiece, which is the one-of-a-kind 1815 CHRONORGRAPH in white gold is an expression of the perfection and the highest level of mechanical sophistication. As with every Lange watch, the 306 parts of the calibre have been finished with the greatest care by masters of their craft. The movement is also assembled twice to meet the highest of expectations. It takes nine days just to engrave the Concorso crest relief onto the solid gold hinged cuvette – a decoration which is painstakingly brought to life by hand – millimetre by millimetre.