Başak Baykal is a woman entrepreneur who creates her jewelry brand. Also this jewelry brand came to life as like nature wakes up to spring with opening its buds. We talked about her wonderful jewelries with her drawings chamomiles, violets and forget-me-not flowers with her.
You are founder of a jewelry brand that inspires from the nature but before that we want to know you. Before that what did you do?
I worked in a pharmaceutical industry about 18 years. After worked a different positions in corporate life, I left this world about 4 years. I have wanted to take time off both myself and my twins; also I have wanted to do something that's good for me and opening up to a different world.
How did the idea of creating a jewelry brand come about?
I am a daughter of a jeweler father. Jewelry, rock, gold; all of them are familiar with me. Creating my jewelry brand was a subject that existed in the last years in my corporate life. It was a dream for conditions of that time. I was working very hard, I had dreams, but I didn't have a enough time to think about it well. Sometimes it is necessary to stop and doing nothing, that time dreams start to come true. For me, that "stop" time is pandemic time.
 We see the colorful beauties of Bodrum nature in the designs, how did nature get involved in this jewelry journey?
In the very hard times of the pandemic, we moved away from Istanbul with my family. The winter was continuing for Bodrum. I found myself to watch the nature waking up to the spring step by step in there. Turning my dream to concrete step started like this. I started to draw what I see in the nature. A different flower that appeared in every corner began to take different forms in my eyes. And then I saw that the creativity that I thought was rasped in corporate life came back.
Could you talk about your first collection "Natural Treasures"?
Daisies, violets, wax flowers, fuchsia, forget-me-not flowers… I wanted to start with my favorite flowers that are at the core of this collection. All of them have been turned into unique jewels with meticulous craftsmanship. In addition to these, the flowers of the orange, apple and cherry tree appear in three different brooch forms. And of course, there are the spikes, which are the signature of the collection… Every product in this collection was handcrafted by the best masters of the Grand Bazaar and only one was produced. In the designs in which gold, diamonds and colored stones are used, there is miniature details painted one by one, and this has been one of the most important differences of both the brand and the collection.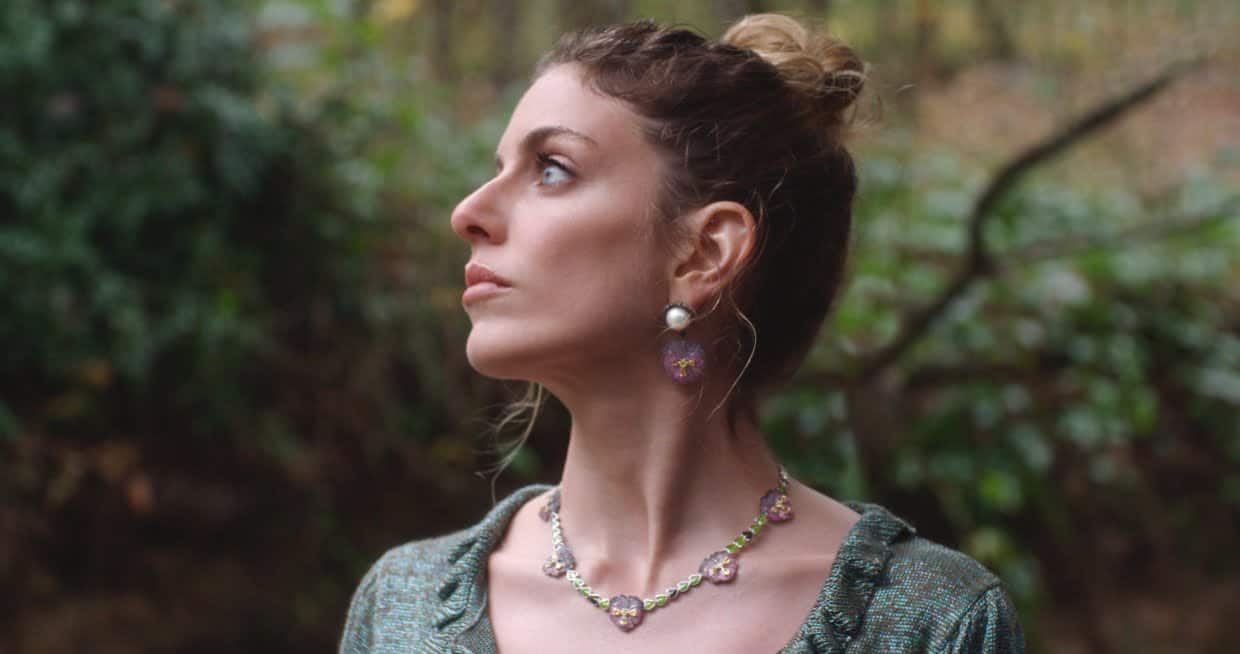 In the collection, we see a necklace inspired by Van Gogh's "Virgos" painting. Can you tell the story of this necklace and its design phase?
Spike symbolizes abundance and luck. I have always loved the spike motif, and when my name was Başak, I wanted to reveal this strong bond not only in the collection but also in the future of the brand. The production phase of the necklace took a long time, but when it was finished, the result was worth it. The chain section of the necklace represents the grains of wheat one by one, and each piece is assembled one by one by skilled hands in order to provide mobility in the neck. This necklace is also very special to me; It will continue to appear in different colors and shapes in the future.
You are familiar with the jewels in a way from your family. Do you have a family heirloom piece?
Yes, there is. My mother had an old diamond cut ring that was about four carats. I've had my eye on it since I was a kid, I begged it to be mine. She gave me that ring the day I got married. Even if I don't wear anything else, I just put it on and take it off.
In a few words, what kind of jewelry brand is Başak Baykal?
A brand that represents original, simple yet sophisticated, confident women. It argues not to be gimmicky, but to how timeless styles can be assertive and unpretentious with a single piece.
Although jewelry is mostly attributed to women, its designers and masters are usually men. What do you think about this, is the place of women increasing in the kitchen of the business?
This is an issue that we talk about with the masters from time to time, women's eyes should be more involved in this profession. Unfortunately, women are not very common in the kitchen part of the business yet. I wanted take part in at least one stage of production, but it requires serious training. I think the education here consists of many years of experience in the master-apprentice relationship, rather than being educated.
Which precious stones do you use in your designs?
I mostly use diamonds, but since I love to play with colors; sapphire, emerald, aquamarine and ruby ​​are also indispensable. For example, if there was no amethyst, how would I give the violets their beautiful color?
What is your favorite flower to transfer to jewelry?
Actually, while designing the collection, I started with my favorites. If I had to choose among them, I couldn't get enough of the daisy and forget-me-not flowers.
Jewelry is quite a magical world, just like nature itself. How do these two universes come to life in your jewelry?
Flowers and stones. Both are the most beautiful treasures of nature, and at the junction of the two, Başak Baykal jewels emerge.
You say in an interview that you like to read the history of jewelry. What impresses you most in the history of jewelry?
Wherever there are people, there was jewelry and it always will be. With the discovery of precious metals and stones throughout the ages, the journey of jewelry has continued to evolve, and since then jewelry has existed as a status symbol in every period. For example, according to the laws of the Byzantine period; any man could wear a gold ring, but sapphires, emeralds and pearls were only the emperor's right. It seems very interesting to me that people try to give such meaning to stone and metal.
Jewelry suits all women, of course, but is there a woman/women that you wish could wear Başak Baykal jewelry?
I want my jewels to be worn by every confident, strong and noble spirit woman.
Can you tell us about the most precious jewelry you have?
The diamond ring that my mother gave me is my most precious piece, both materially and spiritually. Of course, I have had higher parts in price, but I think that the emotional bond between the jewelry and its owner should also be taken into consideration. When the day comes, that ring will pass from me to my daughter.
What is as precious as a jewel in life for you?
It may be a cliché, but my twins are my most precious ones, I can't think of anything more precious than them.