Concept designs in superyacht production turn into reality by the time. We are talking about the boats of the future with their wonderful concept designs.
Yacht concepts range from lines that exceed boundaries of conventional to those that overthrow all unknown patterns. Concept design something is that " free throw" puzzle. Although basic rules are looked out, these are future scenarios that are made without clarifying the engineering of every detail. In other words, star candidates that waiting to be discovered… Although their lines are mostly orphaned, designers continue to imagine and put them down on paper. Although some people says that " Practicabilty is not possible, it is just a dream", these works are actually the backbone of the yacht world. Because the truth is that the concept designs of the past turn into today's modern yachts. If the concept yachts, which sailed 20 years ago and turned into a beach at anchorage, are in the seas today, you have no doubt that you will see the breezes from the drawings below in 15-20 years.
Superyacht giants such as Feadship, Lürssen and even automobile brands are producing concept yachts with their own names, they do not want to stay behind this surreal race. Let alone transforming into a yacht one day, thinking that even a detail can come to life, that is, being the "designer of the future" gives energy to the designers. In the yacht world, area where dreams first took shape has been the world of special production superyachts rather than mass production yachts. Because each superyacht is unique, and for the design to reach a futuristic dimension, it is enough meeting of a brave designer with a wealthy-visionary sailor. Since more realistic industry rules operate in mass production, innovative design elements firstly are applied in superyachts and then they go into mass production.  Therefore, even if you are not going to buy it, you can determine your superyacht style, somehow mass production comes…
Self-Contained Designs
The first thing that stand out in new motor yacht concepts is that most of them are designed with an environmentalist approach.  Key concepts of new motor yachts: Fuel efficiency, self-contained and long cruises in every sea of the world. That's why, explorer type yachts with fuel-efficient hull designs that can go even on glaciers are important. Thanks to more efficient solar energy techniques and higher capacity batteries eco-friendly boats has really environmental approach. Versatile technologies are another highlight point; designers are now building not only amphibious vehicles, but also boat that can go both above and below sea, or both at sea and on land.
In sailboats, are worked on sailing systems rather than hull shape; because hull form cannot be changed so much in order to built efficient sail.  For now…  We have experience a completely different system with DynaRig sail trials in 2006. Award-winners superyacht Maltese Falcon was built in Yıldız Shipyard in 2006, which is the Italian Peri Navi's shipyard area in Turkey. First feature that stand out in the DynaRig is that there is no crucifixes to hold sail poles. That is, poles are not provided with the slightest support so that they do not fall over and break. When cruise started, instead of adjusting sails for wind, pole that make its own trim by turning, gaves feeling of "space technology" to our followers. Another feature that makes Maltese Falcon unique is that such a crazy project was first tried on an 88-meter superyacht. Let's emphasize that this courage and budget belongs to the American businessman and sailor Tom Perkins. Technology transfer in sailboats are not only between superyacht and mass production; senior sale races also emerges as serios force. Technologies used in races such as America's Cup and Volvo Ocean Race quickly find their place in mass production. For instance, the foiling technology that created by America's Cup has begun to be used on many boats. We will take a look at the latest model foiling yachts in another article.
Production technology, another dimension that differentiates the business. For example, another fast production alternative has come to mass production with three-dimensional printing technology. Moreover, here we are talking about speed as well as fully personalized yachts. Different materials have also begun to enter yacht world with 3D printing technology.
Then, come to the world of  wonderful concept designs…
Esquel, Timur Bozca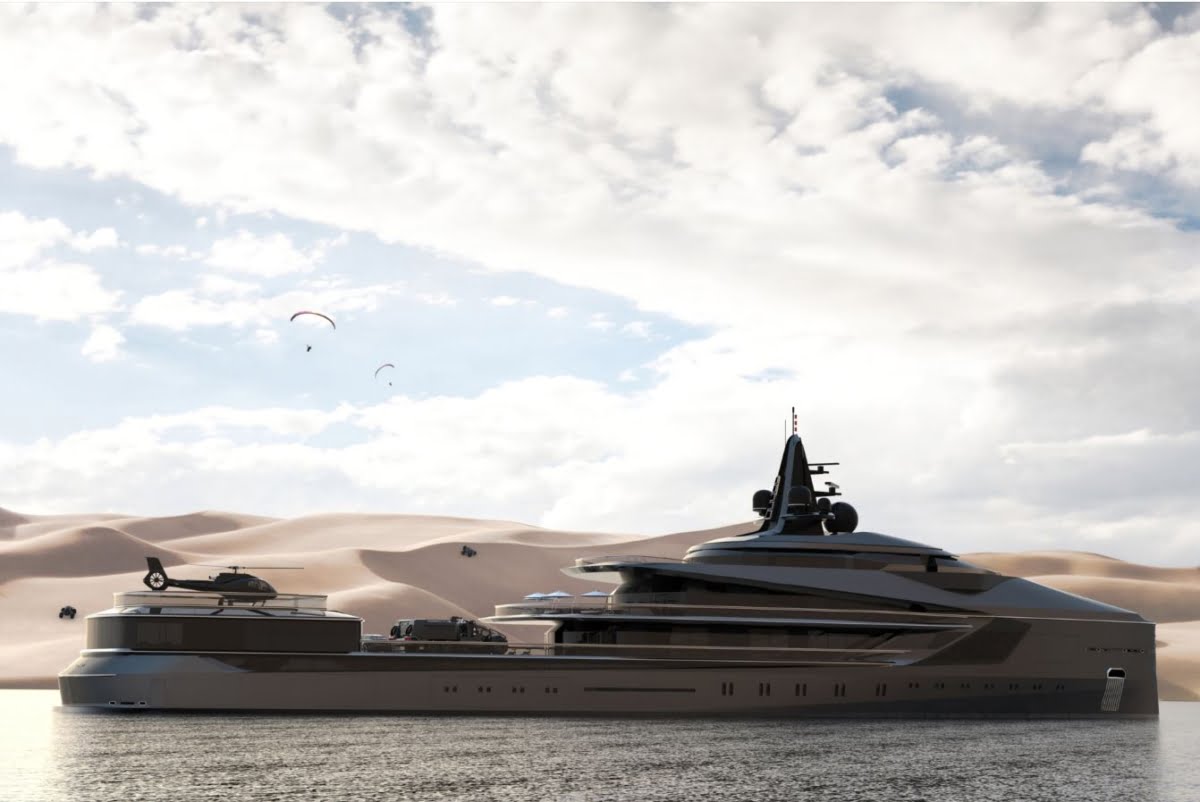 Turkish designer Timur Bozca is an automobile and boat expert. Bozca, who has received many awards with its Cauta and Sarco concepts, designed Esquel for the Dutch Oceanco, one of Europe's most important shipyards, which was introduced at the 2019 Dubai Boat Show. Bozca also won many awards with this design. Timur Bozca says that " As a designer, it's an excellent exercise to increase vision and knowledge." Also adds: "In addition, concepts are important to understand whether to go into production by measuring the public and potential customers' response to new and radical designs. I think, it is possible to direct the future of the industry through concepts with the right strategy. In my opinion,  designer is the one who produces something new, brings a new perspective. That's why, my understanding of design is to be extraordinary-innovator."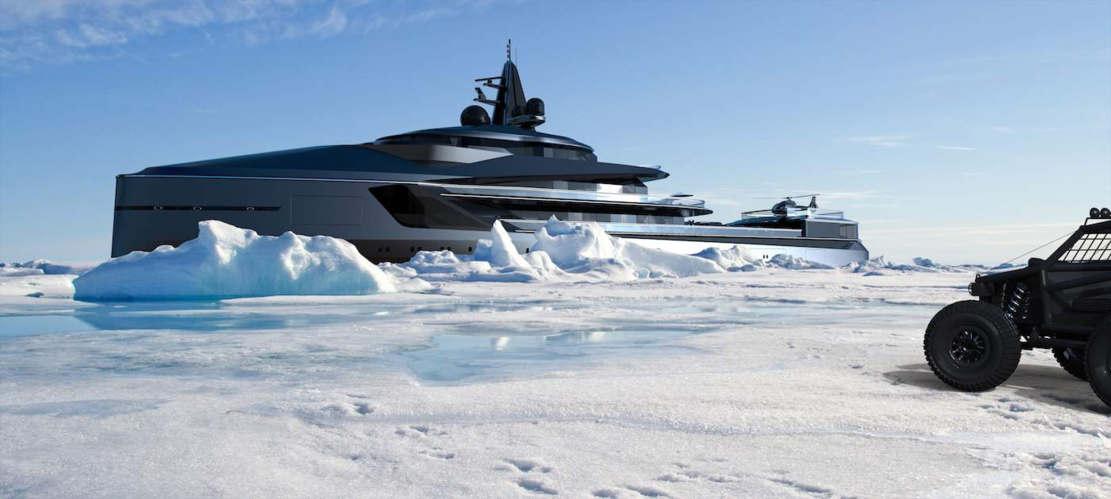 Bozca's inspiration was the space rocket, for the 105-meter electric explorer-type yacht Esquel. Although Esquel will not go to space, it can travel to the remote corners of planet Earth. Designed for navigation at the poles with its reinforced body, Esquel maintains its place with its dynamic positioning system, especially in sensitive areas, without the need for anchors, and brings the traces it leaves closer to zero.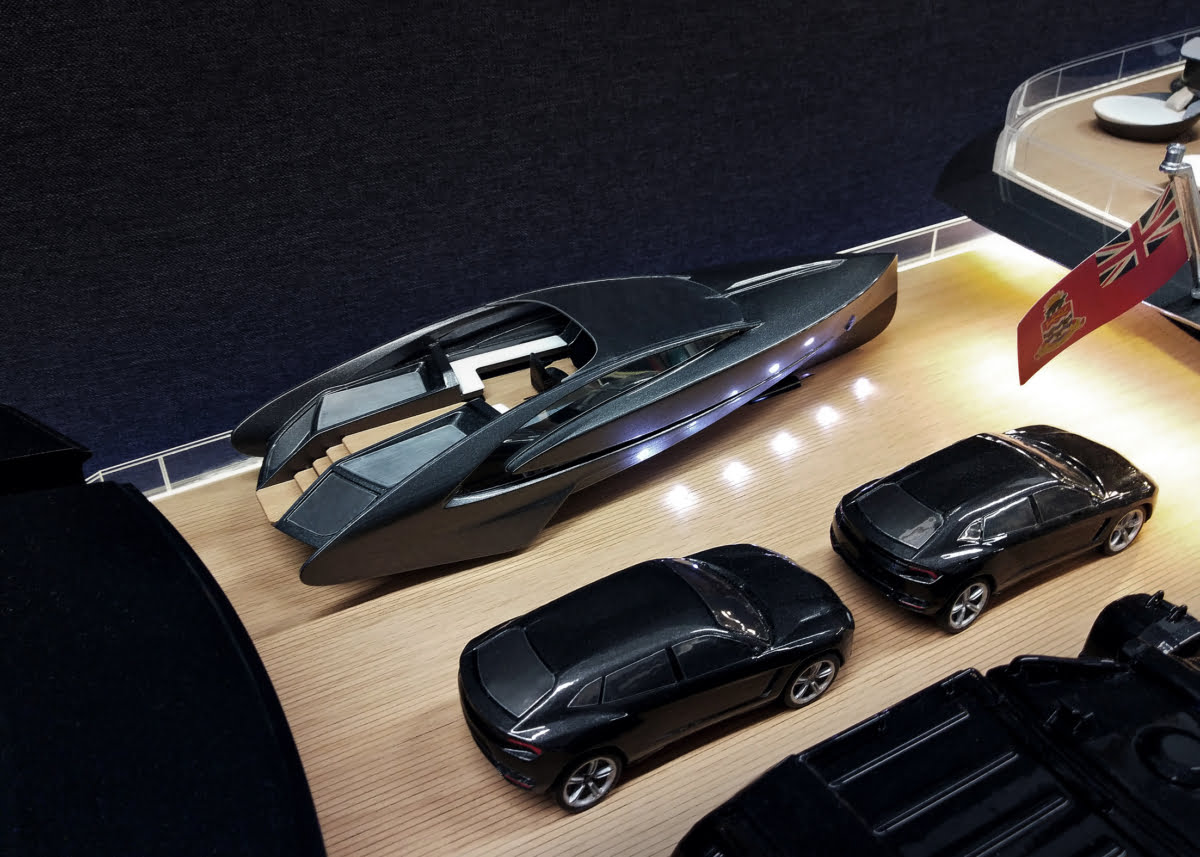 Luxurious interiors are extremely bright with very large side windows and skylights, also evoke a sense of Zen with their design style. Furthermore, the deck can house kinds of locked containers such as off-road vehicle, two submarine, helicopters,  Esquel's water sport toys and multi-purpose services boats. The superyacht has a garage and aftdeck area that designed to carry all these vehicles, totaling 230 square meters. The yacht will have a cruising range of 7,000 nautical miles, with a projected top speed of 13 knots.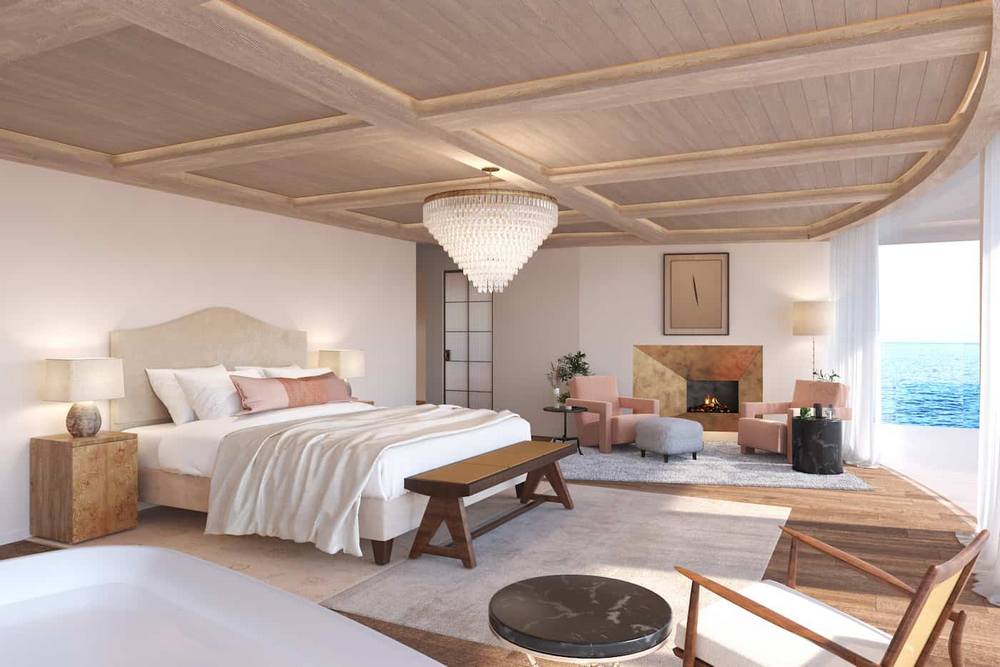 ---
Pagurus, Lazzarini Design Studio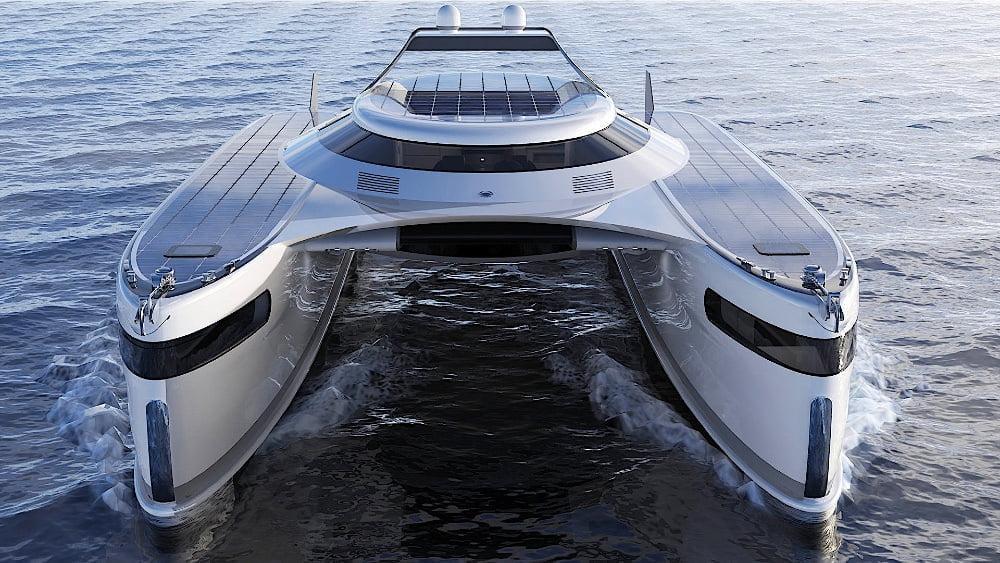 Pagurus, which was introduced last week, is the harbinger of a new category not only with its shape, but also with the name "crabmaran" given to the boat type.  The 25-meter amphibious vehicle Pagurus is referred to as crabmaran because it is a catamaran that designed with the inspiration of the crab. At the push of a button, four cylinders descend from the two hulls of the boat and thus, boat able to move through the sand, ice and soil. Each cylinder has its own engine of 440 HP, so you don't have to worry about tie up boat. After the Pagurus lands, a platform lands from between the two hulls and a car comes out. Lazzarini Design Studio imagined it to be a Tesla SUV because Pagurus is equipped to charge an electric 4X4.  In addition to massive solar panels positioned on the deck, energy is stored even from the motion energy of the cylinders. Pagurus, where it is possible to move quietly at a speed of 5 knots with electricity, can reach a speed of 25 knots with fossil fuel if you are in a hurry. Pagurus's steel body, resembling the hard shell of a crab and designed for travel in glaciers, its fortified bow is strongly enough to break ice.
---
Escape, Feadship
This is a giga yacht! 123-meters Escape can house a submarine and helicopter on its deck. However, its most noticable feature is that it has a lunar pool (window or door opening to the sea from the hull of the boat). The moon pool, which is mostly found on research vessel and drill ships, is much more cooler than any counterparts of the Escape. The submarine can be monitored 360 degrees in the moon pool in which operates an elevator. This section is also considered for the unloading and taking into of the submarine. This elevator, which will undoubtedly provide a wonderful view with the lights lit inside, seems to be used by the guests of the giga yacht out of place. Feadship official declares that they will produce only electric yachts and also emphasize that " they need to start from somewhere for sustainability". Equipped with 700 square meters of solar panels, including the boat's opening and closing deck window, Escape will also house plenty of plants from the full grown tree to the vegetable greenhouse in the sky saloon.
---
Wind Motion, Mathis Rühl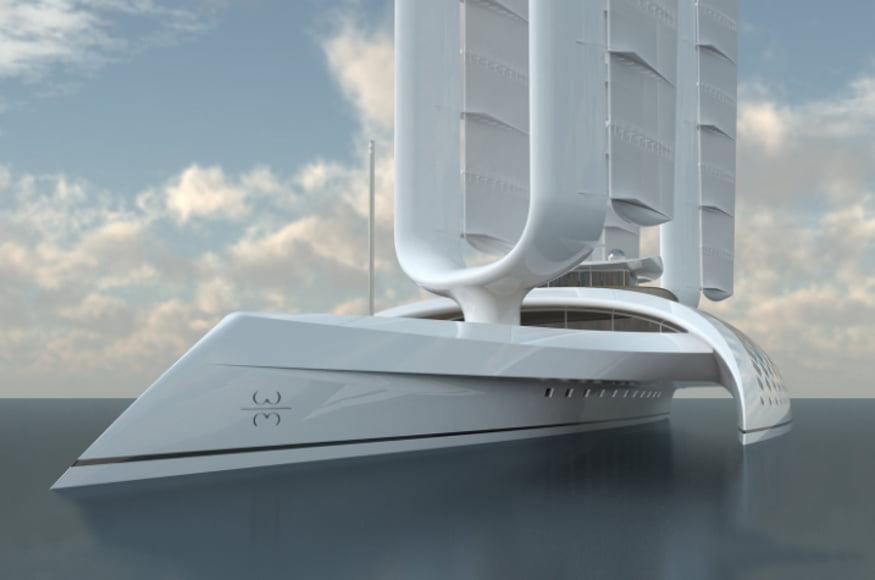 The innovation of the 70-meter trimaran concept Wind Motion is in the system sailing. It is stated that the performance of the Wind Motion, which can rotate around its two axes and foldable sailboat, will be assertive, and it can carry a 70-meter hull even in moderate wind. It is stated that the performance of the Wind Motion, which can rotate around its two mast rotating and foldable sailboat, will be assertive, and it can carry a 70-meter hull even in moderate wind. The most important feature of Wind Motion is that it can store energy while standing at anchor with wind turbines coming out of the different shaped mast. Wind Motion has a striking appearance with its wave-splitting reverse body (nose structure) and curved upper structure covered with glass panels. Wind Motion has a striking appearance with its wave-splitting reverse body (nose structure) and curved upper structure covered with glass panels.
---
Pininfarina Catamaran, Samuele Errico Piccarini
It is a fact that the use of glass in the hull and ceilings has been increased with the developing material technology, but this time we have a boat almost made of glass! The open deck areas of the 21-meter Pininfarina, which attracts attention with its spaces where guests live together with the sea, are also spacious and comfortable. The motto of "less is more" is wonderfully reflected in interior spaces complemented by stylish materials such as marble and precious woods, with dim lighting and minimalist furnishings. Piccarini has also preferred living spaces with high ceilings instead of hosting more cabins.
Pininfarina has many advantages by means of being of a catamaran, that is a two-hull boat, such as balance, smooth cruising without tilting, productivity and high speed. Besides, more area is offered compared to similarly sized monohull boats. Catamarans are frequently preferred in eco- friendly boats as they have a larger area for electrical panels.
---
Eco-Explorer, Feadship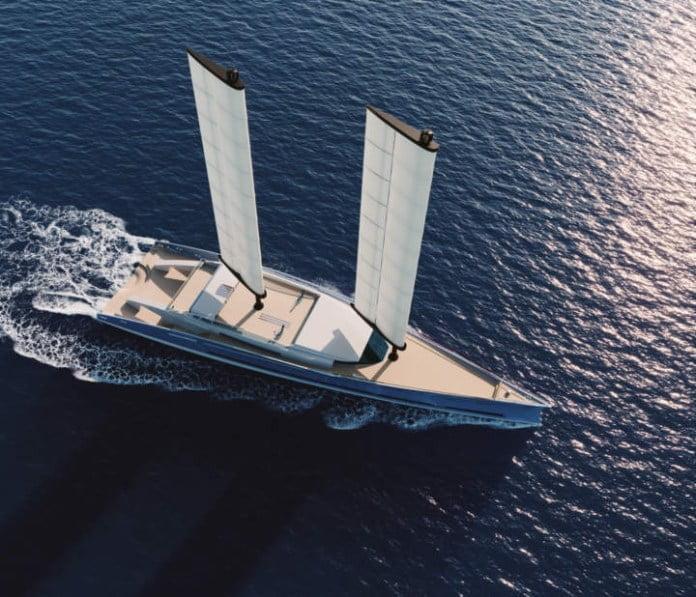 The Eco-Explorer, developed by Feadship and Merveille Yachting and introduced in November 2020, has an automatic wing drive system. It is stated that the wingsail system of the design, which optimizes solar panels, wind and underwater turbines, is two times stronger than other examples. Although it is similar to DynaRig, Ayro Oceanwings, which is a completely new sailing system, is designed to be operated automatically by computers that take all conditions into account during sailing. The Eco-Explorer, which is stated to reach an assertive speed of 18 knots with only the wind power, exceeds 20 knots with the activation of motors. This design requires 50 to 70 percent less fossil fuel and promises freedom as its cruising range is three times longer than similar-sized boats. Eco-Explorer offers an enormous 17-meter deck and interior space, whilst has extraordinary beach club with a 15-meter swimming pool.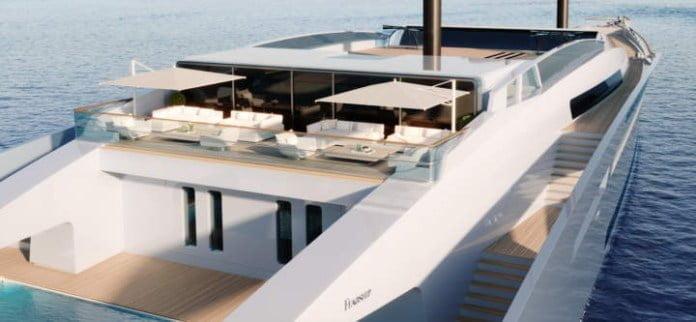 ---
Nzuri, Kyron Design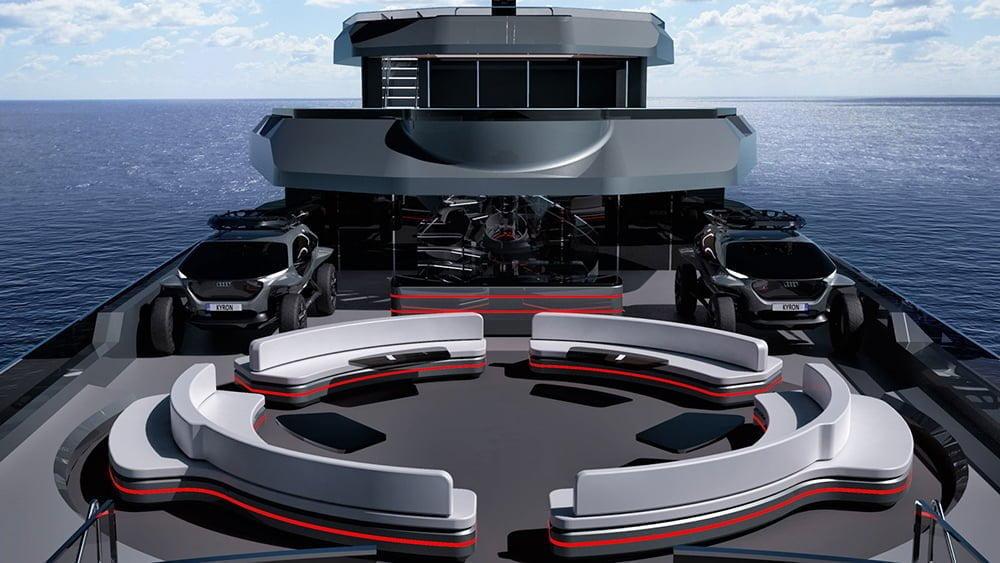 Introduced in the last days of 2020, the superyacht is designed to house two autonomous Audi vehicles – not yet available for sale -, helicopters, two service boats and six jet-skis on board. Nzuri with 10 cabins, which draws attention with its sharp, angular lines, also has a minimalist aesthetic in interiors. At the heart of the yacht is a circular lounge with a sea view and minimalist decor. Another remerkable feature is swimming pool that under the helipad.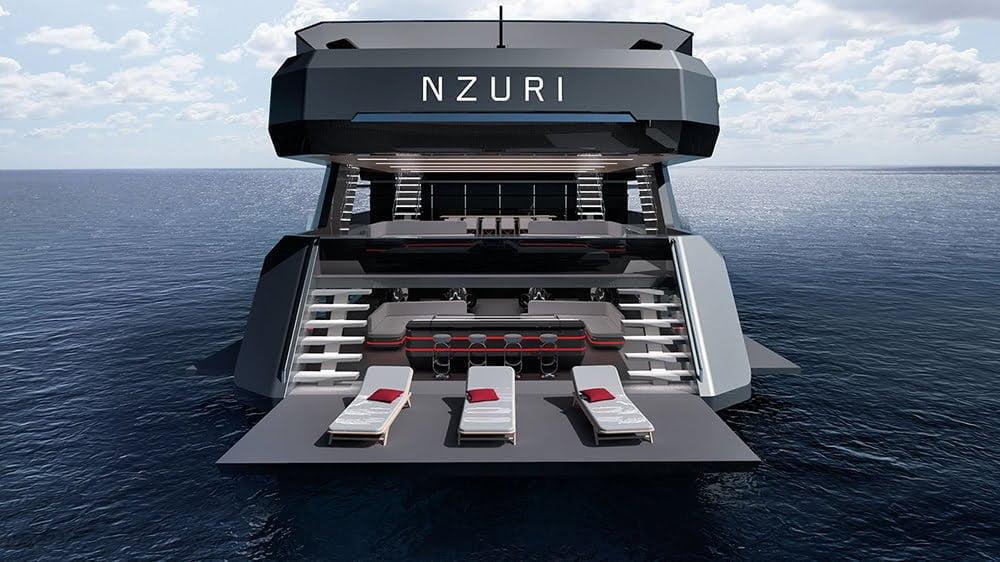 ---
Tetra, Jonathan Schwinge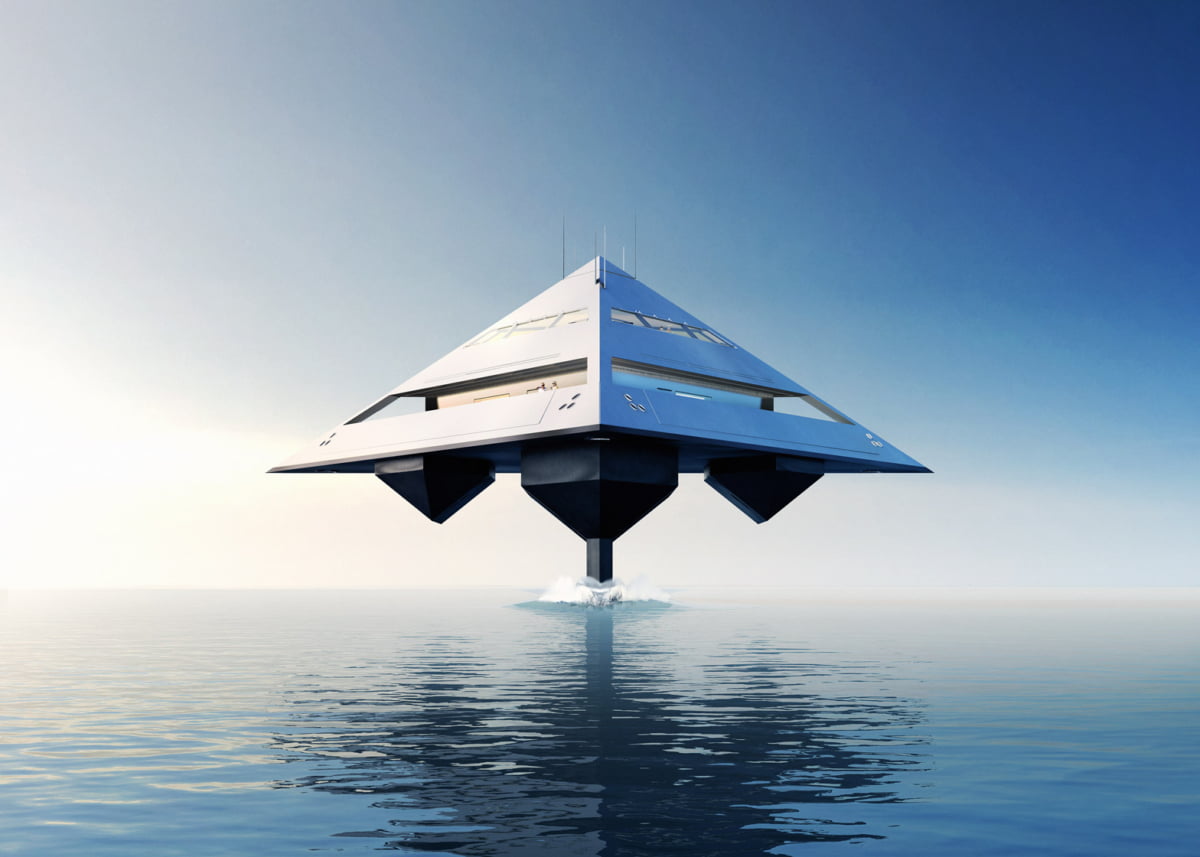 This yacht can fly! Pyramid-shaped boat, which is on three hulls like the Trimaran, thus moves at low speed. Tetra is rising above the enormous foil buried in the water as it accelerates and reaches a speed of 38 knots.  Since it has little contact with water at this speed, drag reduce and the speed continues to increase. After Tetra out of water, cruises smoothly even in rough conditions.
---
Dare to Dream, George Lucian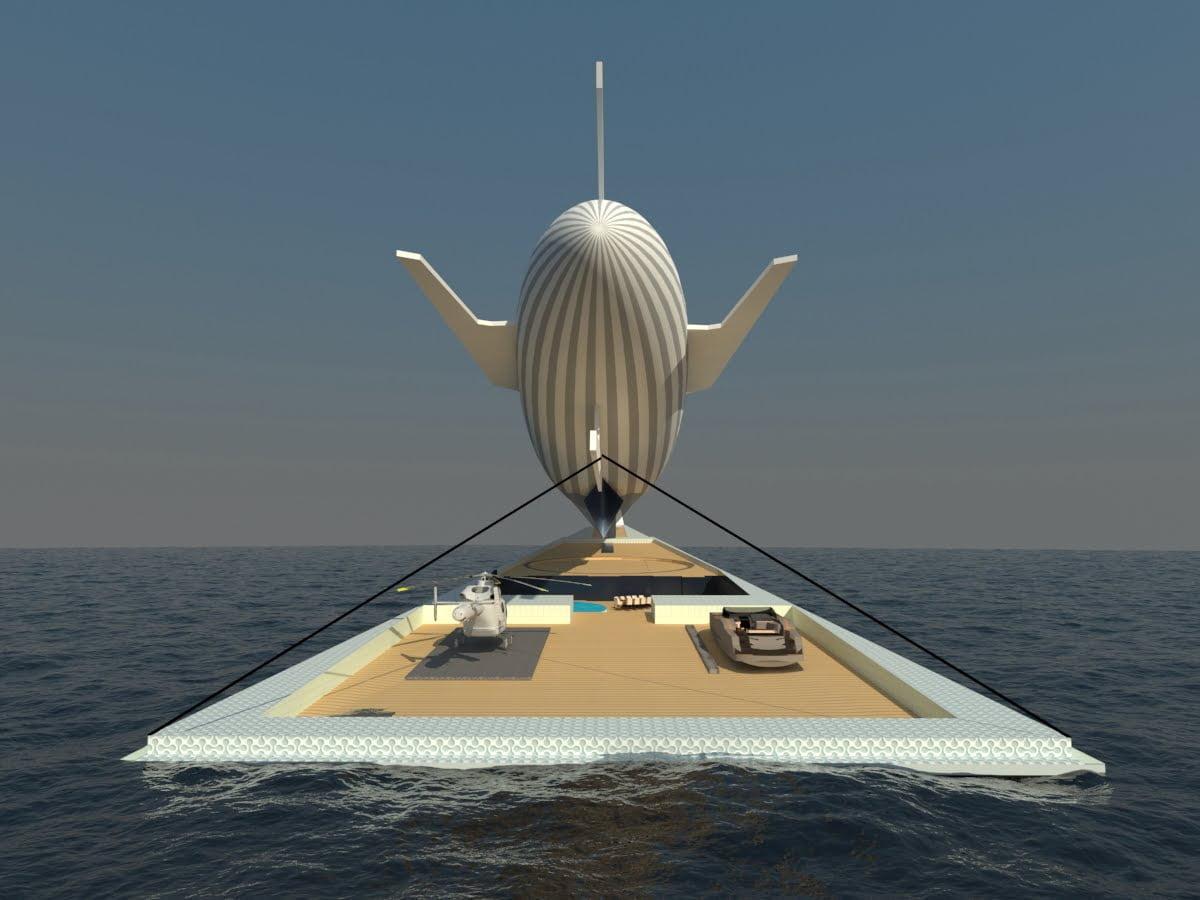 George Lucian has attracted attention with its project called Origami, which it previously designed with inspiration from the art of paper folding, and now its new yacht concept Dare to Dream has a huge zeppelin. Besides all the opportunities that offered by the superyacht, the zeppelin is designed to house a few guests. It is planning that zeppelin will be 100-meters and the yacht is 140-meters.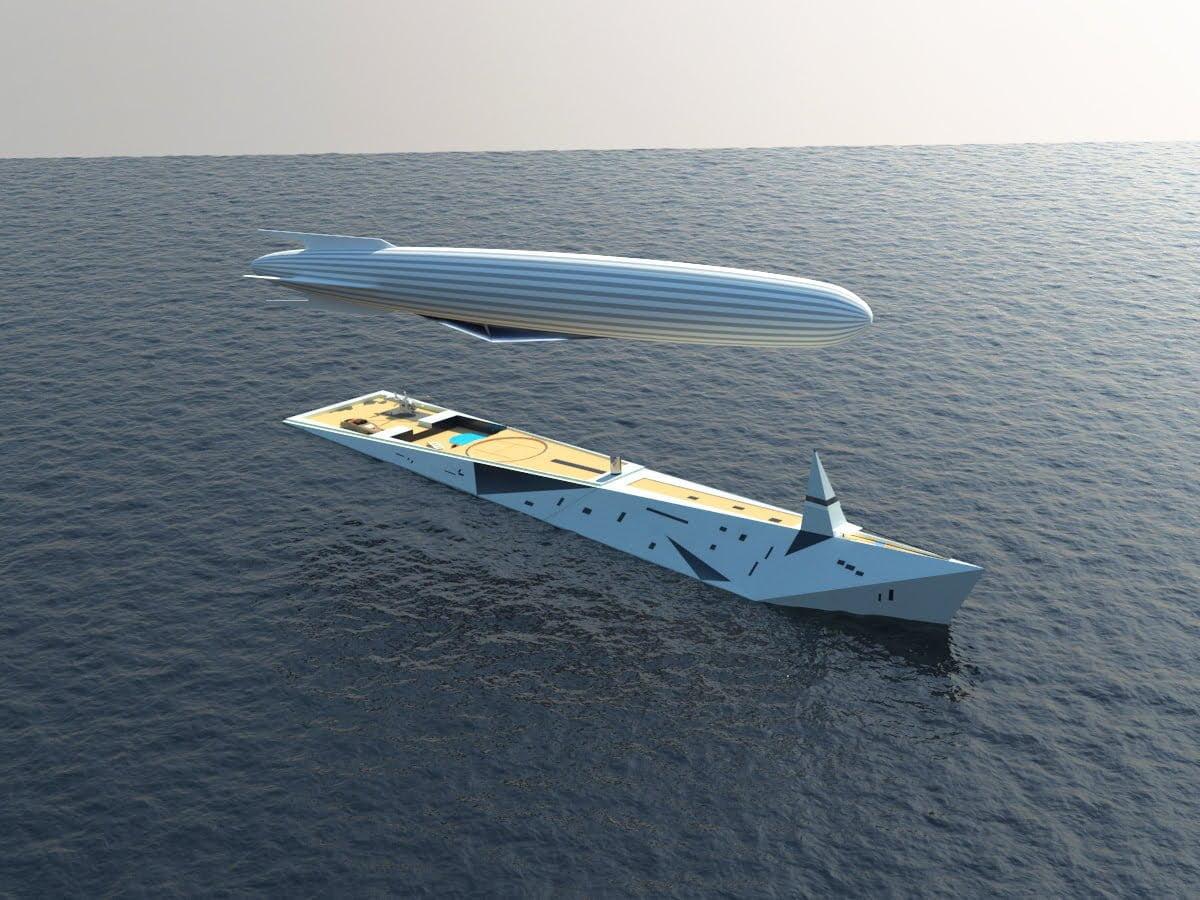 ---
Prodigium, Lazzarini Design Studio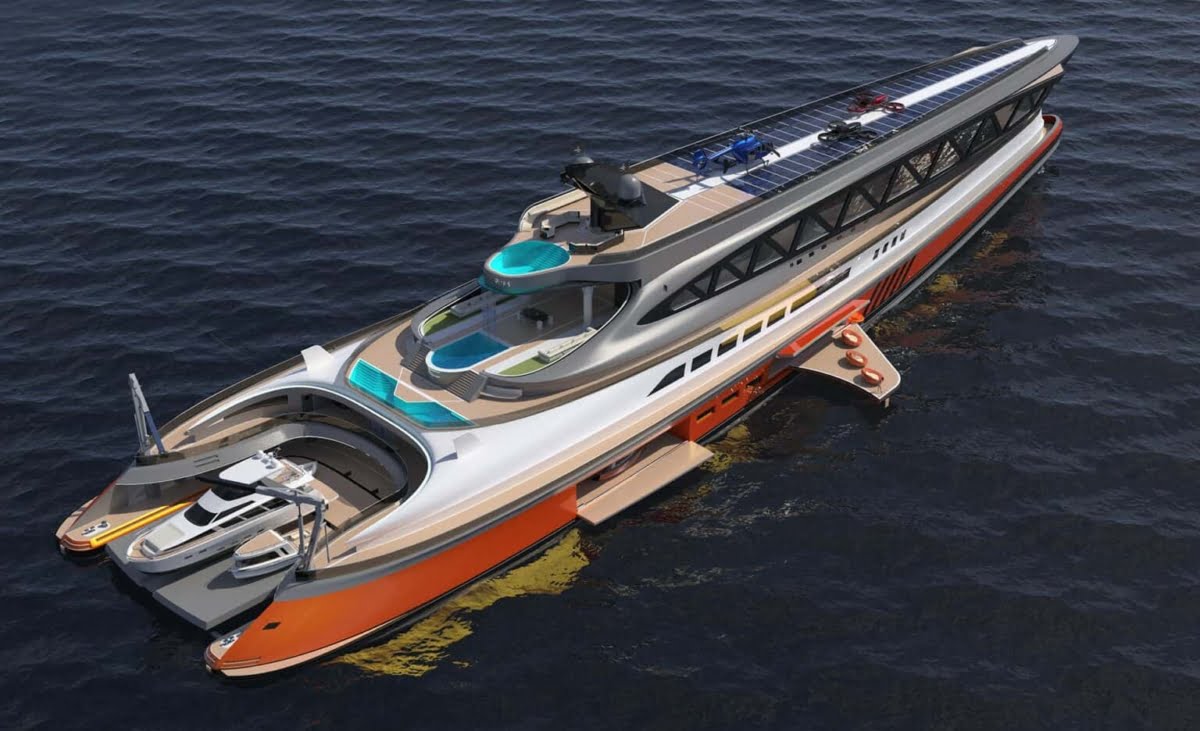 There is a 153-meters shark! The two big side fins which can transform into additional terrace space and a mini port that can house a small fleet, are remerkable. There is room for 30-meter yacht and eight service boats. This magnificent concept, which can host 44 guests, can meet the energy needs of the concept yachts at the anchorage and ports with solar panels.