We met with Süray and Doğuhan Atış in Santé to talk about Toprak ve Wine, written by the couple Süray and Doğuhan Atış and presenting a portrait of wine enthusiasts from the vineyards of Turkey.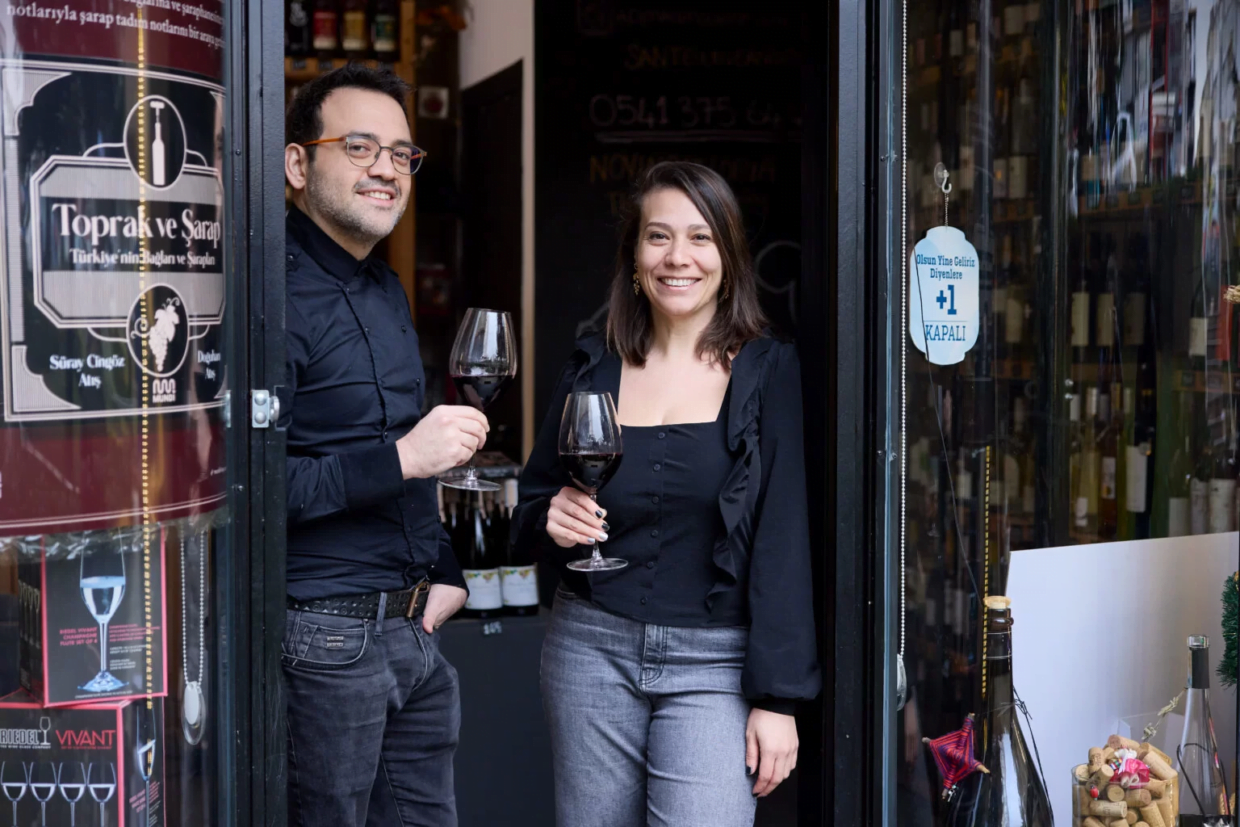 Toprak ve Şarap (Soil and Wine), which took its place on the shelves with the Mundi Book label in the past weeks, was born from the wine journey of Süray and Doğuhan Atış, which lasted for about ten years. Saying that they experience a new excitement with every new bottle opened and every sip tasted, Süray and Doğuhan's paths crossed with the world of wine about ten years ago. The wine journey that started with a tasting course, the vineyards visited over the years and hundreds of wines tasted, became their business with Santé, the boutique they opened about three years ago. And Toprak ve Şarap is now a part of this cute boutique with a variety of wine bottles on its shelves.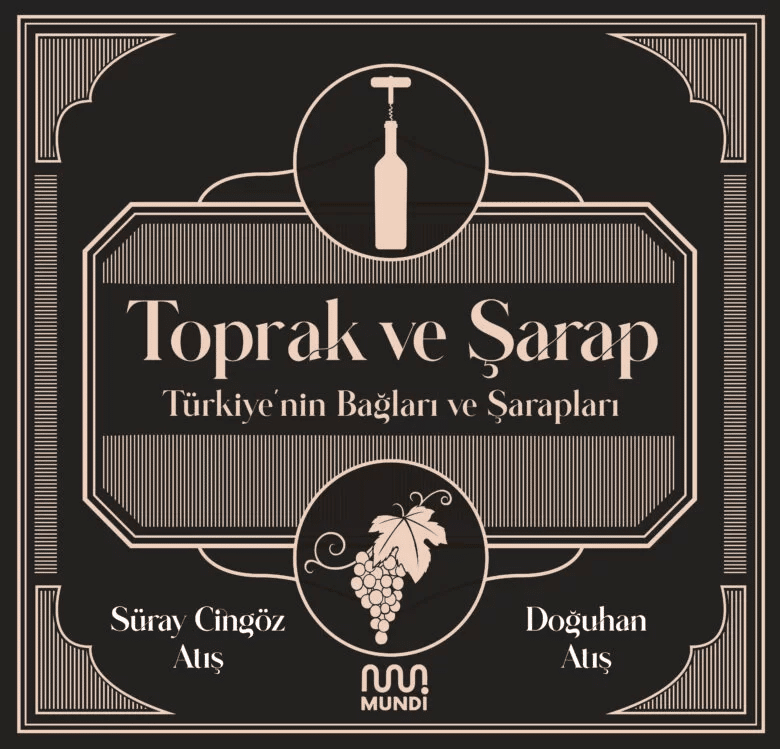 Let's begin with your story: how did your path cross with the world of wine?
Süreyya Cingöz Atış: Actually, our story begins in Ankara, we both studied in Ankara. I can say that our paths with the world of wine crossed after we came to Istanbul. At that time, when we were both working in different industries, we discovered a wine course and started the course. Even a couple of Doğu's friends started the course with us, but they did not continue the second lot. While our friends did not continue and we excitedly decided to participate in the second lot, we realized that wine is a different passion. This is how our story begins. Afterwards, we wanted to establish a platform where wine and food culture enthusiasts like us could come together, thus adimadimgurme.com, which we still actively use, was born.
Doğuhan Atış: This story that Süray talks about dates back to about ten years ago. Afterwards, we started to visit the vineyards slowly, and our recognition increased as we visited the vineyards and shared. On the other hand, our environment started to fill with people who are interested in wine and food culture. About three years ago, we opened our boutique Santé and continued on our way.
What kind of boutique is Santé?
D. A.: We founded Santè with the dream of having a boutique where customers can chat and buy wine, and that's how it happened. If our customers don't have a wine in mind, they tell us what kind of evening they will drink and what kind of atmosphere they will be in, and we help them choose. So much so that we have a little chat with our customers.
S. C. A.: Of course, we should also mention our wine selection here: Wine is a constantly changing drink, every harvest is different. Even the same wine and grape of the same brand can differ according to its harvest. That's why we taste every harvest again when choosing the wine to sell in our boutique. We do not sell wine at Santé that we would not put on our table.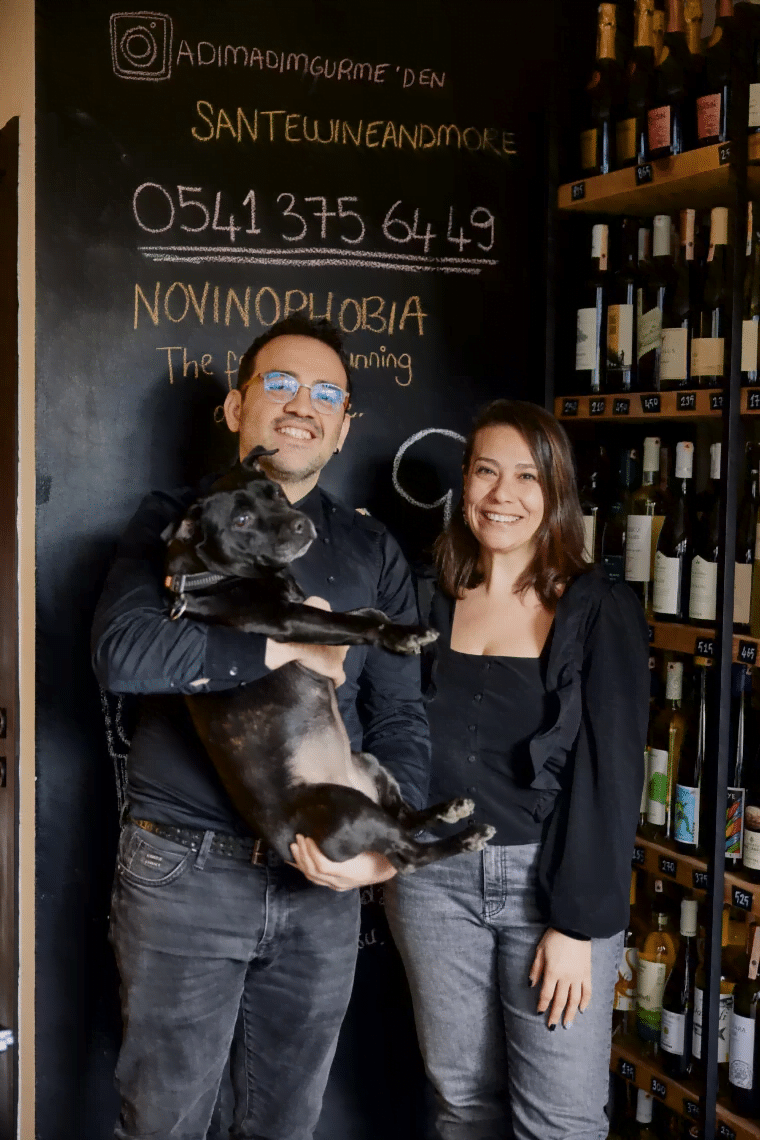 How would you describe wine culture as the creators of a warm, friendly and embracing wine boutique like Santé?
D. A.: We don't like an over-the-top wine culture. As you said, we prefer to be warm, sincere and embracing. In fact, we often make wine pairings with the dishes we cook ourselves. We drink wine with dried beans, or with leeks with olive oil. We prefer to make wine a part of our lives without making it special and without choking it into rituals. In our opinion, in order for the wine culture to develop in our country, it is necessary to make it a part of life without drowning it in rituals.
S. C. A.: We see wine as the drink of the day. The kind of drink to be enjoyed at any time.
Let's come to the book… How did you decide on writing Toprak ve Şarap?
D. A.: Actually, we at Santé offer wine to our customers by telling their stories. We do not pass without mentioning details such as where the wine is produced and who the producer is. Over time, we realized that these stories attracted attention. Merin Sever, the editor of our book, who is both our friend and occasional guest of our boutique, came one day with an offer for such a book.
S. C. A.: We had a comprehensive knowledge of almost ten years; photographs and information of vineyards, vines, wineries… We really wanted to use these to tell their stories. That's why, Merin's offer excited us. We have included the stories of nearly 80 wine producers in the book. We went and saw some of them again and photographed them again.
D. A.: While preparing the book, we aimed to appeal to people who want to visit wineries and enrich their wine culture. Not every winery is suitable for accommodation, but the idea of readers discovering a new winery or chasing a new wine is very exciting for us. Therefore, Toprak ve Wine can be seen both as a guide for wines produced in Turkey and as a small bibliography to help enrich your wine culture.
What did you learn about Turkey's ties with these trips?
S. C. A.: Grapes grown vary according to climate and soil structure. We are also a very rich country. We know the homeland of Öküzgözü grapes as Elazığ, but it is possible to grow this grape in Foça or Denizli. As the climate changes, the result obtained from Öküzgözü grapes changes; while the wine from Elazig is more palatable and the spicy character of the wine is at the forefront, a fruity and more comfortable öküzgözü wine can come from Denizli. We can drink wines interpreted in very different characters even for the same grape type.
D. A.: And there are a lot of local grapes. This is also very important as it has been a prominent theme around the world lately. You can think like this; Since it is grown in many parts of the world, it is not possible to differentiate yourself with a wine you produce using Cabernet Sauvignon. However, wine produced with local grapes can arouse the curiosity of the world.
S. C. A.: Species such as Öküzgözü, Boğazkere, Foça Karası, Çakal, Sıdalan, Acıkara, Merzifon Karası and Kolorko are among the local grapes we mentioned. Many winemakers are also working to bring out their best by discovering recently aged vines or growing them best in their own vineyards.
D. A.: Of course, at this point, it is also very important that viticulture in Turkey goes back to ancient times. However, it is also possible to talk about a cultural break with the exchange, because after the exchange, wine production decreases and the vineyards are neglected. Although the lands and vineyards remain in place, there is a decline in the wine culture as the cultivators leave these areas. However, it can be said that there has been an awakening in the field of soil and agriculture in recent years. In my opinion, there has been a revolution in wine production in Turkey in the last ten years, and we have experienced and seen most of this rise. I also think that the interest in wine has increased among the younger generations.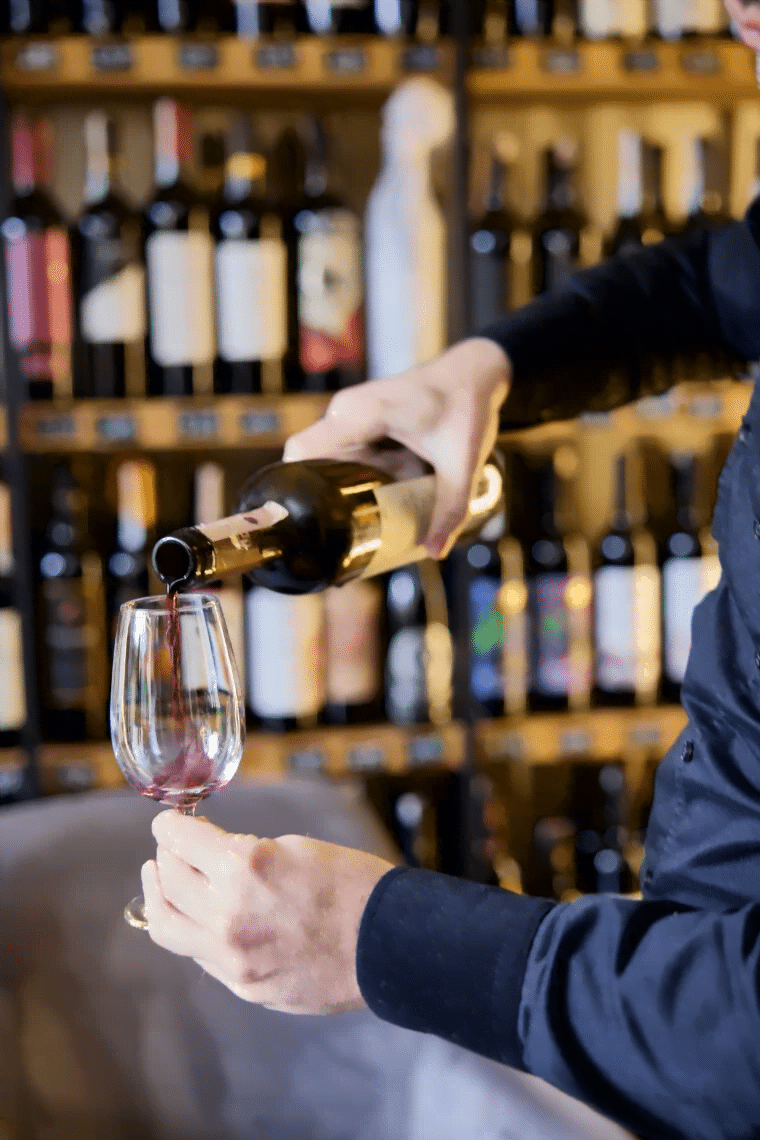 Did you experience interesting wine-food pairings while visiting the vineyards?
D. A.: Antakya comes to my mind immediately. It is a very rich city gastronomically, so the wine-food pairings were unique and delicious. The combination of tray kebab and Barburi was delicious. In addition to discovering local cuisines, visiting the vineyard is a peaceful experience. It is a great pleasure to watch the vineyards stretching in front of you with a glass of wine, far from the city and among the greenery.
Which local grapes should be tried in which regions?
S. C. A.: Kösetevek and Öküzgözü grapes from Elazığ, Boğazkere grapes from Diyarbakır, Papazkarası from Thrace, Çal Karası grapes from Denizli can be tried. Bozcaada is also a very rich geography in this respect; Kuntra, Karalahna and Çavuş are among the local grapes of the region.
What do you think about Turkey's viticulture?
D. A.: Years ago, there was a perception in the abroad that Turkey does not produce its own wines. Yet, this perception has now been broken for those who are interested in wine, it is known that viticulture is practiced and quality wines are produced in our country. The vineyards have reached a certain age, and many things have fallen into place in the part of viticulture and wine production. I think now it's time to produce exciting wines. This seems possible with the increase of small producers who do their job with passion. The diversity will increase with the increase of producers who want to discover new species and try new wine production techniques.
Toprak ve Şarap is now one of our guides to discover the country's vineyards and learn about wine. So, what are the tricks to enrich our wine culture?
S. C. A.: Definitely a lot of wine tasting. I think the way is through experimentation. At first you will try to understand what you like and dislike, then gradually you will be able to name what you like. Sometimes even dinner is a way to do this, you can try other wines with a single dish. The more wines you try, the more your palate will develop.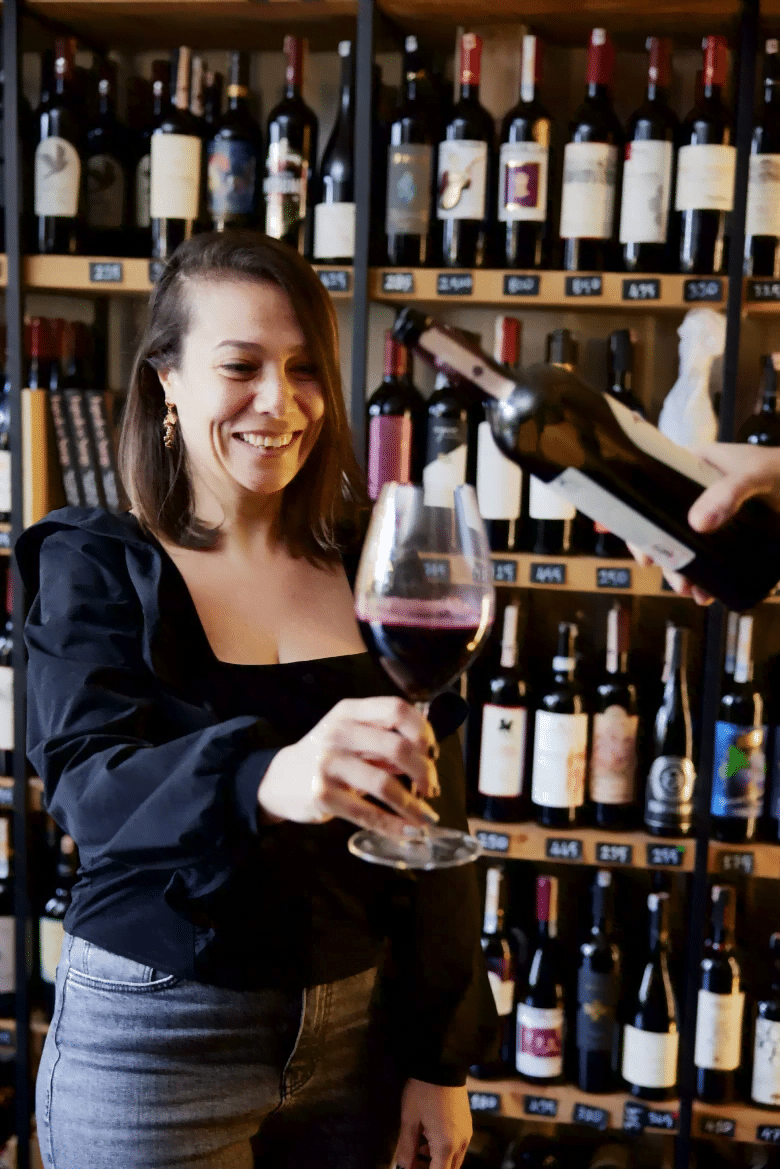 Wine has been a part of your life for many years, so which is the most special side of wine for you?
S. C. A.: Every bottle to be opened is a new excitement for me. Of course, sometimes I don't like the wine I try, and I get disappointed. Still, I love the excitement of discovering a new wine.
D. A.: The excitement it gives is also very special to me. Also, I like to drink a wine I know at different times and with different people, because I get a different taste every time.
And wine-food pairings… Do you have a joker wine?
With its fruity and medium bodied structure, Öküzgözü can be a joker wine. If the meal is not very intense, it can adapt to many tables.
With red meat…
Almost 80 percent of red wines go well with red meat. The saturated amount of tannins in most reds helps it blend in with red meat.
With white fish…
There may be white wines produced especially with Emir grapes.
Pasta, pizzas…
If it is a plain pasta prepared with seafood, white wines produced from grapes such as Emir or Hasandede, Sungurlu will be enjoyable. Medium bodied Öküzgözü with a more intense sauce and tomato, and Narince with creamy pasta can be preferred.
Do you have any unusual wine-food pairings?
D. A.: Kösetevek and lahmacun and Emir and sushi are the first ones that come to my mind.
S. C. A.: I also love sweet wine and dessert pairings, or I find sweet wine paired with moldy cheeses like roquefort. Chestnut kebab with Kalecik Karası. The combination of dry beans and a red wine produced by Syrah & Viognier is among the things we enjoyed very much.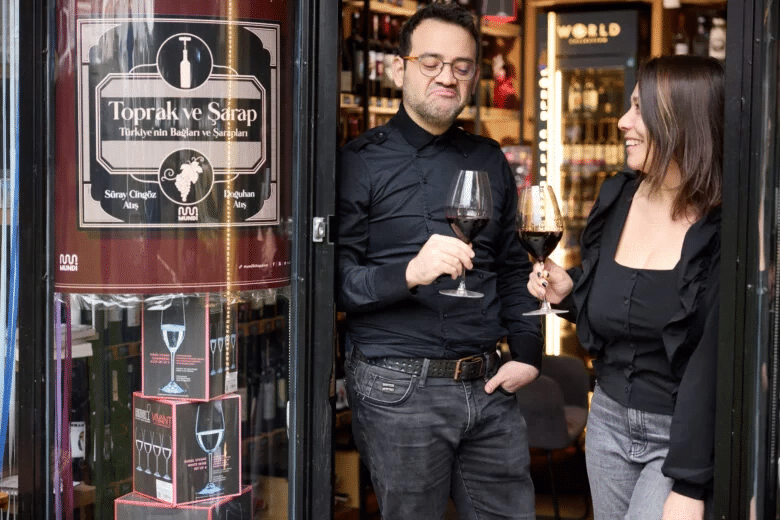 This shows that it is possible to pair wine with local dishes such as red beans or lahmacun...
D. A.: We would very much like to break such prejudices about wine. These dishes are a part of our lives and of course they can be combined with wine, after all, there is no rule that we should consume wine with French or Italian dishes. There is another issue that I feel lacking in our wine culture: There are artisan restaurants that cook very delicious meals, but unfortunately, wine is not served here. It would be very enjoyable to eat such delicious food with a glass of wine. However, it is possible to drink delicious wines even in very small restaurants in Europe.
If possible, who would you like to drink wine with?
D. A.: One of my favorite authors might be Frank Herbert. They can also be chefs because they have a strong palate. For example, I would like to drink wine with Jon Favreau and chef Roy Choi, whom you will know from The Chef Show.
S. C. A.: One of our favorite directors, Wes Anderson immediately comes to mind. There are also people with whom we enjoy drinking wine, for example, it is very enjoyable for us to drink wine with Levon Bağış. Ayça Budak is like that, drinking wine together and chatting about wine is a special experience.
Which vineyards can we go to for a weekend getaway at this time of year?
S. C. A.: Since it is close, the vineyards in Thrace can be preferred for weekend getaways. Dessera Vineyard or Arcadia Vineyards can be preferred for accommodation. The bungalows of Arda Bağ Evi, which has just been put into service, are also a good alternative. For one-day getaways, Barel Bağ Evi, which is about an hour and a half away from Istanbul, is a good option.
When you look back, what wines are on your 2022 list?
This year, we saw that there are three or four different wines made with grapes from aged vineyards among our favorite wines. In 2022, we gave a lot of value to old vineyards. Likewise, local grapes such as Sungurlu, Çal Karası and wines made from Viognier, which are rarely produced in our country, were also in our selection this year. The Syrah&Viognier blend (a red wine containing 3 or 4 percent of Viognier, a white-skinned grape) produced with reference to its European counterparts, which is only one example in Turkey, was also among our favorites. The distinctive feature of this wine was its dark color and floral aromas. It is rare to find such florality in red wine.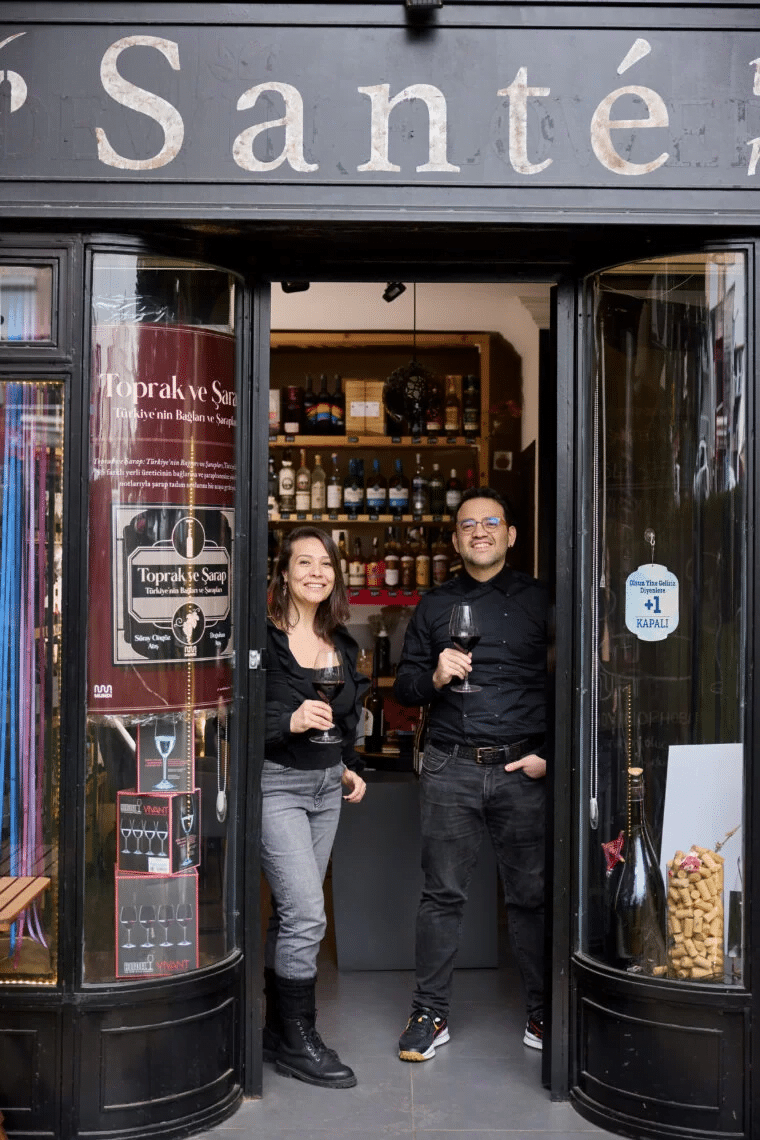 What have you learned about time through the wine world that famous for its aging and aging?
D. A.: There are wines that pass time quickly, and there are wines that pass slowly. Sometimes the wine you drink is so enjoyable that time starts to flow faster. For me, fine wine is what I drink without looking at the clock and not understanding how time flies. Fine wines change the time.