Based on the "Yayoi Kusama: A Retrospective" exhibition, which brings a broad perspective to Yayoi Kusama's works to date and latest works, who considered one of the most important living figures of contemporary art, we took a short journey into the life of extraordinary artist.
Japanese artist Yayoi Kusama, who is considered one of the most important contemporary artists of today, is known for her art works with polka dots and for producing these works from a hospital. 92-year-old Kusama, known as "The Princess of Polka Dots", is opening doors of her new exhibition to art lovers. The exhibition has started on at Gropius Bau Museum in Berlin, on April 23, will continue to August 15. The exhibition, takes place in a large area of 3,000 square meters, brings a broad perspective to the works of the artist that she has produced more than 70 years. Furthermore, a new "Infinity Mirror Room" work of artist is displayed on the exhibition. With the exhibition, the artist's artistic development can be seen, and her lesser-known works in Europe and Germany are included in the exhibition.
Yayoi Kusama's Art Life Beginning with Delusions
One of the most exciting and enjoyable hallucinations ever seen could be Don Quixote's riding his horse Rosinante against windmills – he sees some windmills and thinks they are enemies-. As Don Quixote is such an excited dreamer, poor Rosinante is just as old and wear; yet these two strange heroes fight the windmills. Don Quixote's delusion makes sense here because it represents claiming a dream! Or we optimists like being Don Quixote now and again, and that's why give meaning to windmills. I do know nothing what Kusama thinks about Don Quixote's fight with windmills, but the fact that she has started drawing inspired by her delusions at her adolescence reminds me of the story of Don Quixote. Because Kusama also gives a battle with her colorful polka dots against the windmills of life. As the artist says, art a way to reflect her mental troubles.
The beginning the art life of Kusama, born in 1929, is a hallucination she had when she was a little girl. The little Yayoi saw some flowers in a flower field and thinks they talks, then she feels like she was disappearing or entering a field of endless dots. After that, Kusama adds these dots and marks to her works, she puts them to a bigger universe and she thinks that as if she becomes a part of these delusions. Kusama transforms her obsessions and repetitive thoughts into her paintings through polka dots and share them with world. "Our earth is only a polka dot among a million starts in the cosmos. Polka dots are a way to infinity. When we obliterate nature and our bodies with polka dots, we become part of the unity of our environment," says Yayoi Kusama.
Kusama's parents didn't want her to be an artist, even when she could not find art materials, she used old sacks to paint. However, eventually she persuaded her parent to study art. In the late 1950s, she moved to London, an exciting and important art center, and decided to stand up to this great city with a single polka dot. Her first exhibitions began to be exhibited there in 1959. She met many important artists there and started to be a part of art community. Furthermore, she was also one of the first artists to be experience performance and action art. One of the most famous works of artist is "Infinity Rooms" which she produced in New York: various neon lights hang in the rooms lined with mirrored glass. Thus, visitor can be experienced light repeatedly reflected off mirrored surface through an illusion of a never-ending space.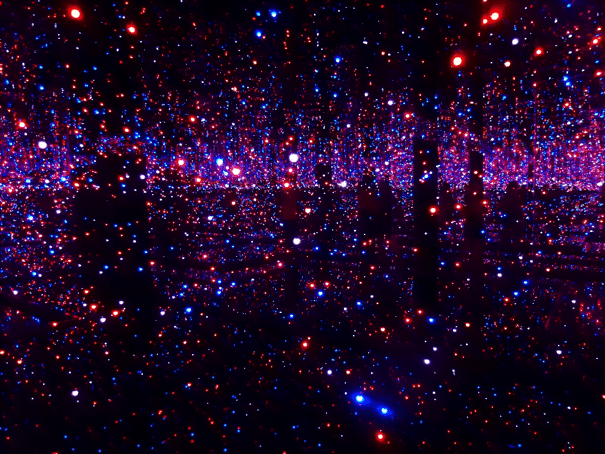 Returning to Japan, because of her mental health problems, the artist began write instinctive and surrealist novels, short stories, and poems. For example, Infinity Net (2003) is her autobiography. In 1977, the artist checked by her choice into a hospital which close to her atelier in Japan, and she has been living there since then. Kusama has been continuing to produce her paintings in her atelier during the day and spending her nights and rest of her time at the hospital for 43 years.
Kusama's Various Works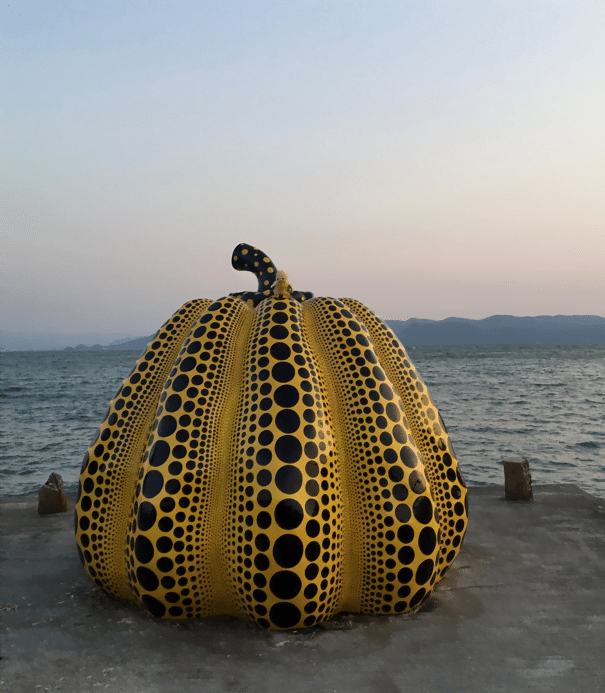 In 2017, the artist held the exhibition "All the Eternal Love I Have for Pumpkins" at the Hirshhorn Museum. The exhibition featured more than 60 pumpkin sculptures of different sizes; it was one of the most popular exhibits of the museum until then.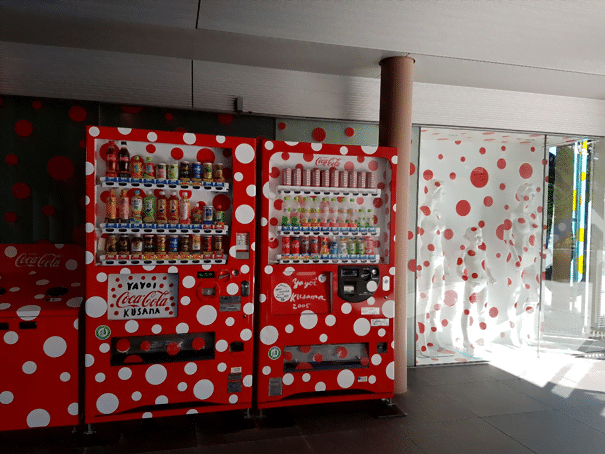 "Obliteration Room" produced as a children exhibition in 2002, is a work based on the "destroying" of a white room by adding colored stickers. The work was again exhibited by Tate Gallery in 2012 and prepared as a time-lapse video by TateShots.
Kusema's works are exhibited in many important art galleries and museums such as the New York Museum of Modern Art, Los Angeles County Art Museum, Los Angeles Walker Art Center and Tokyo National Art Museum.