In the 21st century, colors gained great importance in watch production, as in all technical design objects. Zenith explains the colorful emotions given by high-vibration watches and the wavelengths of visible light with colorful jewels.
Zenith has used colors in various ways in its DEFY collection in recent years. We saw colorful ceramic cases and colorful dials and then, the colors also captured the movements and got a more cheerful look.
We have seen more green, purple, and blue watches so far. Now we understand that Zenith was not content with these colors and wanted to improve its color palette and to meet its fans with a solution suitable for the brand's identity.
But why spectrum? It may be because when people think of Zenith, high-vibration watches come to mind. We know the first one very well as El Primero. The focus of the Watches and Wonders Fair is Zenith's revolutionary second chronograph movement, El Primero 21, which can measure one hundredth of a second and operates at a high vibration speed of 50 Hz (360,000 per hour).
We have seen extreme and breakthrough examples, but as it is known, El Primero 21 is the fastest chronograph on the market. As a classic, it is the only chronograph that, besides incorporating a movement with 36,000 vibrations per hour, can accurately measure a time at 1/100 of a second and display this in an extremely legible way. While we think about "How could such an exciting movement be more interesting?", Zenith unveiled Defy 21 Spectrum Collection.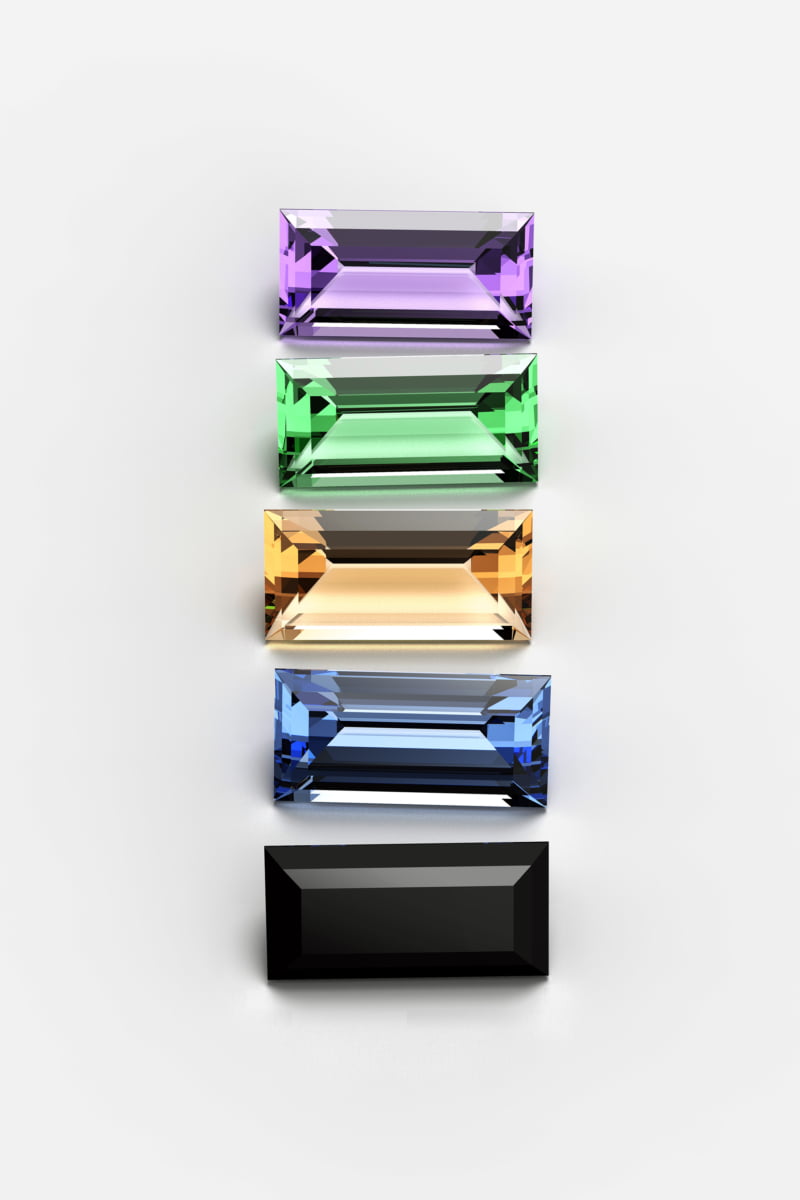 The electromagnetic spectrum is a scale that includes all electromagnetic waves. When we talk about light, the visible light comes to our mind, but light is not only visible.
This region is called as visual zone and formed by electromagnetic waves with a wavelength between 400 nanometers and 750 nanometers that is the range seen by the human eye. This is the part of the spectrum that makes life "colorful" for us.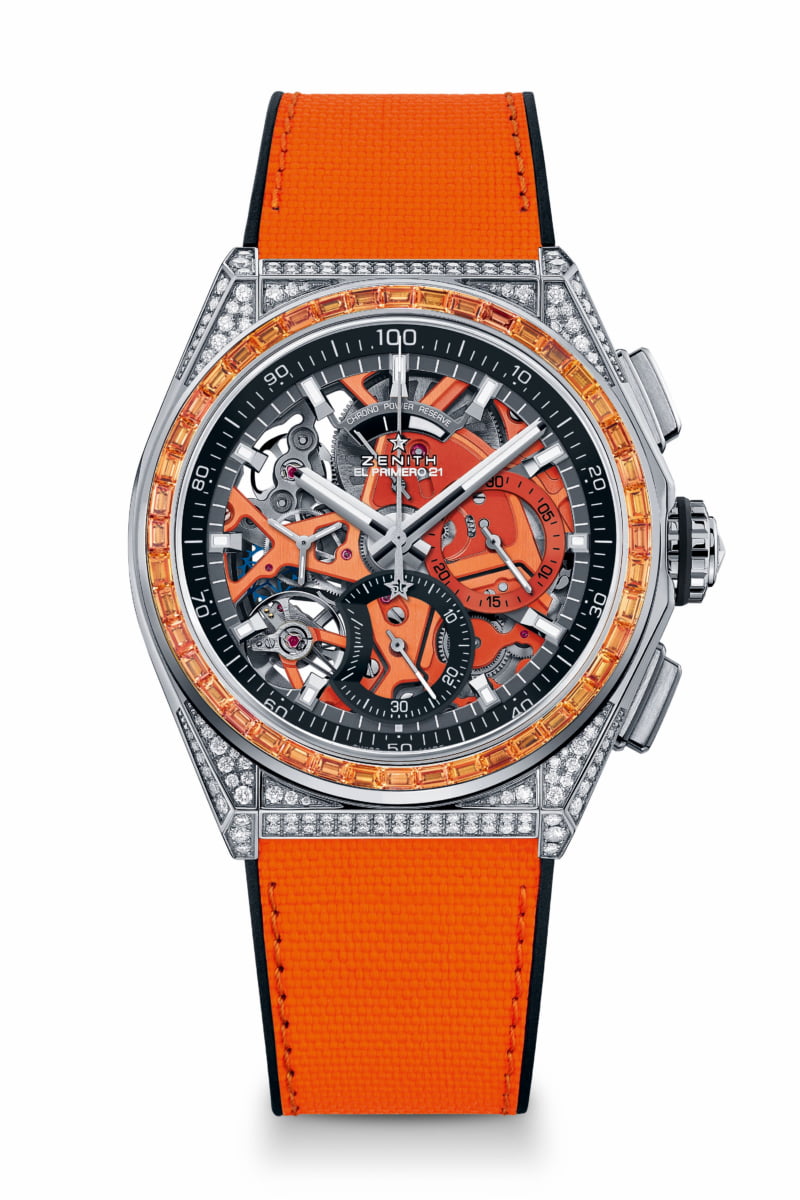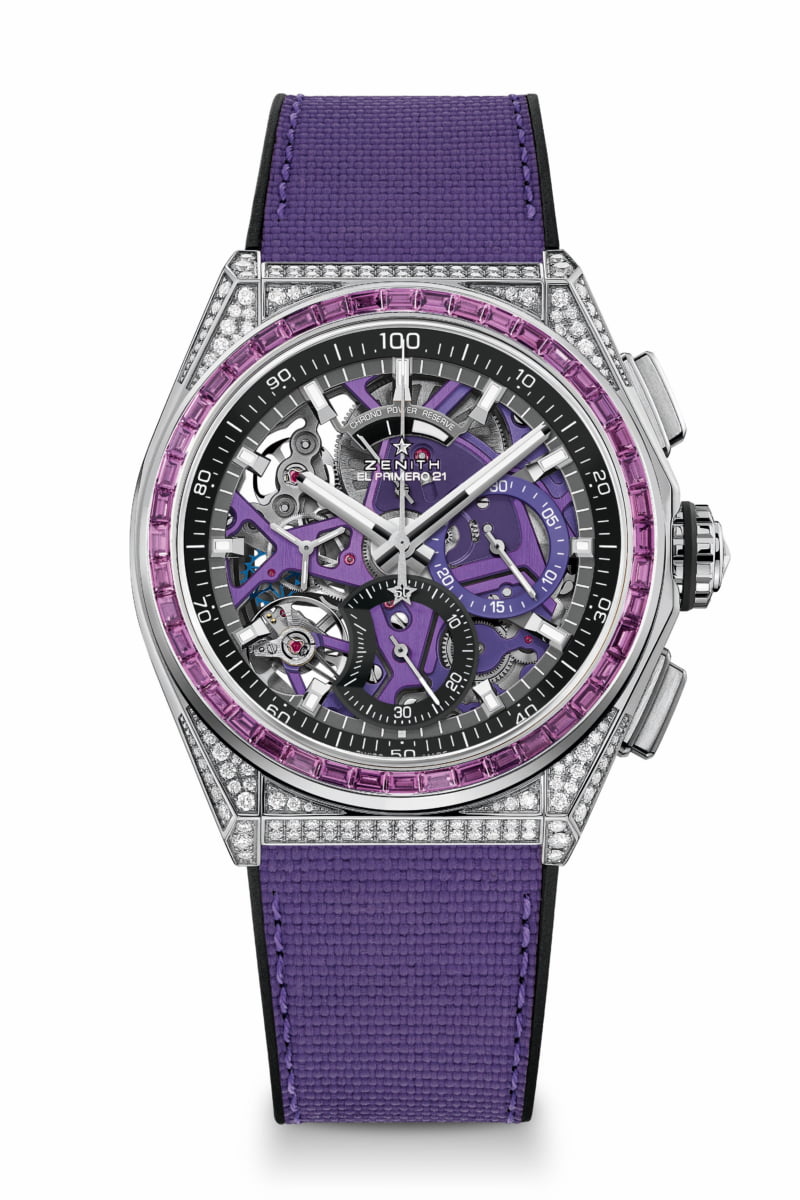 Zenith has released five watches representing five different spectrum frequencies in the collection as called Spectrum due to the color ranges produced by the different wavelengths of visible light.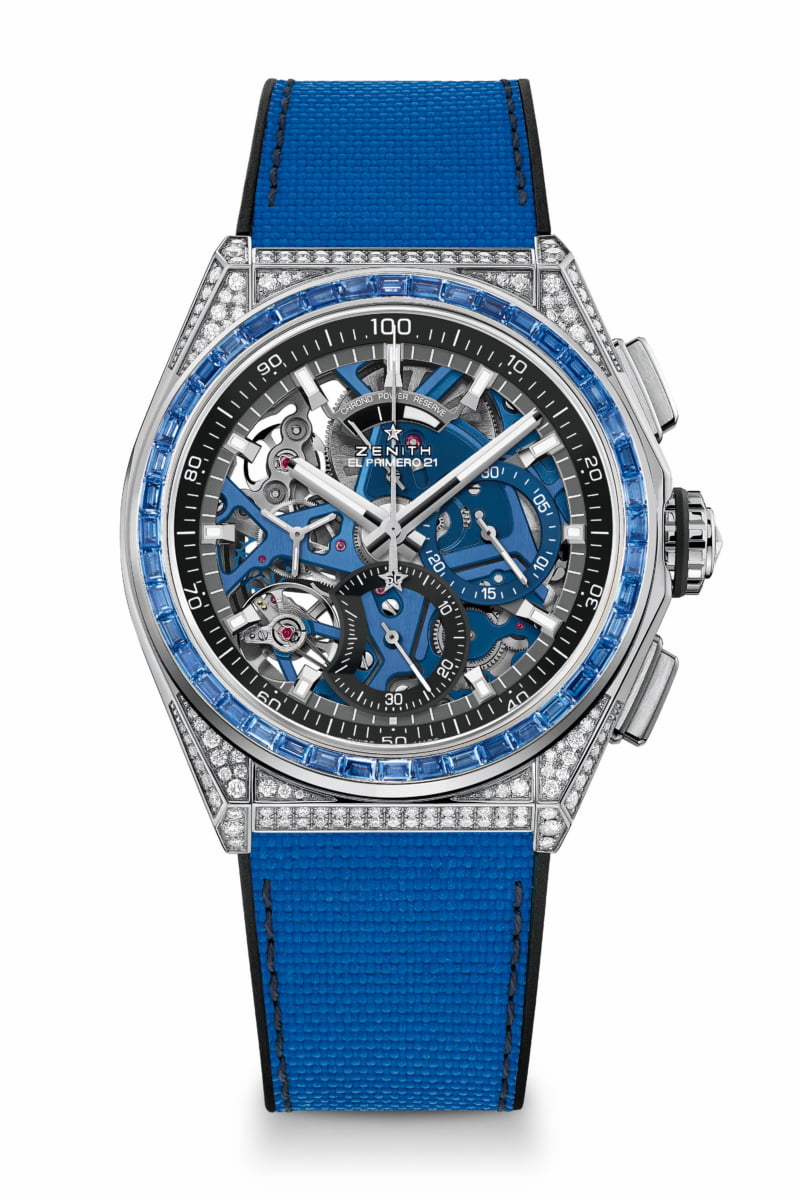 All five Spectrum watches feature a 44 mm stainless steel case decorated with 288 brilliant-cut white diamonds. Each version has a bezel made of 44 baguette-cut gemstones, a movement in colors harmony with baguette stones, and a rubber strap. Green tsavorite for green edition (which is rarer than emerald), orange sapphire for orange watch, blue sapphire for blue model, amethyst for purple watch and black spinel for black watch. (Technically black differs from others but has been made a special choice and have been bestowed a privilege on black watch enthusiasts.)
Each model is limited to 10 pieces.