In the magnificent history of the IWC Schaffhausen for more than 150 years, pilot watches have carried a serious weight and popularity for 85 years. Therefore, both iconic and innovative pilot watches were introduced at Watches and Wonders.
Big Pilot's Watch 43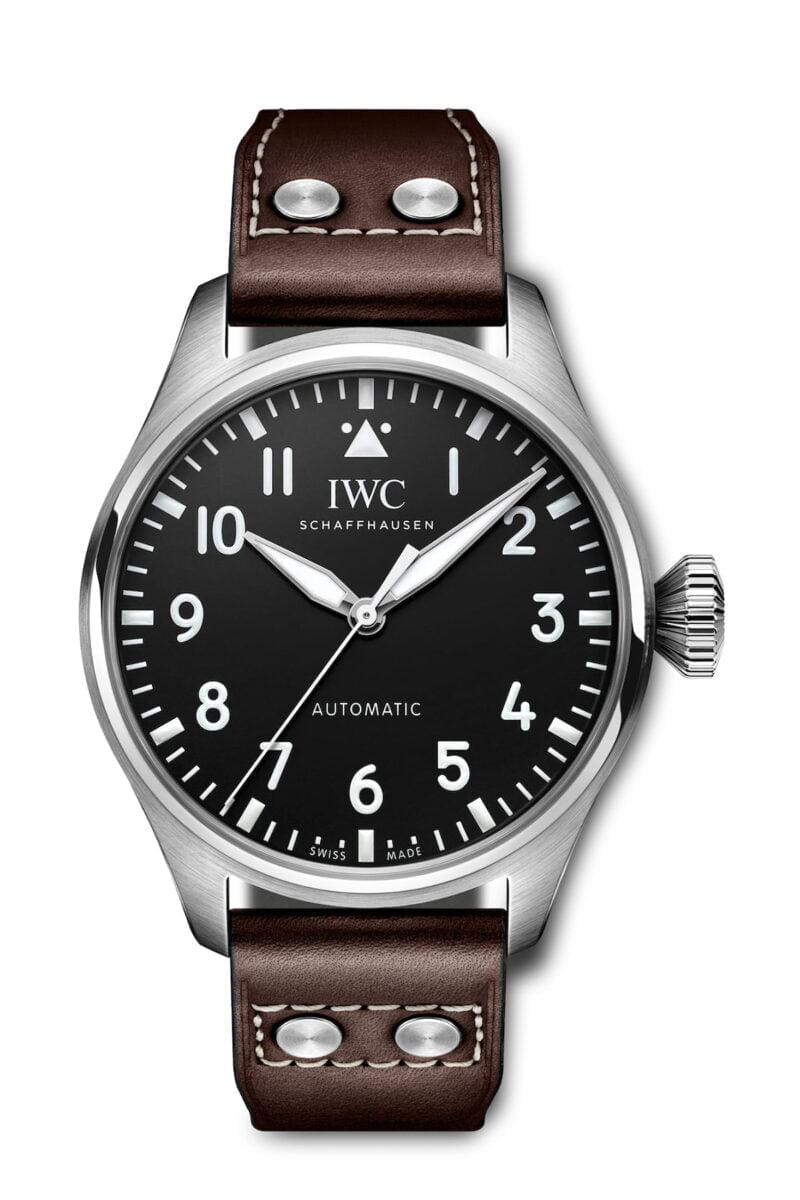 IWC Schaffhausen CEO Christopher Grainger, who made a stylish introduction at the Watches and Wonders digital watch fair, first mentioned the new watch Big Pilot's Watch 43 model. This new model, which has been redesigned with a faithful interpretation of the plain architecture of the first Big Pilot's Watch dated 1940, consisting of hour, minute and second hands, takes its name from the 43 millimeters diameter of its stainless-steel case. The hands, indexes and numbers on the dial are redesigned in more proportional way.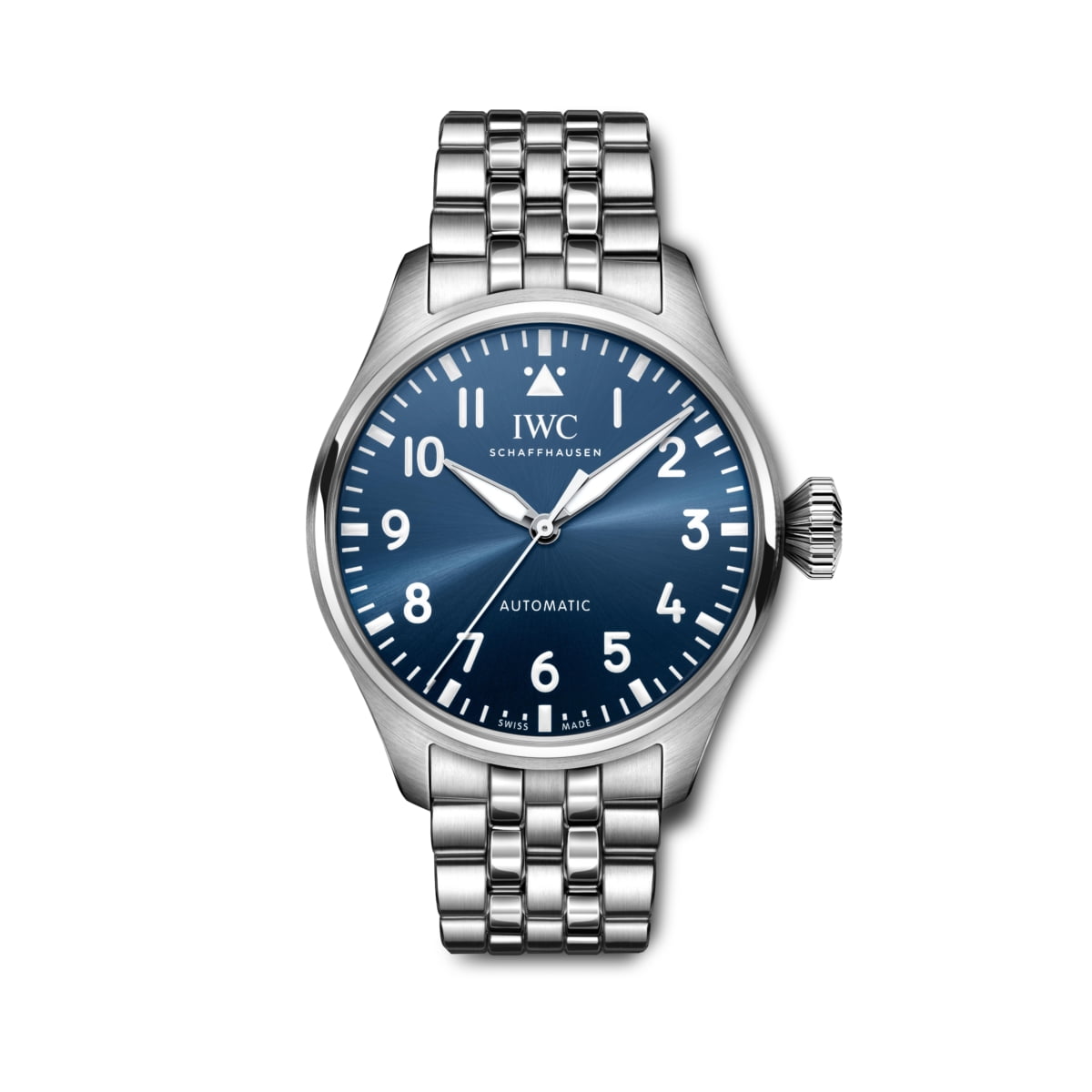 The movement is in-house IWC automatic caliber 82100 that oscillates 28,800 times per hour, and it works with patented Pellaton winding system. (A highly efficient system which developed by Albert Pellaton that takes advantage of even the slightest movements of the rotor in both directions to set up the spring.) The timepiece comes with two different dial options in black and blue. Besides, calf leather and stainless-steel bracelet options offered with a quick-change mechanism (Easy-Change) demonstrate the watch's practical capabilities. A glass resistance to drops in air pressure is also a quality indicator of IWC standard.
Pilot's Watch Chronograph 41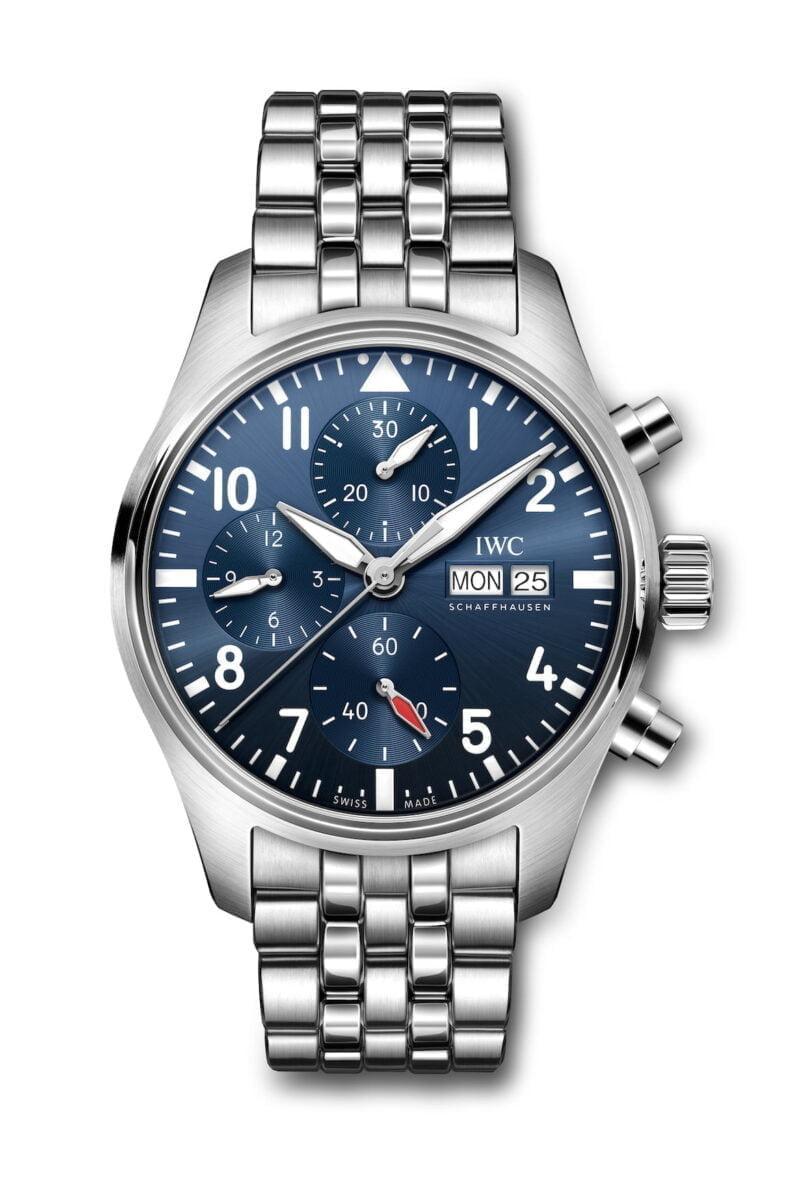 Pilot's Watch Chronograph 41 is only 2 mm smaller than the current model IW3777, which has a diameter of 43 mm. Although it seems that there are no important novelties, certainly it is not. The biggest improvement in Pilot's Watch is not its design that almost unchanged. The timepiece is offered on a slightly small case, but the real update is hidden under the dial because IWC Pilot's Watch Chronograph 41 is equipped with in-house movement 69385. There are also improvements in the water resistance that watch is now resistance to 100 meters under water, and the power reserve is 46 hours.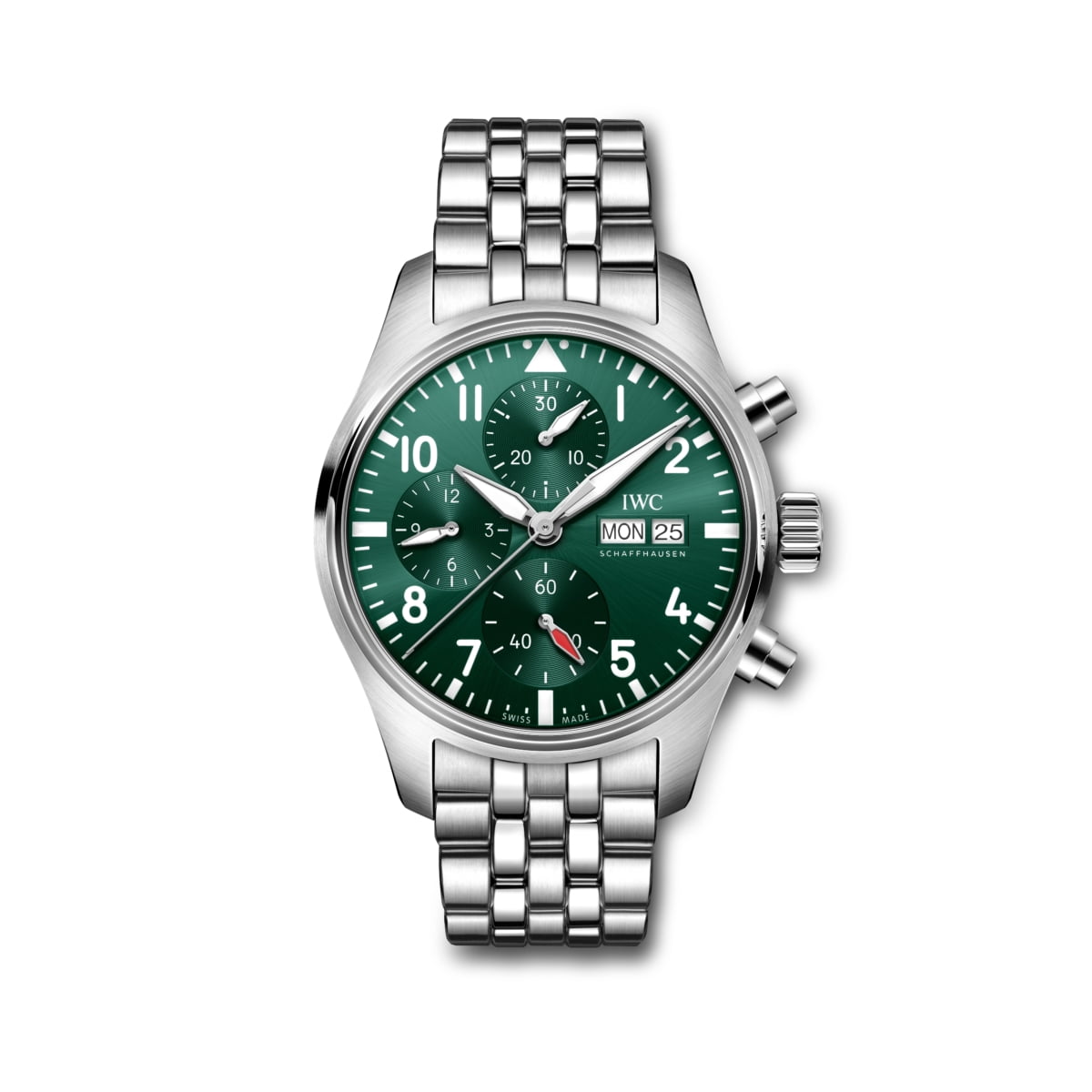 Christoph Grainger, CEO of IWC Schaffhausen, says for the watch that stands out at first glance with its small red second hand; "Getting strength from success of Spitfire chronographs we launched in 2019, we are adding Pilot's Watch Chronograph 41 to our classic collection. Chronographs easily adopt to different environments thanks to a quick strap change system and different strap options. It is a perfect companion for adventures in the air, land, and water with its case water resistance to 10 bars. We equipped the new design with the 69385 caliber chronograph produced by IWC, which can be seen back of the case, underlining our principle of innovation and technical perfection."
Big Pilot Perpetual Calendar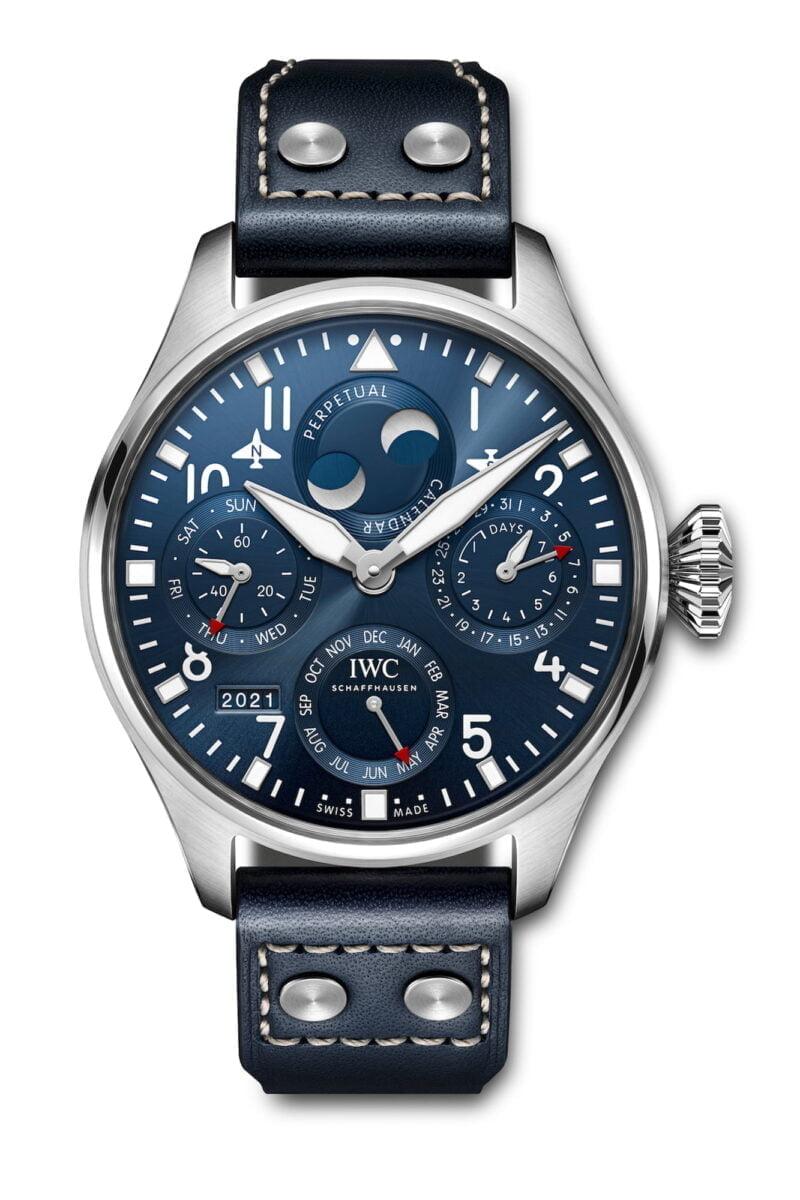 With Da Vinci Perpetual Calendar Chronograph, the ingenious perpetual calendar complication developed by charismatic watchmaker Kurt Klaus at IWC Schaffhausen in the 1980s automatically detects the different lengths of months and leap years and only one adjustment in every 126 years is enough.
The Big Pilot's Watch Perpetual Calendar (Ref. IW503605), which is integrated with a stainless steel case, blue dial and rhodium-plated hands, had continued to develop a calendar complication. The mechanical calendar system does not need to be manual adjustment until 2100 due to the leap year. Another feature of watch is the four-digit year indicator. Thanks to the additional century setup on the Big Pilot's Watch Perpetual Calendar case, there will be no need for another adjustment until 2499.
Only the calendar module of the caliber 52615, which is powered by the pellaton winding system, consists of 82 parts, and has an automatic movement consisting of 386 components in total, including ceramic parts. The movement is one of the best examples of its kind and can create power reserve of seven days thanks to the double pump.
The Big Pilot's Watch Perpetual Calendar has a date display and power reserve at 3 o'clock, and a month display at 6 o'clock. The day of the week and second hands are on the sub-dial at 9 o'clock. The double Moon phase indicator at 12 o'clock displays Moon phases in the northern and southern hemispheres and will only need to be corrected once in 577.5 years. 
Mojave Desert, Military Airplanes and Modern Airplanes
IWC Schaffhausen also introduced Big Pilot's Watch Perpetual Calendar TOP GUN Edition "Mojave Desert" with a perpetual calendar and Big Pilot's Watch TOP GUN Edition "Mojave Desert" with a soft iron inner cage protected against magnetic fields at Watches and Wonders. Both watches are based on desert sands that one of the symbols of time, and jets can operate in all climatic conditions.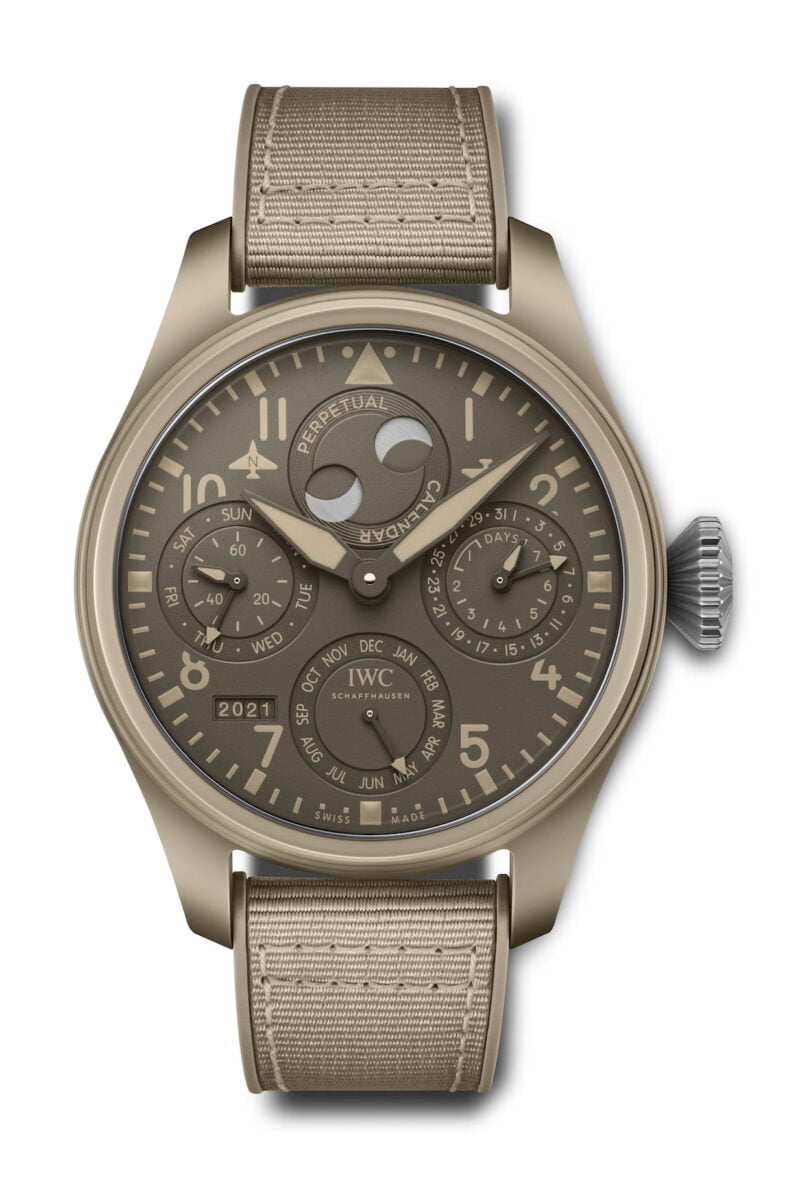 IWC Schaffhausen had launched the Pilot's Watch Chronograph TOP GUN Edition "Mojave Desert", the first watch with sand-colored ceramic case in 2019. (China Lake is in the Western Mojave Desert, 240 kilometers north of Los Angeles, and largest land area used by the US Navy for training purposes.) For once, sand-colored ceramic is used in the case of two new Big Pilot watches. Engineered ceramics are in the second place on the Vickers hardness test, one of the hardest materials on the earth. The hue that evokes desert sand is also obtained by mixing zirconium oxide with other metallic oxides.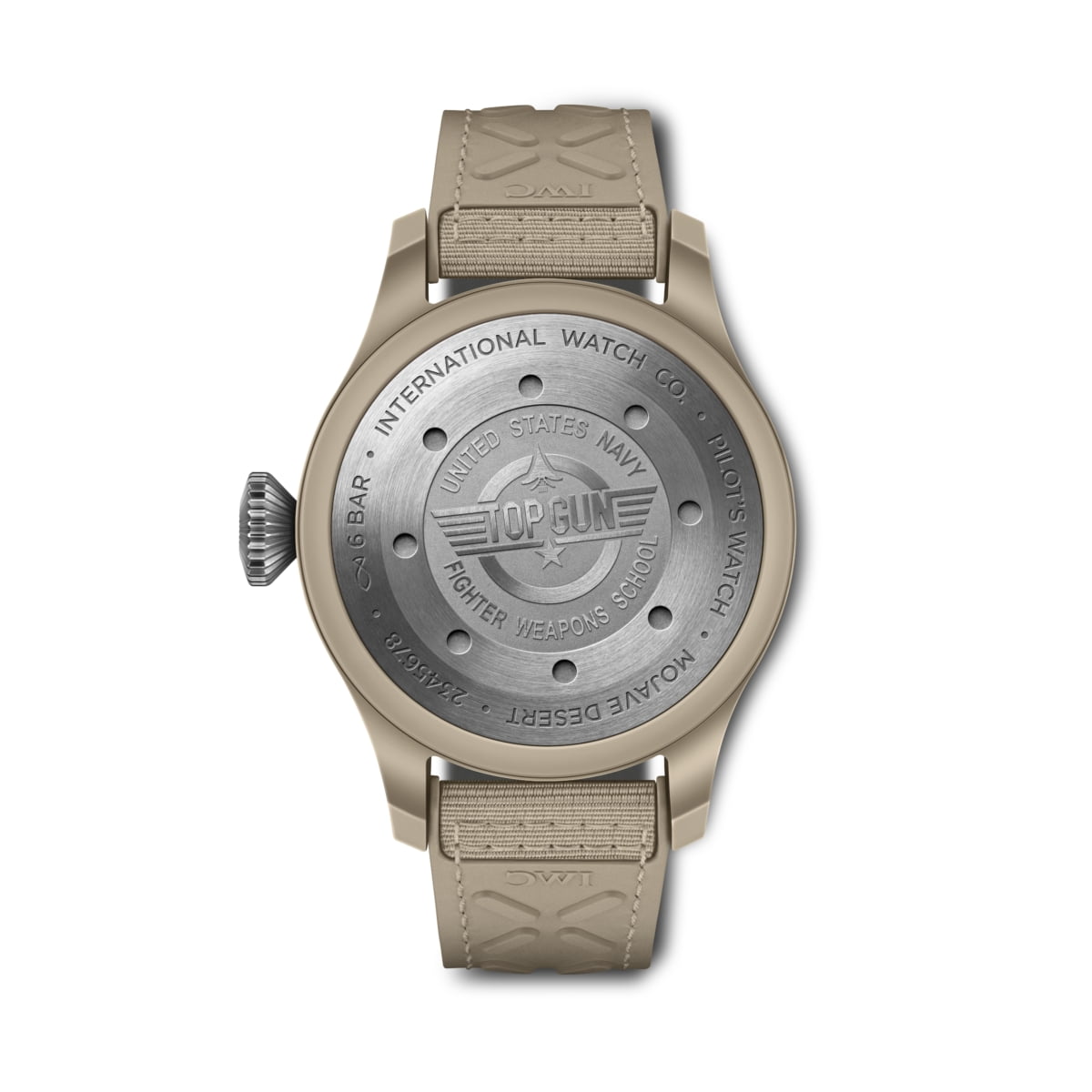 Big Pilot's Watch Perpetual Calendar, which will be produced in a limited number of 150 pieces per year, technically has the same features as it has the same movement as the Big Pilot Perpetual Calendar with perpetual calendar in TOP GUN Edition.
Both models have dark brown dials with sand-colored luminescent materials and fabric-filled sand-colored rubber strap. Both models have also a diameter of 46 mm and a power reserve of seven days.